Tuesday Fashion Shot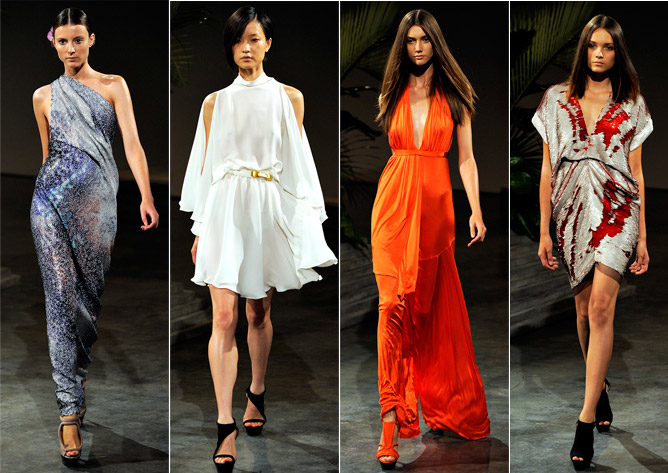 5 Espresso Shots Of Fashion News…
The Mass Exit From Halston
Halston President and Chief Creative Officer, Sarah Jessica Parker; Investor, Harvey Weinstein; Jimmy Choo Founder, Tamara Mellon; and Designer, Marios Schwab; have all left Halston.
The company is now owned entirely by Hilco Consumer Capital. Halston will not produce a collection for spring/summer 2012; with the label reportedly planning to concentrate on the Halston Heritage line (previously overseen by Sarah Jessica Parker). The Autumn/Winter 2011-12 collection, which has already been bought by department stores, may not be delivered. Watch this space…
Pictured above is the Halston Spring / Summer 2011 collection; while below is Sarah Jessica Parker wearing Halston on several occasions.
– – – – – – – – – – – – –  – – – – – – – – – – – – –

'To Kill A Mockingbird' Doubles In Sales Thanks to Miss Harper Beckham
Sales of one of my person favourites, 'To Kill A Mockingbird', has doubled since the arrival of David and Victoria Beckham's baby girl – Harper Seven Beckham. The classic novel, first published in 1960, is now sitting at number 38 in the bestsellers list.
David Beckham (pictured right) has said of his daughter's name: "One reason is Harper's an old English name which we loved – and one of the other reasons was Victoria's favourite book is To Kill A Mockingbird and the author was Harper Lee. It's a very strong, passionate book. That's where Harper came from."
– – – – – – – – – – – – –
Hilary Alexander Working On Her Autobiography
Hilary Alexander has revealed she is working on her highly anticipated autobiography.  Set to be released next Summer, her autobiography will chronicle her career and incredible achievements in fashion.
"I've always wanted to write an autobiography because I've lived such an incredible life, quite a strange life. I mean, I was born in New Zealand and somehow managed to become fashion director of the Telegraph!"
Alexander (pictured right with Anna Wintour) will also be honoured at this year's British Fashion Awards for her outstanding contribution to the fashion industry.
– – – – – – – – – – – – –
Gwen Stefani For Target…
Target has announced another designer collaboration (in addition to Missoni coming this September) with Gwen Stefani's 'Harajuku Mini'.
Gwen Stefani is designing an exclusive line of affordable clothing for babies, kids and tween girls. Of the collaboration, Stefani has said: "I've always wanted to do a cool children's fashion line inspired by the super cute and playful kids' clothing you find in Japan".
– – – – – – – – – – – – –
Cover Love – Claudia Schiffer for Vogue Germany
Love this seductively, angelic cover of Claudia Schiffer for Vogue Germany August 2011 edition (pictured right). Schiffer has had some striking covers lately and this is no exception! LOVE, LOVE, LOVE!
– – – – – – – – – – – – –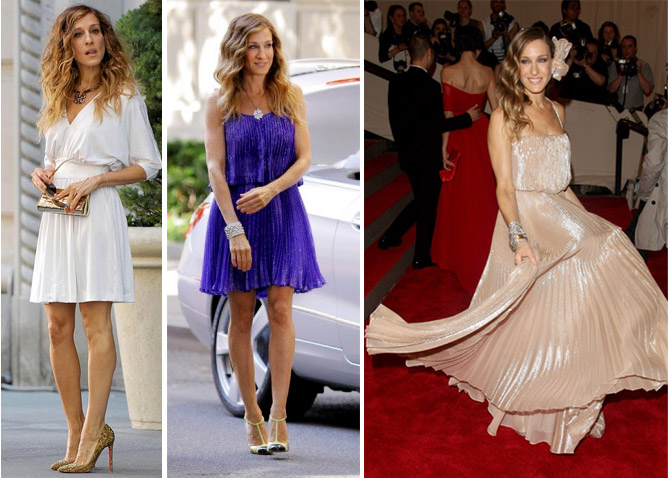 Happy Tuesday! xx
Photos from style.com / fashiongonerogue.com / google images
Tuesday Fashion Shot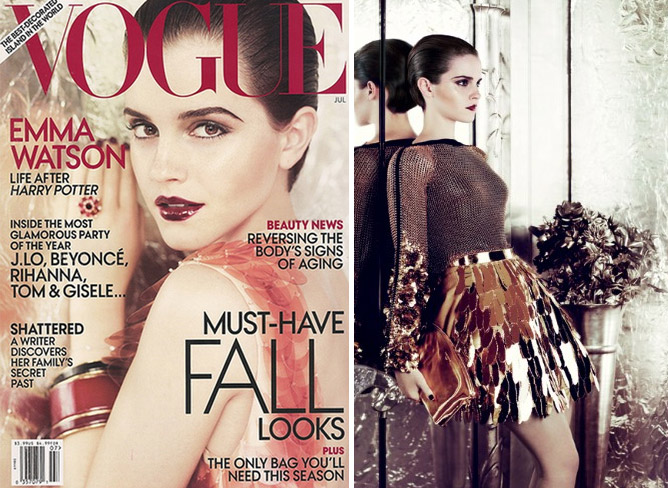 Emma Watson's First US Vogue Cover
Emma Watson has landed her first US Vogue cover at just 21 years of age!
The glamorous beauty covers the July 2011 issue of American Vogue, ahead of the release of the final Harry Potter film. Looking immaculately polished with her flawless skin and striking, delicate features; Watson wears a divine gown from the Prada Fall 2011/12 collection. Photographed by Mario Testino, within this issue Watson also wears looks by Tom Ford, Alexander McQueen, Prada, Calvin Klein and Dolce & Gabbana.
Watson is a fan of young British Designers – often choosing to wear labels such as Erdem and Hakaan, among others – and said in her interview with Vogue US: "I thought: "If people are going to write about what I'm wearing, then I would wear young British designers who need the publicity."
– – – – – – – – – – – – – – – – – – – – – – – – – – – – – – – – – – – – 
Angelina Jolie By Annie Leibovitz for Louis Vuitton

Renowned photographer Annie Leibovitz has photographed Angelina Jolie for the Louis Vuitton Core Values campaign.
The Louis Vuitton Core Values campaigns celebrate Vuitton's timeless classics pieces, in real situations on real people. Reclining on a wooden boat in Cambodia, Angelina Jolie looks serenely beautiful with her own six-year-old monogrammed 'Alto' carryall bag.
Of the campaign, Louis Vuitton's executive vice president, Pietro Beccari, has said: "People are not used to seeing Angelina in this situation. I like the fact that it's a real moment. This travel message we give through personal journeys is a fundamental one for the brand."
Previous people to feature in this campaign, include; Bono and his wife Ali Hewson in Africa; Sofia Coppola and her father Francis Ford Coppola in the Buenos Aires countryside; Keith Richards in a hotel suite; and Mikhail Gorbachev, former President of the Soviet Union and Nobel Peace Prize winner in the back of a limo passing remains of the Berlin Wall.
Jolie will donate a significant portion of her fee to a charity, which will most likely be the Maddox Jolie-Pitt Foundation in aid of community development and conservation in Cambodia.
– – – – – – – – – – – – – – – – – – – – – – – – – – – – – – – –
Tobey Maguire For Prada Menswear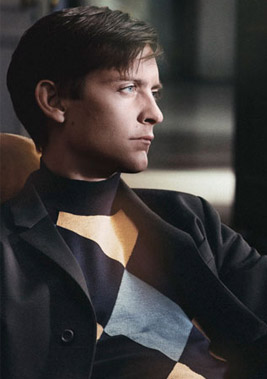 Tobey Maguire has been announced as the new face of Prada's Menswear Autumn / Winter 2011-12 campaign (pictured right).
Of his new role Maguire has said: "A great supporter of the Arts, Miuccia Prada has inspired a culture of creativity that is woven through every aspect of her company, from her collections, her campaigns, to every design detail in her stores. I have such admiration for her artistry and I'm thrilled to be a part of Prada's fall campaign."
– – – – – – – – – – – – – – – – – – – – – – – – – – – – – – – –
Top 3 Covers For July 2011
Besides Emma Watson's divine cover for Vogue US; my other top 3 covers for July 2011 are:
–  Cate Blanchett covers In Style Australia, in Gucci
–  Claudia Schiffer covers Harper's Bazaar UK, in Prada
–  Beyoncé covers Dazed & Confused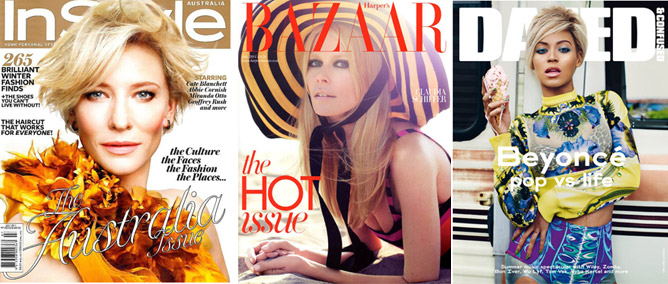 Happy Tuesday! xx
Photos from fashion.telegraph.co.uk / fashiongonerogue.com / vogue.co.uk