4 Fabulous Fashion Shots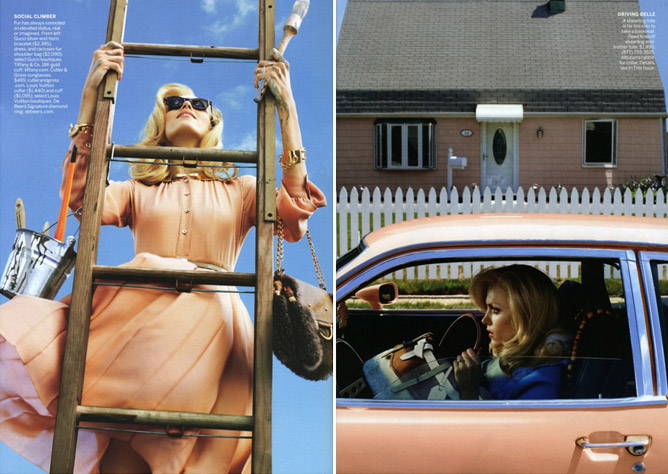 Rimmel Celebrates 10years with Kate Moss
Kate Moss has celebrated 10years with make-up giant Rimmel with a debut line of lipsticks. Moss, presented her debut line at London's Claridge's hotel. Moss shot the TV commercial on a car park in Croydon, which also saw the supermodel jetting off in a helicopter.
Of achieving a 'London Look' for her line, Moss said: "I think an eclectic look really, anything goes in London. It's very different from in Paris and New York, you can be who you want to be."
Hamish Bowles Auditioned For
The X Factor USA
Hamish Bowles has auditioned for The X-Factor USA and it was Anna Wintour who signed him up. To the occasion Bowles wore a Thierry Mugler suit, a Philip Treacy top hat and Christian Louboutin gold crystal shoes. Under the guidance of Liza Minnelli he picked the song, "Oops! … I Did It Again" by Britney Spears.
Of receiving Wintour's assignment, Bowles has said: "I had to read the e-mail from the editor in chief several times to be quite sure. There, buried like a time bomb in a bouquet, was this chilling sentence: 'I have signed you up to compete in The X Factor.'"
My Friday inspiration…
The gorgeous Anja Rubik in a vibrant editorial for Vogue US (pictured top) showcasing the seasons luxe accessories. Shot by Alex Prager, Rubik wears looks by Gucci, Alexander Wang and Givenchy by Riccardo Tisci in the editorial from the September issue of Vogue US.
The Last D&G Show Of It's Kind
This week's D&G show was the last of its kind. From now on D&G will be integrated with the fashion duo's signature line. Dolce and Gabbana's backlog of prints were referenced in a collection full of vibrant colour and exquisite patterns. There were polka dots, crests, medallions, butterflies, and flowers – pure D&G gold and brilliance…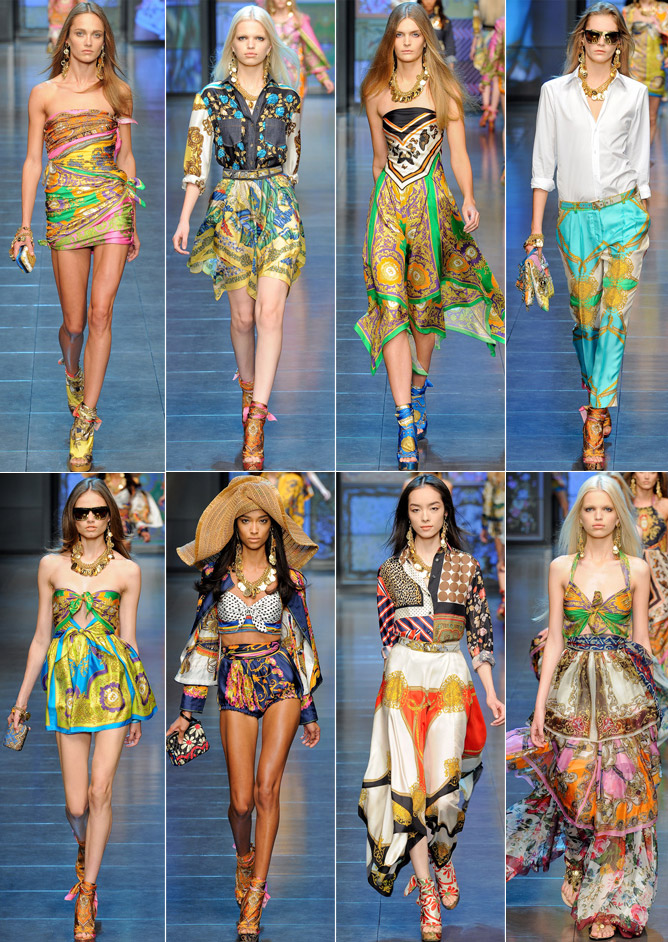 Happy Weekend! xx
Photos from fashiongonerouge.com / fashion.telegraph.co.uk / style.com
2 Double + 6 Espresso Shots Of News…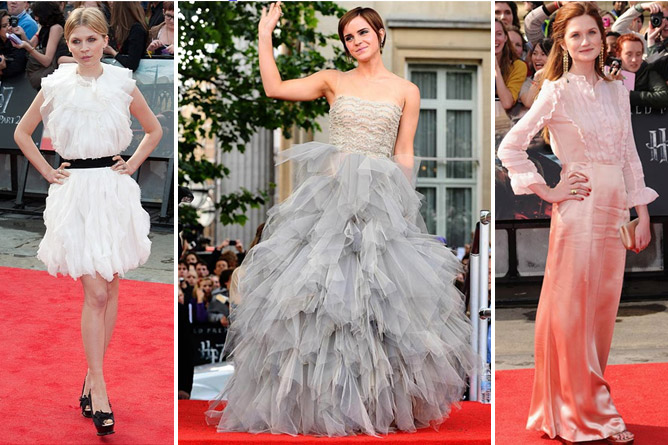 2 Double Espresso Shots Of News…
"Harry Potter And The Deathly Hallows Part 2″ World Premiere  – The Fashion…
Emma Watson chose a spectacular Oscar de la Renta fairytale ball gown for the World Premiere of "Harry Potter And The Deathly Hallows Part 2″ in London last week.  The tulle gown with embroidered bodice and full skirt, from the Oscar de la Renta Fall 2011 collection, was a truly breathtaking fashion moment! Dramatic, romantic and whimsically beautiful… Emma Watson was simply enchanting!
For the after party, Watson changed into a darling embellished Elie Saab dress (one of my personal favourites from the Spring 2011 Couture collection)! (pictured right)
Clemence Poesy also bewitched in a white silk chiffon Nina Ricci dress from the Spring / Summer 2011 collection. Accentuated with black waistband, Poesy is the epitome of French polished chic.
Finally, Bonnie Wright chose a floor-length gown by Miu Miu. The peach long sleeved gown with a ruffed bodice was elegantly reserved. Love her statement Wright and Teague earrings!
The Beckhams' Welcome Harper Seven Beckham…
David and Victoria Beckham welcomed their first daughter, Harper Seven Beckham, yesterday morning in Los Angeles.  Announcing her arrival on Facebook, David Beckham wrote: "I am so proud and excited to announce the birth of our daughter Harper Seven Beckham. She weighed a healthy 7lbs 10oz and arrived at 7.55 this morning, here in LA. Victoria is doing really well and her brothers are delighted to have a baby sister. xx"
Her middle name, Seven, references her father's sporting history, having played in the number seven shirt for both Manchester United and England. While it was also revealed by a spokesperson, the couple liked the name Harper, because it was an "old English name" and also had connections with the baby's country of birth – American novelist Harper Lee.
6 Espresso Shots Of News…
Rumours, Rumours… No John Galliano For Topshop!
The Fashion world was abuzz last week with the speculation of a John Galliano for Topshop Collaboration.  John Galliano has now asserted he will not be collaborating with Topshop in the near future. A spokesperson for Galliano has said:  "His only focus for the foreseeable future is concentrating on his rehab.  There is no truth in this rumour."
Roland Mouret For
Robert Clergerie
Roland Mouret has bene announced as the new Creative Director of Robert Clergerie, the French footwear label. Mouret will be working with the label in an attempt to raise it's profile. Of his new appointment, Mouret has said: "This is a chance for me to work with a master on the art and craft of shoe design and to be part of the special relationship that women have with their shoes."
The Duchess of Cambridge Wears Jimmy Choo & Causes An Online Sell Out
The Duchess Of Cambridge, stepped out wearing the gorgeous Jimmy Choo Vamp Glitter Finish Sandals for the BAFTA event in Los Angeles over the weekend (pictured right). Since then the heels have sold out very quickly online! The power of a princess!
Anna Wintour Receives France's Highest Award – The Legion d' Honneur
Last week US Vogue Editor, Anna Wintour, was presented with the Legion d' Honneur by French President, Nicolas Sarkozy at the Élysée Palace. Wintour joins other fashion visionaries – Karl Lagerfeld, John Galliano and Ralph Lauren, who have all previously received the prestigious medal. Wintour wore Chanel to the occasion (pictured right).
Camilla Al Fayed has bought a controlling share in Issa – aka the Duchess of Cambridge's favourite label
Camilla Al Fayed (daughter of ex Harrods owner, Mohamed Al Fayed), purchased a 51% stake in the label, Issa. Her title will be chairwoman and she will oversee the commercial expansion of the brand.  If you recall, The Duchess Of Cambridge chose an Issa blue wrap dress for her engagement announcement to Prince William.  
Azzedine Alaia's Catwalk Return
After eight years away from the catwalk collections, Azzedine Alaia returned during Couture week with a highly fashionable bang! Ultra feminine silhouttes, floor-length gowns, fur and flamenco ruffles made for a decedent affair… LOVE, LOVE, LOVE!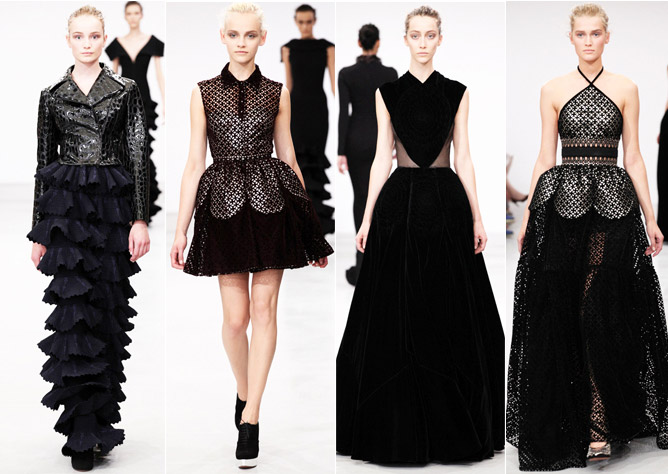 Hope everyone had a fashionable Monday! xx
photos from style.com / mirror.co.uk / net-a-porter.com / google images 
I love… Giambattista Valli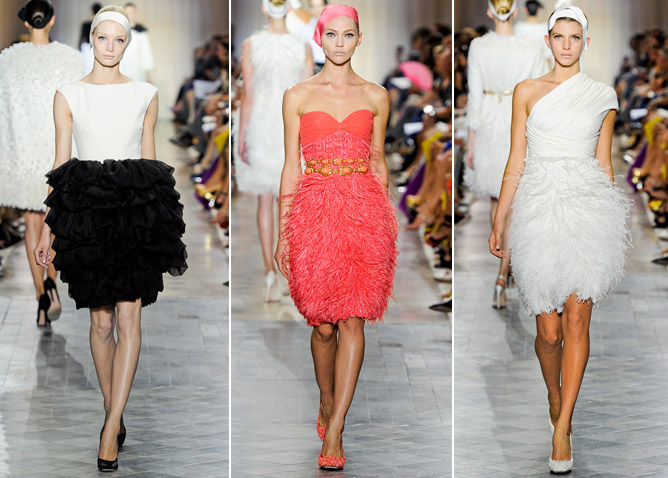 Giambattista Valli's first couture collection is exquisitely beautiful, undeniably chic, and very much in touch with his signature lady-like aesthetic.

Decadently ruffled evening gowns; delightful feathered cocktail dresses; distinct cocoon-shaped jackets – I fell irrevocably in love at first sight!
As one of eight designers invited to show during Paris Couture Week, as a special guest of the Chambre Syndicale; Valli's master class in the overtly feminine, perfectly portioned cocktail dress is timeless elegance personified. Showcasing 45 looks, Valli's debut Haute Couture collection became a spectacular affair.
With looks perfectly accessorised by grosgrain headdresses, the chic cocktail dresses and gowns floated down the runway with unmistakable charisma. In vintage shades of rich magenta and coral, the collection evoked Old-Hollywood mystique. Gowns were adorned with tiny lily of the valley petals; ostrich feathers; sequins and beads – showcasing the extraordinary couture craftsmanship and precise attention to detail. Meanwhile, make-up further exuded the 50's finesse with pale faces, nude lips and flicked eyeliner.
The couture collection was watched by a bevy of 'IT' girls – Olivia Palermo, Caroline Sieber and Astrid Munoz – as well as the Queen of Fashion herself Anna Wintour -who rushed backstage to congratulate Valli personally.
Amid a collection of rapturous pleasures, Valli presented a feast of unabashed timeless glamour.

What do you think of Giambattista Valli's first couture collection? xx
Photos from style.com