Are you a Glitter Bug? Bring some glistening light into your wardrobe with sparkling sequins.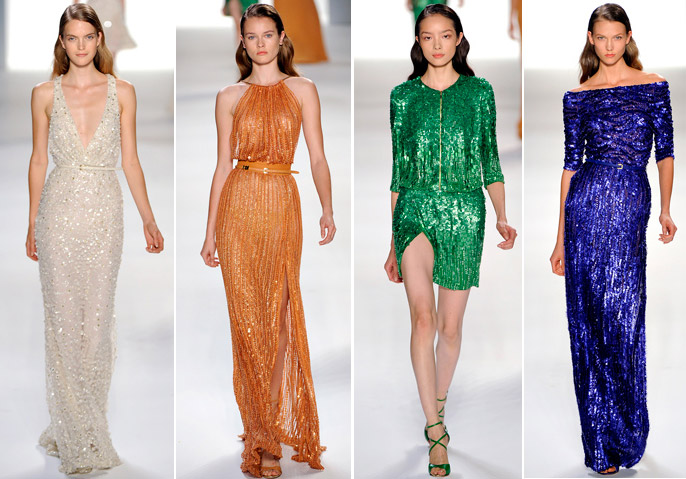 Like shimmering iridescent mermaids or twinkling disco dancers, sequins add an unmistakable sparkle to your style.
Seen on the Spring / Summer runways of Elie Saab, Christopher Kane, Givenchy, and more; this is a classic embellishment too pretty to sprinkle. Embrace these delicate metallic plates from head-to-toe. From this season's must-have accessory – Miu Miu's glittery heels (pictured top) to Elie Saab's glamorously chic bejewelled evening gowns (pictured above); sequins are a timeless feel-go fashion favourite.
And sequins needn't only come out at night. Case in point: Anna Dello Russo's extraordinary emerald green Dolce and Gabbana Dress (pictured top).
Some Shimmering Sequin Inspiration…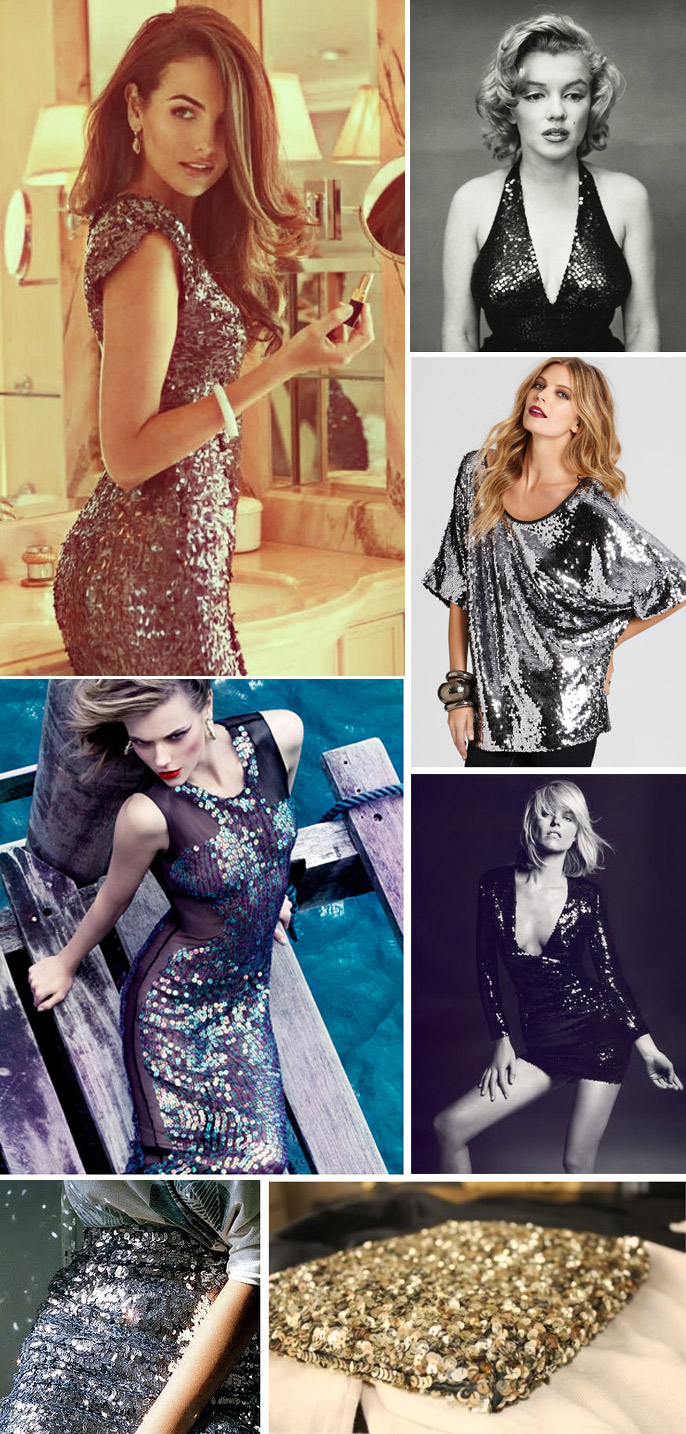 Will you join The Glitterati? xx
Photos from style.com / thealternativebride.blogspot.com.au / becauseimaddicted.net / google images
4 Fabulous Fashion Shots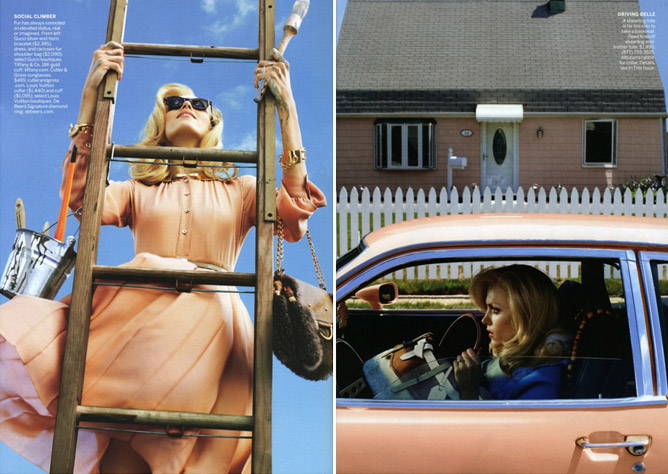 Rimmel Celebrates 10years with Kate Moss
Kate Moss has celebrated 10years with make-up giant Rimmel with a debut line of lipsticks. Moss, presented her debut line at London's Claridge's hotel. Moss shot the TV commercial on a car park in Croydon, which also saw the supermodel jetting off in a helicopter.
Of achieving a 'London Look' for her line, Moss said: "I think an eclectic look really, anything goes in London. It's very different from in Paris and New York, you can be who you want to be."
Hamish Bowles Auditioned For
The X Factor USA
Hamish Bowles has auditioned for The X-Factor USA and it was Anna Wintour who signed him up. To the occasion Bowles wore a Thierry Mugler suit, a Philip Treacy top hat and Christian Louboutin gold crystal shoes. Under the guidance of Liza Minnelli he picked the song, "Oops! … I Did It Again" by Britney Spears.
Of receiving Wintour's assignment, Bowles has said: "I had to read the e-mail from the editor in chief several times to be quite sure. There, buried like a time bomb in a bouquet, was this chilling sentence: 'I have signed you up to compete in The X Factor.'"
My Friday inspiration…
The gorgeous Anja Rubik in a vibrant editorial for Vogue US (pictured top) showcasing the seasons luxe accessories. Shot by Alex Prager, Rubik wears looks by Gucci, Alexander Wang and Givenchy by Riccardo Tisci in the editorial from the September issue of Vogue US.
The Last D&G Show Of It's Kind
This week's D&G show was the last of its kind. From now on D&G will be integrated with the fashion duo's signature line. Dolce and Gabbana's backlog of prints were referenced in a collection full of vibrant colour and exquisite patterns. There were polka dots, crests, medallions, butterflies, and flowers – pure D&G gold and brilliance…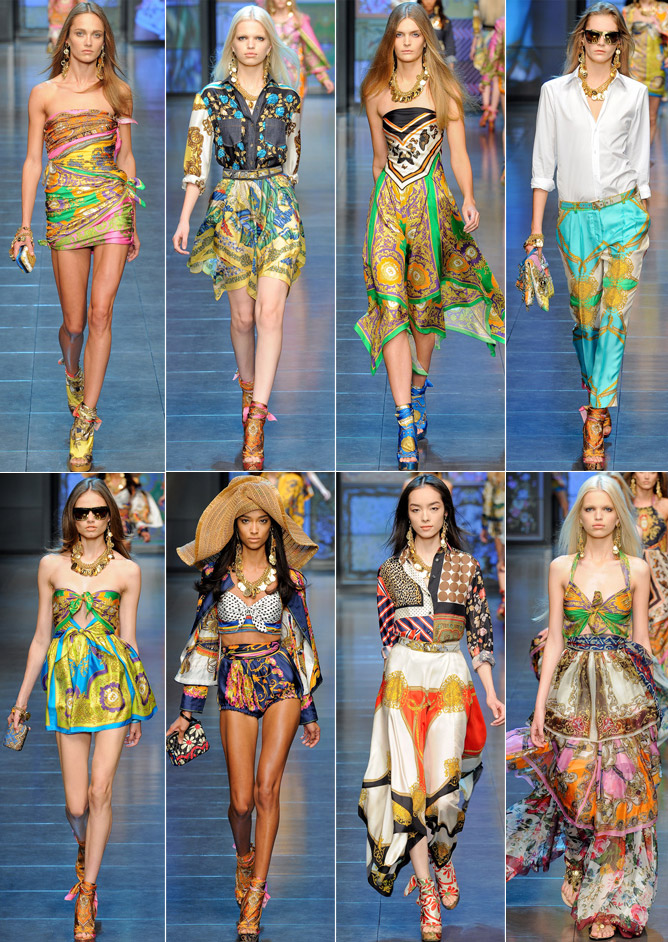 Happy Weekend! xx
Photos from fashiongonerouge.com / fashion.telegraph.co.uk / style.com
Somewhere Over The Rainbow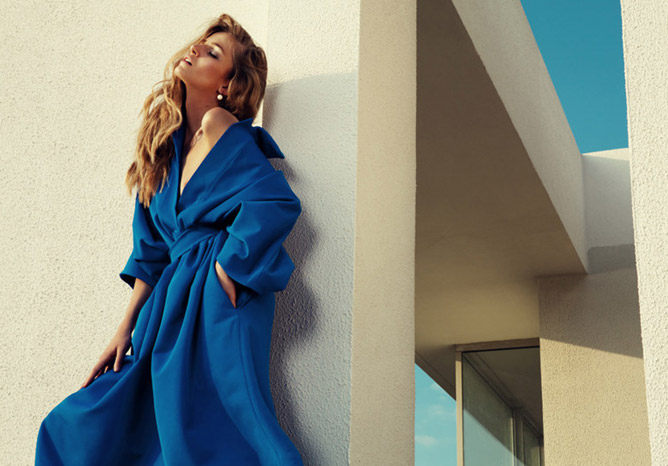 Choose Your Own Technicolour Dreamcoat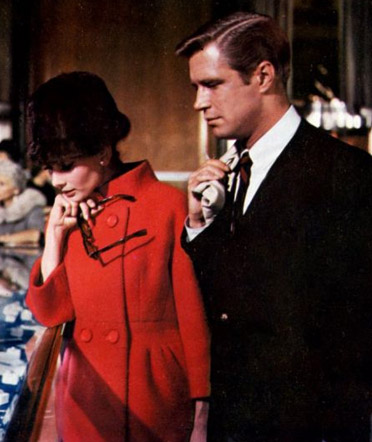 Fight off the blues, or the 'mean reds' as Holly Golightly so elegantly puts it, with winter coats so vibrantly exuberant you may just need to unpack your shades.
Forget the monochromatic tones; a perfectly tailored coat in a splash of decedent, rich colour can become your luxe wardrobe staple.  Across the Fall collections, from Proenza Schouler, The Row and Céline, amongst others, colourful coats made for an elegant, vibrant and expected twist on sharp tailoring.
Whatever your style and body shape, there is a colourful coat to suit your individual Winter needs. Nipped in at the waist in a classic feminine silhouette, prominent at The Row and Yves Saint Laurent; boxy, boardroom chic at Dolce and Gabbana; or streamlined, sexy sophistication at Céline – fall into warm, delightful, investment pieces of luxury this season…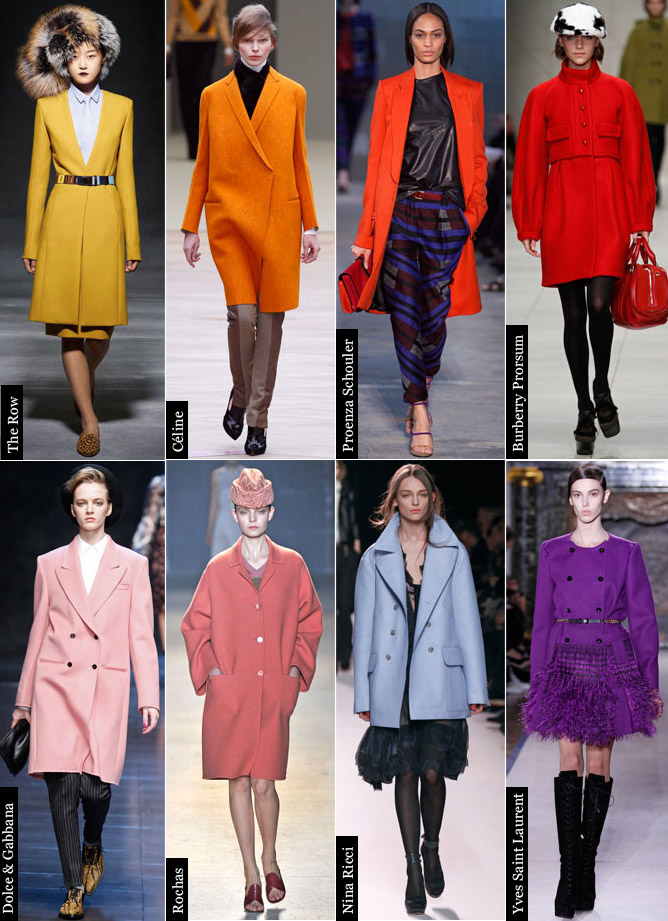 What do you think of a colourful coat for Fall? xx
Photos from harpersbazaar.com / harpersbazaar.com / google images