Chanel Couture Fall 2011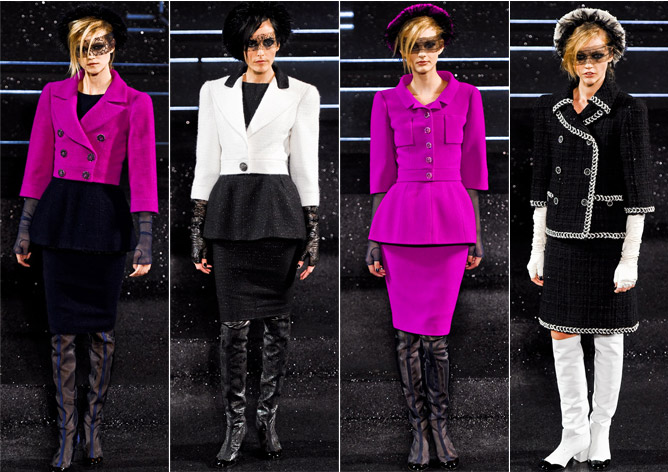 Spectacular craftsmanship; everlasting beauty; mesmerizing extravagance; opulent desire
There really is nothing quite like a Chanel Haute Couture Show…
– – – – – – – – – –
The Collection
Dominated by shades of black, grey and midnight blue; with striking accents of daring fuchsia; the Chanel Autumn/Winter 2011 Haute Couture Collection was an alluringly dark, seductive affair.
Held at 10pm under a starry Parisian sky, the Grand Palais was transformed into the Place Vendôme – complete with sparkling black pavements and instead of Napoleon's statue, one of Coco Chanel herself now took centre stage.
Focused on the signature Chanel skirt suit, the collection played homage to Chanel's iconic design with a breath of glamorous fresh air. Jackets were nipped in at the waist with a stiff peplum; while skirts were slimmer and slightly longer than previous seasons. Each look was accessorised with a sweet 'Victorian-inspired' hat as well as a lace fascinator worn just over the model's eyes. Exquisite beading and embellishment added the powerful finishing touches to Lagerfeld's opulent vision.
The collection exuded old-world elegance and sophistication – the perfect film noir atmosphere accompanied by strong 1940's shapes – with a refreshingly modern, unmistakably seductive, charm.
– – – – – – – – – –
A sneak peek behind the Chanel Couture scenes…
>> Karl Lagerfeld's original design sketch and the silk fabric
>> The silk fabric is folded, draped and pinned
>> The 'petites mains' are delicately folded and twisted to create the perfect effect
>> Attention to detail – delicate silver buttons and white plumes are created
>> The toile and pattern of an iconic Chanel tweed jacket
>> The pattern is placed on a mannequin
>> Tweed fabric is infused with glittering beadwork
>> The lining and hems complete the couture garments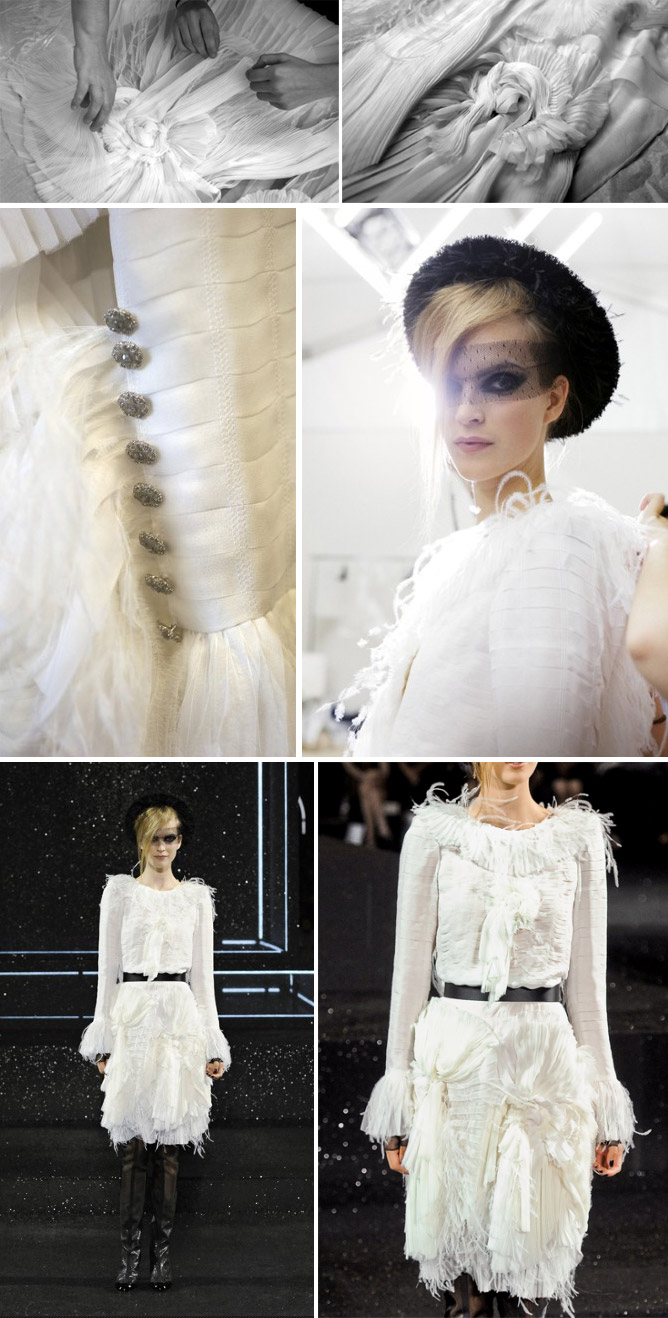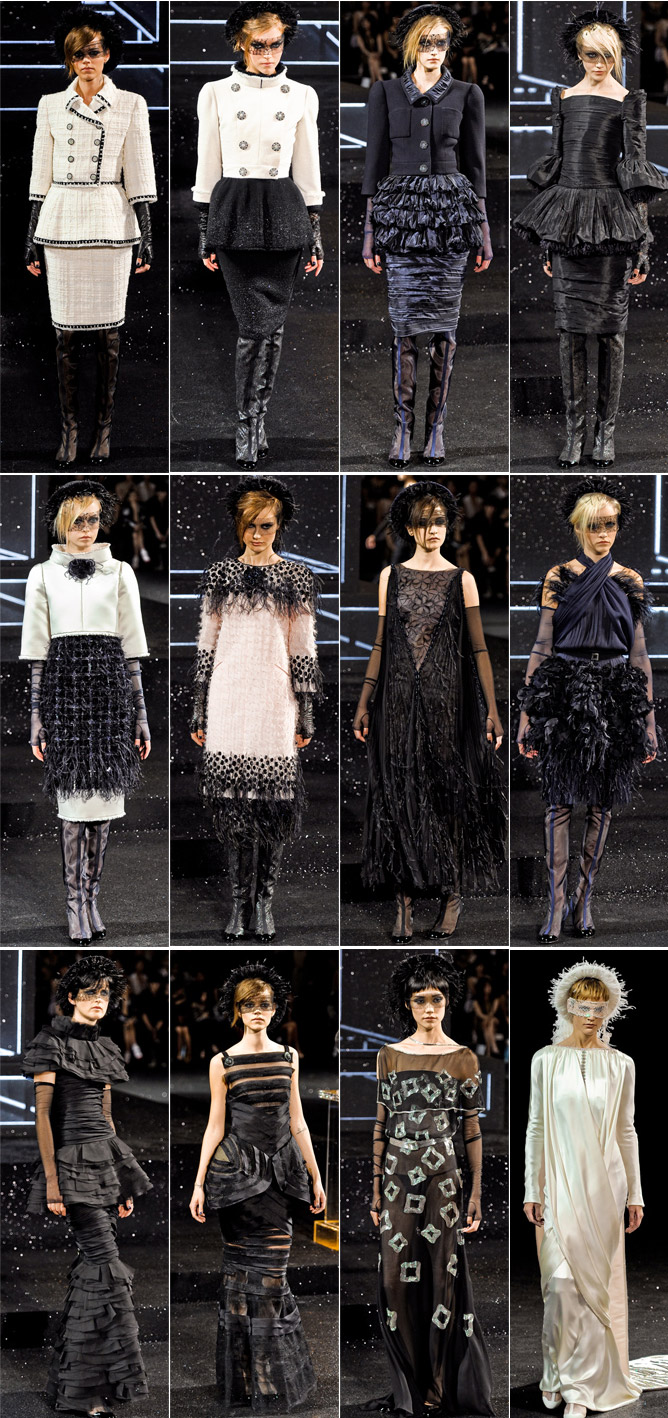 The decadence, the beauty, the unmistakable elegance… oh how I love Chanel! xx
Photos from style.com / fashion.telegraph.co.uk
I love… Giambattista Valli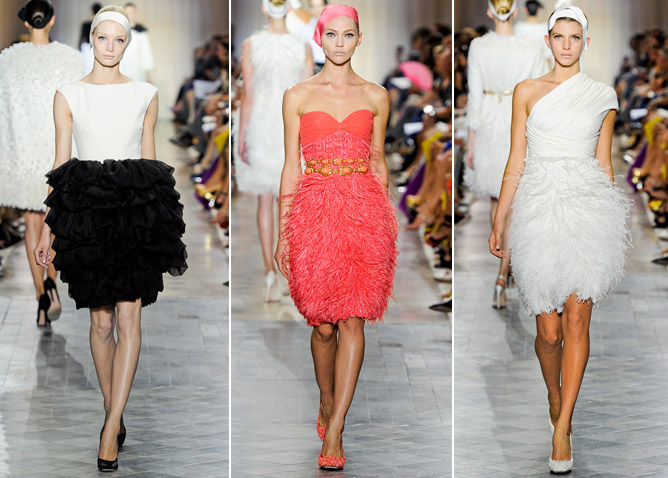 Giambattista Valli's first couture collection is exquisitely beautiful, undeniably chic, and very much in touch with his signature lady-like aesthetic.

Decadently ruffled evening gowns; delightful feathered cocktail dresses; distinct cocoon-shaped jackets – I fell irrevocably in love at first sight!
As one of eight designers invited to show during Paris Couture Week, as a special guest of the Chambre Syndicale; Valli's master class in the overtly feminine, perfectly portioned cocktail dress is timeless elegance personified. Showcasing 45 looks, Valli's debut Haute Couture collection became a spectacular affair.
With looks perfectly accessorised by grosgrain headdresses, the chic cocktail dresses and gowns floated down the runway with unmistakable charisma. In vintage shades of rich magenta and coral, the collection evoked Old-Hollywood mystique. Gowns were adorned with tiny lily of the valley petals; ostrich feathers; sequins and beads – showcasing the extraordinary couture craftsmanship and precise attention to detail. Meanwhile, make-up further exuded the 50's finesse with pale faces, nude lips and flicked eyeliner.
The couture collection was watched by a bevy of 'IT' girls – Olivia Palermo, Caroline Sieber and Astrid Munoz – as well as the Queen of Fashion herself Anna Wintour -who rushed backstage to congratulate Valli personally.
Amid a collection of rapturous pleasures, Valli presented a feast of unabashed timeless glamour.

What do you think of Giambattista Valli's first couture collection? xx
Photos from style.com