Charmingly unfinished yet extraordinarily beautiful, the Christian Dior Haute Couture collection was simply exquisite.
It was a collection that exposed the beautiful workings of Haute Couture. Sheer layers showed the delicate construction of under garments. Tulle billowed elegantly from grand ball gowns. Ladylike elegance and polished glamour, made for sensational extravagance.
A truly breathtakingly divine collection…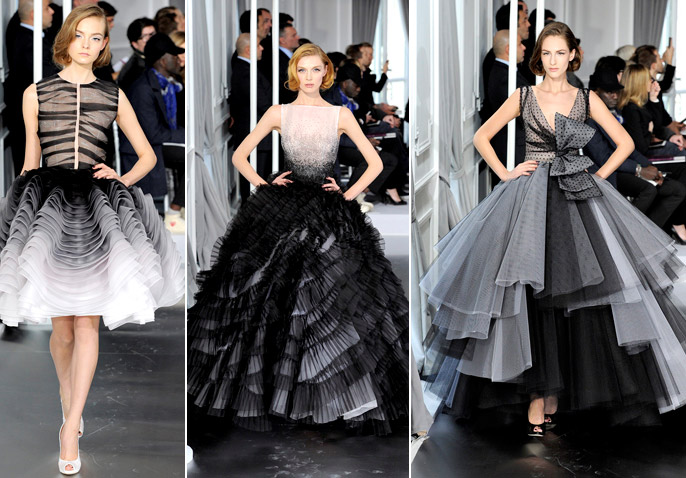 What did you think of the Dior Haute Couture Collection? xx
Photos from style.com & dustjacketattic.blogspot.com
With a hint of Old-Hollywood glamour in his truly breathtaking evening gowns, Giambattista Valli's second Haute Couture presentation was an opulent, joyous and truly beautiful affair. Showcasing traditional couture techniques Valli's strapless ball gowns in billowing floral prints and divine berry colour palette, exuded unmistakable elegance and hypnotising magnetism.  
Beyond the extraordinary couture pieces, it was the accessories that caught my eye; particularly, the floral headpieces which also made a dramatic appearance at Alexis Mabille.
At Alexis Mabille large floral paper headpieces and painted faces made the catwalk a memorable moment, all the while never distracting from the masterful couture pieces. Colours and tones relating to couture pieces where highlighted by these bold and bright floral accessories.
Giambattista Valli's brilliant blooms also perfectly complimented his darling couture gowns. The headpieces matched the gown colour exactly or brought together complimentary shades in hydrangeas, peonies and feathers.
Giambattista Valli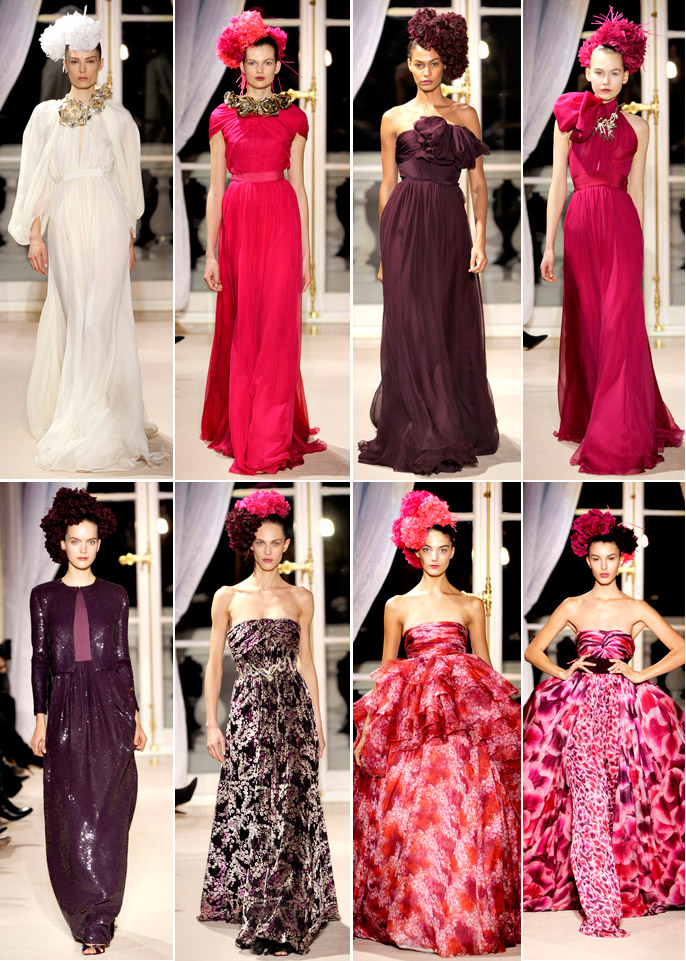 Alexis Mabille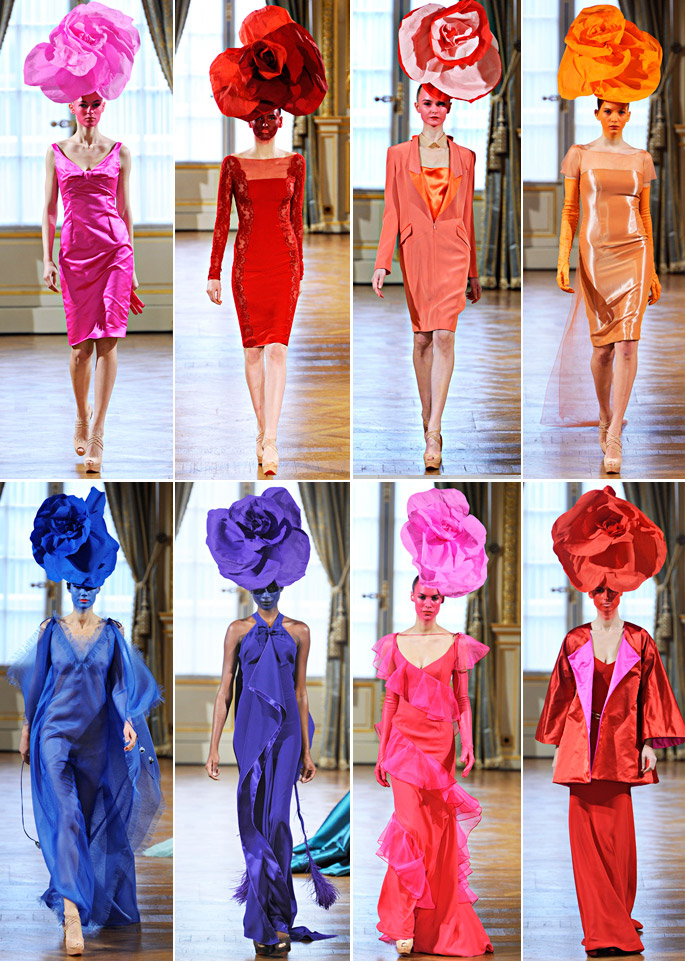 These brilliant blooms are quite simply stunning for spring… Happy Tuesday! xx
Photos from style.com
I love… Giambattista Valli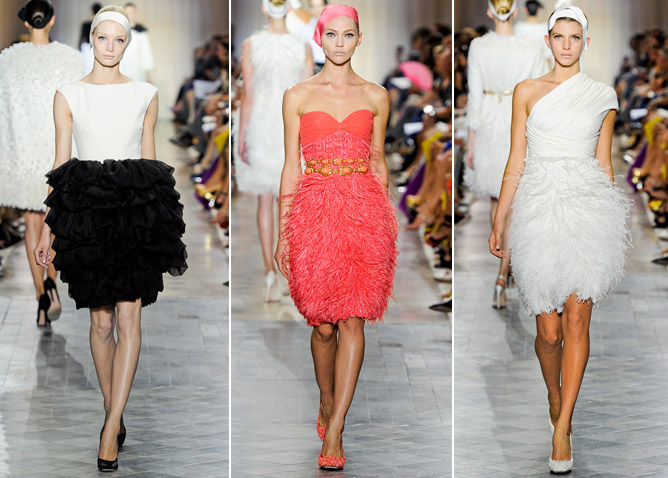 Giambattista Valli's first couture collection is exquisitely beautiful, undeniably chic, and very much in touch with his signature lady-like aesthetic.

Decadently ruffled evening gowns; delightful feathered cocktail dresses; distinct cocoon-shaped jackets – I fell irrevocably in love at first sight!
As one of eight designers invited to show during Paris Couture Week, as a special guest of the Chambre Syndicale; Valli's master class in the overtly feminine, perfectly portioned cocktail dress is timeless elegance personified. Showcasing 45 looks, Valli's debut Haute Couture collection became a spectacular affair.
With looks perfectly accessorised by grosgrain headdresses, the chic cocktail dresses and gowns floated down the runway with unmistakable charisma. In vintage shades of rich magenta and coral, the collection evoked Old-Hollywood mystique. Gowns were adorned with tiny lily of the valley petals; ostrich feathers; sequins and beads – showcasing the extraordinary couture craftsmanship and precise attention to detail. Meanwhile, make-up further exuded the 50's finesse with pale faces, nude lips and flicked eyeliner.
The couture collection was watched by a bevy of 'IT' girls – Olivia Palermo, Caroline Sieber and Astrid Munoz – as well as the Queen of Fashion herself Anna Wintour -who rushed backstage to congratulate Valli personally.
Amid a collection of rapturous pleasures, Valli presented a feast of unabashed timeless glamour.

What do you think of Giambattista Valli's first couture collection? xx
Photos from style.com