Pretty & sweet; an assortment of beautiful headbands were on show during the Fall 2012 collections.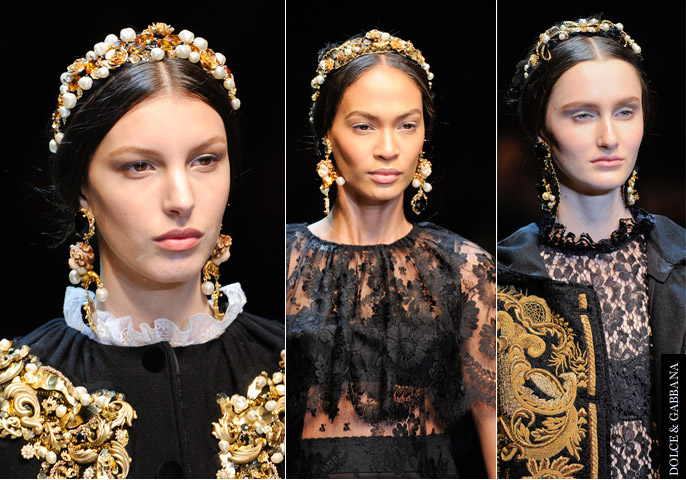 Headbands are the perfect accessory to invest in. Whether they have bows, embellishments, are bright or neutral – headbands play off beautiful dresses, handbags and shoes to perfection.
Opulently embellished headbands could be easily spotted at Dolce & Gabbana and Oscar de la Renta. Drawing attention to beautiful faces, embellished headbands add an splash of drama and sparkling delight to your look.  
Meanwhile at Clements Ribeiro and Moschino Cheap & Chic (pictured above), headbands were much more minimalist. These knotted variations appeared only in black at Clements Ribeiro, while at Moschino Cheap & Chic pretty pastels added that extra teaspoon of sweetness to the collection.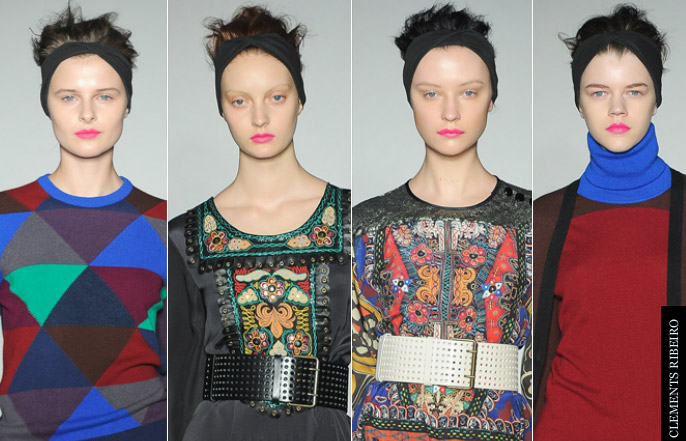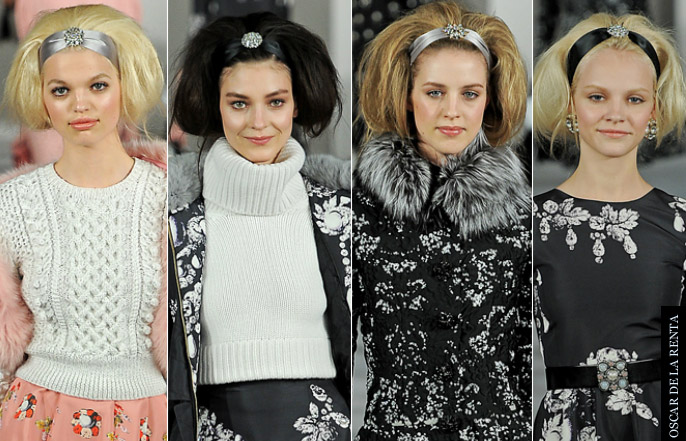 Do you love headbands? Which is your favourite accessory?
Photos from style.com
Easily one of the most popular hair styles of all time, the classic bob received a makeover at the Rodarte Fall 2012 runway presentation. Each model appeared with a sweetly tousled bob on the runway…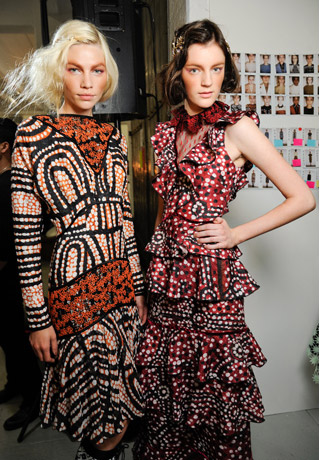 Citing the Australian outback as their inspiration, Rodarte's signature whimsical aesthetic was brought to life in a luxe colour palette of nude, marmalade and burgundy.
Taking a cue from the 1940's, both in silhouette and styling, the model's hair was swept up to just in-line with their chin.
Framing the face in soft waves, the bob is a timeless look that exudes elegance, sophistication and youthful frivolity.
To create the faux bob: the hair was first braided and tucked underneath, before the right side was set in waves using a three barrel or one-inch iron. The bend was then pinned with a hair comb.
Another hair highlight: the beautiful gold falling star accessories. Star brooches were buried in the models' slightly disheveled hair, radiating beautiful feminie loveliness. The heavenly star combs also brought an edge to the collection with the unpolished metal adding subtle strength.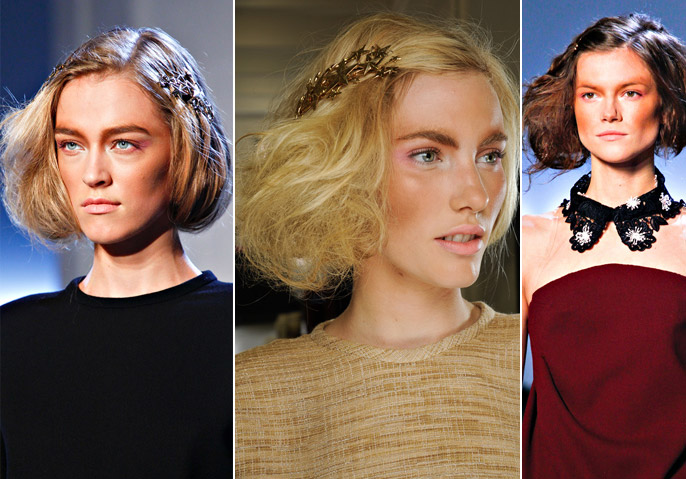 And the Shoes…
Also striking at Rodarte, the debut of their in-house shoe collection. After several seasons of collaborating with key shoe designers, from Nicholas Kirkwood to Christian Louboutin, the Mulleavy sisters' shoe designs hit the runway.
The ladylike round-toe heels, featured two-tone metal; buckles; straps; and even sand! The heels were each subtlety unique and were made of plexiglass or filled with sand (below left) for a distinct take on the 'Australian Outback'.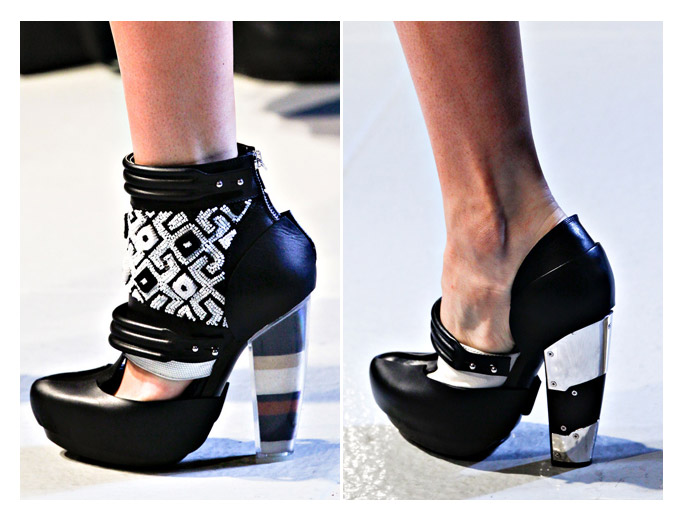 Photos from style.com
With a hint of Old-Hollywood glamour in his truly breathtaking evening gowns, Giambattista Valli's second Haute Couture presentation was an opulent, joyous and truly beautiful affair. Showcasing traditional couture techniques Valli's strapless ball gowns in billowing floral prints and divine berry colour palette, exuded unmistakable elegance and hypnotising magnetism.  
Beyond the extraordinary couture pieces, it was the accessories that caught my eye; particularly, the floral headpieces which also made a dramatic appearance at Alexis Mabille.
At Alexis Mabille large floral paper headpieces and painted faces made the catwalk a memorable moment, all the while never distracting from the masterful couture pieces. Colours and tones relating to couture pieces where highlighted by these bold and bright floral accessories.
Giambattista Valli's brilliant blooms also perfectly complimented his darling couture gowns. The headpieces matched the gown colour exactly or brought together complimentary shades in hydrangeas, peonies and feathers.
Giambattista Valli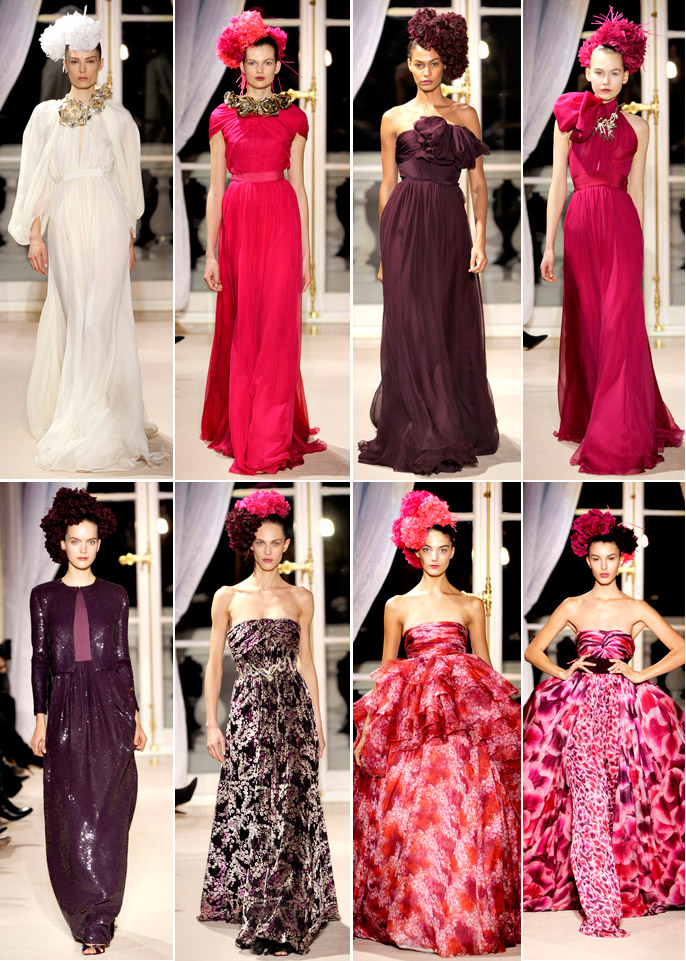 Alexis Mabille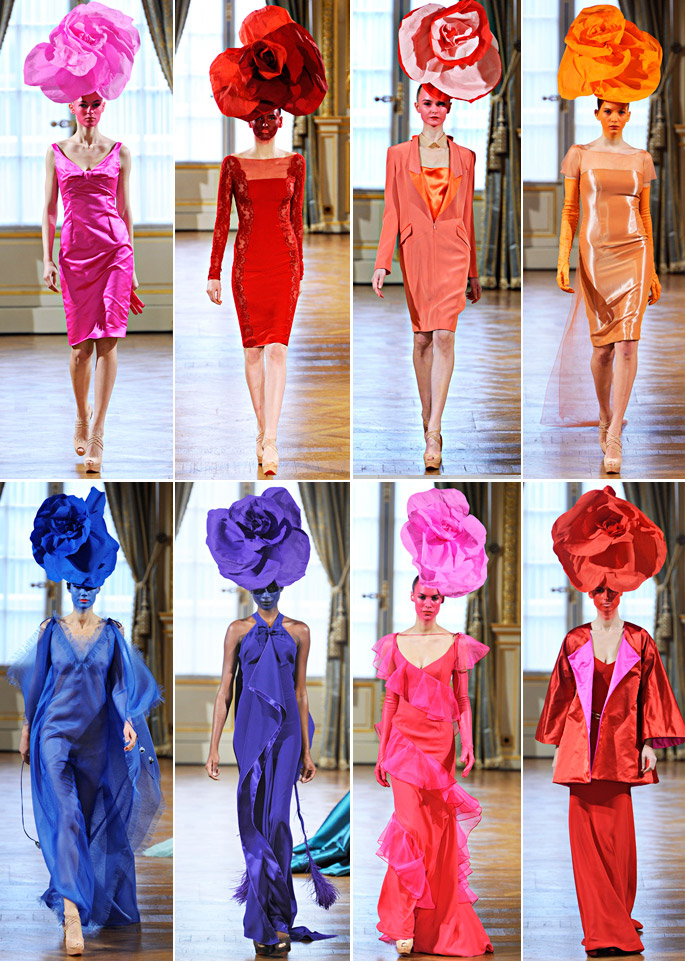 These brilliant blooms are quite simply stunning for spring… Happy Tuesday! xx
Photos from style.com