And not the one you write on paper. I am talking about your hair.
Your signature hair style.
A seemingly small question, yet extremely imperative when determining one's style – what is your hair conveying to the world about you? Is it neat and tidy? Vibrant and unruly? Natural and elegant? Do you have a defining look – think Anna Wintour, Grace Coddington or even Dita Von Teese – their hair instantly recognisable? Is your signature style an extension of you? Or do you routinely change it up; continually on the hunt for the perfect colour and cut?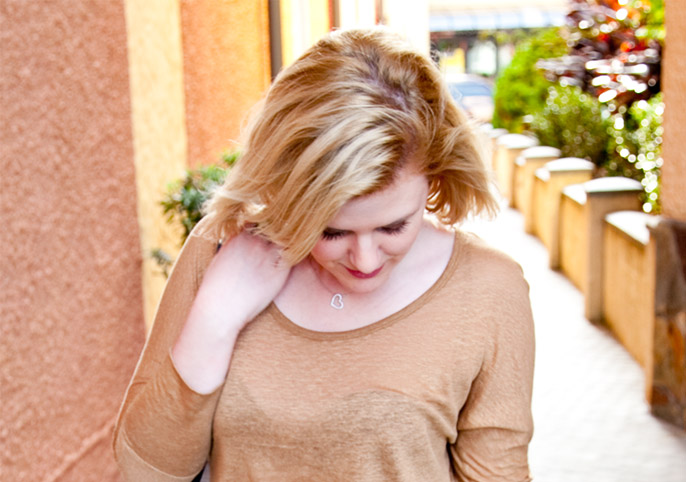 As someone who loves to 'mess' with her hair, I have had somewhat of a hair epiphany of late; that these extraordinary women may very well be onto something. That having a signature look may not be restrictive or boring at all but iconic and timeless.
Easily one of the most popular hair styles of all time, the classic bob received a makeover at the Rodarte Fall 2012 runway presentation. Each model appeared with a sweetly tousled bob on the runway…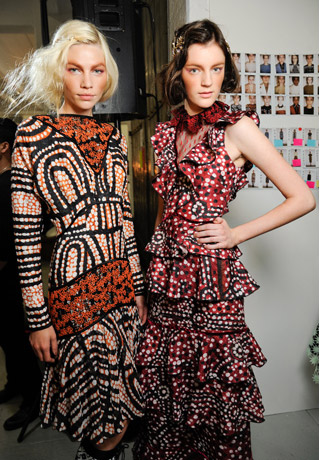 Citing the Australian outback as their inspiration, Rodarte's signature whimsical aesthetic was brought to life in a luxe colour palette of nude, marmalade and burgundy.
Taking a cue from the 1940's, both in silhouette and styling, the model's hair was swept up to just in-line with their chin.
Framing the face in soft waves, the bob is a timeless look that exudes elegance, sophistication and youthful frivolity.
To create the faux bob: the hair was first braided and tucked underneath, before the right side was set in waves using a three barrel or one-inch iron. The bend was then pinned with a hair comb.
Another hair highlight: the beautiful gold falling star accessories. Star brooches were buried in the models' slightly disheveled hair, radiating beautiful feminie loveliness. The heavenly star combs also brought an edge to the collection with the unpolished metal adding subtle strength.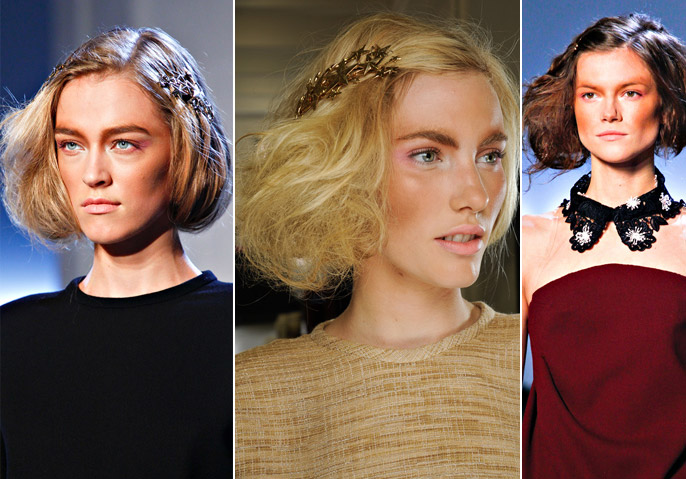 And the Shoes…
Also striking at Rodarte, the debut of their in-house shoe collection. After several seasons of collaborating with key shoe designers, from Nicholas Kirkwood to Christian Louboutin, the Mulleavy sisters' shoe designs hit the runway.
The ladylike round-toe heels, featured two-tone metal; buckles; straps; and even sand! The heels were each subtlety unique and were made of plexiglass or filled with sand (below left) for a distinct take on the 'Australian Outback'.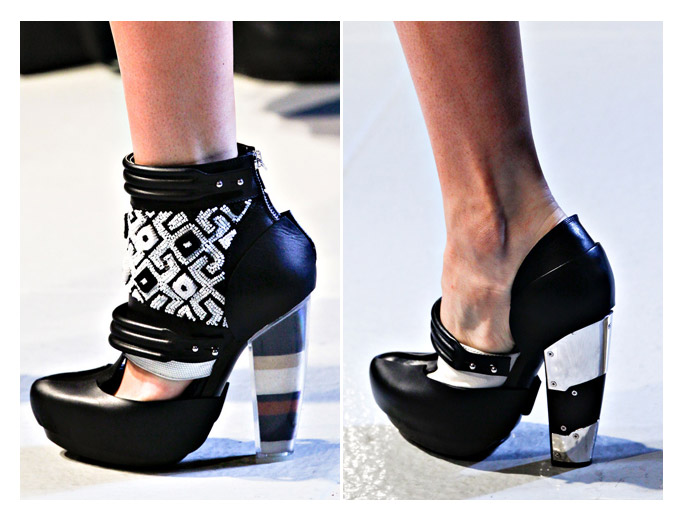 Photos from style.com