Effortlessly straightforward; seductively streamlined– a sharp yet simple silhouette is the epitome of chic.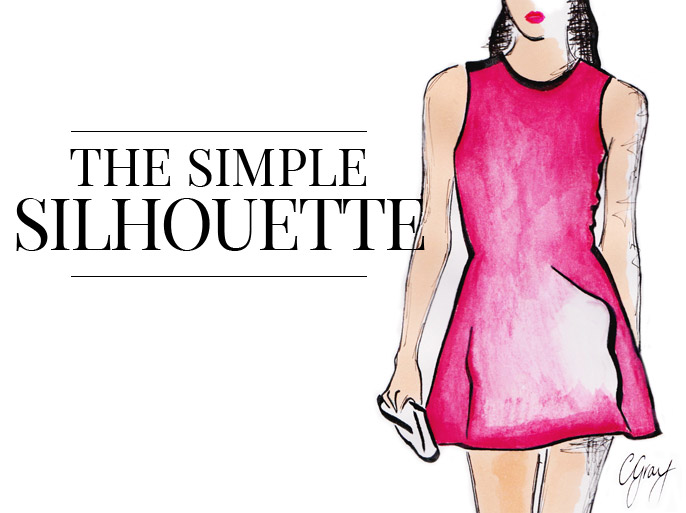 "Simplicity is the keynote of all true elegance." – Coco Chanel
Appearing on the Victoria Beckham Spring / Summer 2013 runway, this sleek silhouette was the height of nonchalant style. With her ever growing portfolio of exquisite designs, Victoria Beckham demonstrated that with a bold burst of colour, a sharply tailored cocktail dress can be heightened from the potentially mundane to très magnifique with that delicate, restrained touch.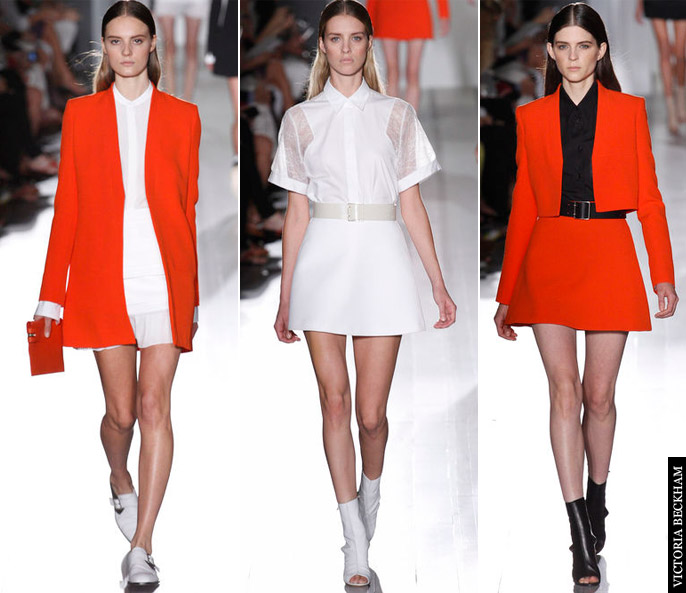 Chic Simplicity
Favoured by designers who emphasise modern, timeless designs – just think of Phoebe Philo at Celine and her extraordinary restraint when creating classical pieces women will cherish for decades to come.

Distinctly feminine and wearable, Stella McCartney is another designer who understands a sharp cut can exude an unmistakable 'grown-up' allure.

Artfully structured, a simple tailored piece can do wonders for the figure. Tailoring can slim and flatter your body in spectacular ways. Honing her skills with Savile Row tailor Edward Sexton, McCartney became renowned for her precision cuts and distinctly feminine take on simplicity. Her highly coveted trouser suits and cocktail dresses have been worn by many of the world's most stylish and are the perfect style inspiration for any modern day woman aspiring to achieve that chic, elegance.
Note: When adopting a 'less is more' philosophy, be sure to place a strong emphasis on the fit, quality and silhouette.

Will you embrace the 'simpler life'? xx
Photos from style.com
Your Daily Fashion Scoop
4 Delicious Espresso Shots Of News…
First Look: January Jones for Versace
The first image of January Jones for Versace has been released and it is seriously hot (pictured above)! January Jones oh la la! Captured by Mario Testino in striking black and white, Jones models some divine Versace accessories. The image is so dramatic and sexy yet sophisticated.
Nicole Richie &
Joel Madden Wed
House of Harlow and Winter Kate designer, Nicole Richie married Joel Madden over the weekend. The ceremony took place at Richie's father, Lionel Richie's, LA home. Guests included; Ashlee Simpson, Gwen Stefani and Khloe Kardashian. But the big question – what Richie wore – is still to be confirmed. It has been reported, her final two options were vintage Chanel or a custom-made Marchesa gown! Decisions, decisions! I cannot wait to see which she chose! Richie is pictured above wearing Marchesa to a red carpet event.
The Financial Times Most Influential Women
The Financial Times has named the most influential women of the last decade. From the world of fashion; Kate Moss was named the ultimate 'model-as-brand' and Michelle Obama was listed for her 'international influence'. Sarah Jessica Parker (pictured right) was credited with having 'changed the shoe industry'. The Céline creative director, Phoebe Philo, was also mentioned.  
Oprah's Gift to her Australian Audience
Oprah has been in Australia and today was her Sydney Opera House show. Each of her 6000-strong audience received a Kailis 'O' pearl pendant necklace! Valued at $450AU each, the necklaces can now be purchased online. Of being involved in the Oprah show, Kailis Jewellery General Manager, Sonia Mackay-Coghill said:
'Kailis Jewellery has always believed in bringing joy to the wearer of Australian South Sea Pearl and to be able to share this with over 6000 audience members is a once-in-a-lifetime opportunity."
Happy Oprah Tuesday! xx
side photo from Net-A-Porter Facebook
Your Daily Fashion Scoop
6 Espresso Shots of News…
From Keira Knightley to Alexa Chung – the delicious scoops of fashion news you need to know now…
1>> Keira Knightley graces the cover of Vogue UK's January 2011 issue (pictured right). Photographed by Mario Testino, the cover is strikingly different with its dramatic black and white tones and Knightley's red necklace. Inside the issue she also models looks from Miu Miu, Sonia Rykiel, Prada and Marni… 
2>> Speaking of Mario Testino, the renowned fashion photographer, has taken the engagement pictures of Prince William and Kate Middleton. Testino also captured Prince William's mother, Diana, Princess of Wales, when she was alive. The photos are set to be released before Christmas… 
3>> Proenza Schouler looks set to sell a 45% share in their label to businessman, Andrew Rosen. Rosen is also head of Helmut Lang and has investments in Alice + Olivia, Gryphon and Rag & Bone… 
4>> Kohl's has announced they will renew their license to manufacture Simply Vera by Vera Wang as well as bring a Vera Wang Cosmetics line into production. Vera Wang cosmetics will be in stores for Spring 2012… 
5>> The winners of the 2010 British Fashion Awards have been announced at London's Savoy Hotel and Theatre. Some of the winners included: … 
Phoebe Philo     Designer of the Year award
Alexa Chung      British Style award
Lara Stone          Model Of The Year
Burberry              Digital Innovation Award 
6>> The super stylish stepped out looking divine for the British Fashion Awards (as is to be expected!). My top 4 best dressed of the night (and pictured below): 
Alexa Chung in Chanel with a Burberry jacket
Lara Stone in Calvin Klein Collection
Yasmin Le Bon in Christopher Kane
Victoria Beckham in a dress from her collection