Elegant, glamorous & seductively sexy; red is the crème de la crème of nail polish.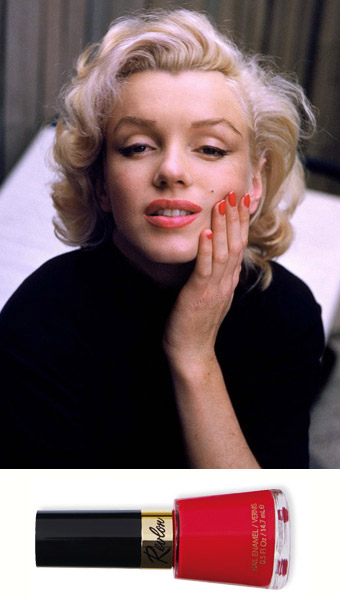 Irresistibly alluring, this classic power colour is a beauty icon. One of the greatest selling cosmetic items of all time, red nail polish is bold, daring and powerful. Associated with dazzling beauties and glamorous leading ladies, such as Marilyn Monroe and Rita Hayworth, red varnish is seductive, dramatic and has the power stop traffic. 
Nail polish as we now know it was first created in the 1920's by the Charles Revson Company (now Revlon). Previously nails were stained with colour; however, working with new technology used for painting cars, nails could be painted with hard-wearing enamel over the top instead. The first Revlon nail polish went on sale in 1932. It initially sold in hair and beauty salons, and was then marketed in department stores and pharmacies.
But it was Hollywood that really gave nail polish its popular appeal. With the arrival of colour movies, audiences could see their favourite actresses wearing alluring red shades. It was the fashion to match your nails to your lips, so luscious red and pink shades were virtually all that was available. Painting your nails was also a relatively inexpensive way to exude some of that 'Hollywood glamour'.
To this day the formula has remained virtually the same – with just a few tweaks and changes to make it last longer and dry quicker. Red is still in fashion and can still give instant 'Old Hollywood Glamour' and striking appeal…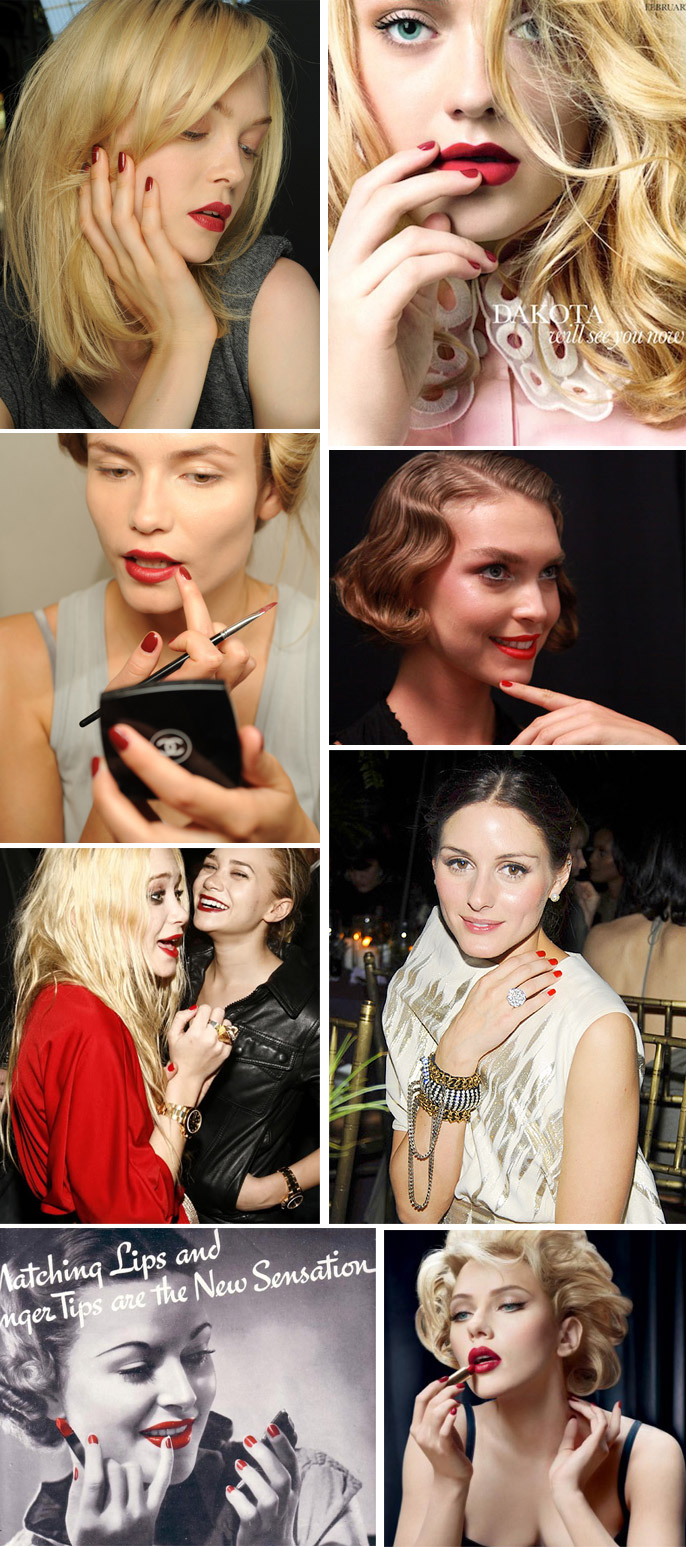 Which is your favourite nail polish shade?
Photos from style.com / google images
Pretty In Pink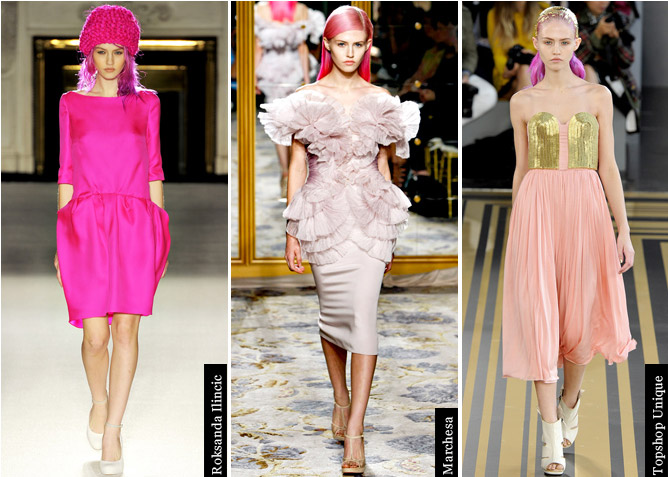 A Pink Lady Pledge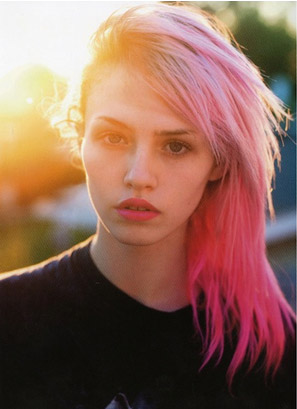 Model of the moment, Charlotte Free, isn't afraid to stand out from the crowd. Her striking pink locks have walked in a number of runway shows both in London and New York for high profile labels – from Marchesa to Vivienne Westwood.
What is quite unexpectedly startling though is how seemingly transitional pink hair can be. Looking at the selection of catwalk images from the Spring / Summer 2012 runways, Free's statement tresses embrace whatever the styling direction of the label. Whether channelling 'fresh, polished sophistication' at Marchesa; 'edgy grunge' at Kinder Aggugini; or 'sexy 60's Lolita' at Jeremy Scott – Free looks quite simply divine.
Having previously opened Vivienne Westwood's Red Label show; for Spring / Summer 2012 Free has already walked for Roksanda Ilincic, Topshop Unique, Jeremy Scott, PPQ, Kinder Aggugini, Vivienne Westwood and Louise Gray, amongst others.
Originally dying her own hair, using an assortment of shades – sweetly called 'Virgin Rose', 'Cupcake Pink', 'Hot Hot Pink' and 'Cotton Candy' – Free now leaves her daring pink tresses to the professionals.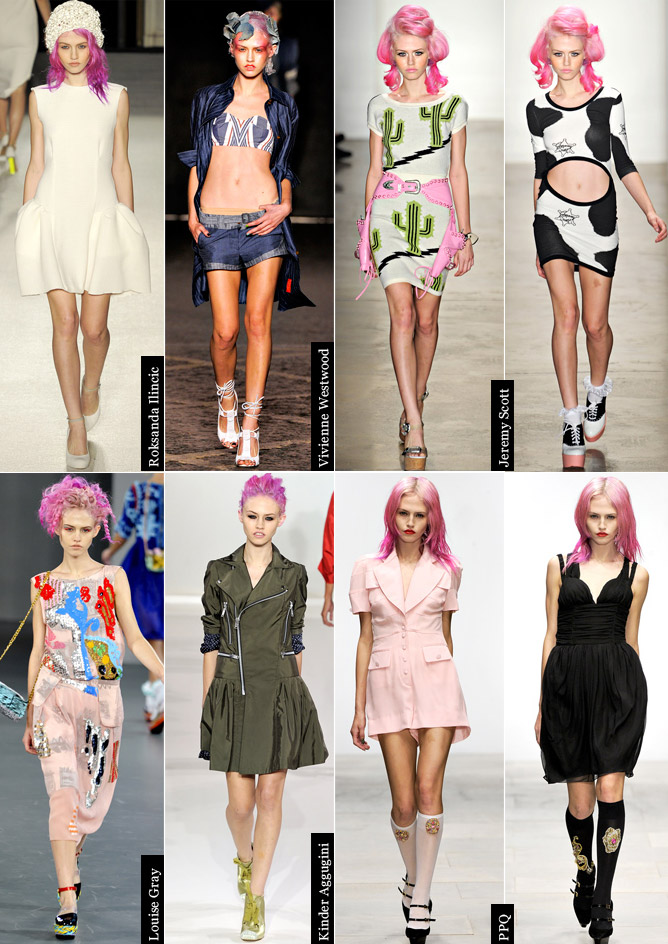 Pink hair = fearless beauty. Would you take the plunge? xx
Photos from style.com