Your Fabulous Fashion Scoop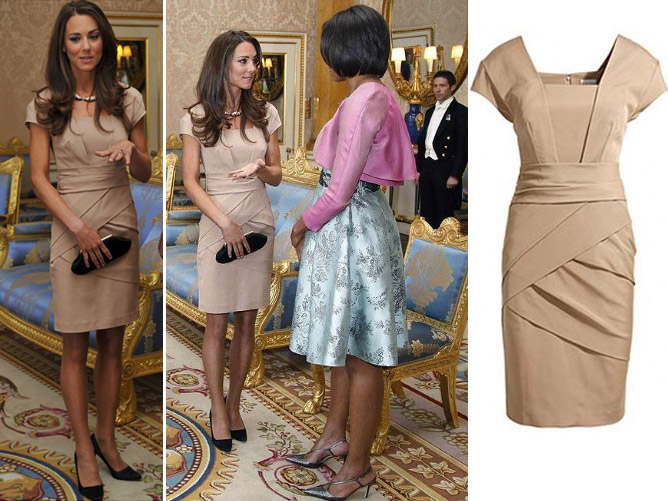 5 Espresso Shots Of Fashion News On A Wonderful Wednesday…
Catherine Middleton Wore Reiss To Meet Mrs. Obama
The Duchess of Cambridge wore a dress by Reiss when she met with the President of the United States and Michelle Obama at Buckingham Palace. Looking her usual glowing beautiful self, Catherine chose a Reiss 'Shola' dress for the monumental occasion. The camel bandage dress is still available to purchase at £175 from Reiss stores and online. As soon as photos of Catherine emerged wearing the High Street label the Reiss website crashed, inundated with an excess of traffic.
The Duchess Of Cambridge is a fan of the High Street label, also choosing a Reiss white shift dress previously for her official engagement portraits, taken by Mario Testino.
Giles Deacon For Nine West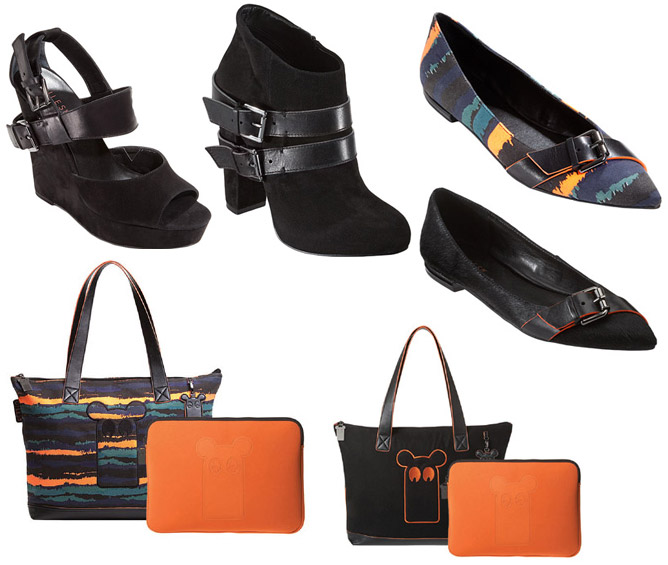 Giles Deacon has presented his new accessories collaboration with Nine West. The capsule collection consists of five pieces – two handbags and three footwear styles (ankle boot, pointed ballerina flats and peep-toe wedges). The Giles for Nine West collection will be available from September. Of the collaboration, Deacon has said: "I was catering to the Nine West customer, so these pieces are for wearing from breakfast until bedtime. The collection is still inherently Giles – there's still that London edge. It's not about the super-expensive though, not everyone can or wants to spend £900 on a pair of shoes. There's all day appeal about these pieces."
Christopher Kane's Taxi Makeover
Christopher Kane has taken a fleet of London Black Cabs and given them a makeover. The designs were inspired by his Resort 2011 galactic galaxy print and also feature the union jack. Of the transformation, Kane has said: "The black cab is such an iconic part of London's landscape. I am honoured to have the opportunity to put my own distinctive stamp on it. Looking forward to seeing one on the street and hailing it down". Sponsored by Vodafone, during their journey customers will be able to charge their mobile phones and also pay for their fare by text.
YSL Responds To Louboutin's 'Red' Claims
In April, Uptown Twirl reported that Christian Louboutin had filed a lawsuit against Yves Saint Laurent for a pair of 'virtually identical' red pumps with red soles (picture right). Louboutin is seeking damages of $1 million from YSL for copyright infringement. The court papers filed by Yves Saint Laurent in response to these accusations, state:
"Red outsoles are a commonly used ornamental design feature in footwear, dating as far back as the red shoes worn by King Louis XIV in the 1600s and the ruby red shoes that carried Dorothy home in The Wizard of Oz. As an industry leader who has devoted his entire professional life to women's footwear, Mr Louboutin either knew or should have known about some or all of the dozens of footwear models that rendered his sworn statement false." Well said Yves Saint Laurent!
Chloë Sevigny's First Catwalk Show
Chloë Sevigny is preparing for her first catwalk show for her collaboration with Opening Ceremony. Chloë Sevigny x Opening Ceremony 2011 Resort collection will be presented in New York in June. This is also a first for Opening Ceremony, whose collections have never before been shown on the catwalk.
Happy Wednesday! xx
Photos from vogue.co.uk / fashion.telegraph.co.uk / marieclaire.co.uk
Fashion, Competition, Espresso News
Share the love…
To celebrate and say thank you to all of the people who have supported Uptown Twirl, I am excited to announce the first official Uptown Twirl competition!
One Uptown Twirl reader will receive this divine leopard print clutch from Reiss! I just purchased it yesterday and I LOVE it! You can see more details by clicking here to visit the Reiss website. 
How To Enter:
Please complete one of the three criteria below to enter the Uptown Twirl Leopard Clutch competition: 
BLOGROLL –
Please add Uptown Twirl to your BlogRoll.

FACEBOOK –
Please suggest the Uptown Twirl Facebook page to your friends (anything from a couple of girlfriends who you feel would like Uptown Twirl to your entire address book – we would be truly grateful).

FEATURE UPTOWN TWIRL –
Please mention Uptown Twirl (including the web address) in one of your blog posts.
Then…
Once you have completed criteria either 1,2 or 3; please visit the Uptown Twirl CONTACT page and complete the enquiry form. In the 'Comments/Enquiry' field, be sure to enter your blog details and what criteria you have chosen to complete. In the 'phone number' field, please enter: 0001 for the competition code. I have completed a sample form below for you to see.  If you decide to fulfil more than one criteria, please let us know. 
The competition will be drawn in an Uptown Twirl Video on December 1st 2010 and the purse will then be posted to the winner. 
Uptown Twirl is all about sharing the love and we appreciate everyone who has visited the website; liked us on Facebook; followed us on Twitter; and posted their comments and feedback. 
Good Luck! xxx