Summer Brights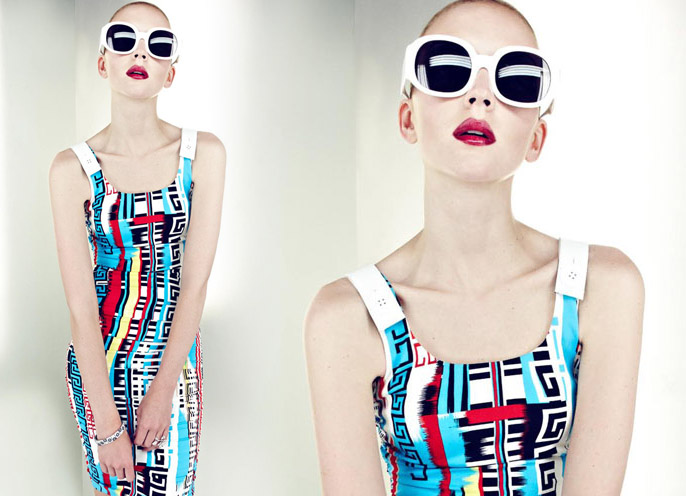 Make a bang this Summer – with cuts, colours & prints that burst with a bold statement…
From Versace to Christopher Kane –the stage is set for a spectacular assortment of looks simply too hot to handle!
Fashion is meant to be fun and what better season to embrace vibrant pieces than Summer. Dress with optimism for unmistakable extravagance…
Iconic Prints: Be Pattern Perfect
From those iconic Prada stripes to Versace's greek key pattern (pictured above) – prints turn the ordinary into the extraordinary. Conjuring images of timeless holiday dressing, prints demonstrate just how fun fashion can be. Embrace a floral fantasy; a classical Parisian inspired stripe; or delve into delicious fruit filled decadence.
Colour Me Happy: Be Colour Confident
The power of a magnificent hue can quite literally render you speechless. Just think of the extraordinary fluorescent lace at Christopher Kane; the high-impact red at Versace; or the jewel coloured hues at Gucci. Combine strong, clear colours for rich, covetable, opulent dressing. Two of the hottest shades right now: tangerine and cobalt blue.
Show A Little Skin: Be Cut Out Chic
Nothing says sexy quite like a cut-out – that glimpse of skin beneath a gorgeous dress. Mark Fast's crochet creations (pictured below) in acid yellow will unmistakably turn heads. For a slightly more conservative take (a la Chanel), choose high waisted shorts worn with a tailored shirt and waistcoat (pictured below).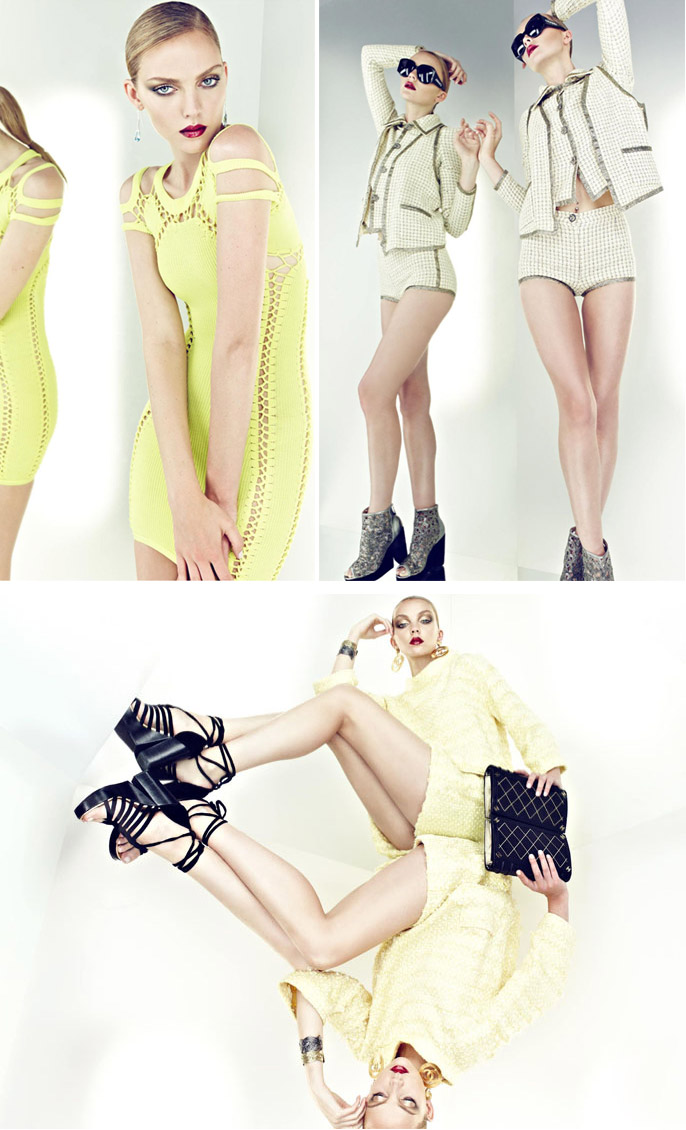 Courageous Dressing: Will you embrace fresh fashion optimism?
Photos from fashiongonerogue.com
Favourite Pieces…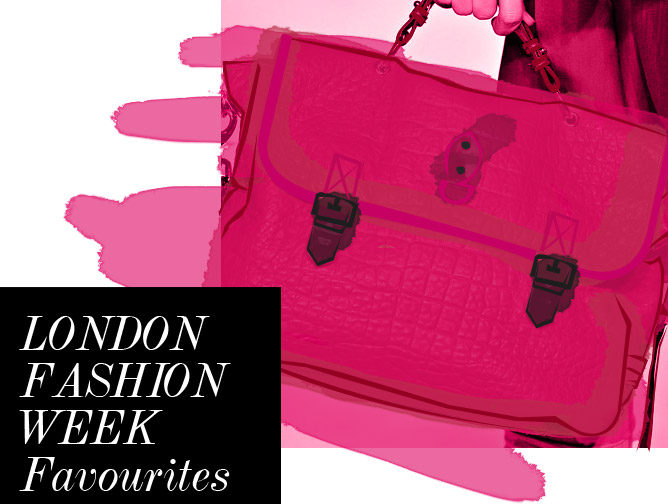 London Fashion Week – Fall 2011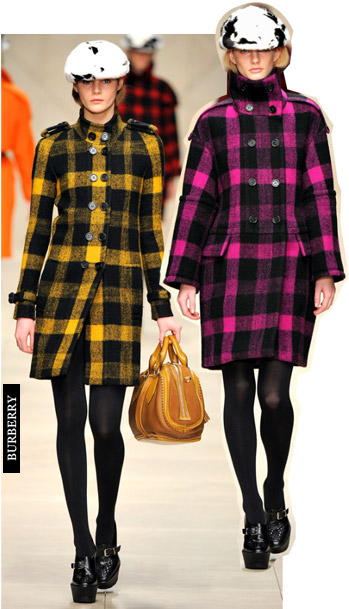 London Fashion Week is nearly coming to a close and I have been so sad that I was unable to make it! To get my Fashion Week Fix I have been watching the live streaming at all hours of the morning; checking style.com feverishly; and dreaming ahead to a Fall season full of eye-popping colour; accessorising with tights and hats; and staying warm in those divine coats.  
From established Fashion Week Must-See shows – such as Mulberry, which attracted a celebrity front row of Kirsten Dunst, Clémence Poésy, Gemma Arterton, and Nicholas Hoult – to the up-and-coming designers at Fashion East; I get so excited about seeing them all!   
Some Of My Favourite Pieces…
As you can see from the looks below I am going through an orange and yellow stage! These colours are so fresh, optimistic and vibrant for Autumn / Winter.
The orange Burberry trench leaves me speechless! It is one of the most gorgeous things I have ever seen! I love the cut, striking buttons and seam detailing. Burberry also offered countless other stunning coat options for Fall. I also adore the off-white, bow coat worn by Abby Lee Kershaw below.
The looks from Mulberry were also high on my lust-list. The use of quilting in dresses; knee-high socks; and gorgeous colour hues – were too-die-for! Inspired by Ronald Dahl's Fantastic Mr. Fox; Emma Hill, Creative Director of Mulberry, described the collection's muse as: "She's very English. She's got a dilapidated, stately home. She's got her long party dress on and she throws on a duffel coat." The brands signature IT bags – the Bayswater, Alexa and Tillie – were also updated for Fall. The pink Alexa (above) needs to get into my wardrobe immediately!  
I also had a soft spot for Holly Fulton, Temperley London & Erdem…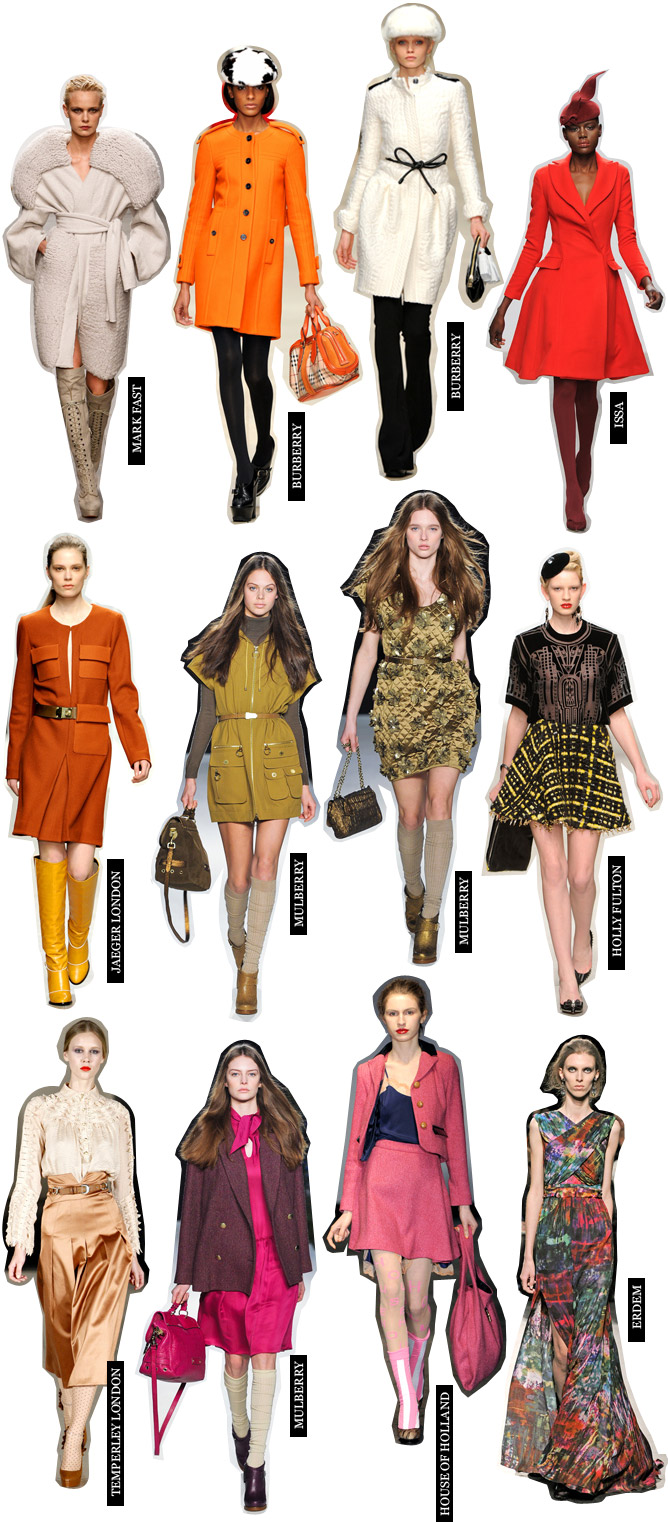 What are your dream pieces for Fall? xx
Photos from Style.com
Your Daily Fashion Scoop
4 Shots of Espresso News for your Monday….
Kylie Minogue wears
Mark Fast & Christian Louboutin
Kylie Minogue is the epitome of the word Super Star. Taking to the stage on The X Factor last night, Minogue wore a striking red Mark Fast dress and some unbelievably divine Christian Louboutin sparkly heels. Singing her new track 'Better Than Today', Minogue did look better than ever!
Vogue UK iPad Edition
Last week Condé Nast released the iPad December issue of Vogue UK. Of the app, Nicholas Coleridge, the managing director of the group's British sector said: "The Vogue app uses a specially created platform, conceived to allow fashion photography and shoots to come to life, to allow the fashion magazine to offer a multi- sensory experience.". I cannot wait to see it!
Amber Le Bon
for Forever 21
London model Amber Le Bon, 21, is the new face of American High Street brand Forever 21. Forever 21 has two stores set to open in the UK; the first in Birmingham on November 12th and another in Dublin on the 13th. Le Bon showed the Forever 21 collection in London recently and looked perfect for the role. Amber Le Bon is the daughter of Duran Duran lead singer, Simon Le Bon, and iconic model, Yasmin Le Bon.
David Beckham's
Own Underwear Line
We are used to seeing David Beckham in his underwear campaigns for Armani; however, rumours are circulating that he may be starting his own range. Reports claim Beckham is planning to launch his own line of underwear once he has retired from football. It is also believed that he wants his wife, the exquisite Victoria Beckham, to be equally involved in the project. We will just have to watch this space…
Happy Monday! xx
Side photos from: Photo1 guardian.co.uk | Photo2 dailymail.co.uk | Photo3 glamourmagazine.co.uk