Entitled 'Return To Elegance', Temperley London's Spring / Summer 2013 collection had the vision of "a late-1950s couture model or a young Sophia Loren".

Alice Temperley's vision to modernise her muse while making her "uncomplicated and effortlessly beautiful" was exquisitely achieved. With an effortless sophistication and chic simplicity, Temperley played with the notions of sheer and solid; precision and prettiness; modern and timeless.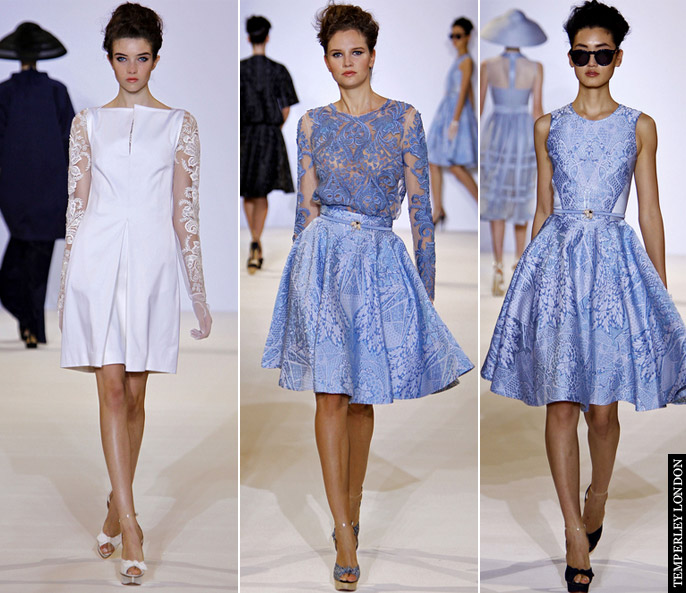 In a luxurious colour palette of pale china blue, white, navy, scarlet and black – intensive workmanship shined through in every piece of the collection. Intensive digital prints and delicate floral appliqués combined for looks that were beyond beautiful. Thick horizontal stain bands ran around organza skirts and dresses – evoking a floaty, fun and overtly feminine look.
The freshness of the colour palette – especially the use of crisp white cotton and lace sprinkled with fine crystals – evoked pure loveliness for Summer.
It was a distinct departure for the label, which saw this collection appear much lighter and more luxurious in decedent fabrics and undeniably pretty silhouettes.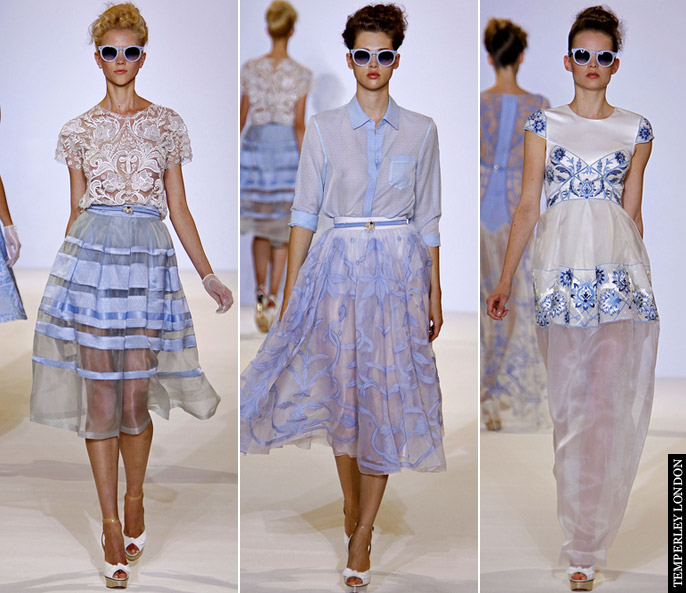 Femme Fatale Accessories
Iconic wide-brim hats, statement-making circular sunglasses and sweet net gloves – created an additional dose of drama. While the highly covetable heels were courtesy of Charlotte Olympia.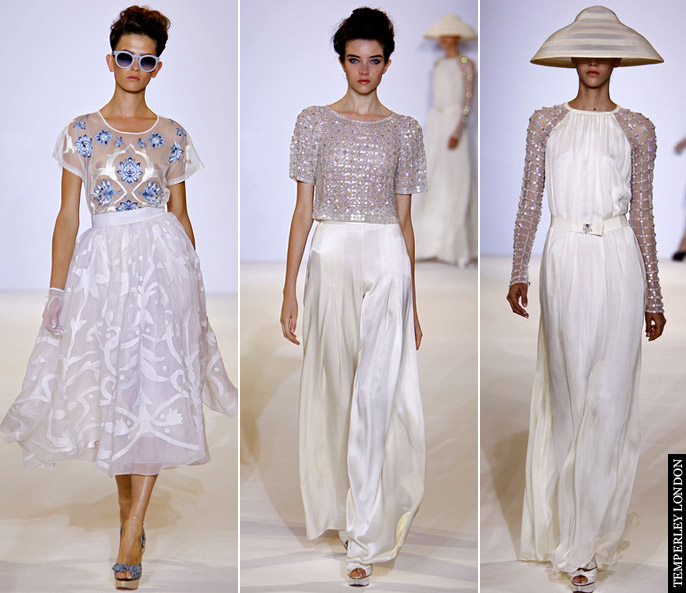 "It's just more fun, more playful this season. It's less about the dress – which is obviously still a really key piece for us – but more about really great separates in high-quality fabrics, and the way you put them together."
– Alice Temperley
Photos from style.com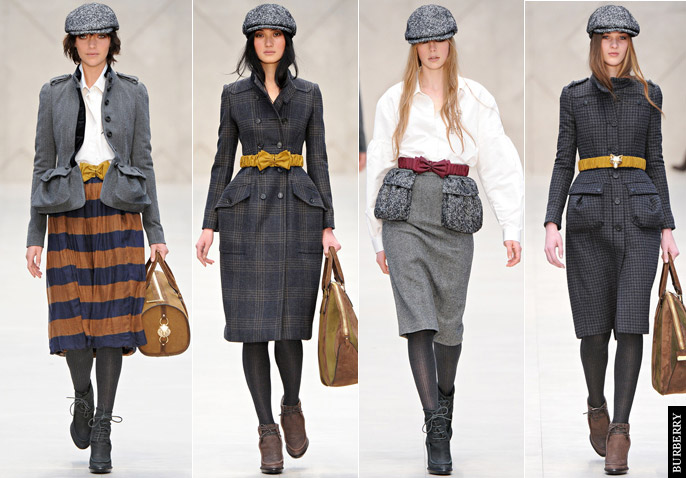 So far the runways have been topped with hats. From Ralph Lauren to Burberry, Rachel Zoe and more, it appears there will be a humble hat to suit every head for Fall.
The old adage: 'If you want to get ahead and get noticed, then get a hat' will certainly come into play for Fall. As the most eye-catching accessory you can wear, a hat instantly draws attention to your face.
At Ralph Lauren the collection took inspiration from Downton Abbey and featured glamorous 1920's accents. Classic cloche hats were the perfect exclamation points to iconic boy-for-girl suits (a la Coco Chanel). Meanwhile at Burberry, heritage herringbone and tweed hats echoed the 1930's / 40's English 'Town and Fields' inspiration.  While at Rachel Zoe it was the late 60's which inspired various chic hat styles to appear on the Runway.
With vintage accents, a hat is a stylish & warm way to make an iconic statement for Fall…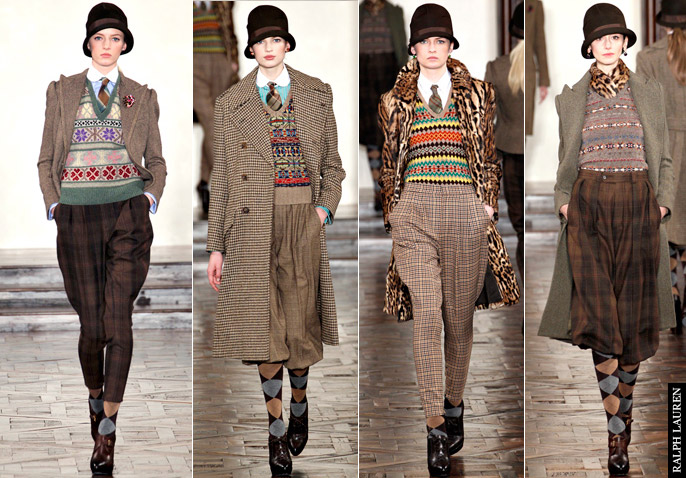 Which is your favourite hat style?
Photos from style.com
The Power Of A Spectacular Hat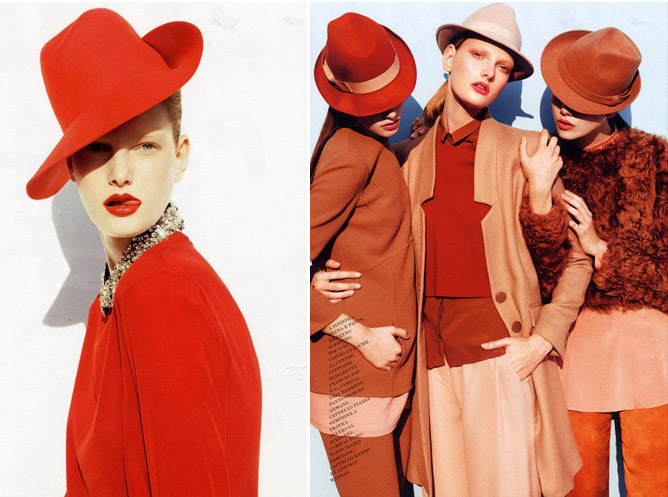 Not enough people wear hats. It's a bold statement, but I'm willing to make it. A magnificent hat has the power to command an outfit; instantly portray your style; captivate a room. A spectacular hat can transcend a fashion moment.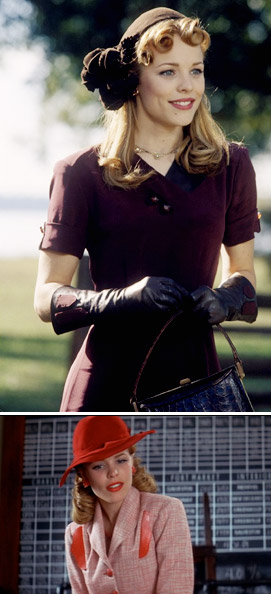 'If you want to get ahead and get noticed, then get a hat' – in years gone by, the hat was an essential item in every wardrobe.  It was even considered a disgraceful act if you left home without one. The etiquette was the same across all class levels – you simply must wear a hat. Today however, the dedication to this stylish accessory seems to have been lost in translation.
Hats can still be the de rigueur for all occasions. Next time you are dressing for an event think of the scene stealing headpiece Kate Winslet wears in Titanic or Rachel McAdams' embellished beret from The Notebook. Make an iconic statement.
A hat instantly draws attention to your face – it is the most noticeable accessory you can wear.
When choosing your own spectacular hat, be sure to reflect on the style, colour and shape. Consider the type of look you want to achieve and your wardrobe choices that will be accompanying it. A hat will balance out your look, so be sure to place careful consideration on proportion; i.e. don't let a hat wear you!
Below is an editorial for Flair, which celebrates a new season of darling headwear. Entitled Hide & Seek, this editorial displays just how a striking hat can transform a look.

What is your favourite 'statement making' accessory? xx
Photos from fashiongonerogue.com / imdb.com