Your Daily Fashion Scoop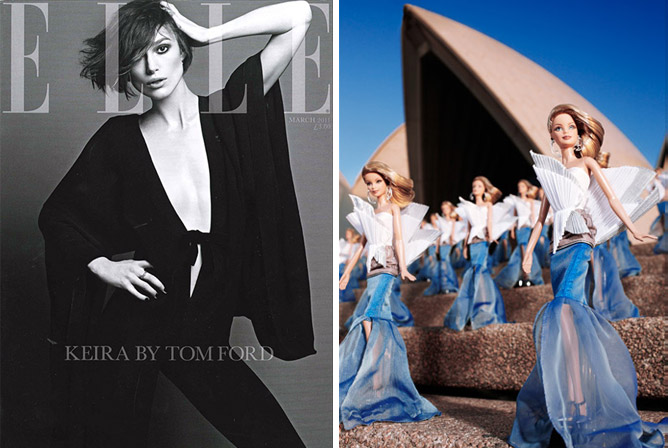 6 Espresso Shots Of News
Celebrate Sunday with some delicious scoops of Fashion News…

Tom Ford Stylist For Elle
For the March issue of Elle UK, Tom Ford is taking on the role of stylist. The first glance of Ford's work… the cover which features Keira Knightley and was photographed by Terry Tsiolis (pictured above left)…
Prada to float on the Hong Kong stock exchange
Prada's family owned company is set to float on the Hong Kong Stock Exchange. In what is set to mean big changes for the luxury brand, Prada will become a public company after 98years. Prada is also made up of labels: Miu Miu, Church's and Car Shoe. While this is the fourth time Prada has attempted such a move; depending on how many shares Miuccia Prada and her husband Patrizio Bertelli (company chief executive) chose to sell, they could boost their personal fortunes significantly…
Speaking of Prada…. The New 'Minimal Baroque' Sunglasses Campaign
Not just your ordinary campaign, models share the limelight with both dogs and eagles (pictured right).  Pushing the boundary between fashion and art; three artists – Ivo Bisignano, Marcela Gutiérrez and Andrea Tarella – have been commissioned to draw illustrations for the limited-edition 'Minimal Baroque' collection…
Sydney Opera House Barbie
To celebrate Australia Day last Wednesday, Mattel created the Sydney Opera House Barbie doll. Mattel enlisted the help of Australian Fashion Designer, Alex Perry, who created a miniature couture gown and accessories for the Barbie which was inspired by the iconic Australian Landmark. This is the fourth Barbie in the Landmark Series, which also includes; Big Ben, the Eiffel Tower and the Statue of Liberty…
Abbey Lee Kershaw for Portmans
Top Model Abbey Lee Kershaw is the new face of Australian retailer Portmans. Currently ranked No. 5 on Models.com, Kershaw is adored by Karl Lagerfeld, and has also appeared in campaigns for Chanel, Fendi, Gucci and D&G. Kershaw's Portmans campaign was shot in Sydney and one of the resulting images is pictured right. Portmans has previously cast other Australian models – Miranda Kerr, Jessica Hart and Elyse Taylor – before they went on to become international sensations…
Chic This Week… Diane Kruger
Diane Kruger had a super stylish week attending the Couture fashion shows. Kruger wore a Chanel Spring Couture dress (pictured below left) just 48 hours after it appeared on the catwalk! As one of Chanel's ambassadors, Kruger wore the exquisite powder-pink, structured dress adorned with diamanté buttons, to a charity dinner in Paris. Kruger also looked amazing this week in Gucci (below centre) and another Chanel look (below right)…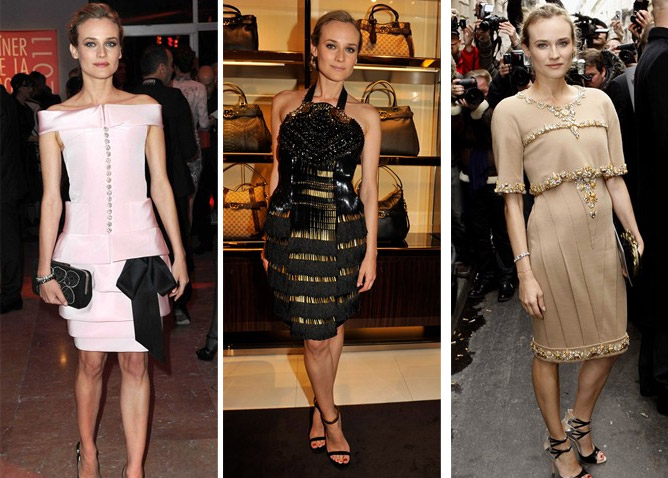 Your Daily Fashion Scoop
One Brilliant Balmain Gold Dress & 6 Magazine Covers… 
it is today's Espresso Shot of News…
Just a few months ago, Miu Miu's signature Fall dress with floral detailing, landed 3 Magazine covers. It created quite a stir, even being featured on both Elle UK and Vogue UK in the same month. Well it has happened again! This spectacular gold Balmain dress, from the Autumn / Winter 2010 collection, has made 6 magazine covers! No mean feat!
Worn down the runway by the gorgeous Anja Rubik, this Balmain dress is valued at £21,000. It has been worn by:
1 >> Natalia Vodianova for Harper's Bazaar UK, Dec 10 issue
2 >> Abbey Lee Kershaw for Vogue Germany, Aug 10 issue
3 >> Anna Dello Russo for 10 Winter 2011
4 >> Cindy Crawford for Vogue India, Oct 10 issue
5 >> Claudia Schiffer for Zeit Magazine, the 40th Anniversary Issue
6 >> Toni Garrn for Vogue Spain, November 10 issue
Natalia Vodianova also chose to wear the full length version to the Woman of the Year awards hosted by Harper's Bazaar UK.
Rumour also has it…
Anne Hathaway will wear this same dress for her cover of Elle UK's December issue! Watch this space…
Balmain = Love!
It's sparkly, metallic and has a deep plunging neckline – could there be a more perfect party frock for the coming Christmas season?  Love it! xx