My Dream Fall Wardrobe…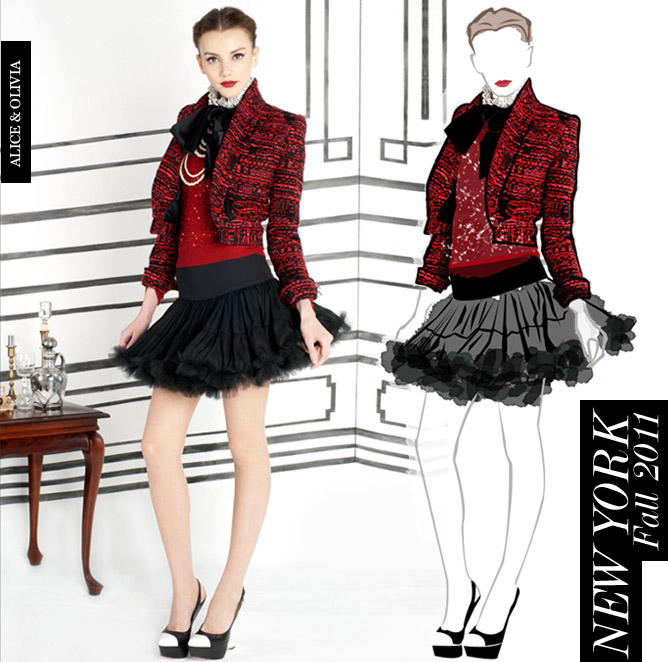 New York Fashion Week has come and gone… tear! Luckily there is still London, Milan and Paris Fashion Weeks to look forward to (including my favourite Chanel!).
New York Fashion Week left us with so many delectable looks it is almost impossible to ingest them all!  From Michael Kors (who is celebrating his 30th Anniversary) to Marchesa, Oscar De La Renta, Rodarte, Anna Sui, Jil Stuart and more – there are so many extraordinary collections to devour.
The too-die-for white feather skirt, delicate top with silver sequins and fur head piece by Oscar De La Renta (pictured line 2, 4th image) is elegance and sweet seduction personified! LOVE, LOVE, LOVE the head piece!  And how adorable are the animal prints at Jil Stuart – especially the foxes below (pictured line 3, 2nd image)? Not to mention, how exactly does Anna Sui always seem to create the perfect balance of feminine charm with an 'i'm with the band', effortless, cool aesthetic? Michael Kors, Erin Fethertson and Alice & Olivia also captured my heart with some exquisite pieces I cannot wait to see next Fall.
Some of my favourite looks from NY Fashion Wk…

P.S. Coincidentally, every one of my favourite looks from New York Fashion Week are dresses! Dresses are my absolute fashion true love! So I guess I will be investing in tights… xx
Photos from style.com
Golden Globes Glamour Girls…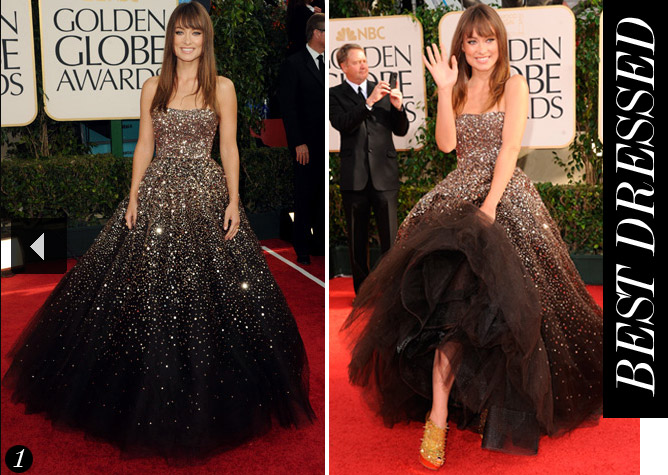 Add exquisitely dazzling gowns & some of the most beautiful women in the world and you may just get an unforgettable red carpet moment.
The Red Carpet Trends…
Emerald green featured often on the red carpet to create some spectacular styles. From Angelina Jolie to Mila Kunis and Catherine Zeta Jones; emerald green is my new colour crush! Long-sleeves were also favoured by the beautiful Anne Hathaway, Leighton Meester and Julianne Moore. While Peachy, neutral pinky shades also had a moment with Lea Michelle, Claire Danes and Natalie Portman all stepping out in these delicious tones!
My Golden Globes Best Dressed List…
1>> The ultimate in sparkly tulle perfection – Olivia Wilde in Marchesa
2>> An emerald green beauty – Angelina Jolie in Atelier Versace
3>> Sparking Gold – Anne Hathaway in Armani Privé
4>> Pink, Ruffles (i.e. Just Fabulous) – Lea Michelle in Oscar de la Renta
5>> Fairytale Elegance – Scarlett Johansson in Elie Saab
6>> Exquisite In Nude – Sandra Bullock in Jenny Packham
7>> All Wrapped Up To Perfection – Mila Kunis in Vera Wang
8>> Elegant & Understated – Leighton Meester in Zac Posen
9>> Popping Pink – Julianne Moore in Lanvin
10>> Glamorously Green – Catherine Zeta Jones in Monique Lhuillier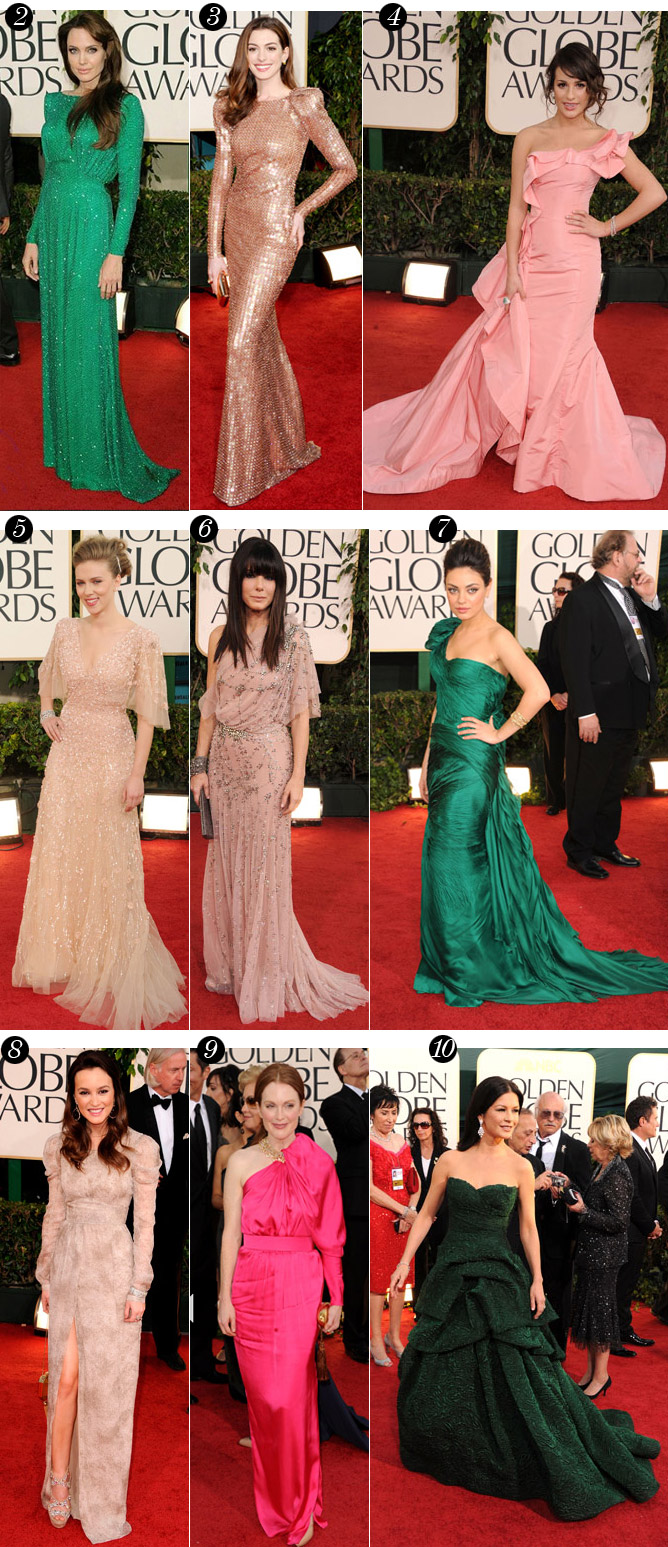 Who is your best dressed? xx
All photos from grazia.com.au
Your Daily Fashion Scoop
Saturday… the perfect day for some Fashion News (especially when it envolves Kate Moss)…
Miranda Kerr Goes Nude
Miranda Kerr has bared all for a new Photography book V2. Taken by the renowned photographer Russell James, V2 represents the "young goddesses of today". Kerr's series of photos are sensational and feature her frolicking on the beach. Another model included in V2 is Brooklyn Decker.
Kate Moss For Isabel Marant
Kate Moss is the face of Isabel Marant's Fall 2010 campaign. Moss is a perfect fit for the rock' n' roll styling, chic yet edgy French brand.
Marant's Fall collection is a sexy, streamlined take on fifties finesse. Undeniably cool, think sexy skinny black Capri pants hidden under luxurious coats. There are rolled-hem leather pants, baseball-inspired jackets, faded denim jackets, sparkly tees and pointed mid-height bow pumps. 50's inspired neckties also make an appearance.
Moss is photographed above in my favourite look from the Fall collection. For effortless, bohemian, French style… there is no other brand quite like it.
The Most Powerful Woman In Fashion
The First Lady, Michelle Obama, is now believed to be the most powerful person in fashion. This is the case as the economic value of the brands she chooses to wear have been boosted in total of up to $2.7billion. Jason Wu is one such designer who has been pushed into the spotlight. Wearing one of Wu's designs to the inaugural ball in January 2009, the label is now stocked around the world and his New York Fashion Week show a must-see.
Best Dressed Straight From The Runway
This week celebrities embraced looks straight from the Catwalk. Blake Lively looked stunning in a Lanvin look from the Fall2010 collection. Michelle Williams chose one of my favourite pieces from Erdem's Spring/Summer 2011 collection. Meanwhile, a glowing Claire Danes worked the ladylike look in a red Prada Fall2010 dress. And finally Freida Pinto worked a Marchesa Resort2011 embellished gown. Such gorgeous ladies and such spectacular gowns…xx
Kate Moss for Isabel Marant side photos | lelalondon.com