As one of the world's finest female fashion designers, Stella McCartney's sharp yet feminine pieces are instantly recognisable for their timeless chic appeal.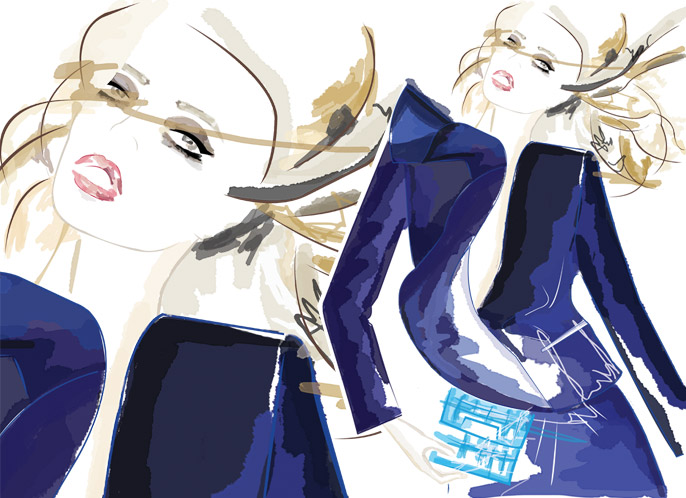 "Stella's style has been influential because she is her customer" – Tom Ford
About Stella McCartney

There aren't many students who would have world renowned super models Kate Moss, Naomi Campbell and Yasmin Le Bon take to the runway to model their collection…. at graduation.
After graduating from world renowned Central St Martin's College of Art and Design in 1995, Stella McCartney had that well publicised debut collection quickly bought up by London boutique Tokio.
In 1997, established and esteemed French fashion house Chloé hired McCartney as their new Creative Director (despite criticism from celebrated German designer and former Chloé  Creative Director Karl Lagerfeld).
After four and a half successful years at Chloé, where she achieved both commercial and critical success – bringing a more feminine and romantic feel to the brand,which still resonates with Chloé pieces today – McCartney entered a joint venture with luxury powerhouse the PPR Luxury Group (formerly Gucci Group).
Since her debut collection under the Stella McCartney brand in Paris, October 2001, it has become one of the most talked about companies in fashion today.
Stella McCartney has continued to create an array of luxurious garments; beautiful scented perfumes; and not to mention the launch of her Stella McCartney Kids collection in late 2010 (…what could only be described as positively adorable).
A Cut Above
At Stella McCartney tailoring is always a matter of priority. McCartney has become renowned for her precision cuts, with her distinctly feminine yet sharp trousers and tuxedo jackets coveted by women of all ages. 
While studying fashion, McCartney turned her attention to the craft of tailoring, honing her skills for world renowned Savile Row tailor Edward Sexton.
It was this time spent on Savile Row, learning and observing the philosophy of the 'perfect cut', that has now positioned McCartney as one of the world's finest designers – creating timeless pieces perfect for the modern day woman.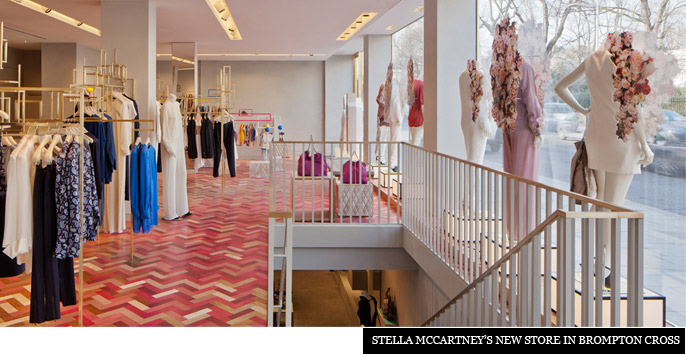 The Fall 2012 Collection
Focused on merging city & country, and day & night; Stella McCartney pieces perfectly encapsulate how women want to dress.
Of the collection, McCartney said: "The Stella woman is about balance".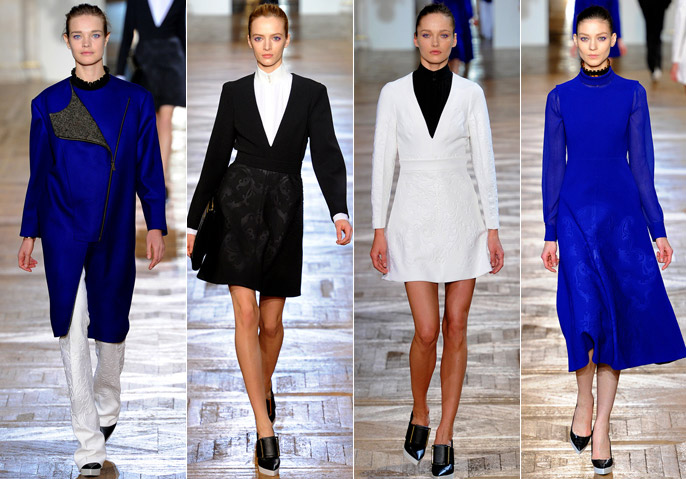 Working mainly with a dark colour palette and an emphasis on vivid midnight blue, McCartney's Fall 2012 collection played with the aesthetic of masculine and feminine; rough and soft. Fabrics with a tough sensibility – i.e. traditional English tweed –were made softer and more feminine; while iconic masculine pieces, such as the oxford shirt, were refined and reinterpreted.  
With an unmistakable sporty feel (understandable considering McCartney has just revealed the official British Olympic team uniforms), the collection also placed an emphasis on chic comfort and understated elegance.
McCartney's signature emphasis on tailoring was dressed up with beautiful botanical embroideries. Graphic white and black prints appeared strikingly against the brilliant blue.
Coats and tuxedo jackets appeared slightly oversized with unexpected detailing, such as asymmetrical zips, contrast panels, and oversized proportions. Trousers slouched from the hips, while shoulders were emphasized and waistlines highlighted. Luxe texture was also a feature, with chunky knit separates and dresses making an incredibly chic impression…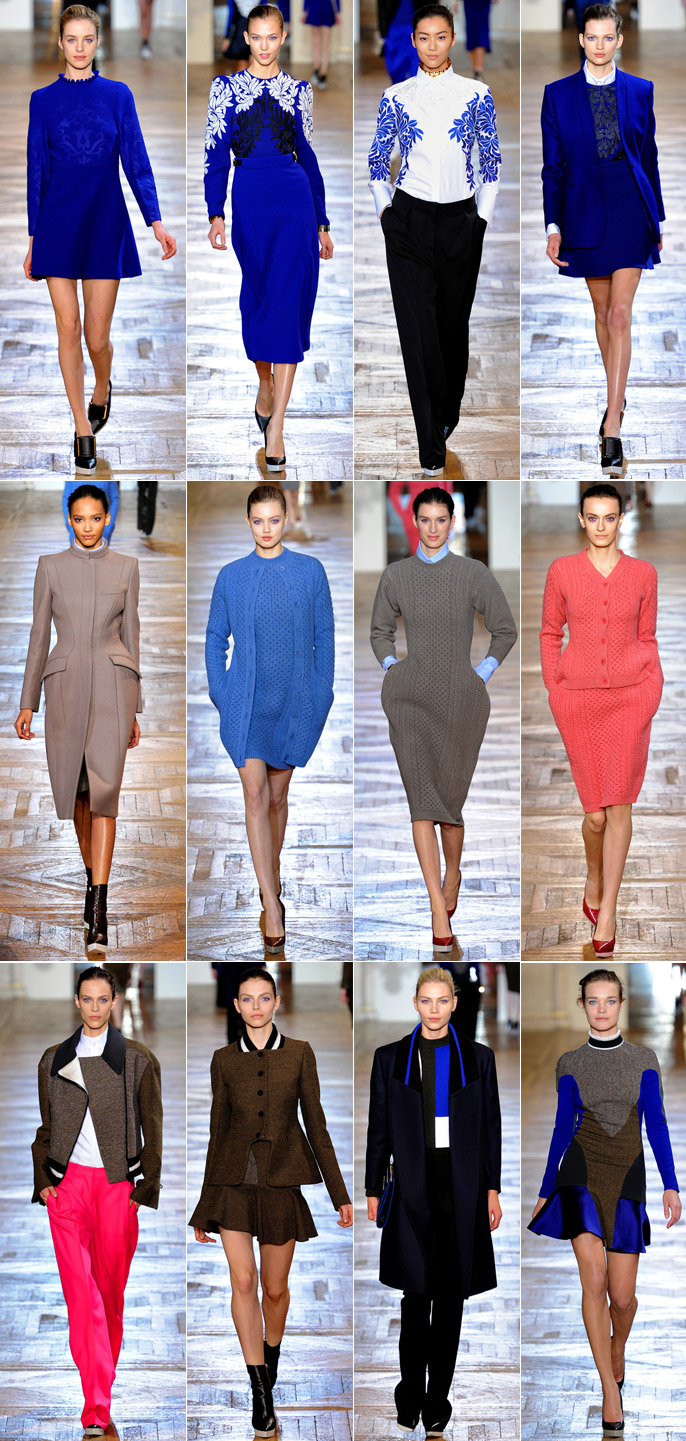 What do you think of Stella McCartney's Fall 2012 collection? xx
Photos from style.com
Sofia Coppola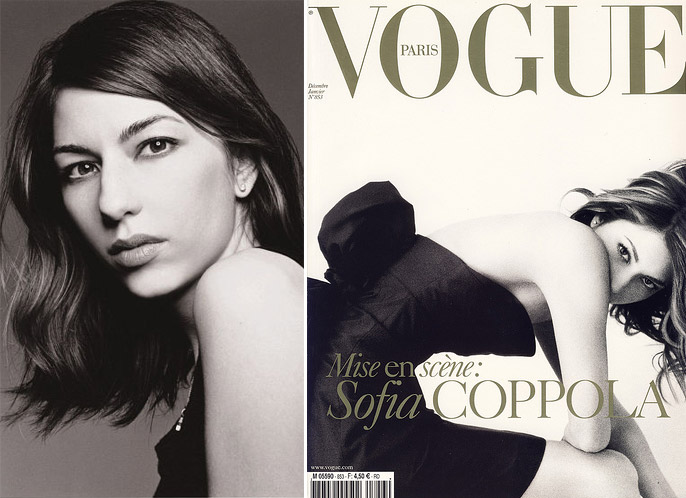 "She is young and sweet and beautiful. The epitome of this girl I fantasize of." –
Marc Jacobs
Long time friend and muse of Marc Jacobs, Sofia Coppola has become known for her signature understated yet effortlessly chic style. 
A regular on Best-Dressed Lists around the world, she has a nonchalant approach to dressing and her elegant wardrobe is a testament to her luxurious take on minimalism.
Having lived in France for a number of years, Coppola has become the quintessential 'American in Paris'. Often choosing a crisp button down shirt and tailored trousers – a perfect example of the Director's preference for a minimal look with a slightly unexpected twist – Coppola is equally at home in delightfully feminine pieces. She also favours sweet baby-doll dresses and ballerina flats which perfectly compliment her gamine-like frame.
Coppola's 'less is more' approach also extends to her styling. With loose naturally glowing hair and a soft make-up palette; her confidence and effortless style is ever radiant.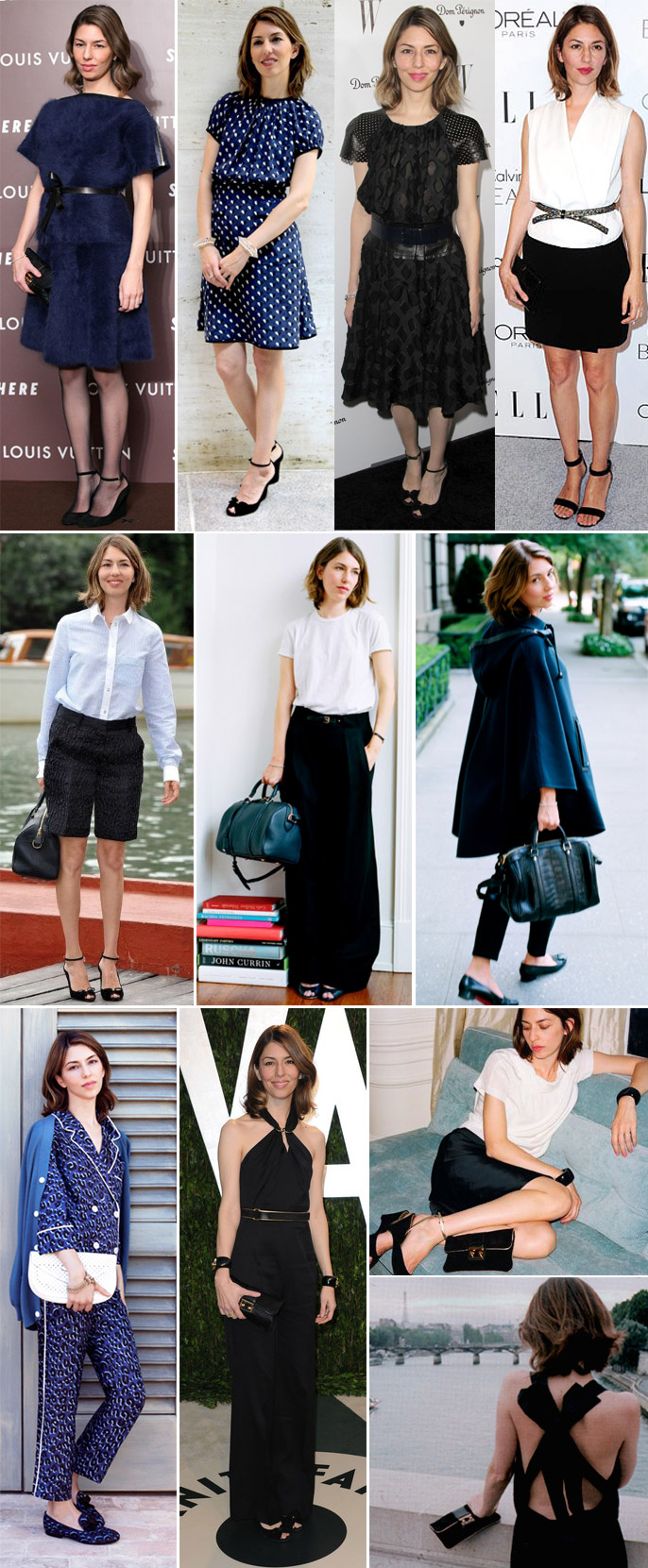 Did you know… Sofia Coppola directed the Miss Dior Chérie fragrance campaigns for Christian Dior starring Maryna Linchuk and then Natalie Portman; as well as the Marni collection campaign for H&M?
Do you covet Sofia Coppola's style?
Who is a modern day style icon that you admire? xx
Photos from google images
Finding The Perfect LBD This Party Season
The little black dress – so iconic it is often referred to as simply the 'LBD' – is a fail-safe look during the festive season (well any season for that matter).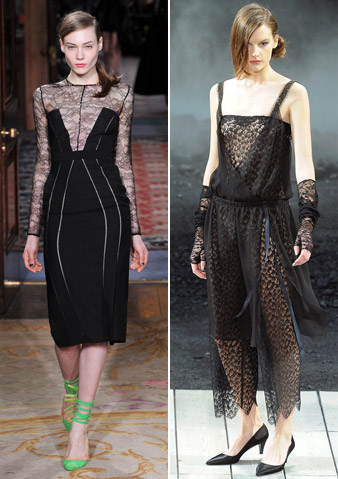 Made an essential item in every woman's wardrobe by Coco Chanel in the 1920's; it has been worn by the world's most stylish for nearly a century. From Grace Kelly to Marilyn Monroe – the little black dress is sexy, sophisticated and irrevocably chic.
Perhaps the most iconic of all little black dresses, Audrey Hepburn's Breakfast at Tiffany's gown, designed by Hubert de Givenchy, came to epitomise the chic just powerful impact a LBD could have. And when it was auctioned in 2006, it set another standard, selling for £410,000 – well over its asking price. Never ever under estimate the value of true style.
While the little black dress remains a sample across seasons and trends, it is constantly revitalised for the times. As Karl Lagerfeld once said: "Since it was invented there has always been a little black dress in the spirit of the moment. Women are never over- or underdressed with a little black dress. A woman never looks bad in one; she can always trust that look."  
Here are a few of the most coveted little black dress styles this season…
– – – – – – – – – – – – – – – – – – – – – – – – – – – – – – – – – – – – – – – – – – – – – – – – – –
Lace
The little lace dress is a style statement. Feminine, fresh and refined; it can take you from day (wear with sweet ballet flats) to evening glamour in an instant (simply add polished heels and go). The new use of lace is all about polished beauty. Très chic…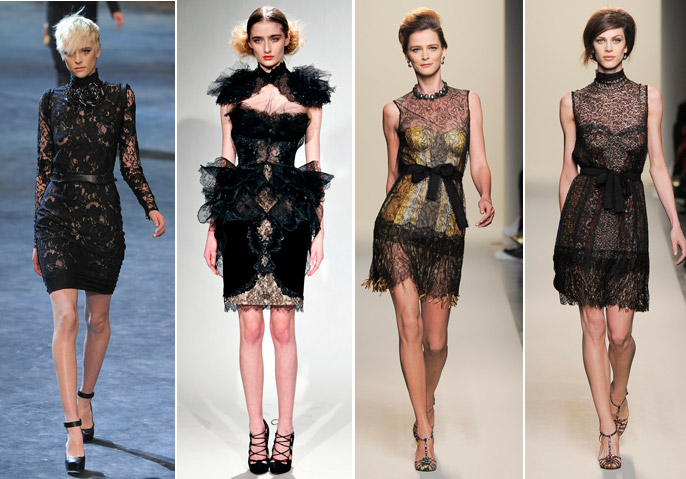 Prints
Romantic, Feminine and ever-so chic – the polka dot returned as the print of the season. See on Kate Winslet and Liv Tyler; Stella McCartney's polka dots sat on delicate chiffon over glimpses of seductive skin. While at Miu Miu, swallows became the sweetest print for Fall. Simply exquisite…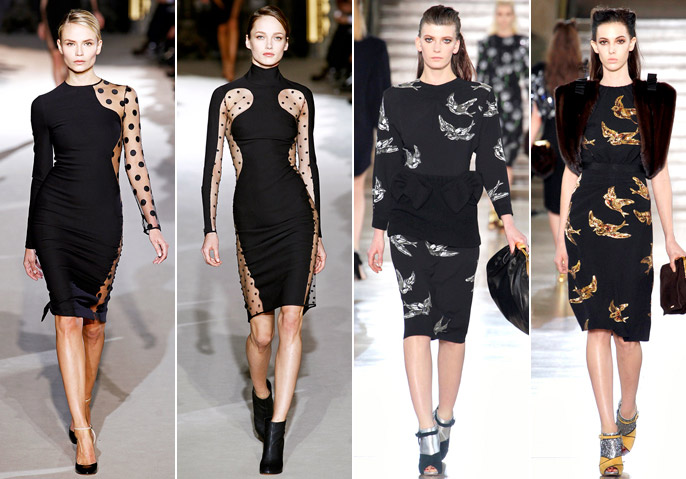 What is your fail-safe party dress of the festive season? xx
Photos from style.com & google images