At the Critics' Choice Awards gorgeous shades of vivid yellow were the real winners of the day.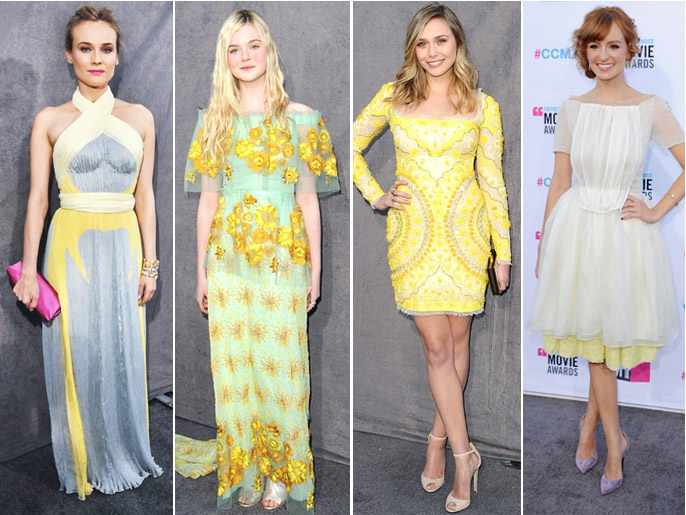 All with sweet yellow accents – Diane Kruger in Prada; Elle Fanning in Rodarte; Elizabeth Olsen in Emilio Pucci; and Ahna O'Reilly in Honor –brightened the red carpet like little rays of sunshine.
And for Spring / Summer 2012 yellow is here to stay. In fact, it is one of the key power players. Perfect in little doses – accentuating your look with a picture perfect yellow clutch (see below) or why not unlock a high impact vault of sunlight with head-to-toe yellow.  
Some Friday Sunshine Inspiration…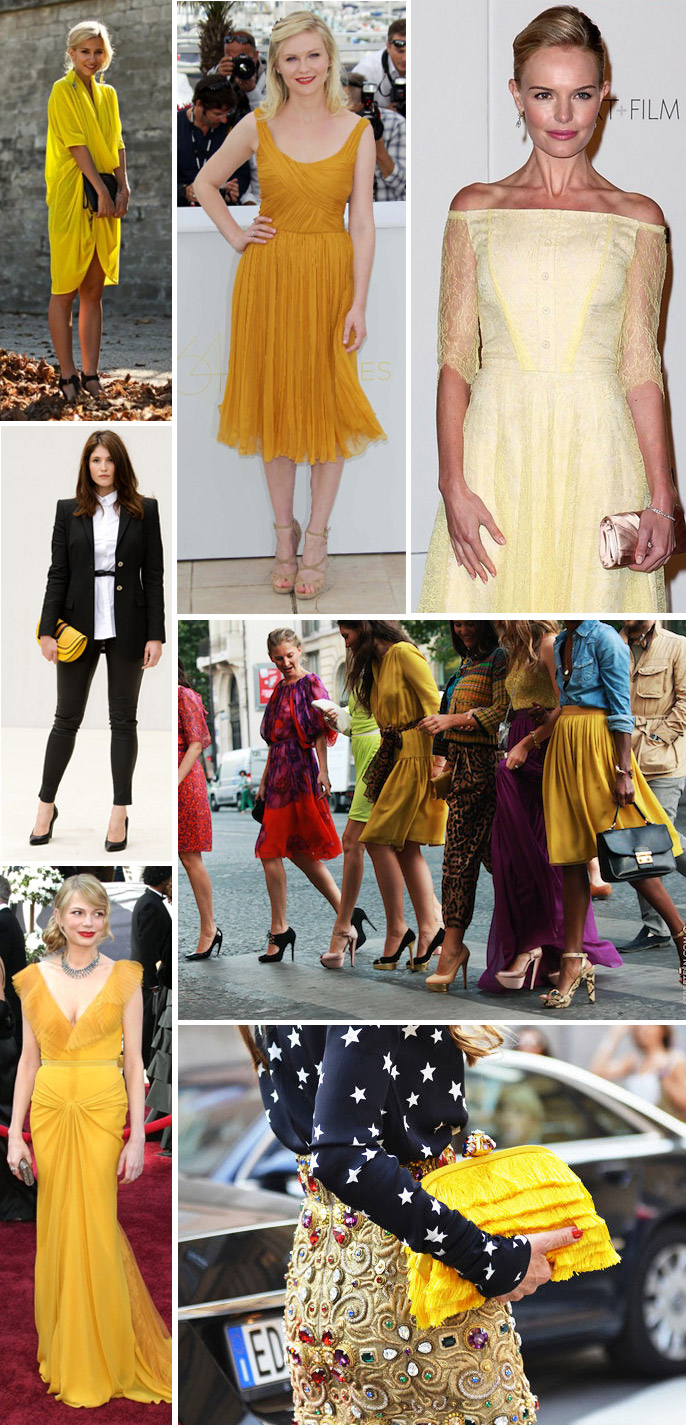 Will you add a little ray of sunshine to your wardrobe? xx
Photos from grazia.com.au & google images
4 Fabulous Fashion Shots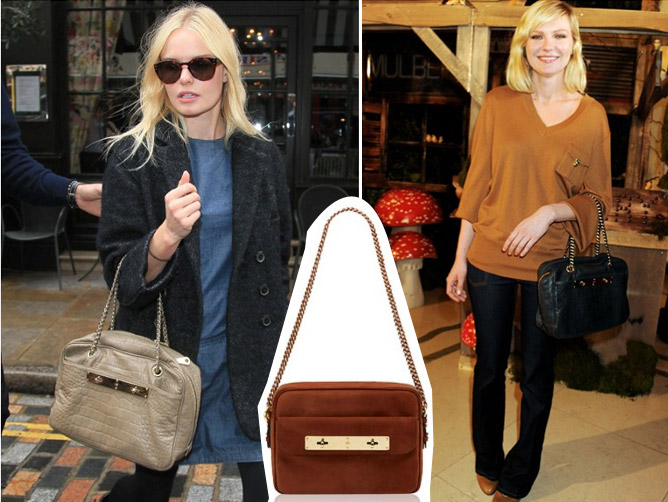 Have You Met Mulberry's New Family Member – Carter?
Mulberry has added a new handbag to their stylish accessory family – the Carter (pictured above). Already being worn about town by modern day style icons – Kate Bosworth, Emma Watson and Kirsten Dunst – the Carter is available in three sizes. It is a boxy, rectangular shape with chain handles. Mulberry has become the go-to label for IT accessories and the Carter looks set to further cement this status.
– – – – – – – – – – –
Baby's First
Louis Vuitton
Rachel Zoe announced her baby gift from Louis Vuitton on Twitter and it is B-A-N-A-N-A-S! Zoe tweeted: "Is Skyler to young to have his first LV? So MAJ for a new diaper bag."  The monogrammed 'speedy' bag (pictured right) with Skyler's initials is super stylish for a 4 month old! Zoe went on to tweet a thank you message to Louis Vuitton "Sending a big, stylish thank you to @LouisVuitton_US for Skyler's insane gift on his 4 month birthday! :)"
– – – – – – – – – – –
The Will of
Alexander McQueen
The Will of Alexander McQueen has hit the headlines with the extraordinarily talented designer leaving a significant amount of his estate to his pet dogs and favourite charities. McQueen's considerate and giving nature were clearing apparent as he bequeathed:
>> £50,000 to his dogs' trust fund to look after Minter, Juice and Callum for the rest of their lives
>> £50,000 to each of his two housekeepers
>> £50,000 to his godson and each of his nieces and nephews
>>  £250,000 to each of his three sisters and two brothers
>> £100,000 to his four favourite charities – The Terrence Higgins Trust, Battersea Dogs and Cats Home, the London Buddhist Centre and the Blue Cross sick animal centre
>> The remainder of his estate is in the trust for his Sarabande charity. McQueen asked that the money be considered to fund bursaries or grants for students at Central St Martin's College of Art and Design
– – – – – – – – – – –
Editorial Of The Week
Loving this editorial for Elle Russia, August 2011 issue, which celebrates lady-like elegance and old-world glamour. Pieces by Stella McCartney, Elie Saab, Louis Vuitton and Salvatore Ferragamo, amongst others, are worn by Hailey Clauson as she strikes a pose in striking black lace, polka dots and opulent textures! It's darling!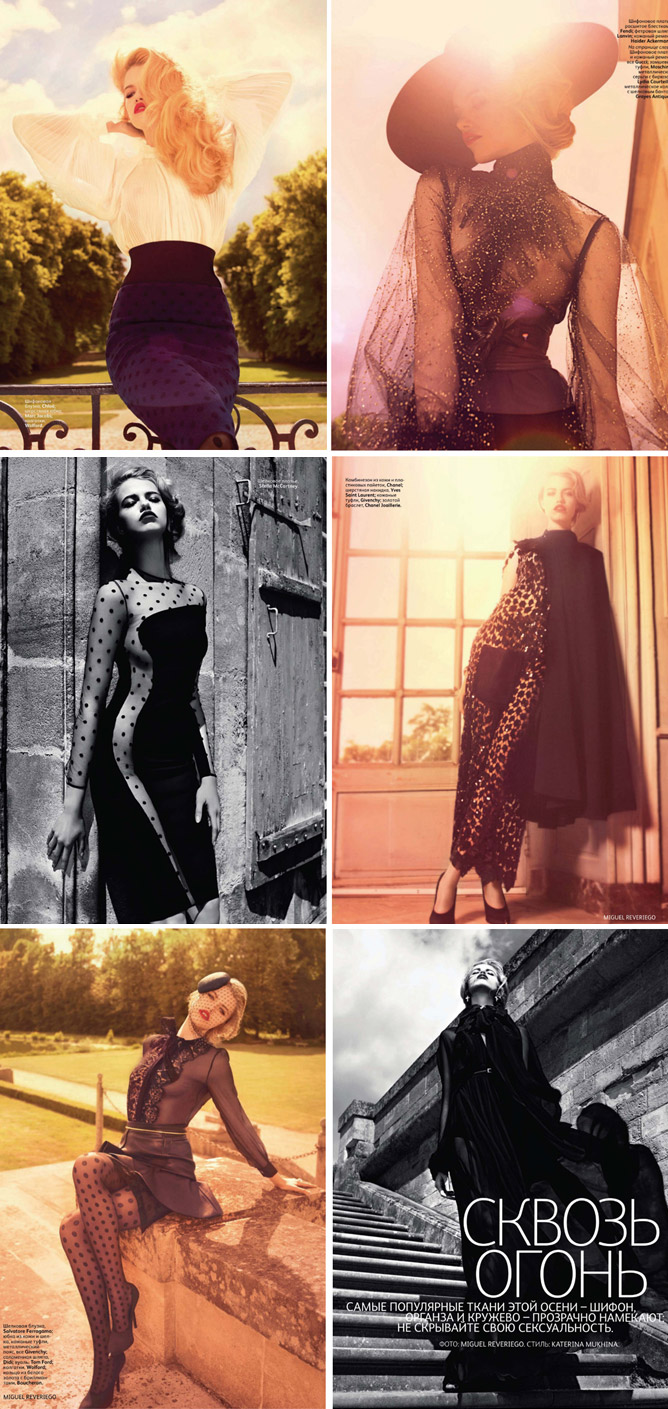 Happy Wednesday! xx
Photos from fashion.telegraph.co.uk / twitter.com / fashiongonerogue.com / google images
Wonderful White
Nothing looks as chic as white on the red carpet.
White is fresh, sophisticated and youthful. It looks amazing on any skin colour and body shape. When done correctly, white definitely makes a fashion statement!
In the last week, several highly fashionable ladies have worn white with effortless style and finesse. Choosing white dresses from some of my favourite designer houses – from Valentino to Dior and Pucci. I was especially thrilled to see Kate Bosworth wearing a look from Jil Sander's S/S11 collection. The crisp white tee and long mint coloured skirt are so divine! Kate Bosworth's red carpet style is beyond words! LOVE, LOVE, LOVE!
The details…
>> Michelle Williams' mini dress by Dior is ultra sweet! William's wore white to the premiere of her film Blue Valentine.
>> Kate Bosworth was perfection in Jil Sander
>> Jessica Alba wore Valentino to the premiere of Little Fockers in New York.
>> Gwyneth Paltrow chose Monique Lhuillier while receiving her star on the Hollywood Walk of Fame.
>> Lea Michele wore The Row at the Hollywood Style Awards.
>> For the X Factor final Dannii Minogue sparkled in Jenny Packham. (Ok I know this technically isn't white – but this dress is so gorgeous it needed to be included)
>> Making the list for the second time this week, Gwyneth Paltrow wore Pucci.
Who do you think wore white best on the red carpet this week? xx