At the Critics' Choice Awards gorgeous shades of vivid yellow were the real winners of the day.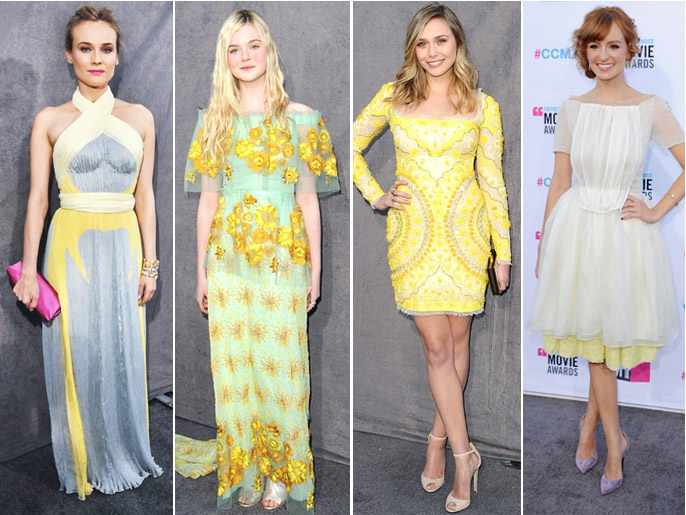 All with sweet yellow accents – Diane Kruger in Prada; Elle Fanning in Rodarte; Elizabeth Olsen in Emilio Pucci; and Ahna O'Reilly in Honor –brightened the red carpet like little rays of sunshine.
And for Spring / Summer 2012 yellow is here to stay. In fact, it is one of the key power players. Perfect in little doses – accentuating your look with a picture perfect yellow clutch (see below) or why not unlock a high impact vault of sunlight with head-to-toe yellow.  
Some Friday Sunshine Inspiration…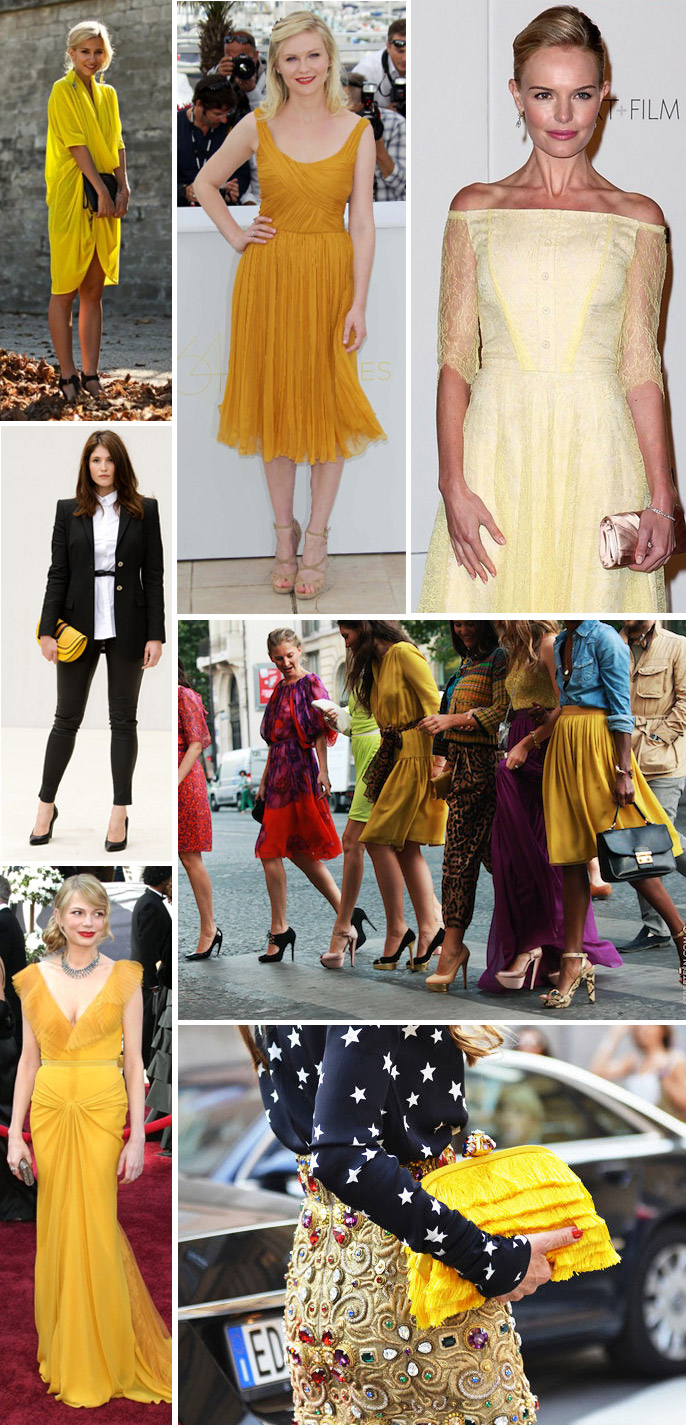 Will you add a little ray of sunshine to your wardrobe? xx
Photos from grazia.com.au & google images
Dazzling Devine Headbands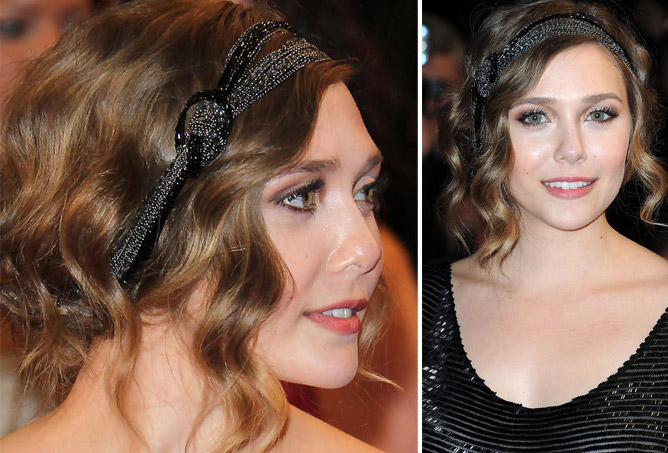 Embrace beading, feathers, lace & all things opulently sparkly, for the perfect hair moment this festive season.
Headbands are a no-fail option when your hair just won't behave. They add instant glamour to a casual outfit and look positively  gorgeous with a cocktail dress or evening gown. Headbands with bows, embellishments and in every shape and colour imaginable play off beautiful dresses, handbags and shoes to perfection.
1920's Flapper Chic – Elizabeth Olsen's Gatsby Indulgence
With the 1920's Gatsby trend in full swing, Elizabeth Olsen's 'flapper' inspired headband is quite simply put… exquisite! Worn loosely around the head and angled slightly forward, the sparkly knot band adds a delightfully playful, chic dimension to her red carpet look.
Classic, Sweet Simplicity – Lily Collins' Darling Band
I also adore Lily Collins sweet placement of her headband, pictured below left. Placing a modern twist on Audrey Hepburn's iconic Breakfast At Tiffany's up-do; Collin's simple thin black band is classically elegant.
Headband inspiration…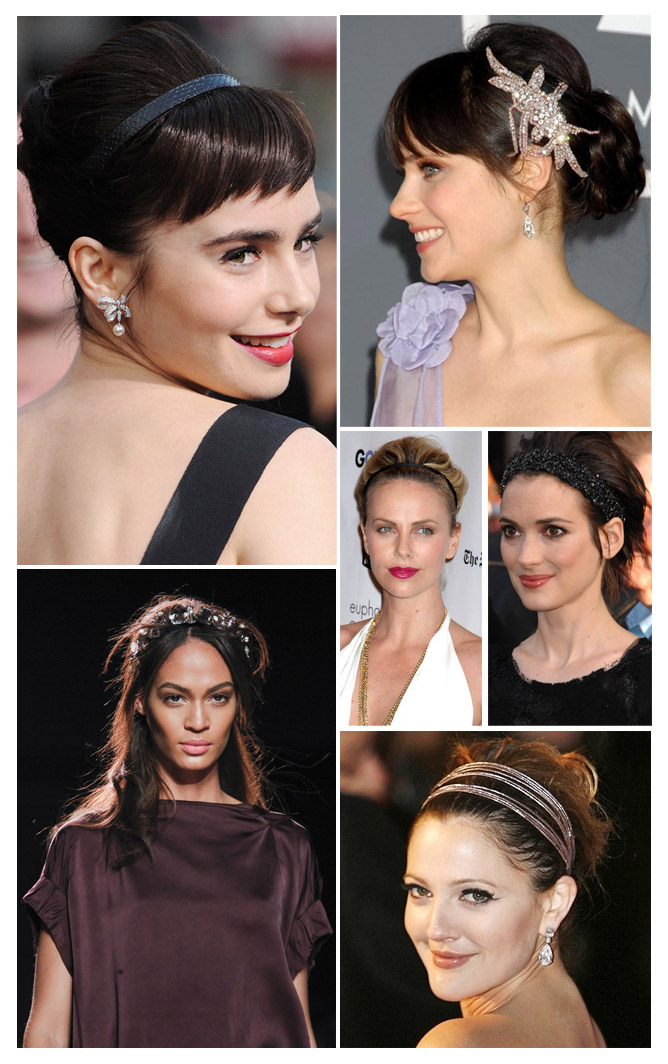 Which is your favourite hair accessory to brighten your look? xx
Photos from google images
Your Fabulous Fashion Scoop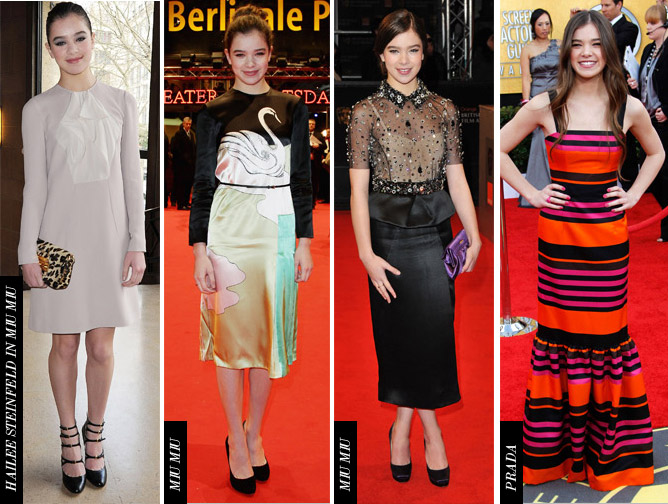 4 Delicious Espresso Shots of Fashion News &
My Top 10 Best Dressed List from Cannes…
– – – – – – – – – – – – – – – – – – – – – – – – – – – – – – – – –
Hailee Steinfeld The New Face of Miu Miu
At just 14years of age, Hailee Steinfeld has been announced as the new face of Miu Miu. Having already been nominated for an Oscar, Steinfeld has also graced numerous best dressed lists and made a style impact in her short time in front of the camera. She was also front row as a special guest at the Miu Miu A/W 11-12 show.
Steinfeld is set to appear in the Autumn / Winter 2011 / 12 campaign for the high end label which will be shot in Paris. Previous 'faces' of Miu Miu include; Kirsten Dunst, Vanessa Paradis Katie Holmes and Lindsay Lohan. Click here to read more about Steinfeld's red carpet style…
– – – – – – – – – – – – – – – – – – – – – – – – – – – – – – – – –
Elizabeth Olsen In Her Sisters' Label – The Row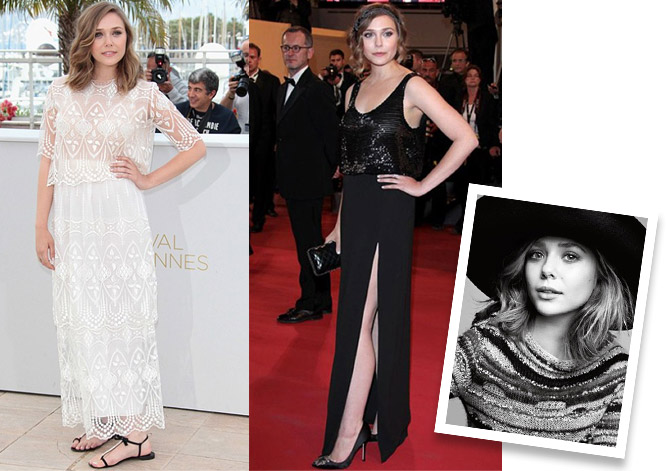 Little sister of Mary-Kate and Ashley Olsen, Elizabeth, has walked the red carpet in Cannes in two looks from The Row.  The 22 year old Olsen wore a white embellished gown during the day, before appearing in a black beaded floor-length gown in the evening. And yes… this is the Elizabeth whose name served as inspiration for the Olsen's other label – 'Elizabeth and James'.
– – – – – – – – – – – – – – – – – – – – – – – – – – – – – – – – –
Fendi To Leave Fur Off Runway In South Korea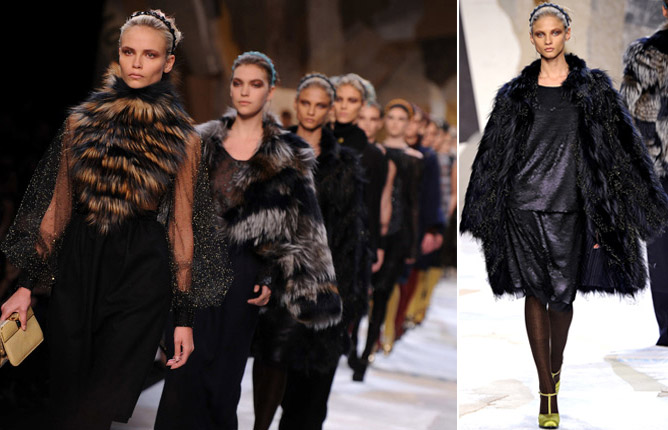 Fendi has been asked to remove all fur from their upcoming runway show in Seoul. Activists have threatened large-scale protests if fur is included in the runway; forcing the Mayor to request Fendi to pull all fur. If an agreement is not reached, Fendi may need to cancel the presentation…
– – – – – – – – – – – – – – – – – – – – – – – – – – – – – – – – –
Film Stars & Top Models Walk Charity Catwalk For Japan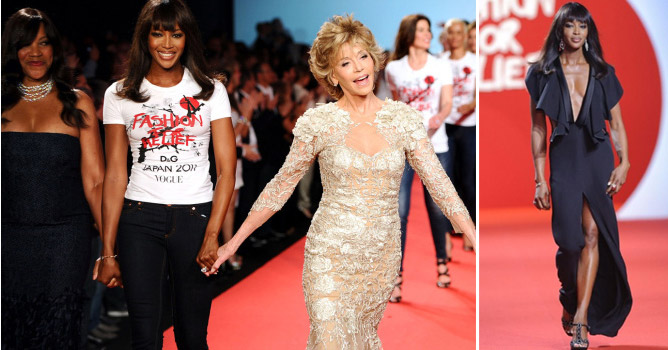 Supermodel Naomi Campbell once again organised a selection of top models and movie stars to walk in her charity fashion show. Taking place during the Cannes Film Festival; Jane Fonda, Rosario Dawson and Robert De Niro were among other A-listers who strutted down the catwalk in aid of Japan…
– – – – – – – – – – – – – – – – – – – – – – – – – – – – – – – – –
Best Dressed From Cannes…
Stepping Out In Style At Cannes, My Top 10 Favourite Looks:
1 >>  Penelope Cruz in Marchesa with Johnny Depp
2 >>  Alexa Chung wearing vintage Balenciaga
3 >>  Rachel McAdams in Monique Lhullier
4 >>  Dasha Zhukova in Valentino
5 >>  Zoe Saldana in Armani Privé
6 >>  Uma Thurman wearing Versace
7 >>  Sonam Kapoor in Jean Paul Gaultier
8 >>  Salma Hayek in Gucci Premiere
9 >>  Aishwarya Rai in Elie Saab Haute Couture
10 >> Astrid Bergès-Frisbey wearing Chanel Couture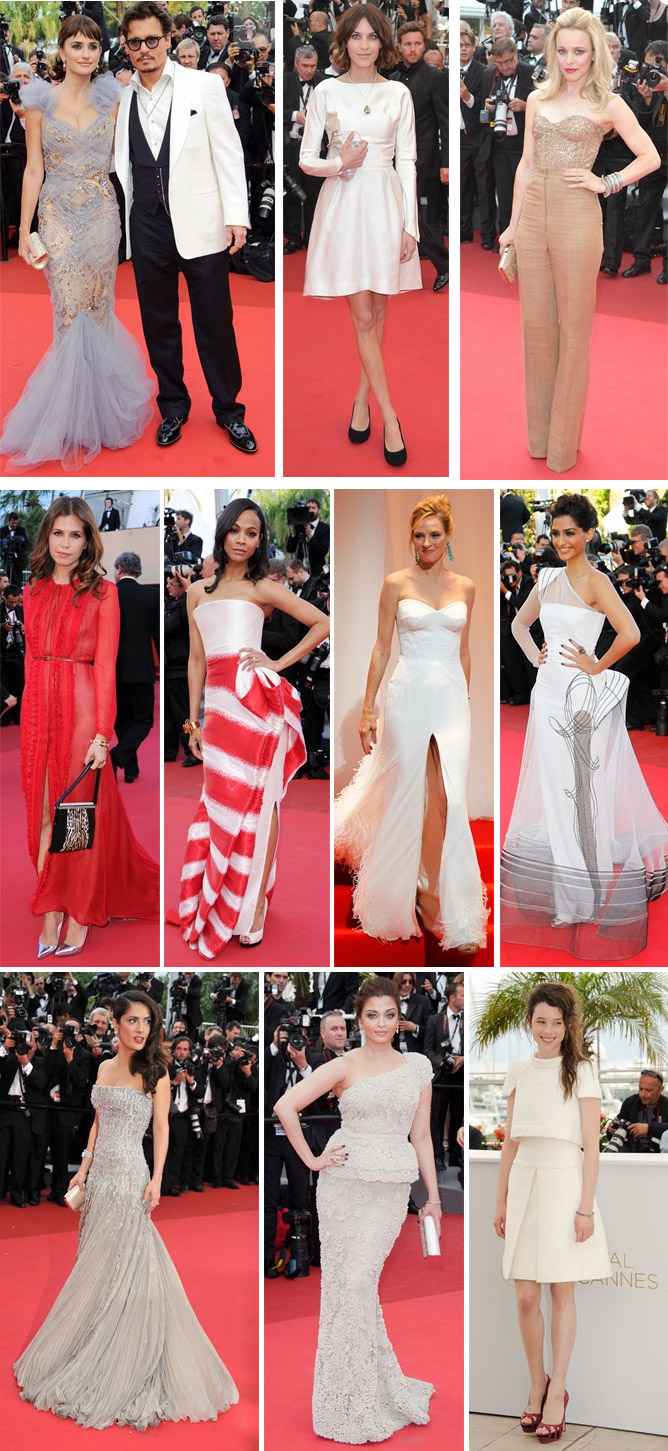 – – – – – – – – – – – – – – – – – – – – – – – – – – – – – – – – –
Who is your best dressed? xx
Photos from grazia.com.au / fashion.telegraph.co.uk / cbsnews.com / vogue.co.uk