The Screen Actors Guild Awards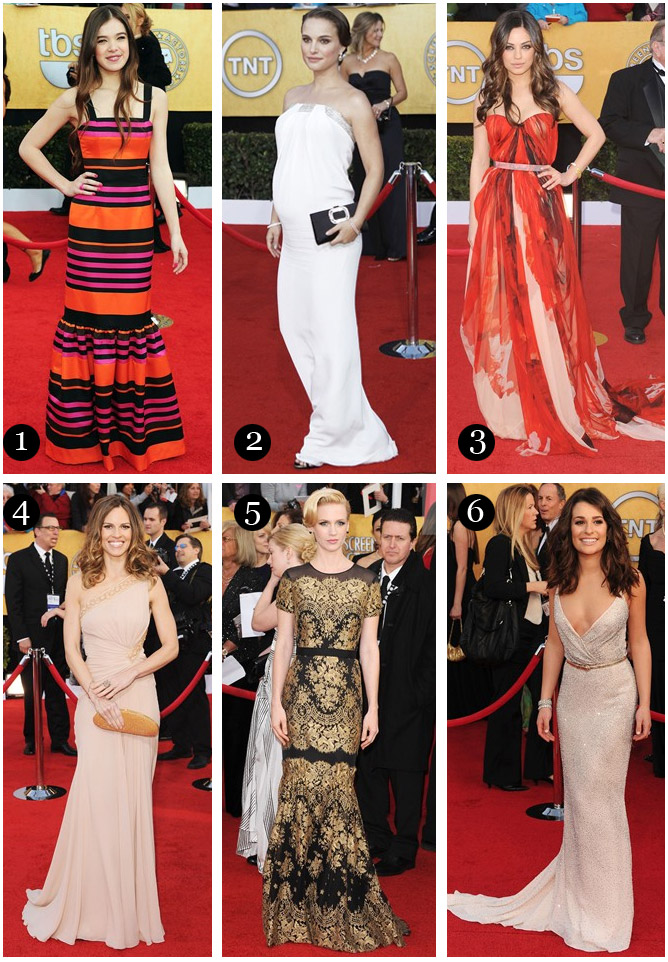 And The Best Dressed Goes To…
Hailee Steinfeld! The young starlet was exquisitely fresh, fun and feminine in a gown from Prada's Spring / Summer 2011 collection.
In a look that many would have found difficult to wear – vibrant pink, orange and black horizontal stripes – Steinfeld pulled it off in a spectacular fashion. André Leon Talley, of Vogue US, agreed declaring Steinfeld as his best dressed of the night. Of her look he said: "What made it so right for the teenager was the just-out-of-bed tousled hair (the style of the evening) looking so natural on her, deft makeup, and no bling. She didn't try too hard."
My Best Dressed List…
1>> Fresh, Vibrant, Fun – Hailee Steinfeld in Prada
2>> Radiant, Glowing, Gorgeous – Natalie Portman shone in Azzaro
3>> Breathtaking Beauty – Mila Kunis in Alexander McQueen
4>> Elegant, Refined Glamour – Hilary Swank wore Versace
5>> A Gold Rush – January Jones in Carolina Herrera
6>>Oscar's Lady – Lea Michele chose Oscar de la Renta once again
7>> Floaty Feminine Beauty – Claire Danes glows in Louis Vuitton
8>> White Swan Inspired – Winona Ryder in Alberta Ferretti
9>> Pretty In Pink – Angie Harmon in Monique Lhuillier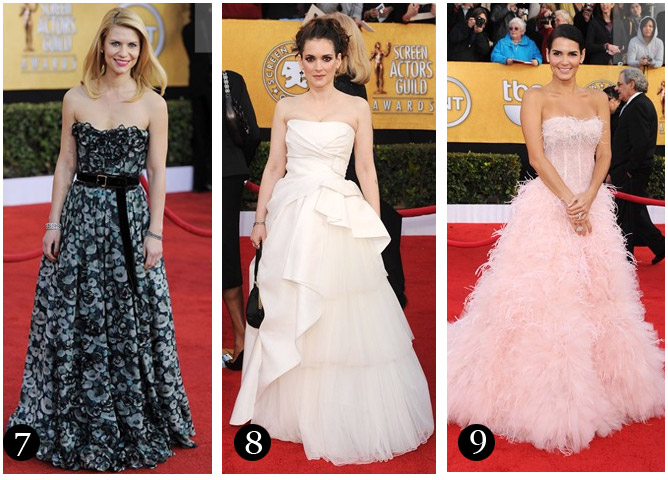 Who Was Your Best Dressed? xx
Wonderful White
Nothing looks as chic as white on the red carpet.
White is fresh, sophisticated and youthful. It looks amazing on any skin colour and body shape. When done correctly, white definitely makes a fashion statement!
In the last week, several highly fashionable ladies have worn white with effortless style and finesse. Choosing white dresses from some of my favourite designer houses – from Valentino to Dior and Pucci. I was especially thrilled to see Kate Bosworth wearing a look from Jil Sander's S/S11 collection. The crisp white tee and long mint coloured skirt are so divine! Kate Bosworth's red carpet style is beyond words! LOVE, LOVE, LOVE!
The details…
>> Michelle Williams' mini dress by Dior is ultra sweet! William's wore white to the premiere of her film Blue Valentine.
>> Kate Bosworth was perfection in Jil Sander
>> Jessica Alba wore Valentino to the premiere of Little Fockers in New York.
>> Gwyneth Paltrow chose Monique Lhuillier while receiving her star on the Hollywood Walk of Fame.
>> Lea Michele wore The Row at the Hollywood Style Awards.
>> For the X Factor final Dannii Minogue sparkled in Jenny Packham. (Ok I know this technically isn't white – but this dress is so gorgeous it needed to be included)
>> Making the list for the second time this week, Gwyneth Paltrow wore Pucci.
Who do you think wore white best on the red carpet this week? xx