Your Daily Fashion Scoop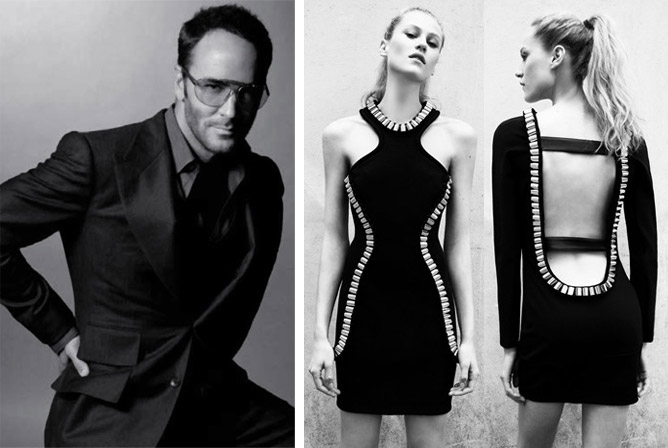 5 Espresso Shots Of News
Sit back, Relax & Indulge In Some Delicious Scoops Of Fashion News…
Tom Ford To Show At London Fashion Week
It has been announced Tom Ford (pictured above left) will be presenting his second womenswear collection at London Fashion Week! The date and location is yet to be released; however, a spokesman for Tom Ford has revealed that it "will only be a small presentation for international monthly magazines". Ford's decision to show in London has further cemented its importance in the fashion week calendar. London Fashion Week gets underway on February 18th…
David Koma For Topshop
David Koma has become the latest designer to collaborate with Topshop (pictured above right). The collection is comprised of five pieces and there are only thirty of each available! The pieces reflect Koma's signature aesthetic and are inspired by metal sculptures. The dresses which have bodycon silhouettes and silver detailing, will be in store on February 18th…
Karl Lagerfeld & Diane Kruger Cover Glamour
Two of my favourite people in fashion – Karl Lagerfeld and Diane Kruger – grace the cover of Glamour Paris for March 2011 (pictured right).  And Kruger is wearing my favourite dress from the Chanel Spring / Summer 2011 collection! Kruger has previously modelled as the face of Chanel and has been dressed by Lagerfeld on many occasions. Kruger once said of Lagerfeld: "He is like a stepfather to me. We're very close- we just get on so well"...
'Christian Lacroix and the Tale of Sleeping Beauty'… A Fashion Fairytale  
Christian Lacroix's biography written by Camilla Morton and illustrated by Lacroix, is woven into a fairytale. Of the biography, Morton has said: "The book is a tale of two icons, both well loved, both inspiring, and both living in magical kingdoms." Lacroix is the first in a series of designer biographies interwoven with fairytales (page illustrations pictured right). Manolo Blahnik and Diane von Furstenberg  will also collaborate with Morton on their biographies / fairytales…
Chic This Week…
1>> Radiant Sparkles – Leighton Meester in Ungaro   |     2>> Striking & Sexy – Claire Danes chose Roland Mouret
3>> Cute yet Edgy – Rachel Bilson wore Burberry        |     4>> Sweet & Eccentric – Anne Hathaway in Marni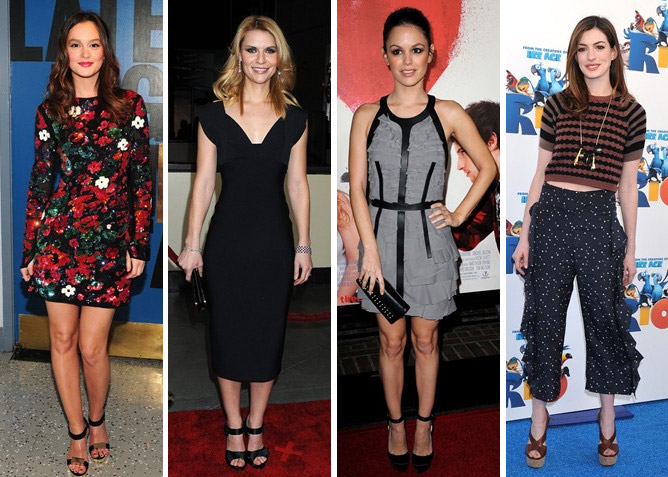 p.s. New York Fashion Week gets underway on February 10th! I cannot wait! xx
Photos from tomford.com / vogue.co.uk / google images
The Screen Actors Guild Awards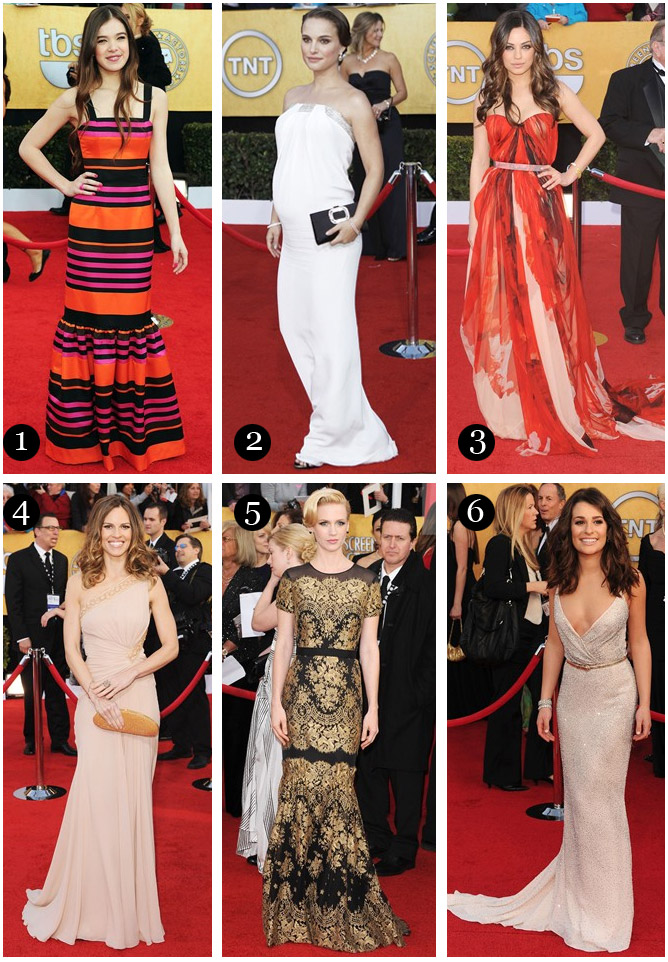 And The Best Dressed Goes To…
Hailee Steinfeld! The young starlet was exquisitely fresh, fun and feminine in a gown from Prada's Spring / Summer 2011 collection.
In a look that many would have found difficult to wear – vibrant pink, orange and black horizontal stripes – Steinfeld pulled it off in a spectacular fashion. André Leon Talley, of Vogue US, agreed declaring Steinfeld as his best dressed of the night. Of her look he said: "What made it so right for the teenager was the just-out-of-bed tousled hair (the style of the evening) looking so natural on her, deft makeup, and no bling. She didn't try too hard."
My Best Dressed List…
1>> Fresh, Vibrant, Fun – Hailee Steinfeld in Prada
2>> Radiant, Glowing, Gorgeous – Natalie Portman shone in Azzaro
3>> Breathtaking Beauty – Mila Kunis in Alexander McQueen
4>> Elegant, Refined Glamour – Hilary Swank wore Versace
5>> A Gold Rush – January Jones in Carolina Herrera
6>>Oscar's Lady – Lea Michele chose Oscar de la Renta once again
7>> Floaty Feminine Beauty – Claire Danes glows in Louis Vuitton
8>> White Swan Inspired – Winona Ryder in Alberta Ferretti
9>> Pretty In Pink – Angie Harmon in Monique Lhuillier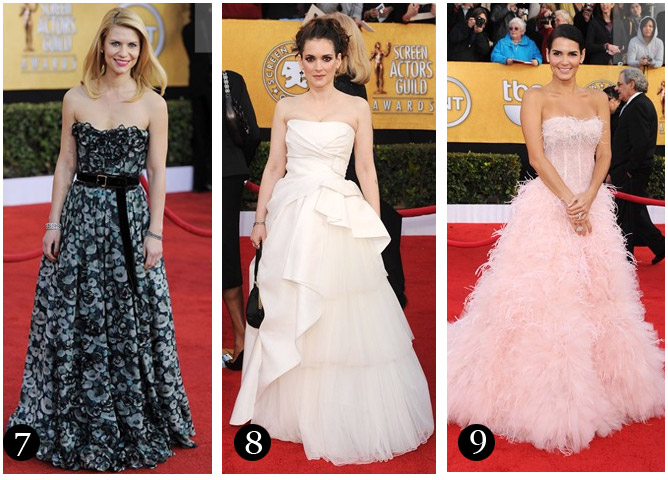 Who Was Your Best Dressed? xx
Your Daily Fashion Scoop
Hermès, Birkins & Kardashians… it's Fridays Espresso News….
LVMH to own over 17% of Hermès
The LVMH (Louis Vuitton Moet Hennessy) group, the world's largest luxury goods conglomerate, has announced it will increase their stock ownership of Hermès to 17.1%. LVMH currently have 14.2% stock in Hermès and rumours are circulating that in time LVMH are set to take majority share holdings. Hermès is among the most profitable luxury labels through the recent economic downturn. LVMH currently owns Louis Vuitton, Marc Jacobs, Givenchy and Fendi.  
Speaking of Hermès….
Kim and Khloe Kardashian have been spotted looking gorgeous in New York with their Hermès Birkins. Khloe is carrying a striking purple Hermès Birkin while Kim opted for the classic black. Do you think these are the Birkins Kim recently picked up at Hermès in Paris? If you believe the rumours, Kim reportedly bought six regular leather Birkins at around $10,000US each as well as another handbag in crocodile to the tune of $30,000US. Hermès Birkins are an investment after all!
Meanwhile, the Best Dressed
This Week…
At the Fashion Group International's annual Night of Stars ceremony, where Nicholas Ghesquière received the prestigious Superstar award, many of fashion's elite turned out looking simply stunning.  Anna Wintour and Kate Bosworth chose striking looks from the Proenza Schouler Spring / Summer 2011 collection. Leighton Meester also looked divine in a Giambattista Valli Spring / Summer 2011 dress.
Meanwhile, Milla Jovovich wore a gorgeous orange Temperley London gown from the Spring / Summer 2011 collection; Jennifer Connelly opted for Balenciaga and Claire Danes looked lovely in a Lanvin dress from the Resort 2011 collection.
Who do you think is best dressed this week? xx
Side Photo from bagthatstyle.com