Your Monday Fashion Shot…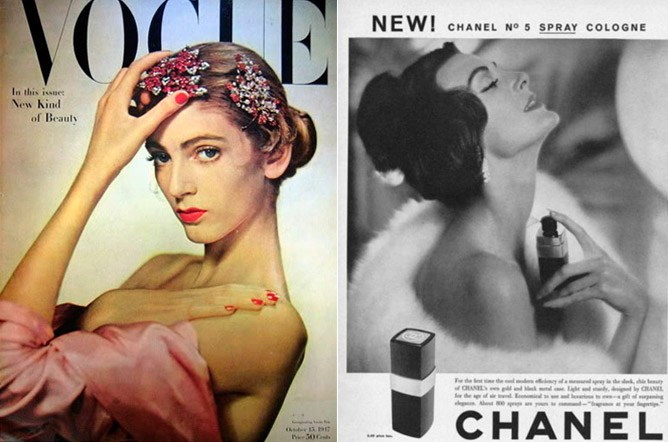 Espresso Shots Of News + Best Dressed From The MTV Movie Awards…
– – – – – – – – – – – – – – – – – – – – –
Happy Birthday To Cecil Dell'Orefice For Friday!
Cecil Dell'Orefice, one of the world's oldest working models, will celebrate her 80th birthday this Friday June 10th.
Gracing the cover of American Vogue at just 15 years of age in 1947; Dell'Orefice went onto become the face of Chanel (pictured above), Rolex and Elizabeth Arden campaigns (pictured below right). Most recently Dell'Orefice walked the catwalk for Alberta Ferretti's Fall 2011 collection (pictured below left). Previously, she also took to the catwalk for John Galliano and Hermès.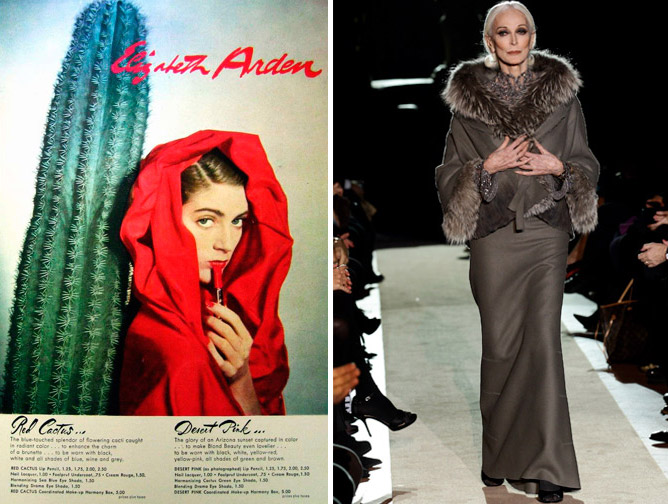 The Royal Wedding Gown On Display…
During this year's Annual Summer opening of Buckingham Palace (July 23 – October 3), the Duchess of Cambridge's royal wedding dress will go on display. Designed by Sarah Burton for Alexander McQueen, the gown stopped hearts around the world for its exquisite, intricate beauty. While you swoon over this incredible history making gown, you can also check out the Duke and Duchess of Cambridge's traditional fruit wedding cake as part of the display.
– – – – – – – – – – – – – – – – – – – – –
Best Dressed At The MTV Movie Awards…
1>> Emma Watson in Marchesa
2>> Leighton Meester in Balmain
3>> Lily Collins in D&G
4>> Rosie Huntington-Whiteley in
Dolce & Gabbana
5>> Kristen Stewart in Balmain
6>> Emma Stone in Bottega Veneta
7>> Selena Gomez in Giambattista Valli
8>> Elle Fanning in D&G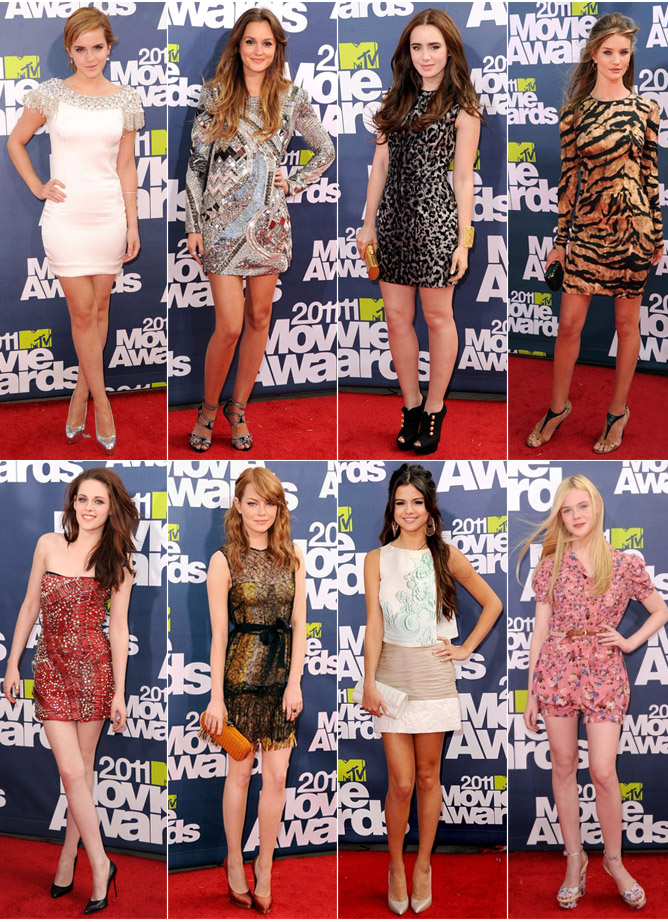 Who is your best dressed lovely from the MTV Movie Awards? xx
Photos from dailymail.co.uk / grazia.com.au / google images
Your Fabulous Fashion Scoop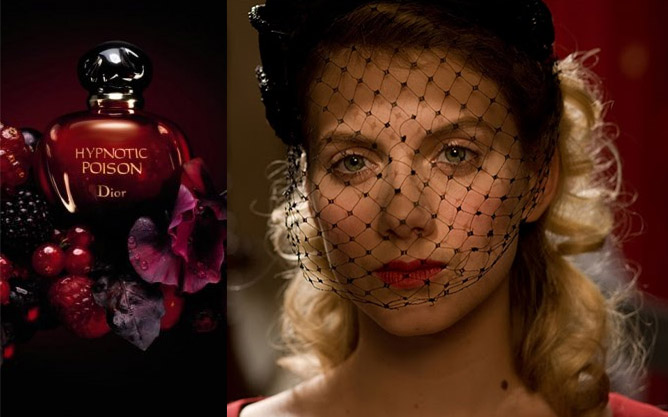 5 Espresso Shots Of Fashion News
Mélanie Laurent For Dior's Hypnotic Poison
Mélanie Laurent has been announced as the new face of Christian Dior's Hypnotic Poison scent. The beautiful French actress (known for her role in 'Inglourious Basterds'), singer, director and writer, will also wear Dior Couture on the red carpet. Love Mélanie Laurent and adore the intoxicating allure of Hypnotic Poison!
Leighton Meester For Vera Wang's 'Lovestruck'
The first image from Vera Wang's 'Lovestruck' campaign has been released starring Leighton Meester.  The 25year old Gossip Girl favourite looks absolutely divine in a floor length purple gown. C'est Magnifique!
Marchesa For Playboy
Renowned for their extraordinary red carpet gowns; Marchesa designers, Keren and Georgina, have tackled the iconic Playboy bunny costume. The exclusive model has been created to celebrate the opening of the new Playboy Club in London on June 4. Looking to embellish the iconic costume with a couture touch, Marchesa have said,
"very excited for the opportunity to design one of the iconic symbols of pop and fashion culture. We were inspired by the original costume, but we added some of Marchesa's signature details: embroidery and draping while respecting the classic corseted silhouette of the Playboy costume. The result is a modern and feminine rendition of this legendary look".
Pierre Cardin To Sell Fashion House
Pierre Cardin is selling his legendary fashion house. At 88, Cardin has said, "I know I won't be here in a few years and the business needs to continue." Founding his house in 1950, Cardin was one of the pioneers of brand licensing. His name is now carried on hundreds of products, including; clothing, shoes, bottled water, furniture and perfume.
Best Dressed at Met Gala
Decadence, glamour and divine red carpet fashion statements – were of course the order of the day at the Met Gala. Many guests were dressed in McQueen, even the lady of the moment herself, McQueen Creative Director, Sarah Burton (aka the creator of the Duchess of Cambridge's gorgeous wedding gown) (pictured below). Stella McCartney also had an impressive turn out of celebrity support. McCartney (pictured below), the Gala co-chair, wore a black strapless dress and platform sandals from her label.
In Alexander McQueen:  Burton, Sarah Jessica Parker, Daphne Guinness and Naomi Campbell
In Stella McCartney: McCartney, Gwyneth Paltrow, Eva Mendes and Kate Hudson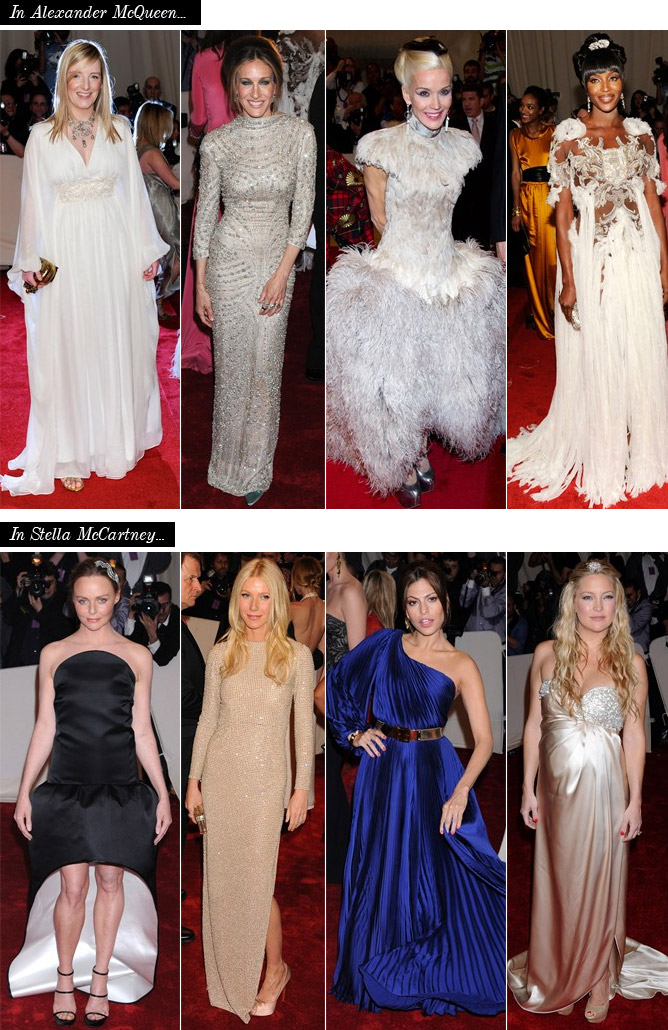 Who was your best dressed? xx
Photos from vogue.co.uk / vogue.it / google images
Your Daily Fashion Scoop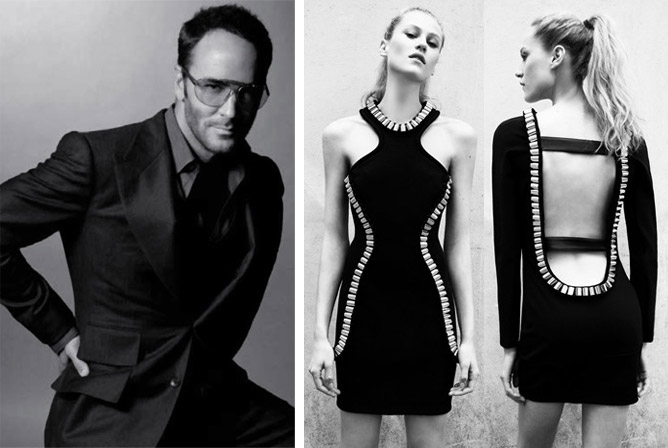 5 Espresso Shots Of News
Sit back, Relax & Indulge In Some Delicious Scoops Of Fashion News…
Tom Ford To Show At London Fashion Week
It has been announced Tom Ford (pictured above left) will be presenting his second womenswear collection at London Fashion Week! The date and location is yet to be released; however, a spokesman for Tom Ford has revealed that it "will only be a small presentation for international monthly magazines". Ford's decision to show in London has further cemented its importance in the fashion week calendar. London Fashion Week gets underway on February 18th…
David Koma For Topshop
David Koma has become the latest designer to collaborate with Topshop (pictured above right). The collection is comprised of five pieces and there are only thirty of each available! The pieces reflect Koma's signature aesthetic and are inspired by metal sculptures. The dresses which have bodycon silhouettes and silver detailing, will be in store on February 18th…
Karl Lagerfeld & Diane Kruger Cover Glamour
Two of my favourite people in fashion – Karl Lagerfeld and Diane Kruger – grace the cover of Glamour Paris for March 2011 (pictured right).  And Kruger is wearing my favourite dress from the Chanel Spring / Summer 2011 collection! Kruger has previously modelled as the face of Chanel and has been dressed by Lagerfeld on many occasions. Kruger once said of Lagerfeld: "He is like a stepfather to me. We're very close- we just get on so well"...
'Christian Lacroix and the Tale of Sleeping Beauty'… A Fashion Fairytale  
Christian Lacroix's biography written by Camilla Morton and illustrated by Lacroix, is woven into a fairytale. Of the biography, Morton has said: "The book is a tale of two icons, both well loved, both inspiring, and both living in magical kingdoms." Lacroix is the first in a series of designer biographies interwoven with fairytales (page illustrations pictured right). Manolo Blahnik and Diane von Furstenberg  will also collaborate with Morton on their biographies / fairytales…
Chic This Week…
1>> Radiant Sparkles – Leighton Meester in Ungaro   |     2>> Striking & Sexy – Claire Danes chose Roland Mouret
3>> Cute yet Edgy – Rachel Bilson wore Burberry        |     4>> Sweet & Eccentric – Anne Hathaway in Marni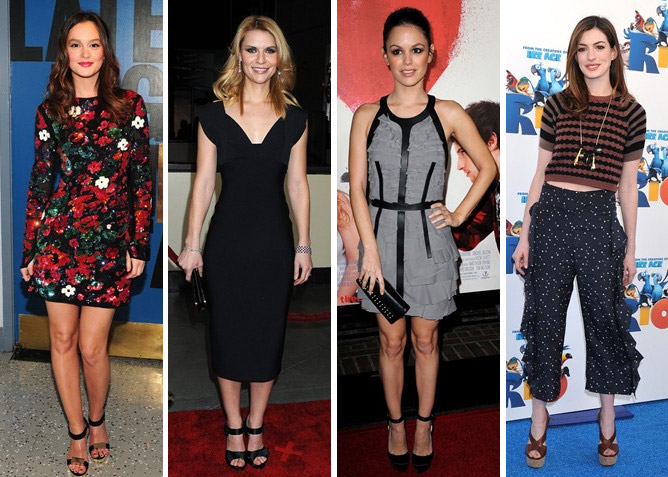 p.s. New York Fashion Week gets underway on February 10th! I cannot wait! xx
Photos from tomford.com / vogue.co.uk / google images