Editor's Letter, Fashion Illustration
The Beauty Of Perfume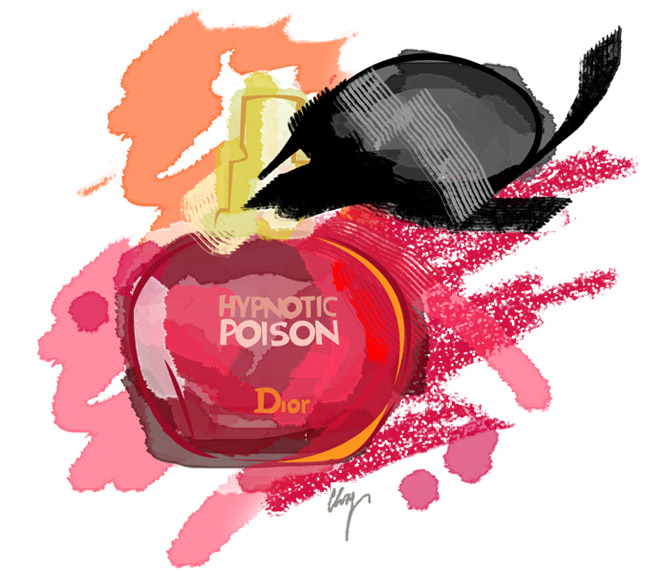 Dear Readers,
Yesterday I had a wonderful shopping day! I brought some new perfume (guess which one…) and an evening gown! More on the evening gown next week (I am so excited)! In the meantime, I have included below some interesting facts about my new scent…
But I would love to know which scents are most bewitching to you? Do you love:
– Pretty, romantic Florals                – Intoxicating, sensual Orientals                – Mossy Green, Woody 'Chypre' notes
– Alluring, crisp Citrus                – Fresh, herbaceous 'Fougère' scents                – Sweet, food-inspired 'Gourmand'
Lots of Love,
Cara
– – – – – – – – – – – – – – – – – – – – – – – – – – – – – – – – – – – – – – – – – –
About Hypnotic Poison

Dior created 'Poison' in 1985 , a scent of irresistible seduction and magic – i.e. poison. Since then, every 'Poison' fragrance has extended upon this sensuality and irresistible enchantment.
Hypnotic Poison is the most exhilarating of all Dior oriental fragrances. Oriental fragrances are characterized by their warm base notes with spices and wood. Encompassing an intoxicating allure of scents, the main components of Hypnotic Poison are; Bitter Almond and Carvi, Sambac Jasmine, Jacarandra, Vanilla and Musk. It's opulent and mysterious. And adding to Hypnotic Poison's allure, Melanie Laurent, is now the new face of it (pictured above)!
– – – – – – – – – – – – – – – – – – – – – – – – – – – – – – – – – – – – – – – – – –
Interesting Perfume Facts
Did you know…  it is the alcohol content of a fragrance that will determine how long a fragrance will linger on the skin? This also demands how a fragrance should be applied to the skin.
Eau De Toilette
Eau De Toilette is significantly lighter than Eau De Parfum. Traditionally, Eau De Toilette is spritzed in the morning and can be used quite generously.
Eau De Parfum
With a higher perfume content, Eau De Parfum is usually dabbed onto the skin. If the Eau De Parfum is a spray, spritz the fragrance into the air and walk into it.
Perfume / Perfume Extract
With the longest lasting hold, Perfume Extract is the most powerful and purest type of perfume. When applying Perfume Extract, the most delicate trace on the skin is enough. Apply to the wrists, décolleté and even behind the knees. Each of these areas of the body has pulse points which will allow the fragrance to travel.
– – – – – – – – – – – – – – – – – – – – – – – – – – – – – – – – – – – – – – – – – –
Looking forward to hearing some of your favourite scents xx
Illustration by Uptown Twirl  / Photos from google images
Your Fabulous Fashion Scoop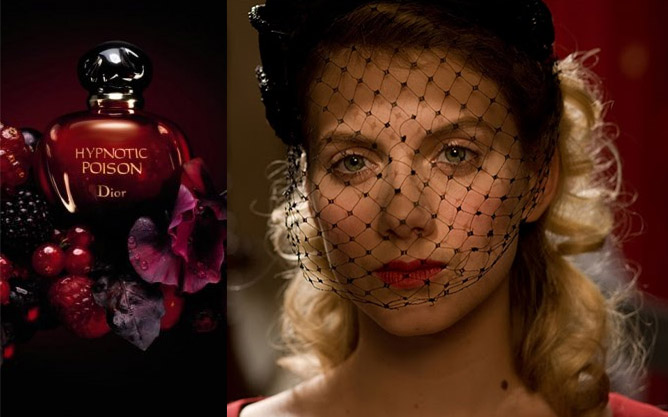 5 Espresso Shots Of Fashion News
Mélanie Laurent For Dior's Hypnotic Poison
Mélanie Laurent has been announced as the new face of Christian Dior's Hypnotic Poison scent. The beautiful French actress (known for her role in 'Inglourious Basterds'), singer, director and writer, will also wear Dior Couture on the red carpet. Love Mélanie Laurent and adore the intoxicating allure of Hypnotic Poison!
Leighton Meester For Vera Wang's 'Lovestruck'
The first image from Vera Wang's 'Lovestruck' campaign has been released starring Leighton Meester.  The 25year old Gossip Girl favourite looks absolutely divine in a floor length purple gown. C'est Magnifique!
Marchesa For Playboy
Renowned for their extraordinary red carpet gowns; Marchesa designers, Keren and Georgina, have tackled the iconic Playboy bunny costume. The exclusive model has been created to celebrate the opening of the new Playboy Club in London on June 4. Looking to embellish the iconic costume with a couture touch, Marchesa have said,
"very excited for the opportunity to design one of the iconic symbols of pop and fashion culture. We were inspired by the original costume, but we added some of Marchesa's signature details: embroidery and draping while respecting the classic corseted silhouette of the Playboy costume. The result is a modern and feminine rendition of this legendary look".
Pierre Cardin To Sell Fashion House
Pierre Cardin is selling his legendary fashion house. At 88, Cardin has said, "I know I won't be here in a few years and the business needs to continue." Founding his house in 1950, Cardin was one of the pioneers of brand licensing. His name is now carried on hundreds of products, including; clothing, shoes, bottled water, furniture and perfume.
Best Dressed at Met Gala
Decadence, glamour and divine red carpet fashion statements – were of course the order of the day at the Met Gala. Many guests were dressed in McQueen, even the lady of the moment herself, McQueen Creative Director, Sarah Burton (aka the creator of the Duchess of Cambridge's gorgeous wedding gown) (pictured below). Stella McCartney also had an impressive turn out of celebrity support. McCartney (pictured below), the Gala co-chair, wore a black strapless dress and platform sandals from her label.
In Alexander McQueen:  Burton, Sarah Jessica Parker, Daphne Guinness and Naomi Campbell
In Stella McCartney: McCartney, Gwyneth Paltrow, Eva Mendes and Kate Hudson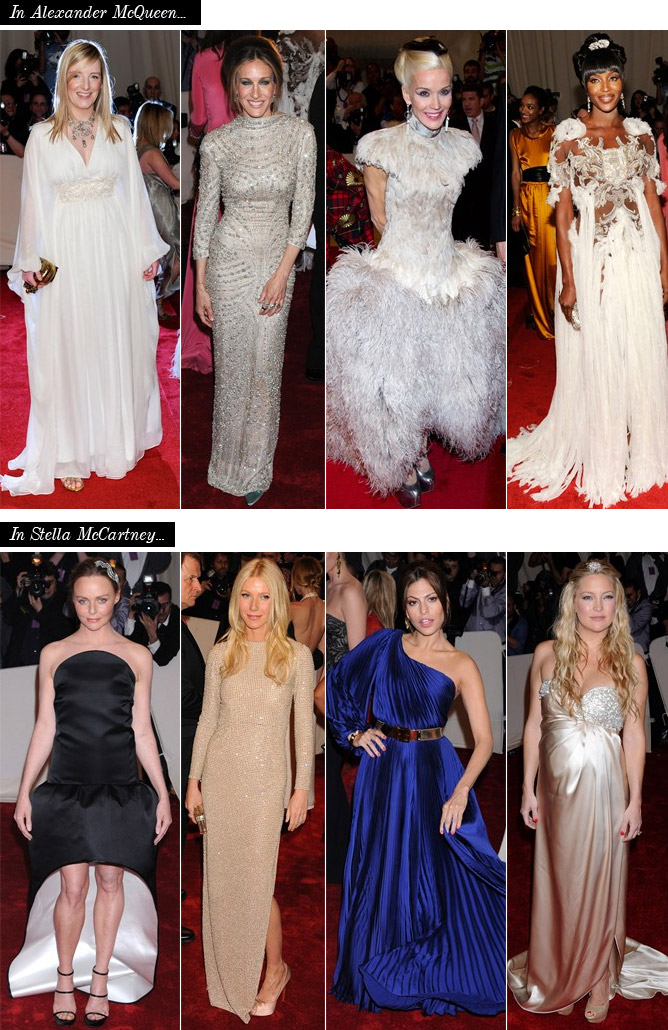 Who was your best dressed? xx
Photos from vogue.co.uk / vogue.it / google images