Your Fabulous Fashion Scoop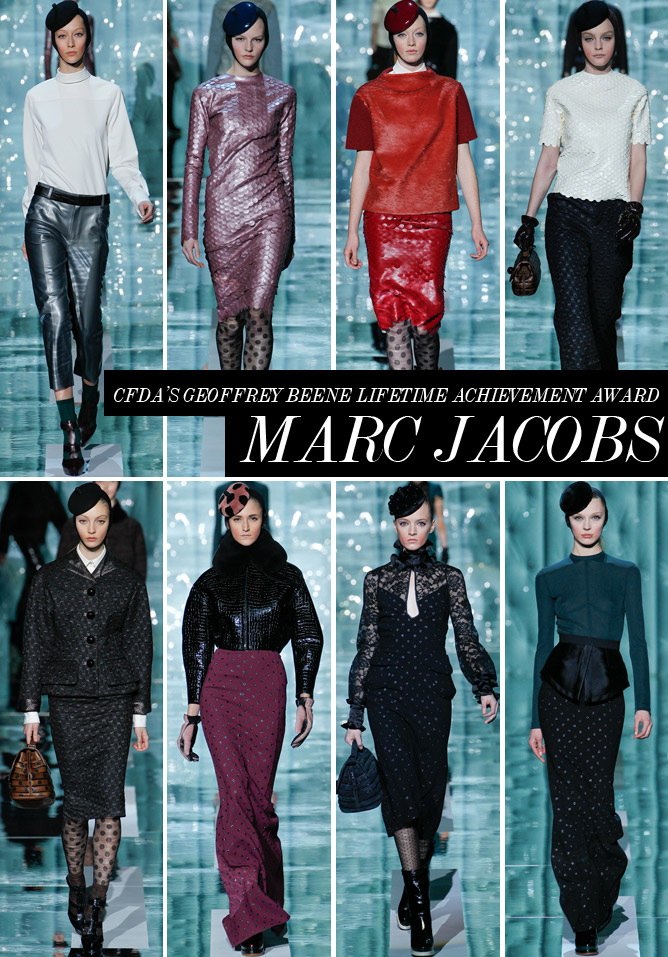 5 Delicious Espresso Shots Of News…
Emma Watson – The New Face Of Lancome
Emma Watson is officially the new face of Lancôme. The beautiful, fresh faced starlet has been spotted in Paris filming the new campaign with Mario Testino (still from shoot featured far right). Previous ambassadors for Lancôme have included: Julia Roberts, Kate Winslet and Isabella Rossellini. Having previously modelled for Burberry as well as having collaborated with Alberta Ferretti and People Tree on eco-fashion lines; Watson's diligence, striking beauty and old-world glamour make her perfect for the brand. Lancôme President, Youcef Nabi, has said of Watson:
"Thanks to her charm, romanticism and her incredible modernity, Emma Watson has become the icon of her generation. We are delighted by this new collaboration with Emma who brings a fresh spirit to Lancôme."
Karl Lagerfeld & Magnum?
Karl Lagerfeld and Rachel Bilson have joined forces for delicious ice-cream brand Magnum. Lagerfeld will direct the new advertising campaign which will star Bilson. Chanel muse and model Baptiste Giabiconi was also spotted on set (pictured right with Lagerfeld). Shooting in Paris, sources say Bilson was wearing a seemingly 'Black Swan' inspired look – with her hair pulled back in a tight bun, cream ballet slippers and tiara.
Rachael Zoe's Chic Maternity Must-Have
Rachael Zoe took to Twitter yesterday with a tweet pic of her new seriously chic diaper bag by Alexander McQueen! Well, Zoe is set to have one seriously chic baby!
Snapping a pic of herself holding the darling bag, Zoe tweeted:
"OMG!!! Mqueen diaper bag????? It leaves me speechless!! XoRZ".
Eva Mendes – The New Face of Angel by
Thierry Mugler
It has been announced Eva Mendes will replace Naomi Watts as the face of iconic perfume Angel by Thierry Mugler. As the previous model and spokeswomen for the brand, Watts has appeared in campaigns since 2008.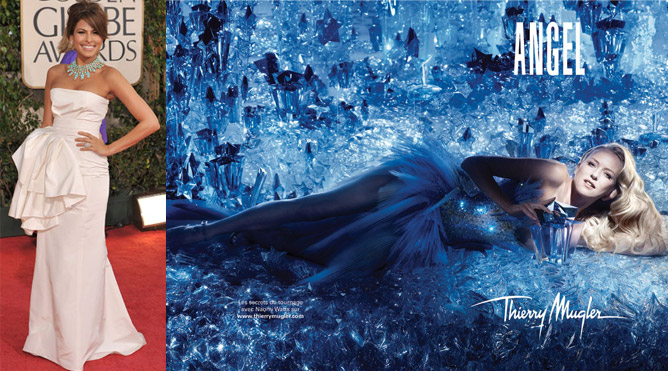 Marc Jacobs Lifetime Achievement Award
Marc Jacobs will be awarded the CFDA's prestigious Geoffrey Beene Lifetime Achievement prize.  Announced in New York on Wednesday, Jacobs is also nominated for the Womenswear Designer of the Year Award. This will be his fourth nomination for this award. The full list of nominees: 
International Designer of the Year – Celine creative director Phoebe Philo
Geoffrey Beene Lifetime Achievement Award –  Marc Jacobs
Fashion Icon of the Year – Lady Gaga
Womenswear Designer of the Year –  The nominees: Alexander Wang, Marc Jacobs & Proenza Schouler
Menswear Designer of the Year  – The nominees: Michael Bastian, Patrik Ervell & Simon Spurr
Accessory Designer of the Year – The nominees: Reed Krakoff, Alexander Wang & Proenza Schouler
Swarovski Award for Womenswear – The nominees: Joseph Altuzarra, Ashley & Mary-Kate Olsen & Prabal Gurung
Swarovski Award for Menswear – The nominees: Alexander Wang, Phillip Lim & Robert Geller
Swarovski Award for Accessory Design – The nominees: Alejandro Ingelmo, Eddie Borgo, Jason Wu & Pamela Love
Happy Thursday! xx
Your Daily Fashion Scoop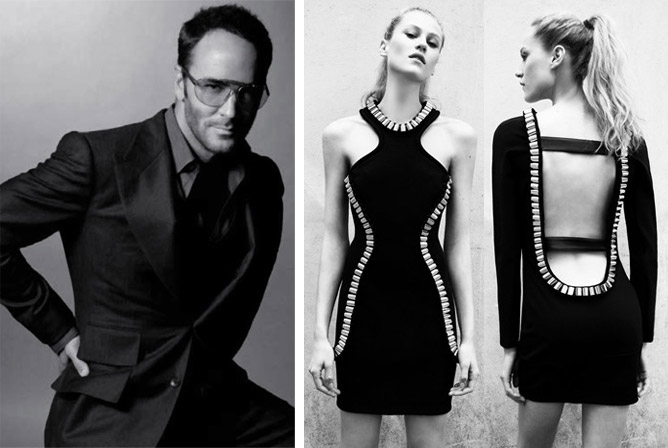 5 Espresso Shots Of News
Sit back, Relax & Indulge In Some Delicious Scoops Of Fashion News…
Tom Ford To Show At London Fashion Week
It has been announced Tom Ford (pictured above left) will be presenting his second womenswear collection at London Fashion Week! The date and location is yet to be released; however, a spokesman for Tom Ford has revealed that it "will only be a small presentation for international monthly magazines". Ford's decision to show in London has further cemented its importance in the fashion week calendar. London Fashion Week gets underway on February 18th…
David Koma For Topshop
David Koma has become the latest designer to collaborate with Topshop (pictured above right). The collection is comprised of five pieces and there are only thirty of each available! The pieces reflect Koma's signature aesthetic and are inspired by metal sculptures. The dresses which have bodycon silhouettes and silver detailing, will be in store on February 18th…
Karl Lagerfeld & Diane Kruger Cover Glamour
Two of my favourite people in fashion – Karl Lagerfeld and Diane Kruger – grace the cover of Glamour Paris for March 2011 (pictured right).  And Kruger is wearing my favourite dress from the Chanel Spring / Summer 2011 collection! Kruger has previously modelled as the face of Chanel and has been dressed by Lagerfeld on many occasions. Kruger once said of Lagerfeld: "He is like a stepfather to me. We're very close- we just get on so well"...
'Christian Lacroix and the Tale of Sleeping Beauty'… A Fashion Fairytale  
Christian Lacroix's biography written by Camilla Morton and illustrated by Lacroix, is woven into a fairytale. Of the biography, Morton has said: "The book is a tale of two icons, both well loved, both inspiring, and both living in magical kingdoms." Lacroix is the first in a series of designer biographies interwoven with fairytales (page illustrations pictured right). Manolo Blahnik and Diane von Furstenberg  will also collaborate with Morton on their biographies / fairytales…
Chic This Week…
1>> Radiant Sparkles – Leighton Meester in Ungaro   |     2>> Striking & Sexy – Claire Danes chose Roland Mouret
3>> Cute yet Edgy – Rachel Bilson wore Burberry        |     4>> Sweet & Eccentric – Anne Hathaway in Marni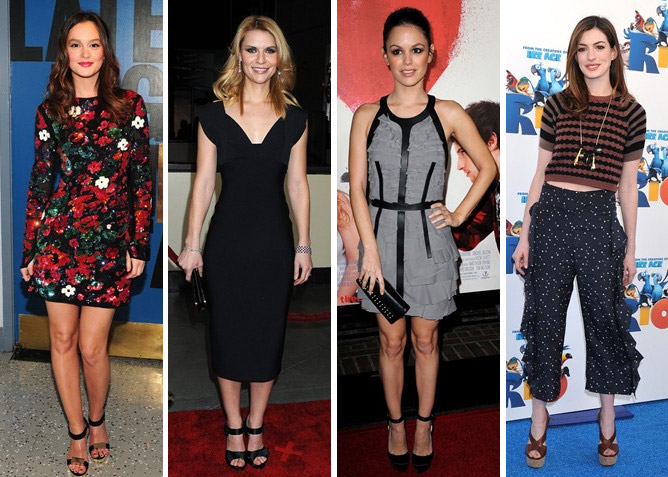 p.s. New York Fashion Week gets underway on February 10th! I cannot wait! xx
Photos from tomford.com / vogue.co.uk / google images
Your Daily Fashion Scoop
Chanel Oh La La in today's Espresso Shot Of News…
Chanel is my true fashion love. My crème de la crème. Anyone wearing or talking Chanel instantly captures my undivided attention.
Last weekend Chanel Fine Jewellery sponsored the Los Angeles Museum of Contemporary Arts gala. Kate Bosworth, Kirsten Dunst, Rachel Bilson and Ginnifer Goodwin all attended wearing Chanel. Kate Bosworth and Ginnifer Goodwin looked stunning in black gowns, while Rachel Bilson chose a look from the Cruise 2010 collection (also worn by Georgia Jagger in the ad campaign). Kirsten Dunst wore a white full length gown and striking red lips to ooze Old-Hollywood glamour.
Chanel Spring/Summer 2011
Decedent, intense and undeniably beautiful, the Chanel Spring / Summer 2011 was pure perfection collection. The collection took inspiration from the Last Year at Marienbad, a film from the early sixties in which Chanel herself originally designed the costumes for Delphine Seyrig (the leading lady). With an epic 87 looks, the runway show went for 18 minutes and was accompanied by the sound of a full orchestra of 80 musicians.
As for the clothes… well they were everything a Chanel dream is made of. Incredibly beautiful, exquisite detailing and heaven sent! This collection also had an unexpected cool – Chanel suits were expertly moth-eaten, denim was frayed, there were digital floral prints and feather embroidery.
It was pure luxury on the Chanel catwalk xx
Chanel handbags are my all time favourite! Here are a couple from the Spring / Summer collection… enjoy xx