Frame your face with glistening gems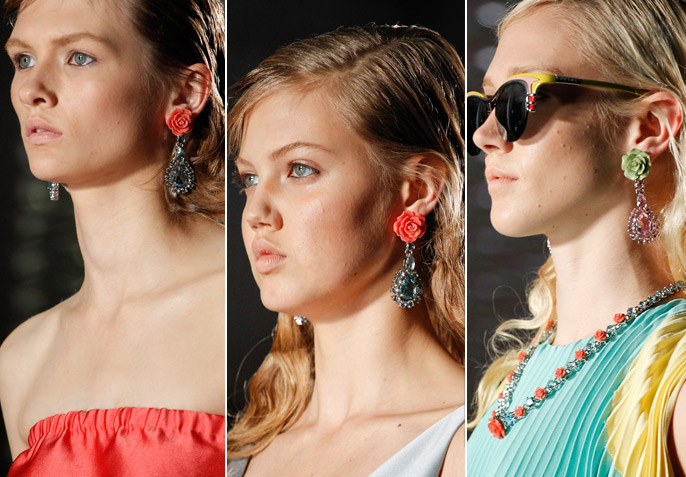 When updating your wardrobe for the new season, don't forget your jewellery box.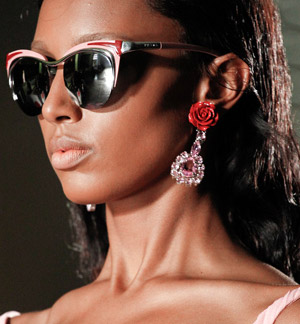 At the Prada Spring / Summer 2012 runway presentation, jewellery made as much a statement as the clothes. The earrings in particular were bold, charismatic and impossible to ignore.
Ornate antique inspired earrings, with sweet enamel flowers in bursts of pastel colours and tear drop precious gems, added an unexpected polish and drama to the collection.
Part Old-Hollywood glamour, part youthful sweetness; the Prada earrings are really quite breathtaking.
When wearing statement earrings, choose gem stones to compliment your outfit or be bold and embrace the unexpected. At Prada, for example, coral flower earrings with blue precious gems were worn with a light blue gown; while green and pink earrings where worn with a turquoise dress. Don't be afraid to break the rules…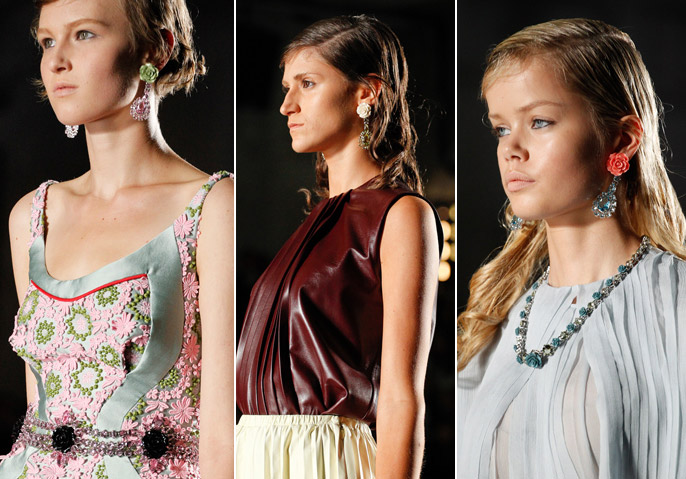 Will you embrace sparkling statement earrings? xx
Photos from style.com
Opulent, sophisticated & irrevocably feminine; pearls are unmistakably chic…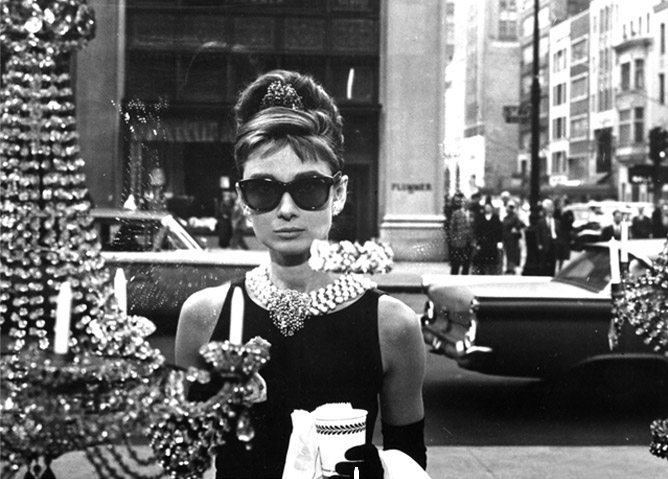 Pearls are an iconic statement. From Grace Kelly to modern day style icons Rachel Zoe and Olivia Palermo; pearls are a perfectly darling way to add the finishing touches to a timeless look.   
Nothing says pure Old-Hollywood glamour quite like Audrey Hepburn's striking white pearls against her little black dress in Breakfast At Tiffany's. Elegant, bold and a little whimsical, pearls have captured the hearts of stylish women across generations.
For a modern take, casually throw on a long strand of lustrous pearls. Wear with anything from a bright coloured cocktail dress to a simple white tee – a long single strand of pearls is always effortlessly chic. Pearls can also add the perfect subtle texture to neutral shades. Create volume around the neck by playing with different strand lengths. While for simple luxury choose delicate pearl studs.
The Latin word for Pearl literally means 'unique', testament to the fact that no two are identical. With their warm iridescence and shimmering beauty; pearls can even lift the complexion and give skin a subtle glow.
Pearl inspiration board…

Which are your favourite precious gemstones?
Photos from google images