Prada's exquisite curve-accentuating, bedazzled bathing suits have become the shimmering icons of Spring / Summer dressing.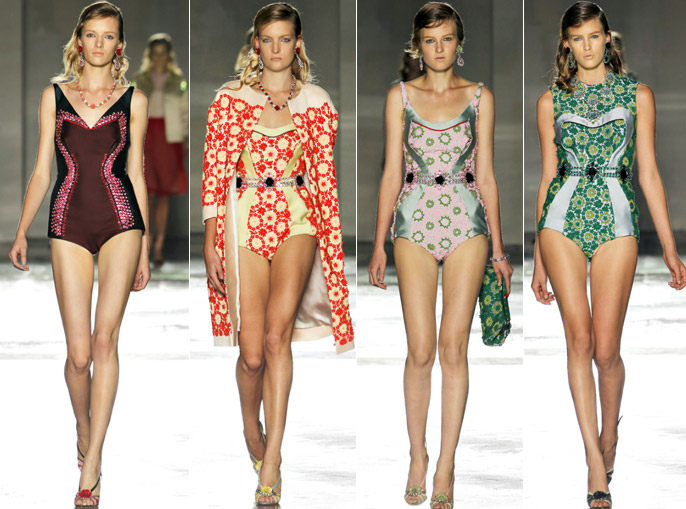 These colourful, embellished bathing suits have captured the hearts of Magazine Editors and Stylists around the globe. Racking up countless Magazine covers and editorials, these vintage-inspired swim suits are the toast of the season.
Appearing on the catwalk of the Prada Spring / Summer 2012 collection; Miuccia Prada took inspiration from 60's Americana; fast cars; and a celebration of feminine sweetness. Deep v-necklines and strategically placed lines of colourful crystals drew eyes inwards – accentuating the waist and emphasising feminine curves.
Created with graduating colours (beige, pink, red and black); crocheted flowers; or diamante crystals; these bathing suits have such beauty, texture, and craftsmanship one could be mistaken for hanging them on a wall rather than wearing them by the pool. Perfect then that the Prada one-piece is the cover subject of the season…

Do you covet the Prada one-piece? xx
Photos from style.com / fashion.telegraph.co.uk / vogue.it / google images
Mirror Mirror On The Wall, Who Is The Fairest Of Them All?
Sleek, shimmering Metallics…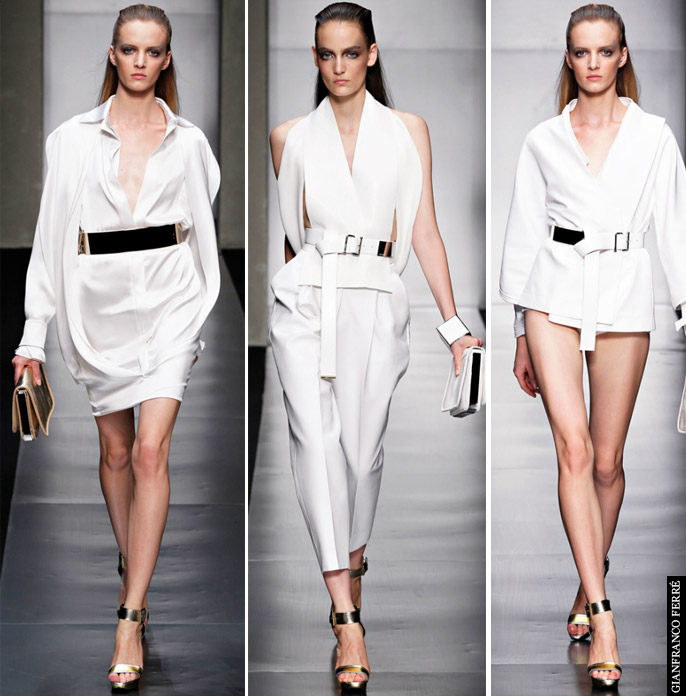 High shine meets irresistible polish, with metallic looks so chic they exude effortless shiny style
Sublime when paired with minimal, clean-cut pieces, metallics add a gorgeous gloss to your look. Across the Spring / Summer 2012 runways, designers dipped their pieces in glistening gold and silver adding a rich texture and shining optimism.  
Sleek Accessories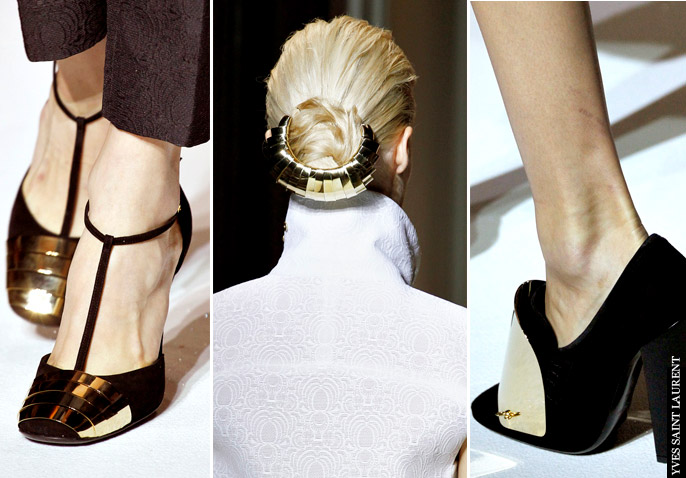 Metallic accessories pack a punch. Wear with a crisp white shirt dress (a la Gianfranco Ferré); soft neutrals; or bold brights for startling panache. Metallics are the perfect exclamation point in your look. At Gianfranco Ferré metallic handbags and belts were daring against clean white; while at Yves Saint Laurent metallic detailing screamed of opulent allure.
High Gloss Embellishment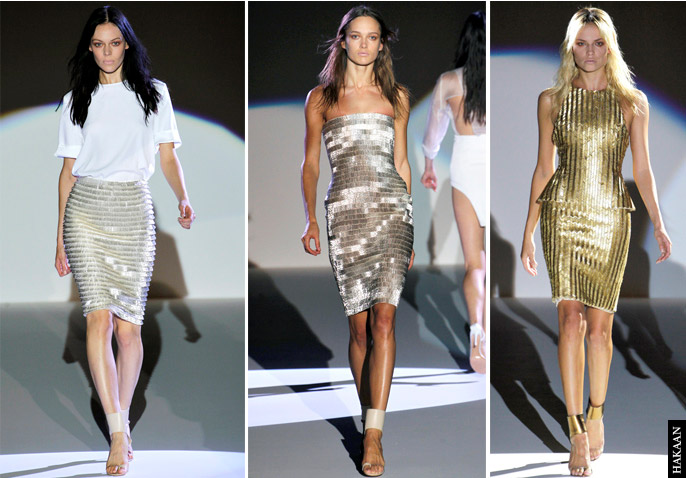 Head-to-toe shine stopped traffic at Hakaan and Gucci. Metallics added dazzling beauty and a modern edge to cocktail dresses and evening gowns. Pieces shimmered in 'Mermaid-esque' sequins for decedent dressing.  At Gucci art deco inspired embellishment was polished, glossy and chic; while at Hakaan the classic white tee brought a fresh simplicity to a sequined pencil skirt.
 
Conjuring images of fresh modern glamour, metallics are heavenly chic for Summer… xx
Photos from style.com