As the mummy of a boisterous, beautiful nearly two year old little gentleman, I try to fill our days with as much warmth, love, sunshine, and happiness as infinitely possible.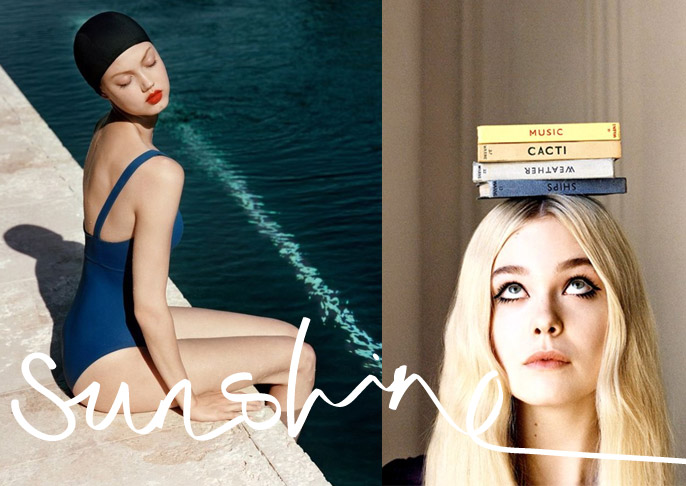 Singing, dancing, watching, running, playing, swimming, talking, eating. And did I mention lots and lots of twinkle twinkle little star? There is so much to do; so much to learn; so much to experience. As a mummy, a designer and / or whatever your daily activities might encompass it is important to remain inspired.
The inspiration board from my latest artwork series is definitely a reflection of my current state of mind. With Summer now upon us, we are spending our days delighting in all of the simple pleasures; the joy of beautiful blue skies; warm air; frequent trips to the pool; soaking up sun rays; and enjoying quality time with family and friends. The holidays are coming and it truly is the most beautiful time of year.
So right now my inspiration board looks a little like this…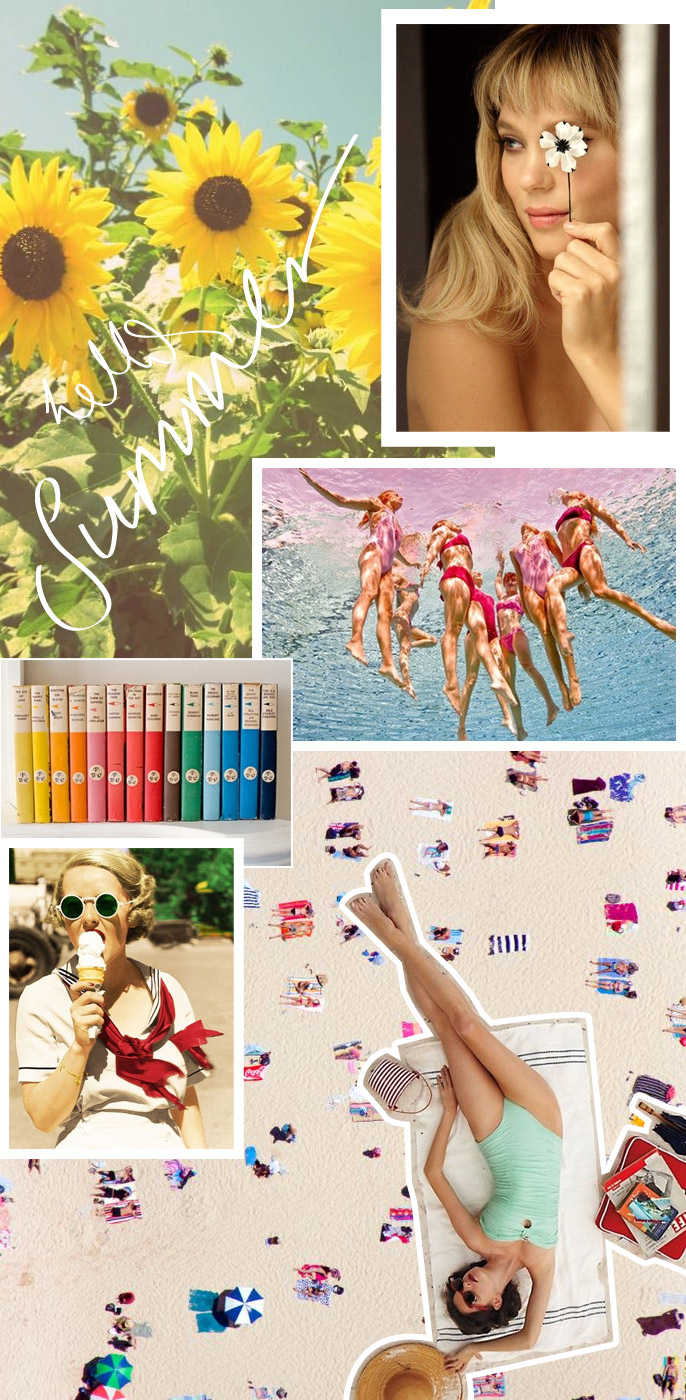 What is inspiring you this December? xx
Photos from pinterest.com
Prada's exquisite curve-accentuating, bedazzled bathing suits have become the shimmering icons of Spring / Summer dressing.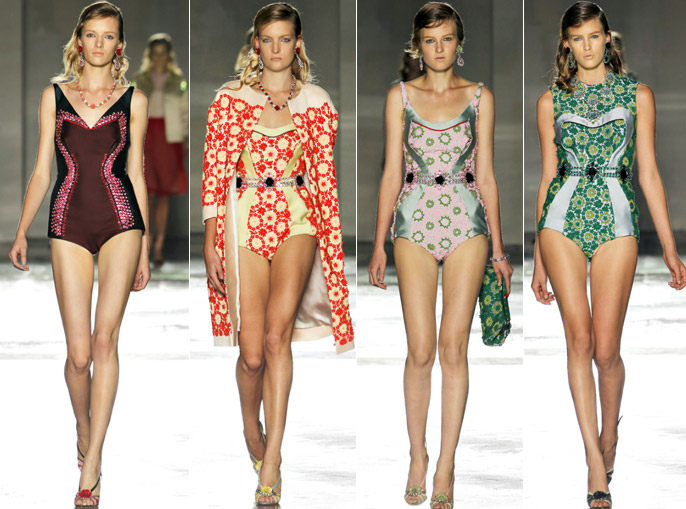 These colourful, embellished bathing suits have captured the hearts of Magazine Editors and Stylists around the globe. Racking up countless Magazine covers and editorials, these vintage-inspired swim suits are the toast of the season.
Appearing on the catwalk of the Prada Spring / Summer 2012 collection; Miuccia Prada took inspiration from 60's Americana; fast cars; and a celebration of feminine sweetness. Deep v-necklines and strategically placed lines of colourful crystals drew eyes inwards – accentuating the waist and emphasising feminine curves.
Created with graduating colours (beige, pink, red and black); crocheted flowers; or diamante crystals; these bathing suits have such beauty, texture, and craftsmanship one could be mistaken for hanging them on a wall rather than wearing them by the pool. Perfect then that the Prada one-piece is the cover subject of the season…

Do you covet the Prada one-piece? xx
Photos from style.com / fashion.telegraph.co.uk / vogue.it / google images
A Summer Goddess
For those of you in the Northern Hemisphere dreaming of long summer days, this editorial featuring the exquisitely beautiful Rosie Huntington-Whiteley will set your pulse racing.
Laying poolside for the January issue of Harper's Bazaar UK, Huntington-Whiteley wears sizzling summer looks from Michael Kors and others in daring red, white and black. Sun-kissed skin, bold red lips and statement gold jewellery, make the perfect accompaniment to effortlessly chic summer dressing.
Are you dreaming of a white Christmas or one spent soaking up the sun?

Happy Tuesday! xx
Photos from fashiongonerogue.com