Your Fabulous Fashion Scoop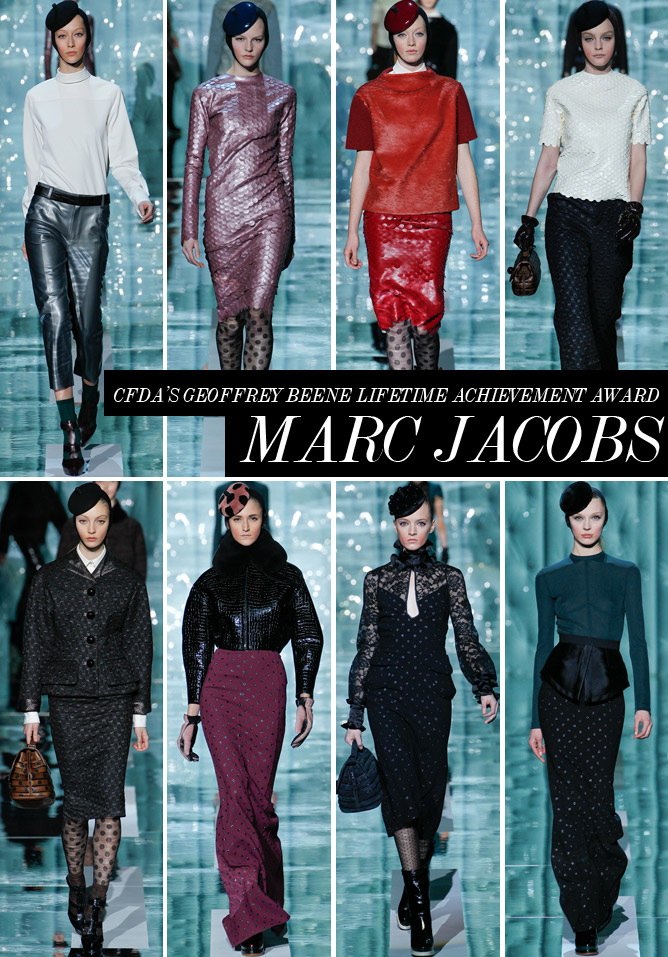 5 Delicious Espresso Shots Of News…
Emma Watson – The New Face Of Lancome
Emma Watson is officially the new face of Lancôme. The beautiful, fresh faced starlet has been spotted in Paris filming the new campaign with Mario Testino (still from shoot featured far right). Previous ambassadors for Lancôme have included: Julia Roberts, Kate Winslet and Isabella Rossellini. Having previously modelled for Burberry as well as having collaborated with Alberta Ferretti and People Tree on eco-fashion lines; Watson's diligence, striking beauty and old-world glamour make her perfect for the brand. Lancôme President, Youcef Nabi, has said of Watson:
"Thanks to her charm, romanticism and her incredible modernity, Emma Watson has become the icon of her generation. We are delighted by this new collaboration with Emma who brings a fresh spirit to Lancôme."
Karl Lagerfeld & Magnum?
Karl Lagerfeld and Rachel Bilson have joined forces for delicious ice-cream brand Magnum. Lagerfeld will direct the new advertising campaign which will star Bilson. Chanel muse and model Baptiste Giabiconi was also spotted on set (pictured right with Lagerfeld). Shooting in Paris, sources say Bilson was wearing a seemingly 'Black Swan' inspired look – with her hair pulled back in a tight bun, cream ballet slippers and tiara.
Rachael Zoe's Chic Maternity Must-Have
Rachael Zoe took to Twitter yesterday with a tweet pic of her new seriously chic diaper bag by Alexander McQueen! Well, Zoe is set to have one seriously chic baby!
Snapping a pic of herself holding the darling bag, Zoe tweeted:
"OMG!!! Mqueen diaper bag????? It leaves me speechless!! XoRZ".
Eva Mendes – The New Face of Angel by
Thierry Mugler
It has been announced Eva Mendes will replace Naomi Watts as the face of iconic perfume Angel by Thierry Mugler. As the previous model and spokeswomen for the brand, Watts has appeared in campaigns since 2008.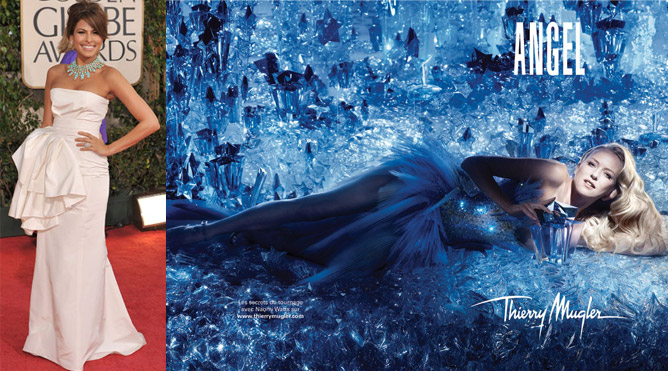 Marc Jacobs Lifetime Achievement Award
Marc Jacobs will be awarded the CFDA's prestigious Geoffrey Beene Lifetime Achievement prize.  Announced in New York on Wednesday, Jacobs is also nominated for the Womenswear Designer of the Year Award. This will be his fourth nomination for this award. The full list of nominees: 
International Designer of the Year – Celine creative director Phoebe Philo
Geoffrey Beene Lifetime Achievement Award –  Marc Jacobs
Fashion Icon of the Year – Lady Gaga
Womenswear Designer of the Year –  The nominees: Alexander Wang, Marc Jacobs & Proenza Schouler
Menswear Designer of the Year  – The nominees: Michael Bastian, Patrik Ervell & Simon Spurr
Accessory Designer of the Year – The nominees: Reed Krakoff, Alexander Wang & Proenza Schouler
Swarovski Award for Womenswear – The nominees: Joseph Altuzarra, Ashley & Mary-Kate Olsen & Prabal Gurung
Swarovski Award for Menswear – The nominees: Alexander Wang, Phillip Lim & Robert Geller
Swarovski Award for Accessory Design – The nominees: Alejandro Ingelmo, Eddie Borgo, Jason Wu & Pamela Love
Happy Thursday! xx
Your Fabulous Fashion Scoop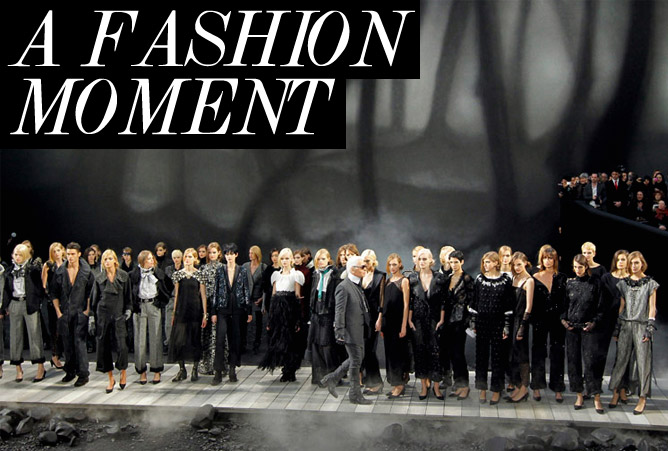 1 Beautiful Fashion Moment…
A Volcanic Catwalk At Chanel
As many of you may know, Chanel is my fashion true love. It is perfection in the form of a delicate evening gown; immaculately tailored suit or one of the astonishingly beautiful 2.55 quilted handbags. Chanel always surpasses my wildest fashion dreams.
From a giant lion to striking iceberg in previous shows, the Chanel set can be just as intoxicating as the collection itself. However, the Fall 2011/12 show took this to a new high. A volcanic catwalk! Models emerged from the smoke, and walked amongst volcanic rocks. The charcoal toned tweed and darker mood to the collection, were perfectly accentuated by the brooding surrounds. Chanel perfection at its finest! A selection of looks from the Chanel Fall collection are featured below…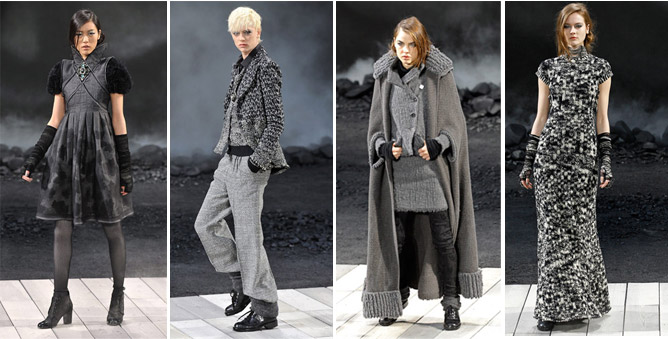 5 Espresso Shots Of News…
NOT YET CONFIRMED: Galliano's Dior Replacement
There is still much speculation over who will replace John Galliano at Dior. While Harper's Bazaar Editor-At-Large Derek Blasberg "confirmed" Riccardo Tisci's appointment as Creative Director for Christian Dior; it's still an official "no comment" from the LVMH Group. But Tisci does have Anna Dello Russo's vote, who said: "I think Riccardo deserves the [Dior] position. He's becoming a very mature artist. For me, Givenchy was the best show of the season so far."
Meanwhile, other speculation includes, Alber Elbaz of Lanvin taking the Dior position, while Jason Wu would replace him at Lanvin. Marc Jacobs has taken himself out of the running at the Louis Vuitton show, by saying "No! I haven't been asked". Only time will tell who will become the Creative Director for Christian Dior, but I cannot wait to hear!
Kate Moss Smokin' Hot (Literally!) at Louis Vuitton
When Kate Moss took to the catwalk at Louis Vuitton in Paris under the helm of Marc Jacobs, something dramatic was bound to occur. Moss walked the catwalk with a cigarette in hand, dramatically blowing smoke as she closed the runway. The collection which had themes of fetishism, crimes and scandals, certainly lived up to its concept! There were lots of leather, bustiers and handcuffs swinging off handbags for this collection. Also returning to the Louis Vuitton runway: Naomi Campbell, Amber Valetta and Carolyn Murphy.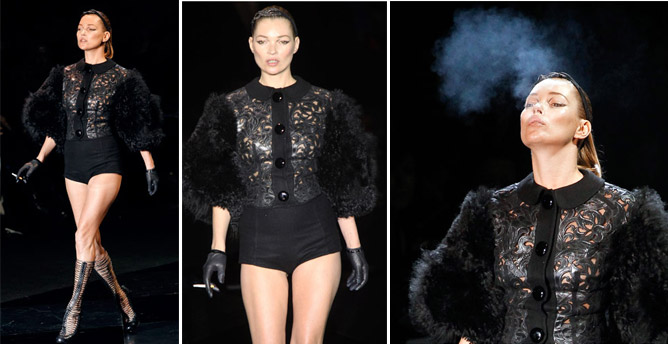 McQueen For The Royal-Wedding?
Kate Middleton's wedding dress designer has had the world's media in a flurry. Who will the designer be? If current rumours are true, Sarah Burton of Alexander McQueen may have the top honour. US Elle magazine's Creative Director Joe Zee, tweeted: "Kate Middleton, I love you but if you don't have Sarah Burton design your wedding dress, you're making a big mistake. HUGE." The new Fall McQueen collection does look perfect for a Princess! Devine shapes, texture and embroidery make this collection soar like a fairytale coming to life.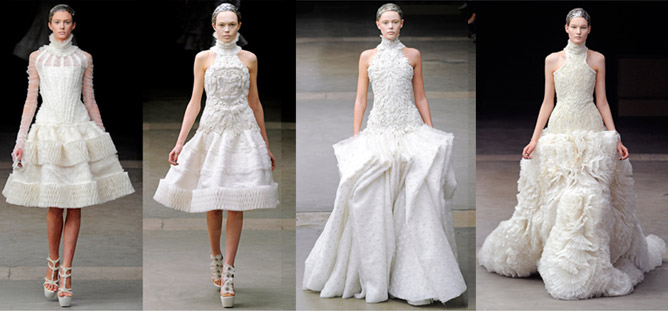 Blake Lively For Chanel
Blake Lively's beautiful Chanel ads are slowly being released to the media. As the face of Chanel's Mademoiselle Handbag line, Lively looks devine with some of the essential pieces for Spring.

Pregnant Rachel Zoe covers The Hollywood Reporter
Rachel Zoe has graced the cover of the new issue of The Hollywood Reporter. The glowing mum-to-be showed off her baby bump in 'exquisite fashion'!
Happy Thursday! xx
Photos from grazia.com.au / style.com
Your Daily Fashion Scoop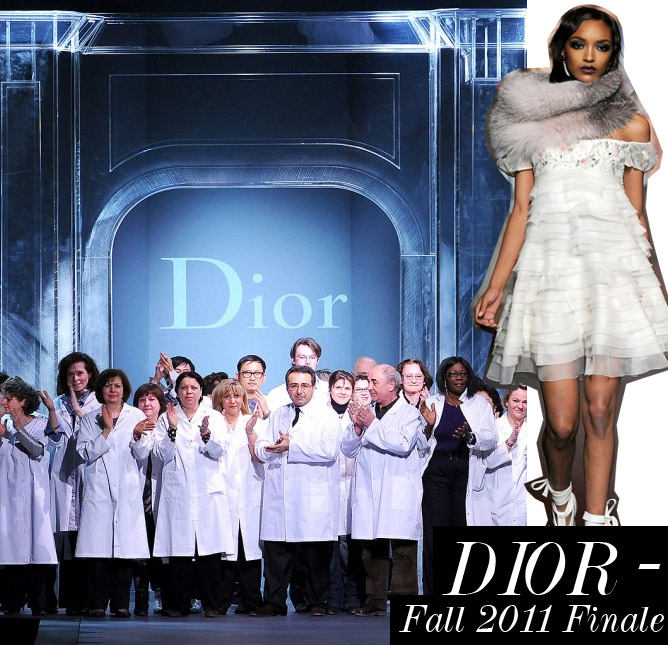 1 Beautiful Fashion Moment…
After the events of last week, who would have known what to expect at the Dior Fall 2011 show yesterday. But as the lights dimmed after the final look left the runway, the entire 30-strong members of the Dior ateliers – the seamstresses and craftsmen, all dressed in white coats – appeared. Tears were shed and the crowd applauded… a beautiful moment at the end of much upheaval.
9 Espresso Shots Of News…
John Galliano's Show Cancelled
1>> John Galliano's show has been cancelled due to last week's events. Select editors and buyers have been invited to view the new collection at a much smaller presentation on Sunday. Galliano however will not be attending…
Miranda Kerr Back On The Catwalk At Balenciaga
2>> Just 2months after giving birth to her first child, Flynn, Miranda Kerr was back on the catwalk at the Balenciaga during Paris Fashion Week. This was her third time walking for Balenciaga (last season she was 5months pregnant when she took to the runway!). Her husband Orlando Bloom watched from the front row. After the show, Kerr wrote on her Facebook: "The Balenciaga Show was incredible. We are having a great time in Paris. Love Miranda xxx".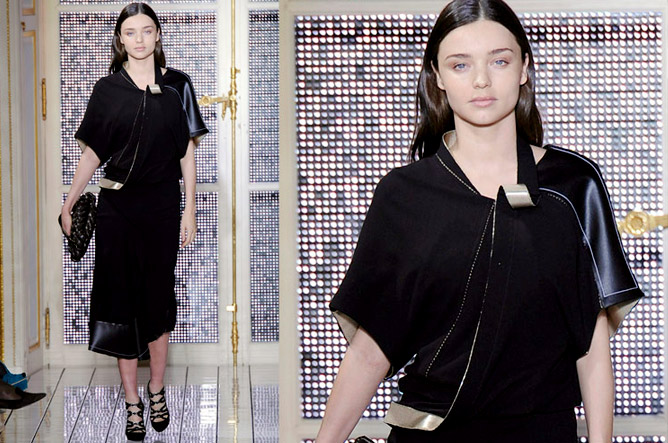 Lady Gaga Walks For Mugler In Paris
3>> Lady Gaga also took to the catwalk this week, modelling for Nicola Formichetti's first womenswear show for Mugler in Paris. Nicola Formichetti is Gaga's Stylist and became creative director of Mugler last year. Never one to do things by halves, Gaga also took on the role of Musical Director for the show; treating the crowd to the premiere of her new song Government Hooker. Gaga took to the catwalk wearing two looks from the collection – one black and one white…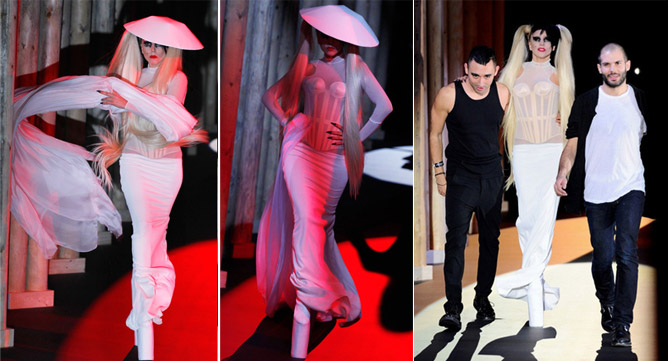 Alberta Ferretti & Emma Watson's 'Pure Treads'
4>> The first look from Alberta Ferretti and Emma Watson's capsule collection Pure Treads has been released. Made from environmentally friendly materials in Italy, the capsule collection is available to buy exclusively from AlbertaFerretti.com from March 21st 2011. A percentage of each purchase will be donated to People Tree…
Kate Middleton's Royal Wedding Shoes
5>>While what gown Kate Middleton will be wearing for her royal wedding has been in high discussion, talk is now turning to her toes. WWD's Footwear News asked five esteemed shoe designers – Manolo Blahnik, Giuseppe Zanotti, René Caovilla, Cesare Casadei and Georgina Goodman – to sketch what they believe is perfect for special day…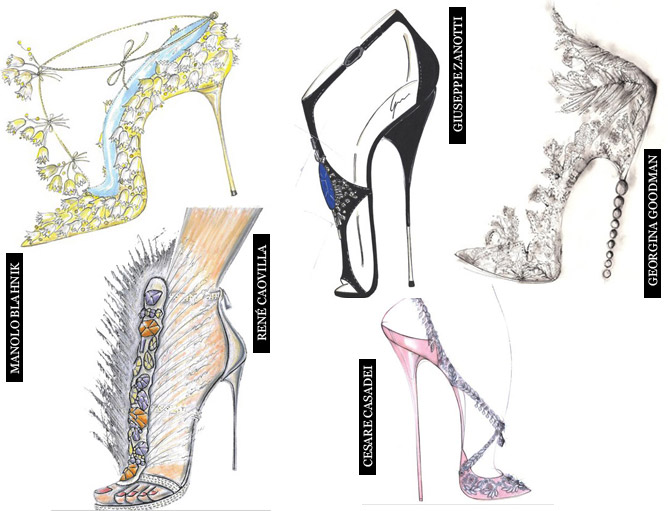 Megan Fox For Giorgio Armani
6>> Megan Fox has been announced as the face of Giorgio Armani Code Woman. Her striking campaign sees her wear a devine Armani gown and alluring red lipstick, while showcasing her extraordinary beauty…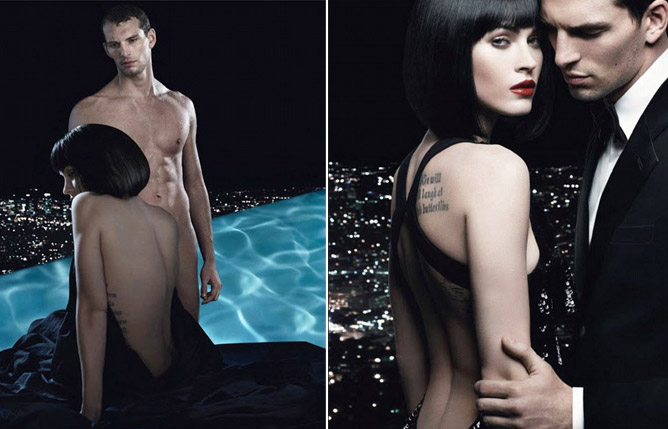 Ashton Kutcher For Colcci
7>> Speaking (well typing) of an actor turned 'model', starring in the Colcci Autumn Winter 2011 Campaign, is Ashton Kutcher. In the campaign he is joined by Victoria's Secret Angel Alessandra Ambrosio. Kutcher is no stranger to modelling jeans, he was previously the face of Pepe Jeans…

Abbie Cornish Wears Iconic Prada Stripes
8>> The iconic Prada Spring / Summer 2011 stripes make another extraordinary cover! Abbie Cornish graces the cover of Harper's Bazaar Australia wearing the divine strapless green stripe dress! Simply stunning…
Brad Goreski Styling
Jessica Alba
9>> Brad Goreski (aka previously Rachel Zoe's bow tie wearing Stylist Assistant) now has his own star client. Goreski is styling Jessica Alba. Cannot wait to see Alba at her next red carpet event for the result…
What did you think of Dior's Fall 2011 collection? & Who do you think will replace John Galliano at Dior? xx
Photos from style.com / vogue.co.uk / grazia.com.au / albertaferretti.com / dailymail.co.uk / harpersbazaar.com.au