My Dream Fall Wardrobe…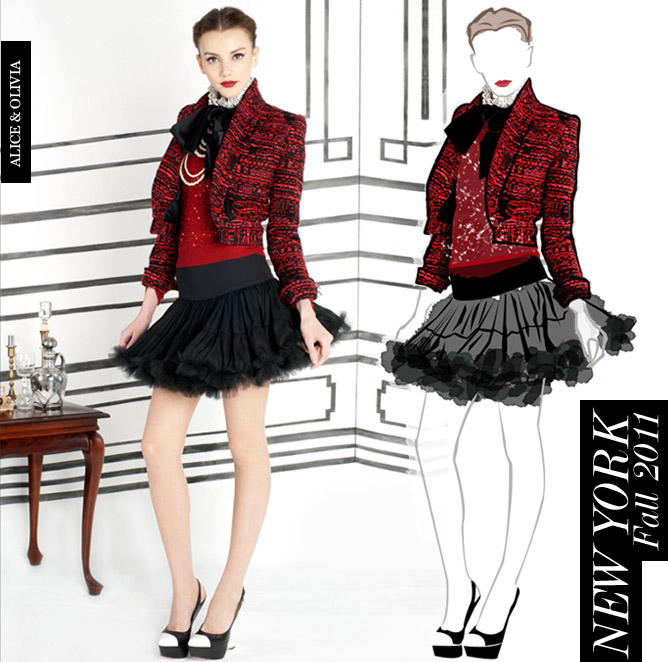 New York Fashion Week has come and gone… tear! Luckily there is still London, Milan and Paris Fashion Weeks to look forward to (including my favourite Chanel!).
New York Fashion Week left us with so many delectable looks it is almost impossible to ingest them all!  From Michael Kors (who is celebrating his 30th Anniversary) to Marchesa, Oscar De La Renta, Rodarte, Anna Sui, Jil Stuart and more – there are so many extraordinary collections to devour.
The too-die-for white feather skirt, delicate top with silver sequins and fur head piece by Oscar De La Renta (pictured line 2, 4th image) is elegance and sweet seduction personified! LOVE, LOVE, LOVE the head piece!  And how adorable are the animal prints at Jil Stuart – especially the foxes below (pictured line 3, 2nd image)? Not to mention, how exactly does Anna Sui always seem to create the perfect balance of feminine charm with an 'i'm with the band', effortless, cool aesthetic? Michael Kors, Erin Fethertson and Alice & Olivia also captured my heart with some exquisite pieces I cannot wait to see next Fall.
Some of my favourite looks from NY Fashion Wk…

P.S. Coincidentally, every one of my favourite looks from New York Fashion Week are dresses! Dresses are my absolute fashion true love! So I guess I will be investing in tights… xx
Photos from style.com
The Screen Actors Guild Awards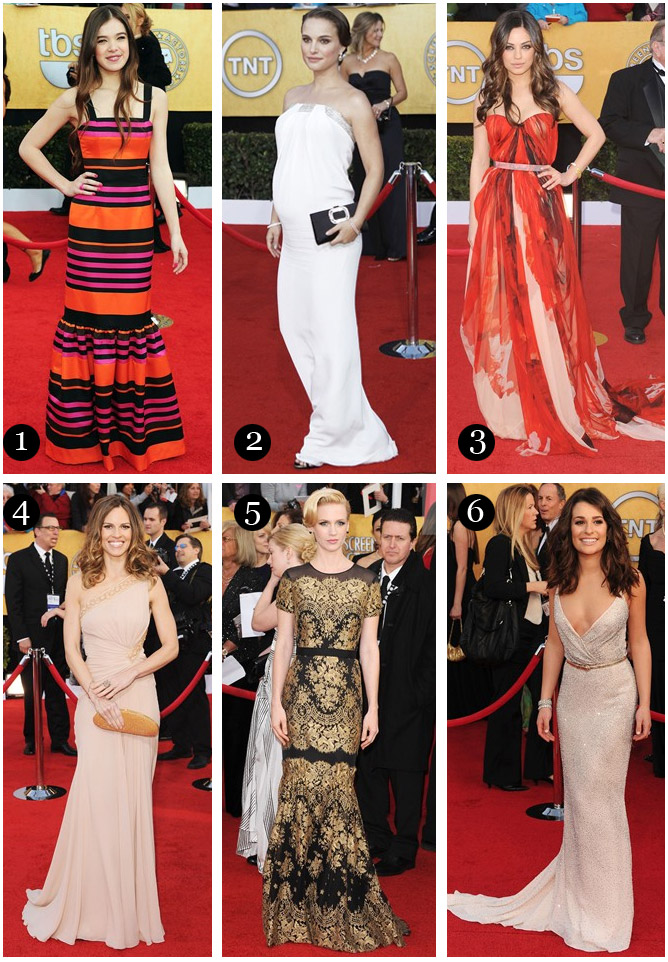 And The Best Dressed Goes To…
Hailee Steinfeld! The young starlet was exquisitely fresh, fun and feminine in a gown from Prada's Spring / Summer 2011 collection.
In a look that many would have found difficult to wear – vibrant pink, orange and black horizontal stripes – Steinfeld pulled it off in a spectacular fashion. André Leon Talley, of Vogue US, agreed declaring Steinfeld as his best dressed of the night. Of her look he said: "What made it so right for the teenager was the just-out-of-bed tousled hair (the style of the evening) looking so natural on her, deft makeup, and no bling. She didn't try too hard."
My Best Dressed List…
1>> Fresh, Vibrant, Fun – Hailee Steinfeld in Prada
2>> Radiant, Glowing, Gorgeous – Natalie Portman shone in Azzaro
3>> Breathtaking Beauty – Mila Kunis in Alexander McQueen
4>> Elegant, Refined Glamour – Hilary Swank wore Versace
5>> A Gold Rush – January Jones in Carolina Herrera
6>>Oscar's Lady – Lea Michele chose Oscar de la Renta once again
7>> Floaty Feminine Beauty – Claire Danes glows in Louis Vuitton
8>> White Swan Inspired – Winona Ryder in Alberta Ferretti
9>> Pretty In Pink – Angie Harmon in Monique Lhuillier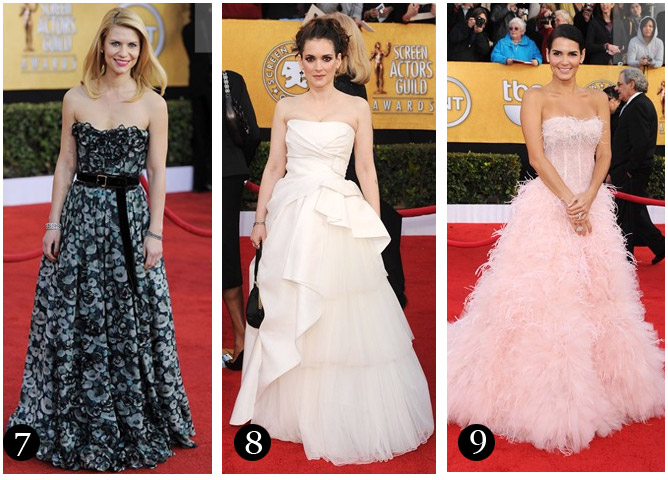 Who Was Your Best Dressed? xx
Golden Globes Glamour Girls…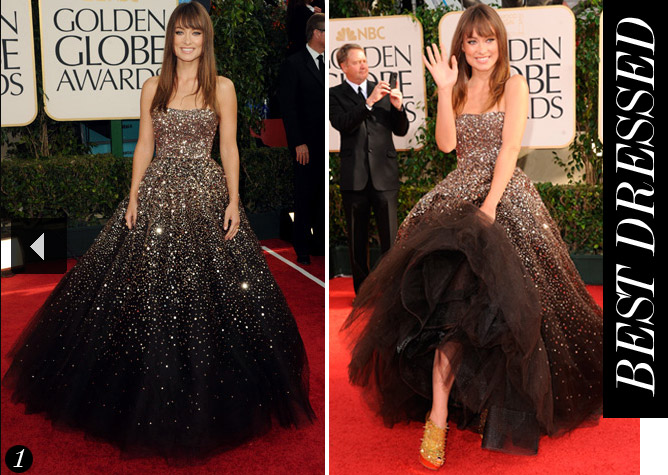 Add exquisitely dazzling gowns & some of the most beautiful women in the world and you may just get an unforgettable red carpet moment.
The Red Carpet Trends…
Emerald green featured often on the red carpet to create some spectacular styles. From Angelina Jolie to Mila Kunis and Catherine Zeta Jones; emerald green is my new colour crush! Long-sleeves were also favoured by the beautiful Anne Hathaway, Leighton Meester and Julianne Moore. While Peachy, neutral pinky shades also had a moment with Lea Michelle, Claire Danes and Natalie Portman all stepping out in these delicious tones!
My Golden Globes Best Dressed List…
1>> The ultimate in sparkly tulle perfection – Olivia Wilde in Marchesa
2>> An emerald green beauty – Angelina Jolie in Atelier Versace
3>> Sparking Gold – Anne Hathaway in Armani Privé
4>> Pink, Ruffles (i.e. Just Fabulous) – Lea Michelle in Oscar de la Renta
5>> Fairytale Elegance – Scarlett Johansson in Elie Saab
6>> Exquisite In Nude – Sandra Bullock in Jenny Packham
7>> All Wrapped Up To Perfection – Mila Kunis in Vera Wang
8>> Elegant & Understated – Leighton Meester in Zac Posen
9>> Popping Pink – Julianne Moore in Lanvin
10>> Glamorously Green – Catherine Zeta Jones in Monique Lhuillier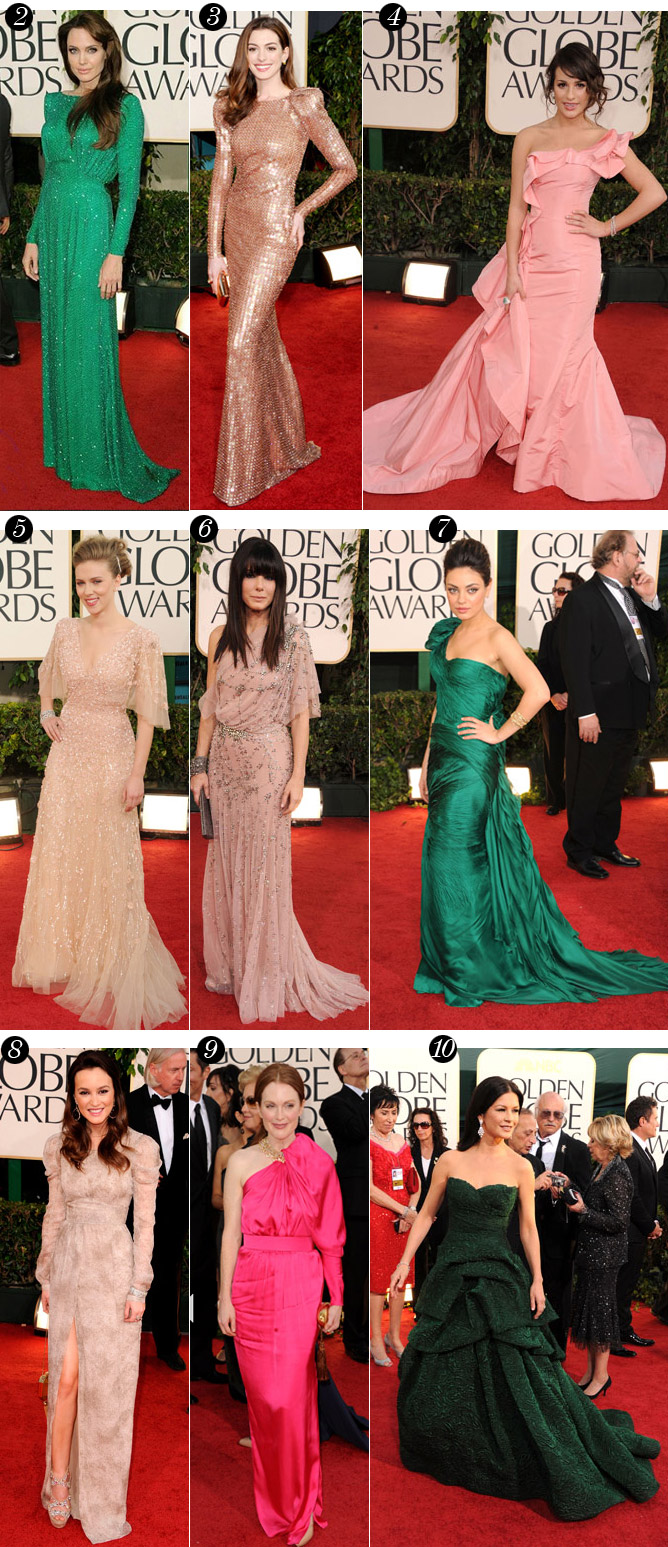 Who is your best dressed? xx
All photos from grazia.com.au