The Resort 2012 Collections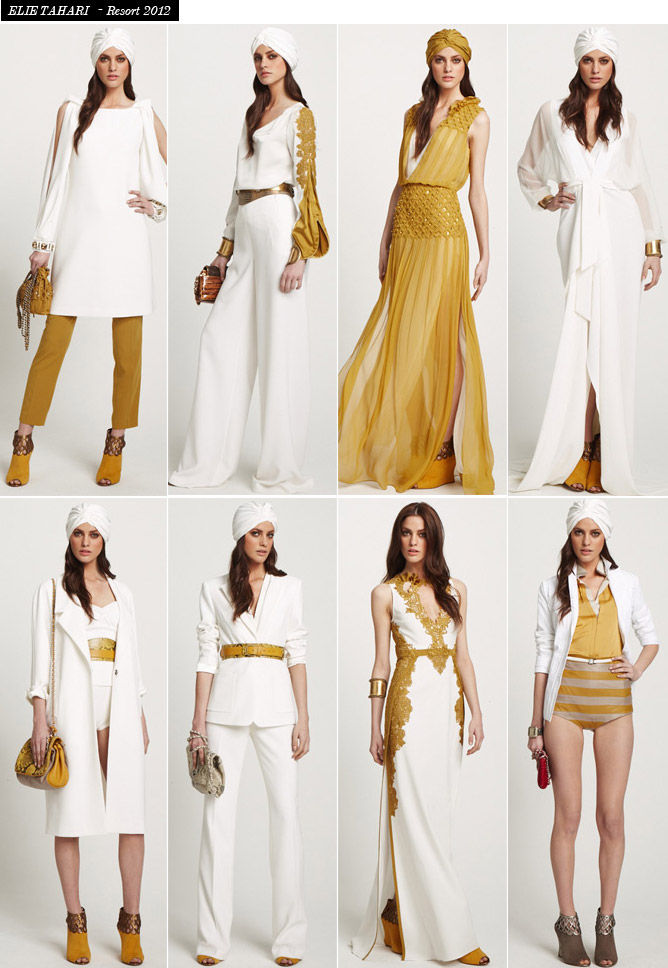 Elie Tahari
Dreaming of an exotic trip to Marrakech? The Elie Tahari Resort 2012 collection will transport you there. The tangerine and cream palette, combined with chic turbans and breezy caftans – exude effortless holiday dressing. The oversized tuxedo jacket and tailored trousers add urban edge to these beautiful, flowing creations. Love the long, light sleeves and the beautiful filigree embroidery.
– – – – – – – – – – – – – – – – – –
MaxMara
MaxMara's seventies inspired Resort collection consists of some key pieces for the season – the striking white suit, printed caftans and long tunic dresses. Colour-blocking and leather detailing gave the collection it's extra 'cool' factor. Think Bianca Jagger and Saint-Tropez chic!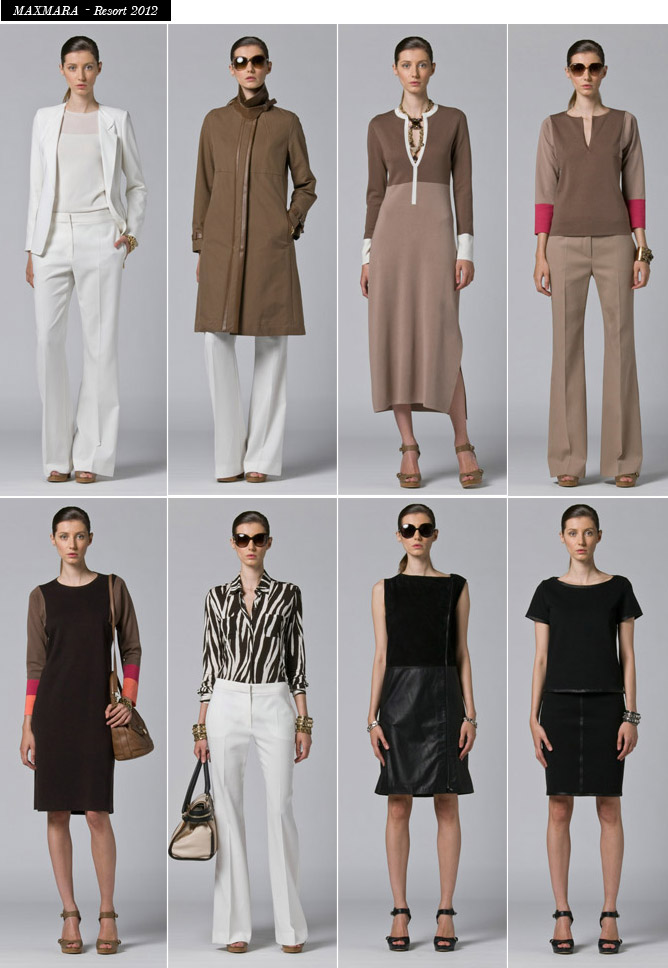 – – – – – – – – – – – – – – – – – –
Sportmax
Minimal, sexy and with extremely sharp lines – the Sportsmax Resort collection was a futuristic voyage in tailoring perfection. Look the business in menswear inspired pieces while adding a few plunging necklines for added sex appeal. Love the unexpected necklines on dresses and sinister looking trench coats!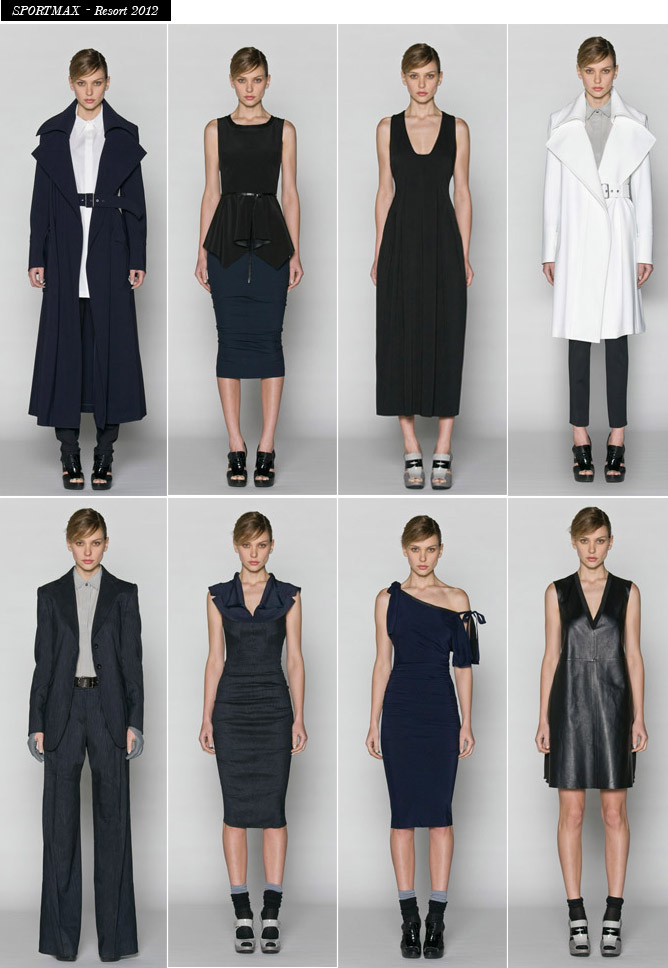 – – – – – – – – – – – – – – – – – –
Bottega Veneta
Combining city chic dressing with the 'effortlessness' of holiday separates – Bottega Veneta created a collection of seemingly weightless, perfectly soft neutrals perfect for the holiday season. Understated leather jackets, soft trench coats and 'lived in pieces', will not only make packing a breeze but also the wearer undeniably chic.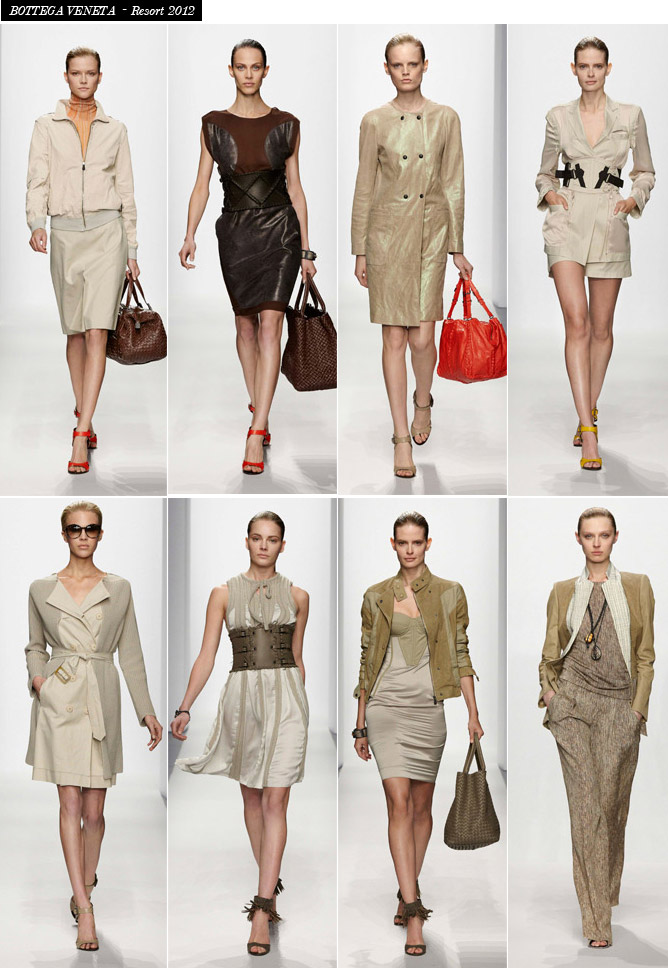 – – – – – – – – – – – – – – – – – –
Oscar de la Renta
Taking inspiration from Picasso's Cubist period, Oscar de la Renta's Resort collection was a chic colourful look at urban dressing. Colourful embroidery; black and white scribble prints; and embellished patchworks, made the collection sizzle in flamenco red, pink and striking green. The Spanish influence extended to matador jackets and high-waisted narrow-cut pants. There were also pure de la Renta moments – from flouncy feminine gowns and polka dot evening dresses!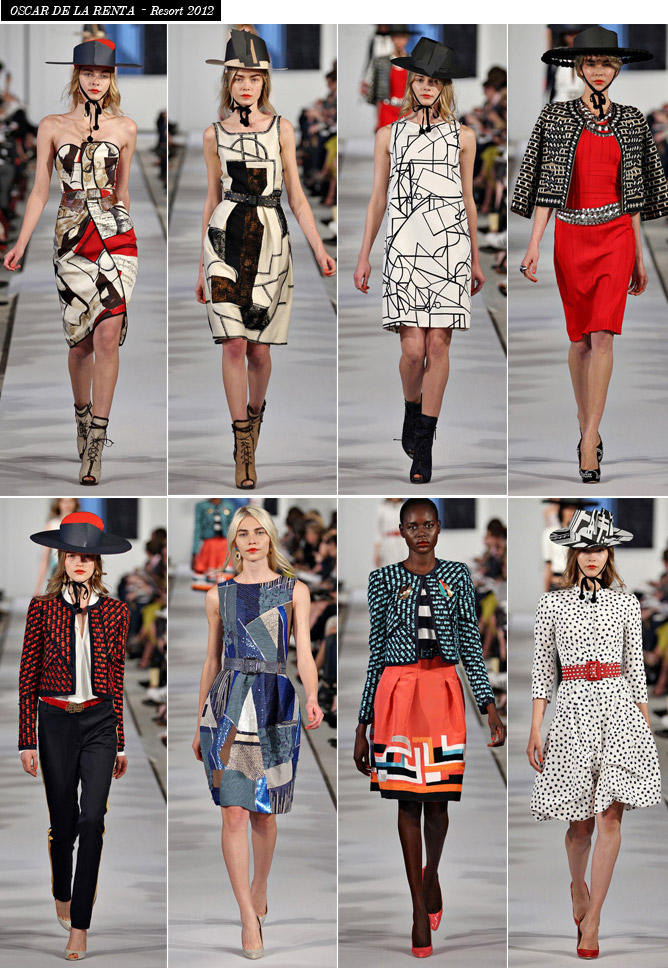 – – – – – – – – – – – – – – – – – –
What do you think of the Resort 2012 collections? xx
Photos from style.com
Love Is In The Air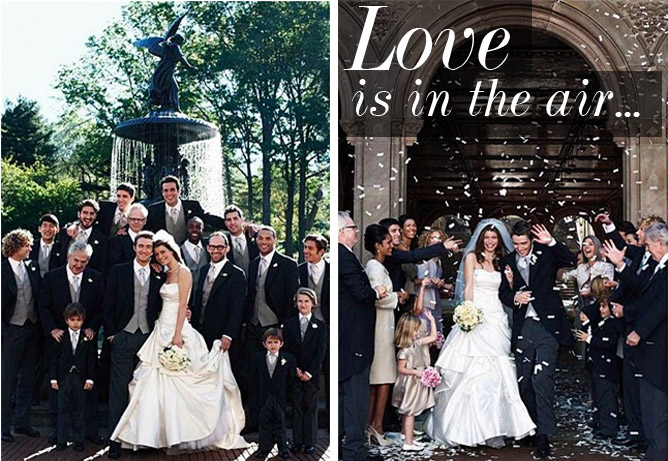 Wedding Espresso Shots of News…
Love, love, love a Wedding!
The world has fallen in love with the elegant, sophisticated Kate Middleton. The Royal Wedding, set to take place on April 29, 2011 at Westminster Abbey, has sprinkled love in the air right across the globe…
Tiffany & Co. Spring Campaign
Tiffany and Co. have released their Spring 2011 ad campaign, which perfectly captures the elegance, beauty and love of a gorgeous New York Wedding! The photography, styling, models and jewellery (pictured above & right), are as to anticipated from a Tiffany campaign, all exquisite. Love Tiffany's ability to transport you into a world of luxury…
Vogue UK Wedding Editions
To celebrate the Royal wedding of Prince William and Kate Middleton, Vogue UK is releasing three exquisite covers for the May 2011 issue (pictured below). The Three key factors to creating these extraordinarily beautiful covers:
– Three supermodels
Natalia Vodianova, Freja Beha Erichson and Lara Stone
– Three exquisite gowns
Vivienne Westwood, Oscar de la Renta and Bruce Oldfield
– One renowned Fashion Photographer
Mario Testino
Vodianova wears Vivienne Westwood, Beha Erichson in Oscar de la Renta, while Stone shines in Bruce Oldfield. The issue is Wedding themed and also features articles on Kate Middleton; a piece on fashion brides; as well as a guide to being a perfect wedding guest…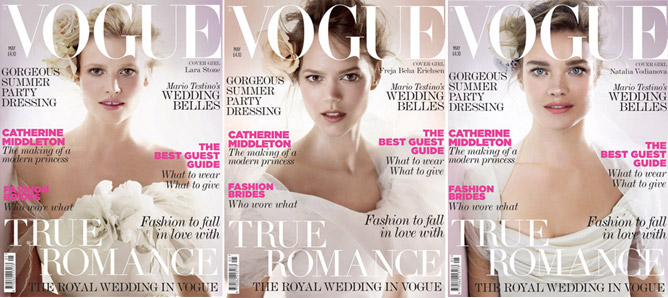 My Top Royal Wedding Gown Choices
While who will design the wedding gown of the Princess-to-be is still unknown, here are 6 of my favourites for Kate Middleton to consider… Alexander McQueen (Autumn / Winter 2011 collection), Elie Saab (Couture Spring / Summer 2011) and Marchesa (Autumn / Winter 2011 collection)!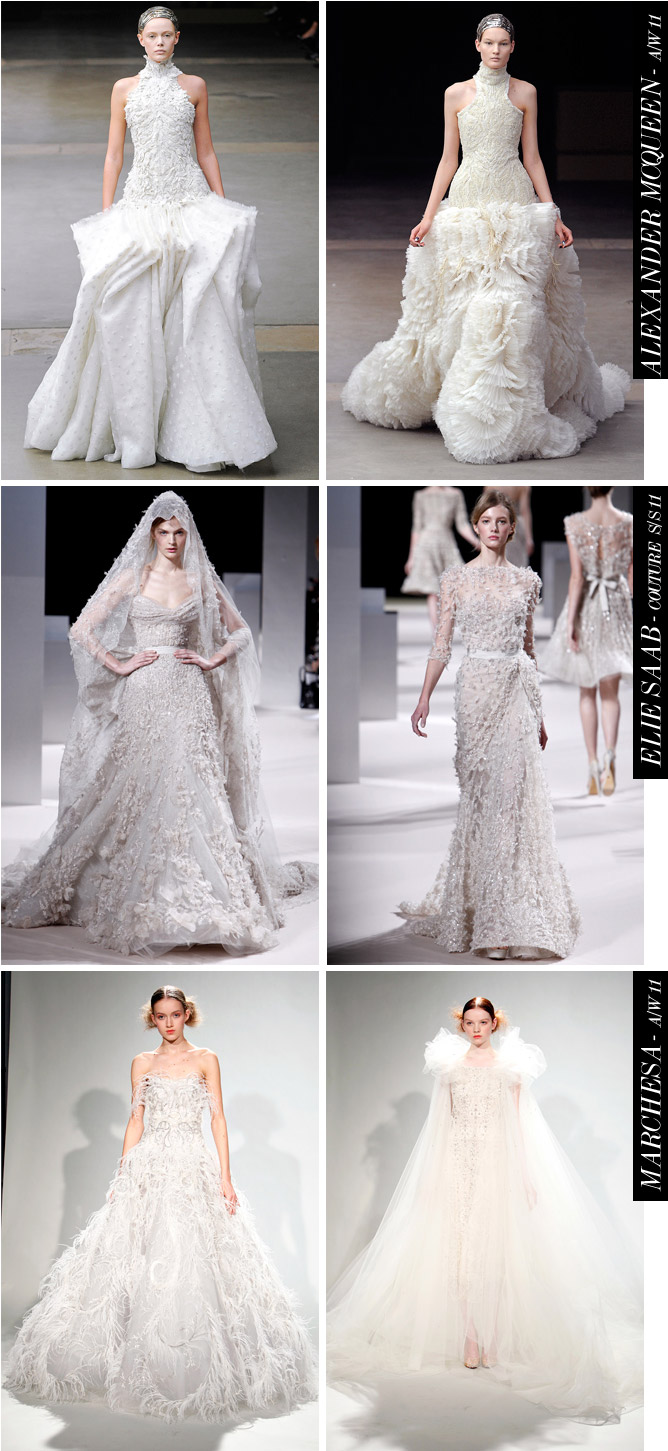 Who would you like to see design Kate Middleton's gown? xx
Photos from thetrendreport.ch / fabsugar.com.au / style.com
Hats On For Fall…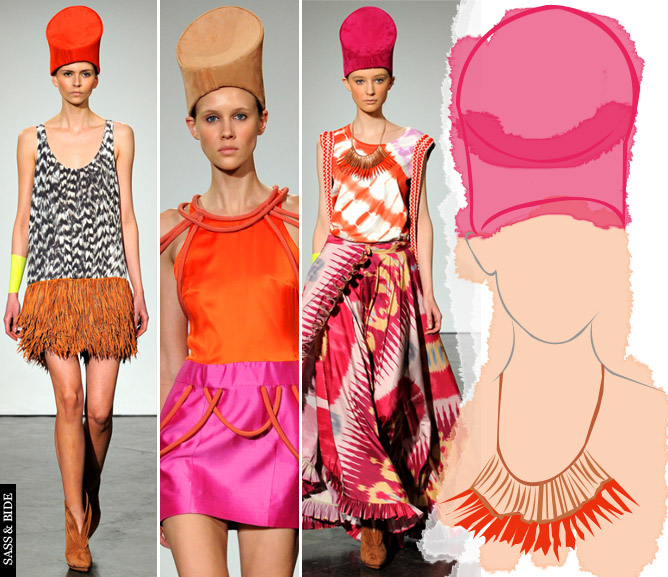 Keep your head toasty warm in ultra chic style for Fall 2011
As the Designers' accessory of choice for Fall, hats instantly add that extra pizzazz to any outfit…
So far, the Fall 2011 collections have offered an exquisite range of Hats in every shape, texture, colour and style. Whether you desire the neon brights at Sass & Bide; furry animals at Anna Sui; statement-making velvet at Malandrino or a sophisticated Cloche at Ralph Lauren – there is a hat to suit every head for Fall!

Will you make a statement with a darling hat this Fall? xx
Photos from style.com