The Resort 2012 Collections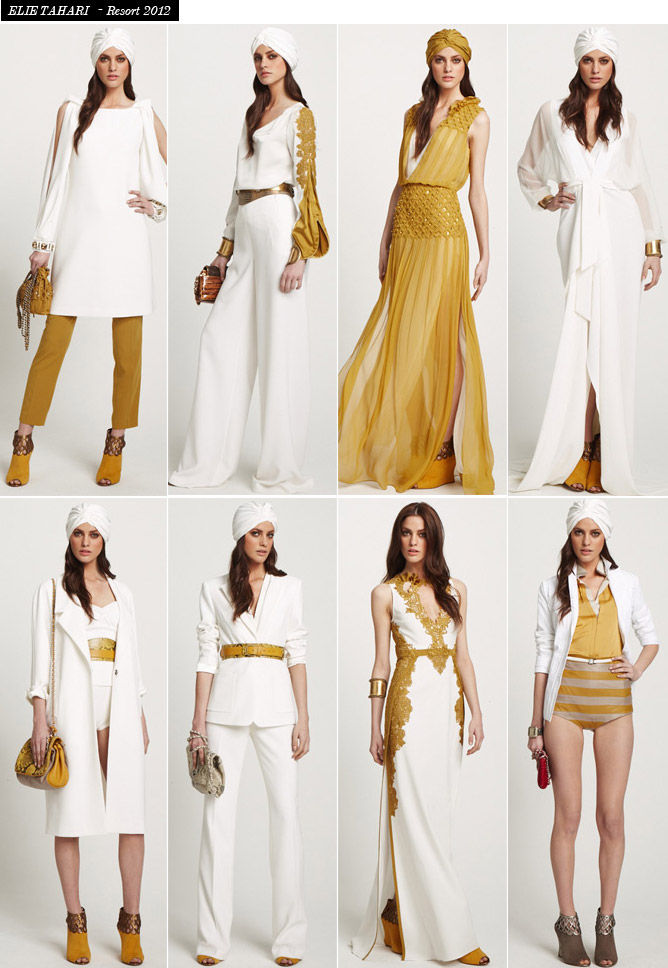 Elie Tahari
Dreaming of an exotic trip to Marrakech? The Elie Tahari Resort 2012 collection will transport you there. The tangerine and cream palette, combined with chic turbans and breezy caftans – exude effortless holiday dressing. The oversized tuxedo jacket and tailored trousers add urban edge to these beautiful, flowing creations. Love the long, light sleeves and the beautiful filigree embroidery.
– – – – – – – – – – – – – – – – – –
MaxMara
MaxMara's seventies inspired Resort collection consists of some key pieces for the season – the striking white suit, printed caftans and long tunic dresses. Colour-blocking and leather detailing gave the collection it's extra 'cool' factor. Think Bianca Jagger and Saint-Tropez chic!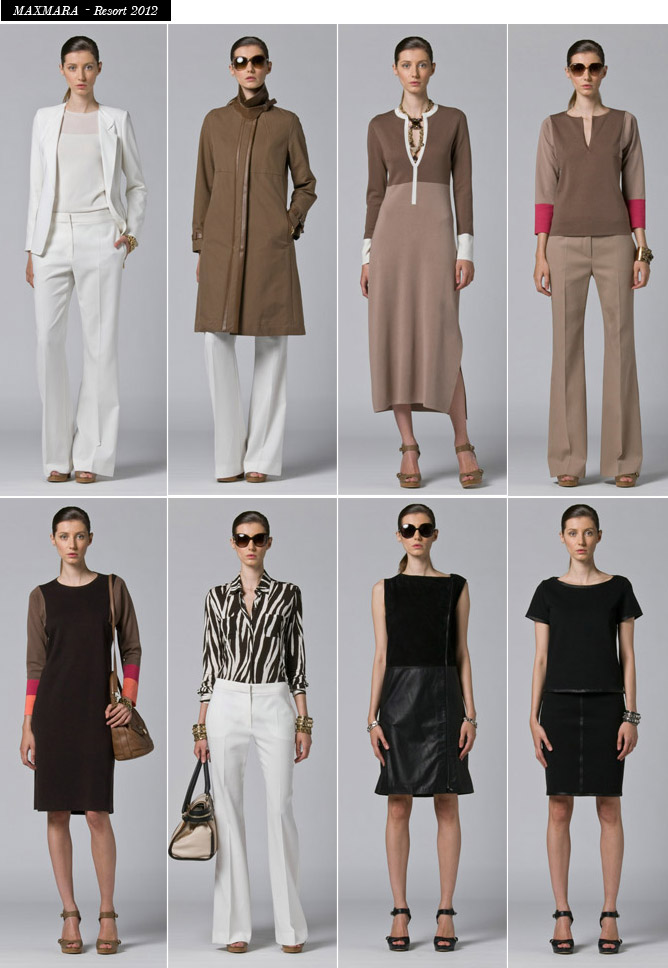 – – – – – – – – – – – – – – – – – –
Sportmax
Minimal, sexy and with extremely sharp lines – the Sportsmax Resort collection was a futuristic voyage in tailoring perfection. Look the business in menswear inspired pieces while adding a few plunging necklines for added sex appeal. Love the unexpected necklines on dresses and sinister looking trench coats!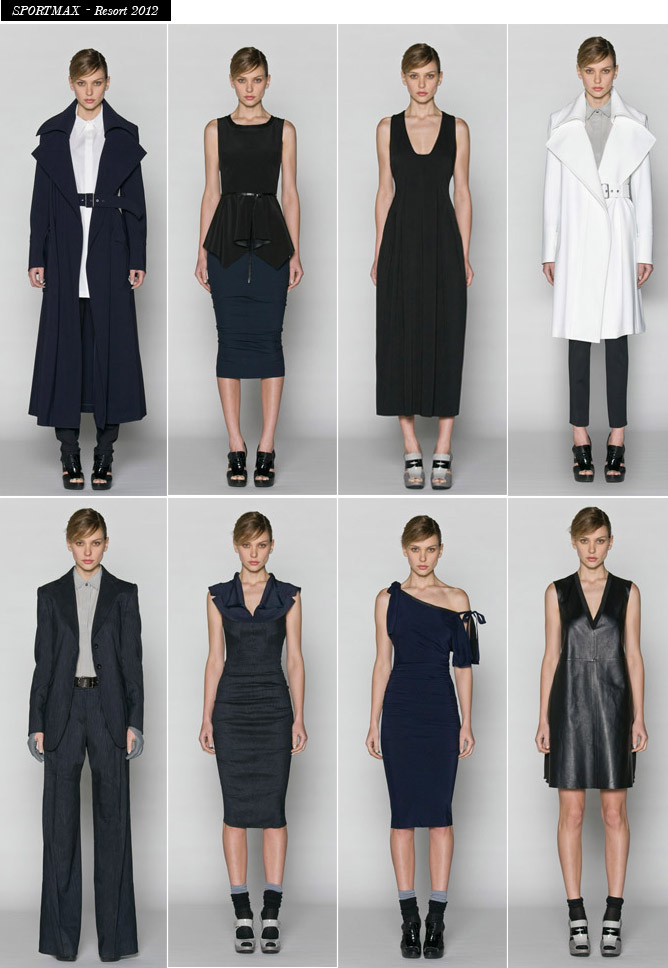 – – – – – – – – – – – – – – – – – –
Bottega Veneta
Combining city chic dressing with the 'effortlessness' of holiday separates – Bottega Veneta created a collection of seemingly weightless, perfectly soft neutrals perfect for the holiday season. Understated leather jackets, soft trench coats and 'lived in pieces', will not only make packing a breeze but also the wearer undeniably chic.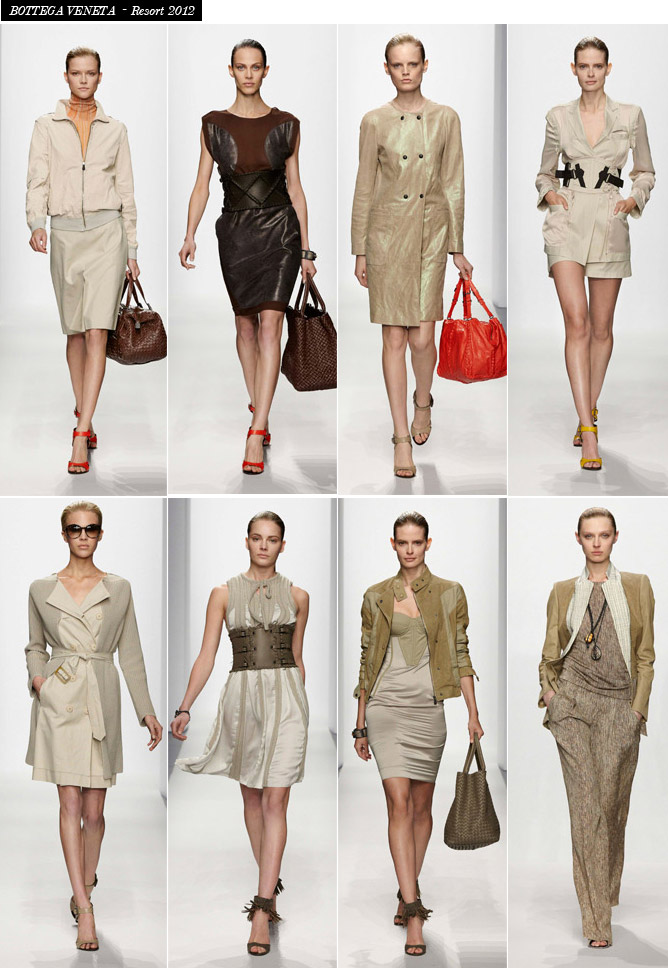 – – – – – – – – – – – – – – – – – –
Oscar de la Renta
Taking inspiration from Picasso's Cubist period, Oscar de la Renta's Resort collection was a chic colourful look at urban dressing. Colourful embroidery; black and white scribble prints; and embellished patchworks, made the collection sizzle in flamenco red, pink and striking green. The Spanish influence extended to matador jackets and high-waisted narrow-cut pants. There were also pure de la Renta moments – from flouncy feminine gowns and polka dot evening dresses!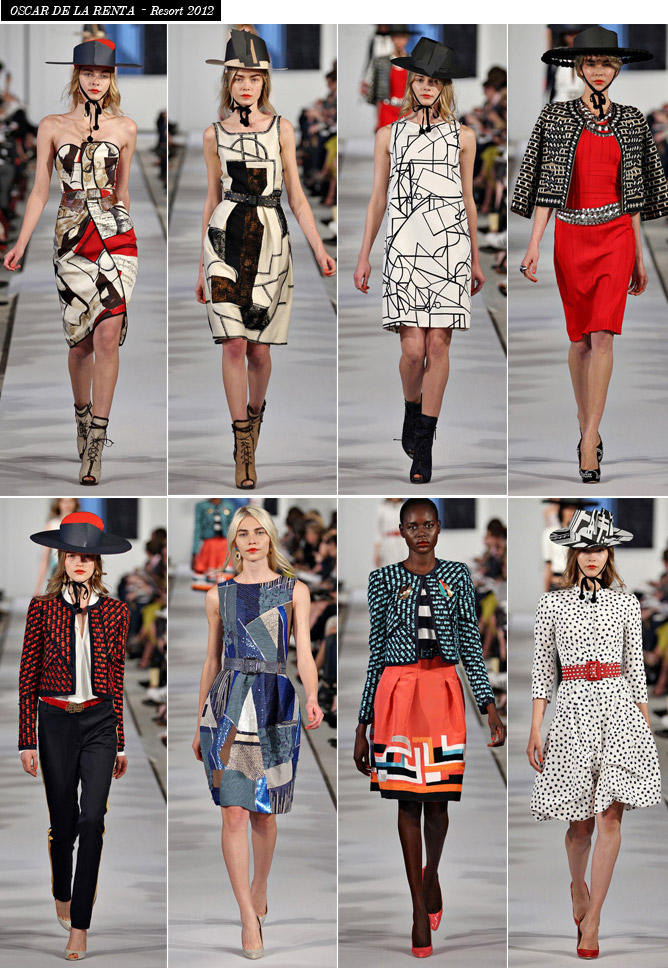 – – – – – – – – – – – – – – – – – –
What do you think of the Resort 2012 collections? xx
Photos from style.com
Favourite Pieces…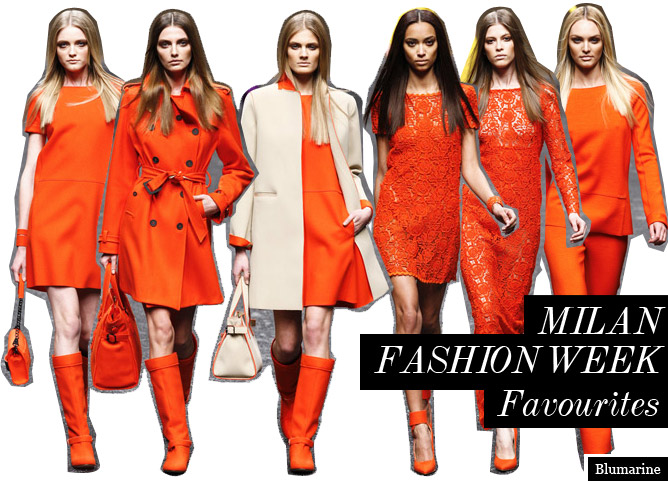 Milan Fashion Week – Fall 2011
With Milan Fashion Week now over and Paris about to get underway, I have chosen my favourite pieces from a week full of 'La Dolce Vita'. The incredible colour, texture and styling of Milan is always extraordinary and the exquisite offerings for the Fall season are no different.
Let's just say, if the four major fashion weeks (New York, London, Milan and Paris) were my children, Milan would definitely hold a special place in my heart. I love how no matter what the rest of the world's designers are feeling, those in Milan are always offering exuberant colour and intoxicating prints. Home to Prada, Marni, Pucci and Cavalli (to name but a few) – Milan Fashion Week is no shrinking violet. It is for the lovers of fashion who simply won't dress quietly when there are so many delicious flavours to be tried!
Some Of My Favourite Pieces…
Across the Milan catwalks colour took to the catwalk in a kaleidoscope of shades and tones. Blumarine startled everyone when the first two dozen looks down the runway were in beige and black! They were calm, sophisticated pieces and beautiful in their own right… but this was Blumarine we were watching! But the exuberant colour didn't stay away too long and soon enough head-to-toe colour took centre stage. Models wore solid orange, yellow, purple and blue from collar to boot. LOVE the trench coats lined in colour and those shift dresses with matching boots! ADORE the fun 60's feel of the collection.
Karl Lagerfeld and Silvia Venturini Fendi, described their collection's muse as a buttoned-up-to-the-neck art teacher who was still wild enough to wipe her paintbrushes in her hair and unleash the animal within. What isn't to love! Especially LOVE the coloured tights and contrasting colours!
Other favourites for me: Prada (I die for those Mary-Jane boots and sweet jackets), Bottega Veneta (I need to try out that hair style) and Gucci (so much glamour).
Oh & can this please be my Fall Wardrobe…

Which were your favourite Milan Fashion Week Shows? xx
Colour Your World…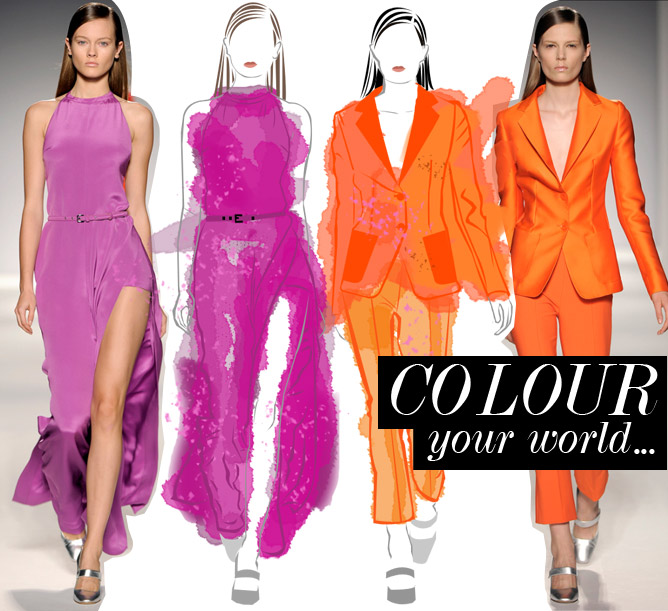 Tired of the Winter Blues? Embrace Colour for an exhilarating burst of Summer freshness…
Right across the Spring / Summer 2011 runways, colour was used to make an impact. From zesty orange to candy pink – there are so many colour options waiting to be discovered!
Colour is bold, youthful and engrossing. Perfect for adding the finishing accent to an all black ensemble or why not go daring in complete colour. Whatever you choose, next season there is a rainbow of options for you to explore.
At MaxMara striking colour made the minimalist silhouettes pop. In sunshine yellow, succulent orange or gorgeous violet – the MaxMara collection is not for the faint hearted. Colour was also strong at Jil Sander, where gorgeous bright pieces were teamed with crisp white tees and shirts. Colour blocking then took centre stage. A green cargo jacket was worn with a pink shirt and yellow palazzo pants. Orange was worn with violet; red with pink and yellow. It was a standout collection that was reminiscent of Yves Saint Laurent's passion for colour. Designer, Raf Simons described his use of colour as: "A mille-feuille of color" or a 'vanilla slice' of colour…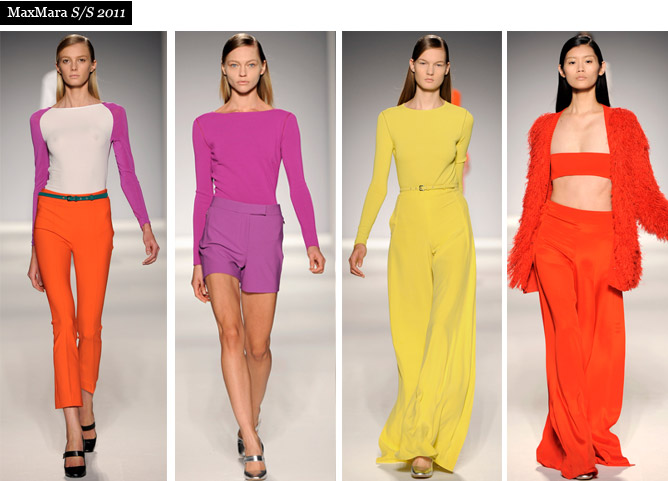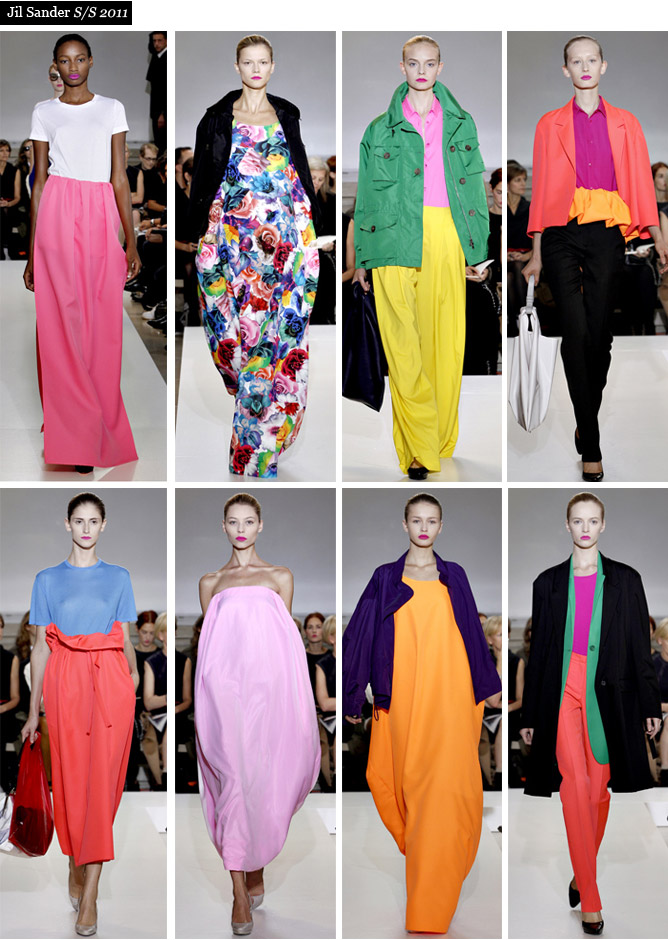 Will you be bright & bold in fabulous colour? xx
Photos from style.com