Favourite Pieces…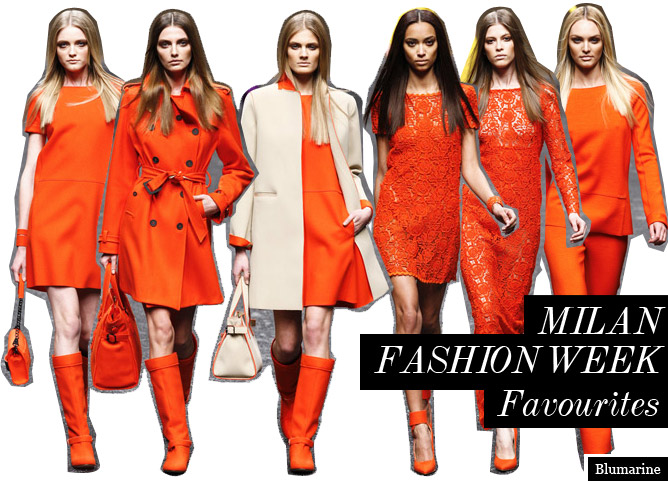 Milan Fashion Week – Fall 2011
With Milan Fashion Week now over and Paris about to get underway, I have chosen my favourite pieces from a week full of 'La Dolce Vita'. The incredible colour, texture and styling of Milan is always extraordinary and the exquisite offerings for the Fall season are no different.
Let's just say, if the four major fashion weeks (New York, London, Milan and Paris) were my children, Milan would definitely hold a special place in my heart. I love how no matter what the rest of the world's designers are feeling, those in Milan are always offering exuberant colour and intoxicating prints. Home to Prada, Marni, Pucci and Cavalli (to name but a few) – Milan Fashion Week is no shrinking violet. It is for the lovers of fashion who simply won't dress quietly when there are so many delicious flavours to be tried!
Some Of My Favourite Pieces…
Across the Milan catwalks colour took to the catwalk in a kaleidoscope of shades and tones. Blumarine startled everyone when the first two dozen looks down the runway were in beige and black! They were calm, sophisticated pieces and beautiful in their own right… but this was Blumarine we were watching! But the exuberant colour didn't stay away too long and soon enough head-to-toe colour took centre stage. Models wore solid orange, yellow, purple and blue from collar to boot. LOVE the trench coats lined in colour and those shift dresses with matching boots! ADORE the fun 60's feel of the collection.
Karl Lagerfeld and Silvia Venturini Fendi, described their collection's muse as a buttoned-up-to-the-neck art teacher who was still wild enough to wipe her paintbrushes in her hair and unleash the animal within. What isn't to love! Especially LOVE the coloured tights and contrasting colours!
Other favourites for me: Prada (I die for those Mary-Jane boots and sweet jackets), Bottega Veneta (I need to try out that hair style) and Gucci (so much glamour).
Oh & can this please be my Fall Wardrobe…

Which were your favourite Milan Fashion Week Shows? xx
My Milan Favourite Pieces…
While I usually select my favourite 15 looks, the magnificent Milan offered so many delightful pieces that I just couldn't choose! So I decided to extend my top looks to 17! These are my favourite looks from Milan Spring / Summer Fashion Week…
Luscious white and gorgeous shades of oranges and pinks again captured my attention. I want the entire Fendi collection and have a new found love for D&G. Versace offered its usual spectacular array of feminine pieces that oozed pure siren sex appeal; Just Cavalli's 1970's edge was undeniably cool; while Jil Sander's maxi skirts in lovely shades and patterns was a breath of fresh air.
Meanwhile Prada's S/S collection was probably the most unexpected. It was a feast for the eyes, offering everything from monkey and banana prints, stripes, florescent coloured furs, and shapes that took inspiration from uniforms – prisoner, postman, sailor, to name but a few. Miuccia Prada's statement of the collection, "It's time to be bold". It is Prada after all….
In conclusion, Milan was simply magnifique xx