Overtly feminine & positively chic – a brooch can make quite the style statement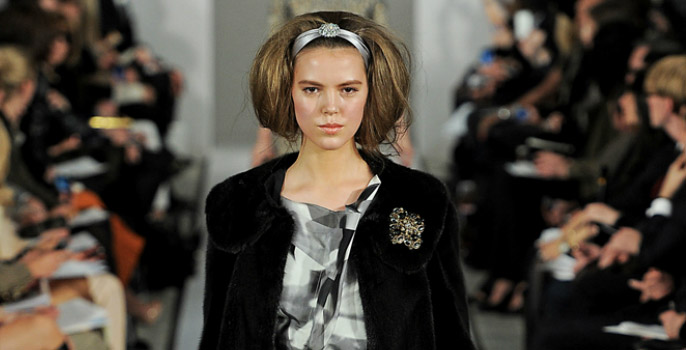 On the Oscar de la Renta Fall 2012 runway, opulently beautiful brooches added the perfect finishing touch to several looks.
The decedent Gobstopper sized crystals created bulbous brooches, which were pinned high at the neck of a crisp white shirt or perfectly placed on chunky knits and coats. Dusted with glistening pearls and gems, they added an extra splash of glamour to this chic collection.
Evoking a vintage nostalgia, brooches are the perfect accompaniment to clean lines and a minimalist look. A sparkling brooch creates that extra dash of the dramatic in your style. These darling embellishments enable you to reinvent some of your most loved pieces (from a classic blazer to a simple little black dress) and are perfect for adding a chic touch of individuality to your look.
Evoke the playful mood of the brooch and wear in a cluster of your favourites for an artful electric twist.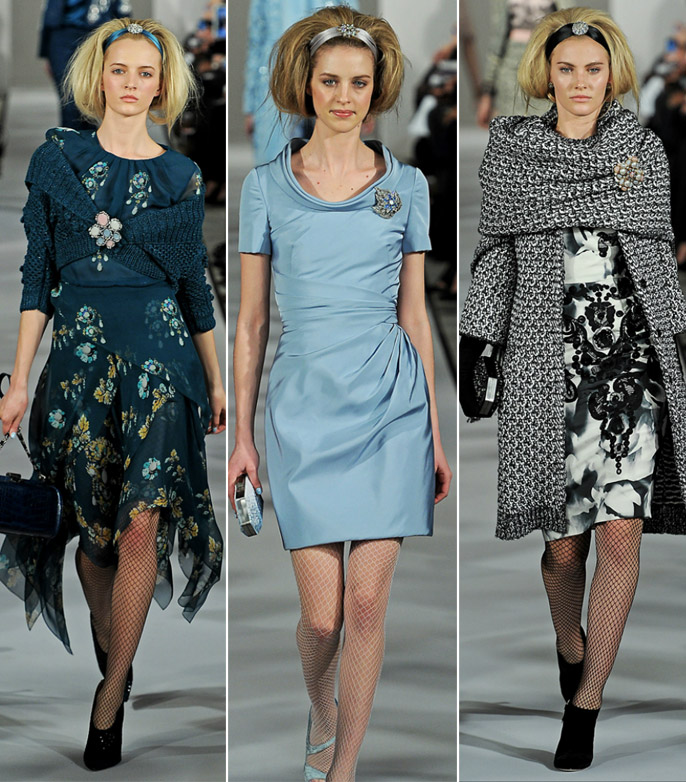 Will you empty your jewellery box & wear a beautiful brooch? xx
 Photos from style.com
If I were to wish upon a fashion star and be attending the Golden Globes tomorrow, here are just a few of the gowns I would love to see on the red carpet…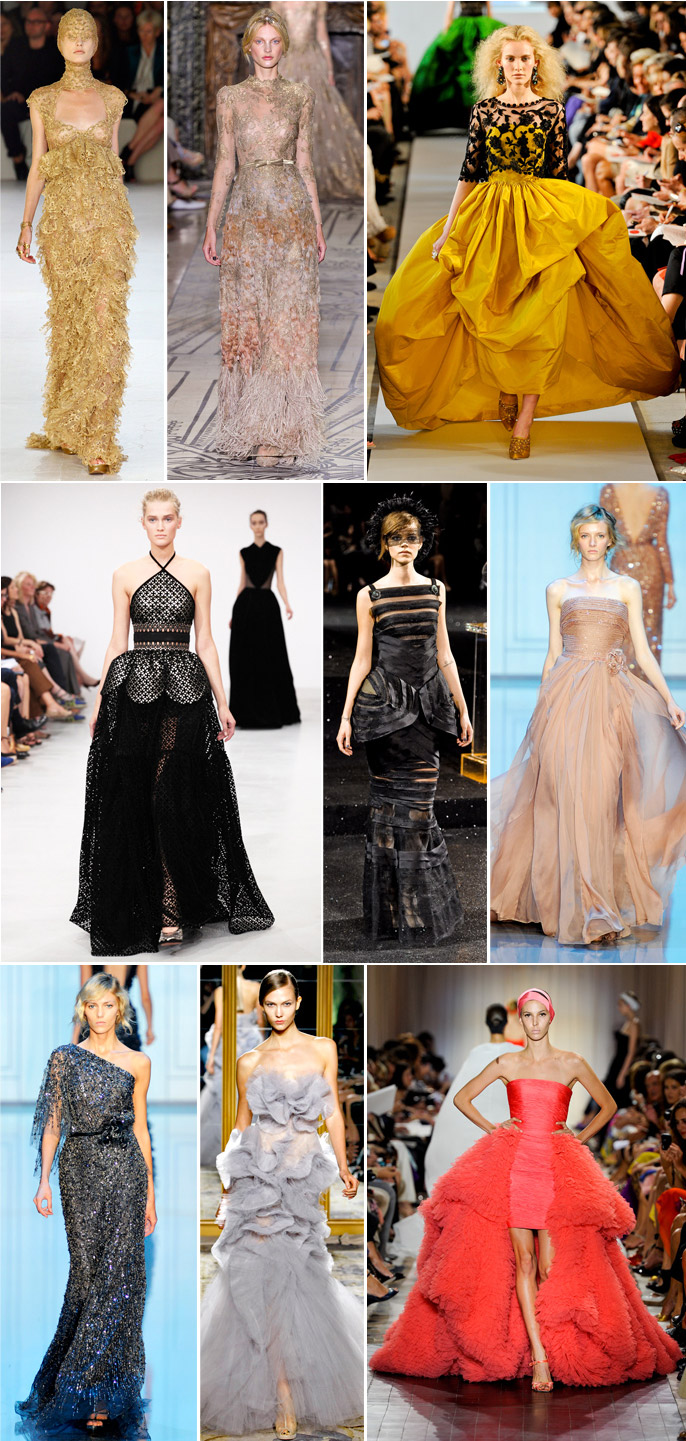 With many of the world's most beautiful women in attendance & wearing some truly dazzling gowns… this certainly could be an iconic red carpet moment to remember.
From Alexander McQueen's extraordinary Spring / Summer 2012 vision to Giambattista Valli's first couture collection; the red carpet options are looking exceptionally bright.
Choosing glistening subtle neutral shades, vivid colour or classic black; from lace embellishment to streamlined chic – what will the stars wear on this grand occasion? Be sure to see tomorrow's Espresso Shot Of Fashion News for full details.
Pictured above: Alexander McQueen, Valentino, Oscar de la Renta, Azzedine Alaïa, Chanel, Elie Saab, Elie Saab, Marchesa & Giambattista Valli
Who are you most looking forward to see walk the red carpet tomorrow? xx
Photos from style.com
Oscar de la Renta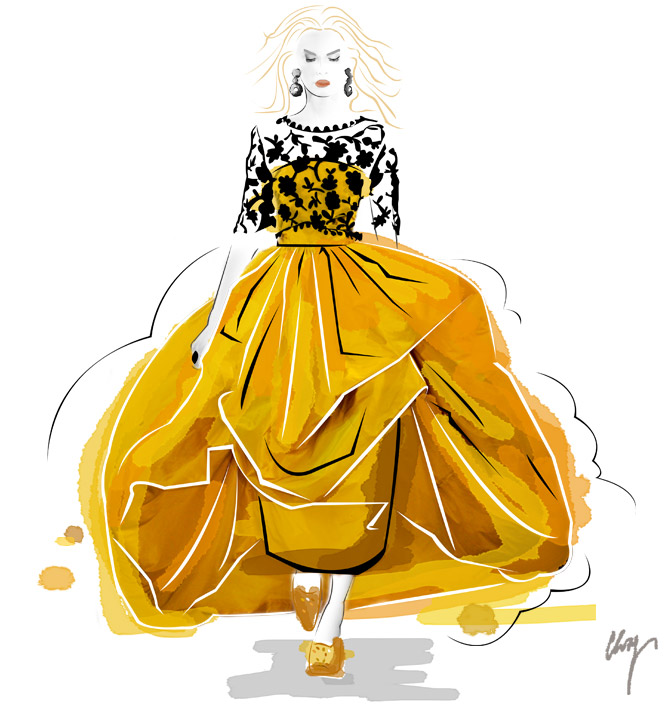 Bursts of bold explosive colour made for a wildly joyous occasion on the Oscar de la Renta runway.
My favourite look from the runway… the opening daffodil silk taffeta ball gown skirt with divine black lace t-shirt. Breathtaking colour; mesmerising volume; delicately sexy lace = one  extraordinary show stopping look! J'adore!
Oscar de la Renta Spring / Summer 2012
A fresh breeze of optimism swept through Oscar de la Renta's Spring 2012 collection. Beyond the upbeat colours, flattering silhouettes and radiant hair and makeup (softly frizzed hair teamed with barely there 'natural' makeup), created a striking presentation of effortless, modern day fairytale-like beauty.
The decadently, rich collection began with a bang as three enchanting evening gowns – in daffodil, emerald, and red – floated down the runway resembling whimsical gliding parachutes. The form-fitted bodices were covered with lace caracos, before exploding from the waist into billowing skirts of luxurious taffeta. The collection then went on to include a look for every possible occasion – from black tie ball gowns to cocktail, work and play. Virtuous white dresses; high-waisted sailor pants; seriously chic pencil skirts; all made an appearance in chiffons, tweeds, lace, and crochet, amongst others. Skirts and dresses highlighted the waist and looks were accessorised with statement earrings and cocktail rings.
Oscar de la Renta's collection is a delightful, indulgence in pure exuberant beauty…

What did you think of Oscar de la Renta Spring / Summer 2012? xx
Photos from style.com