4 Fabulous Fashion Shots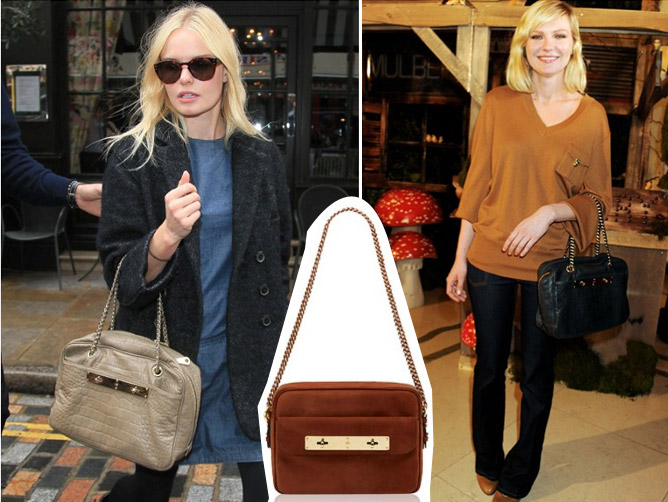 Have You Met Mulberry's New Family Member – Carter?
Mulberry has added a new handbag to their stylish accessory family – the Carter (pictured above). Already being worn about town by modern day style icons – Kate Bosworth, Emma Watson and Kirsten Dunst – the Carter is available in three sizes. It is a boxy, rectangular shape with chain handles. Mulberry has become the go-to label for IT accessories and the Carter looks set to further cement this status.
– – – – – – – – – – –
Baby's First
Louis Vuitton
Rachel Zoe announced her baby gift from Louis Vuitton on Twitter and it is B-A-N-A-N-A-S! Zoe tweeted: "Is Skyler to young to have his first LV? So MAJ for a new diaper bag."  The monogrammed 'speedy' bag (pictured right) with Skyler's initials is super stylish for a 4 month old! Zoe went on to tweet a thank you message to Louis Vuitton "Sending a big, stylish thank you to @LouisVuitton_US for Skyler's insane gift on his 4 month birthday! :)"
– – – – – – – – – – –
The Will of
Alexander McQueen
The Will of Alexander McQueen has hit the headlines with the extraordinarily talented designer leaving a significant amount of his estate to his pet dogs and favourite charities. McQueen's considerate and giving nature were clearing apparent as he bequeathed:
>> £50,000 to his dogs' trust fund to look after Minter, Juice and Callum for the rest of their lives
>> £50,000 to each of his two housekeepers
>> £50,000 to his godson and each of his nieces and nephews
>>  £250,000 to each of his three sisters and two brothers
>> £100,000 to his four favourite charities – The Terrence Higgins Trust, Battersea Dogs and Cats Home, the London Buddhist Centre and the Blue Cross sick animal centre
>> The remainder of his estate is in the trust for his Sarabande charity. McQueen asked that the money be considered to fund bursaries or grants for students at Central St Martin's College of Art and Design
– – – – – – – – – – –
Editorial Of The Week
Loving this editorial for Elle Russia, August 2011 issue, which celebrates lady-like elegance and old-world glamour. Pieces by Stella McCartney, Elie Saab, Louis Vuitton and Salvatore Ferragamo, amongst others, are worn by Hailey Clauson as she strikes a pose in striking black lace, polka dots and opulent textures! It's darling!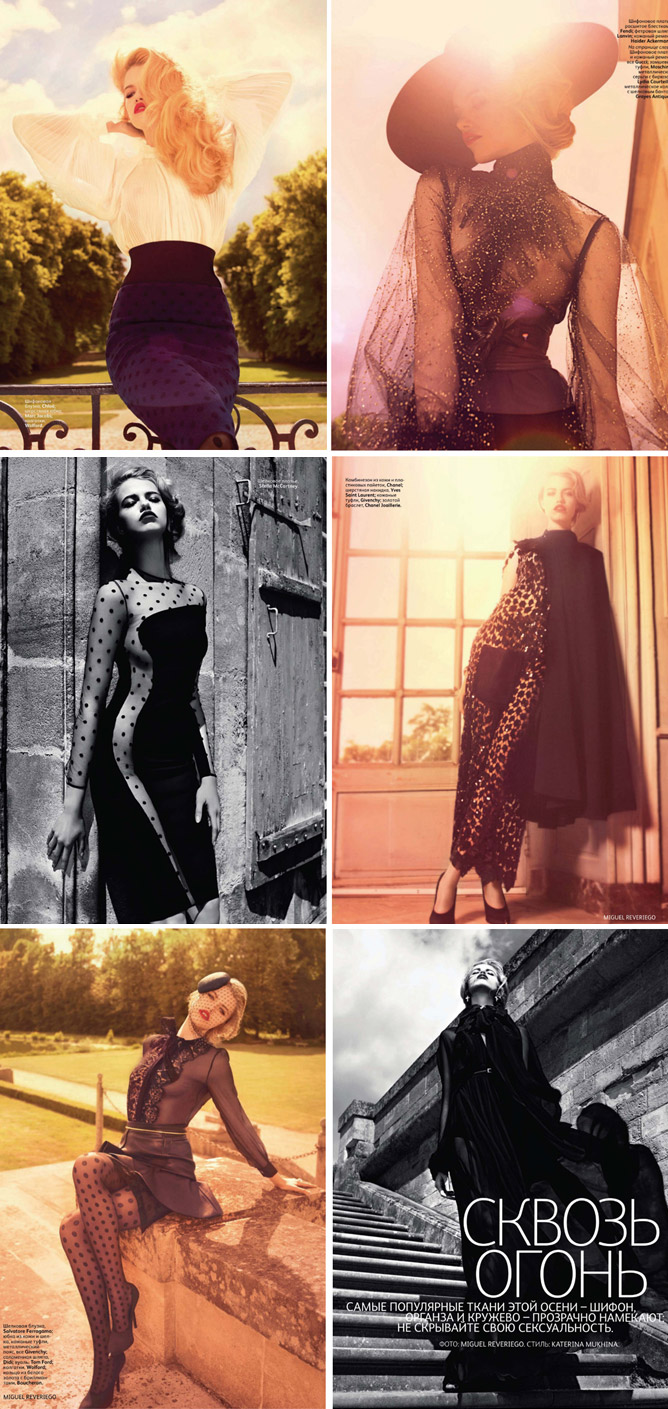 Happy Wednesday! xx
Photos from fashion.telegraph.co.uk / twitter.com / fashiongonerogue.com / google images
Weekend Fashion Shot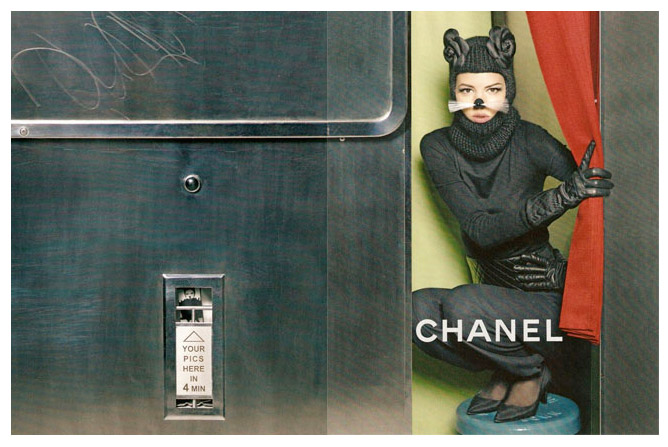 Autumn / Winter 2011 Campaigns; 2 Shots Of Espresso News; + Some Weekend Beauty Inspiration…
– – – – – – – – – – – – – – – – – – – – – – – – – – – – – – – – – –
The Fall Campaigns So Far
The Autumn / Winter 2011 Campaigns are beginning to be released and I have featured some of my favourites so far below. From Freja Beha dressed as a cat for Chanel; to the fresh faced Elle Fanning for Marc Jacobs and Hailee Steinfeld for Miu Miu – it looks set to be a memorable season.
For Chanel, Freja Beha is once again used; however, with completely different results. Beha is firstly pictured as a cat perched in a slightly scruffy photo booth; followed by another shot in the same location, but this time with French written across her forehead. The rough translation is Coco Chanel's iconic quote "A fashion that does not reach the streets is not a fashion."  Little has been revealed about the campaign so far, yet rumours are suggesting it was styled by Carine Roitfeld (previously the Editor of French Vogue) and of course shot by Karl Lagerfeld.
Elle Fanning and Hailee Steinfeld both look seriously chic for Marc Jacobs and Miu Miu respectively.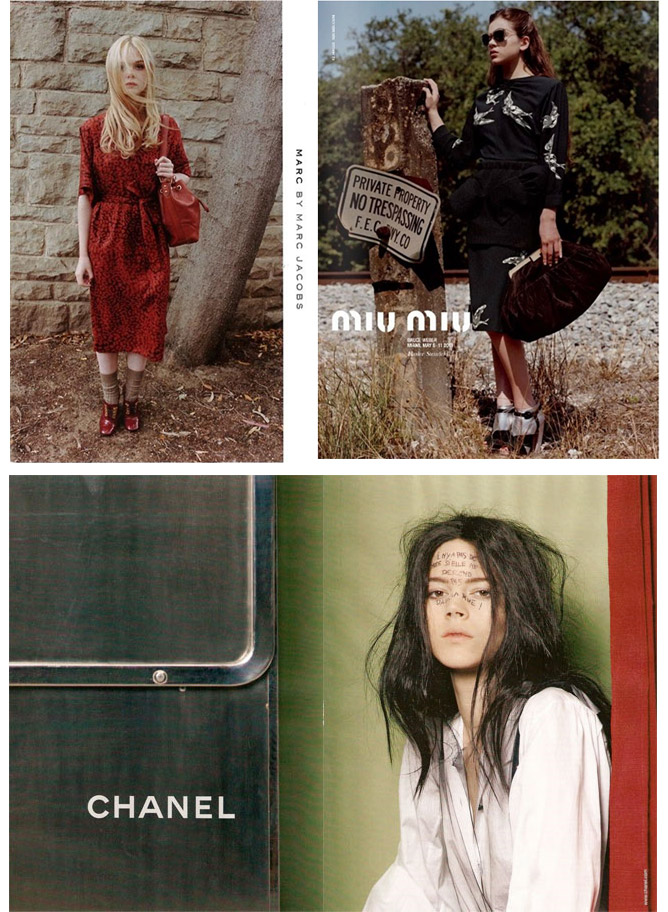 Bottega Veneta's Fragrance For Women
The Italian luxury fashion House, Bottega Veneta, best known for its signature leather goods, is launching its first fragrance for women.
Described as a "leather, floral chypre" scent; the fragrance consists of: oak moss, Italian bergamot, Indian jasmine sambac, Brazilian pink peppercorns and Indian patchouli. The scent represents the "invisible, private luxury" associated with the House. The elegantly simple bottle is made of Murano glass, (for limited edition) and is decorated with a sweet leather bow. Nine d'Urso, the daughter of French fashion icon Inès de la Fressange, is the face of the campaign.
New 'IT' Bag Alert
Mulberry is already home to IT bags the 'Alexa' and 'Bayswater' and it now looks set for the 'Polly Push Lock' to join this beautiful group. Catherine the Duchess of Cambridge was pictured carrying a Mulberry Polly Push Lock handbag while departing for America.
The compact carryall shoulder bag, in textured leather, exudes a luxe vintage aesthetic. Available to purchase through Net-A-Porter for £616.67, I predict this bag is going to be huge (especially now it has a Princess' seal of approval)!  
– – – – – – – – – – – – – – – – – – – – – – – – – – – – – – – – – –
Beauty Editorial Inspiration
Entitled 'Forbidden Kisses', Lily Donaldson features in a gorgeous beauty editorial for Vogue Japan's August 2011 edition.
The prettiest tones of pink (used from the eyes to the lips and cheeks) create an ultra feminine, playfulness. The softness of the looks play upon Donaldson's delicate beauty for innocently, seductive results… LOVE THESE LOOKS!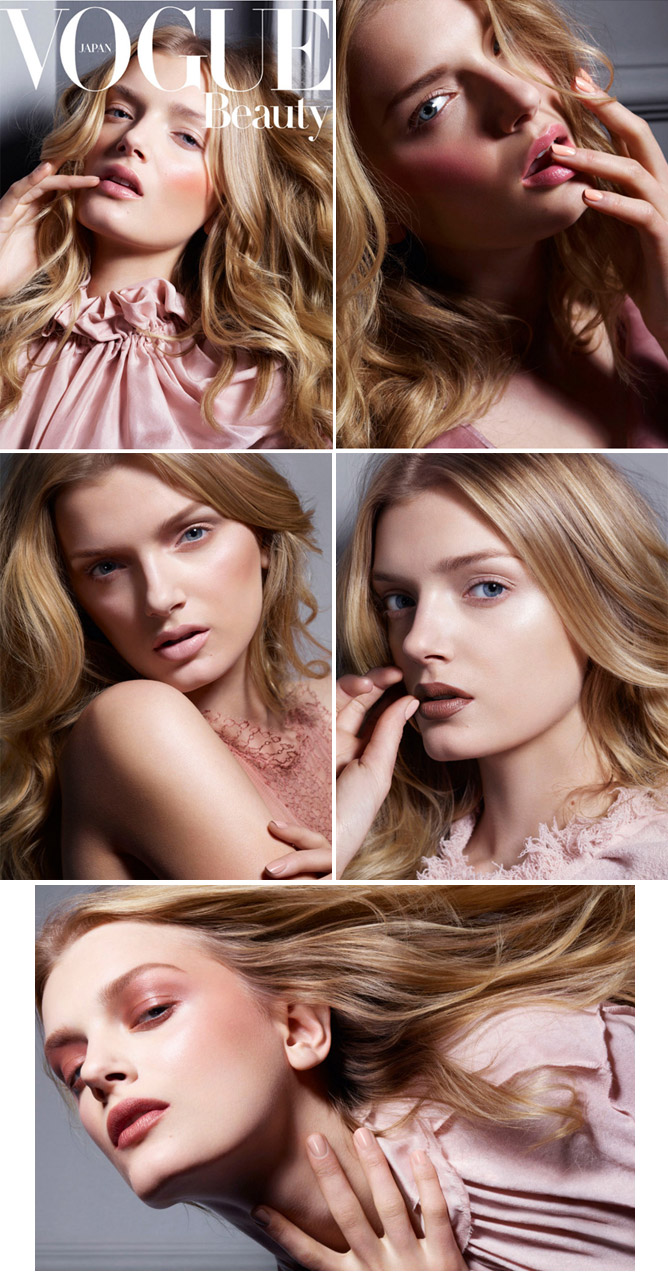 Have a fabulously fashionable weekend! xx
Photos from google images / fashiongonerogue.com
Favourite Pieces…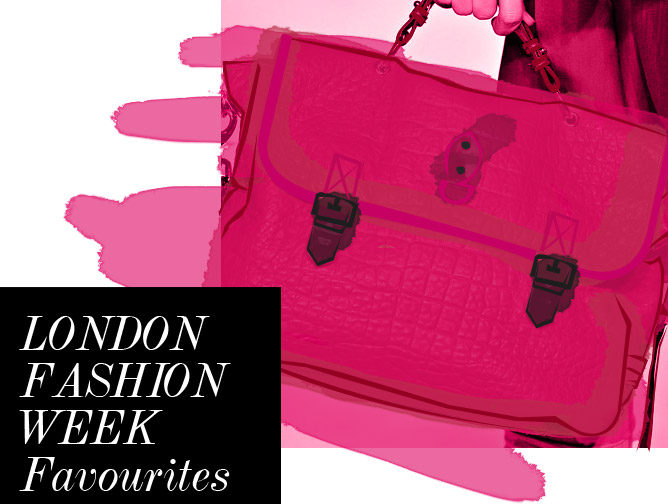 London Fashion Week – Fall 2011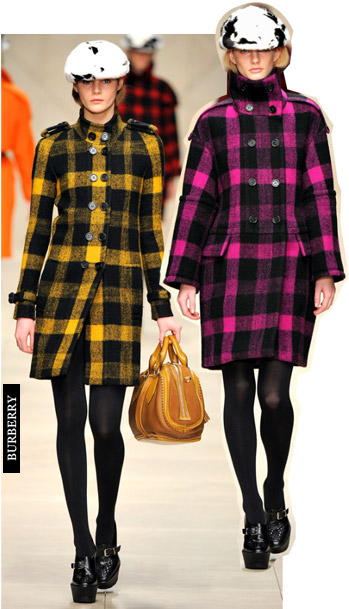 London Fashion Week is nearly coming to a close and I have been so sad that I was unable to make it! To get my Fashion Week Fix I have been watching the live streaming at all hours of the morning; checking style.com feverishly; and dreaming ahead to a Fall season full of eye-popping colour; accessorising with tights and hats; and staying warm in those divine coats.  
From established Fashion Week Must-See shows – such as Mulberry, which attracted a celebrity front row of Kirsten Dunst, Clémence Poésy, Gemma Arterton, and Nicholas Hoult – to the up-and-coming designers at Fashion East; I get so excited about seeing them all!   
Some Of My Favourite Pieces…
As you can see from the looks below I am going through an orange and yellow stage! These colours are so fresh, optimistic and vibrant for Autumn / Winter.
The orange Burberry trench leaves me speechless! It is one of the most gorgeous things I have ever seen! I love the cut, striking buttons and seam detailing. Burberry also offered countless other stunning coat options for Fall. I also adore the off-white, bow coat worn by Abby Lee Kershaw below.
The looks from Mulberry were also high on my lust-list. The use of quilting in dresses; knee-high socks; and gorgeous colour hues – were too-die-for! Inspired by Ronald Dahl's Fantastic Mr. Fox; Emma Hill, Creative Director of Mulberry, described the collection's muse as: "She's very English. She's got a dilapidated, stately home. She's got her long party dress on and she throws on a duffel coat." The brands signature IT bags – the Bayswater, Alexa and Tillie – were also updated for Fall. The pink Alexa (above) needs to get into my wardrobe immediately!  
I also had a soft spot for Holly Fulton, Temperley London & Erdem…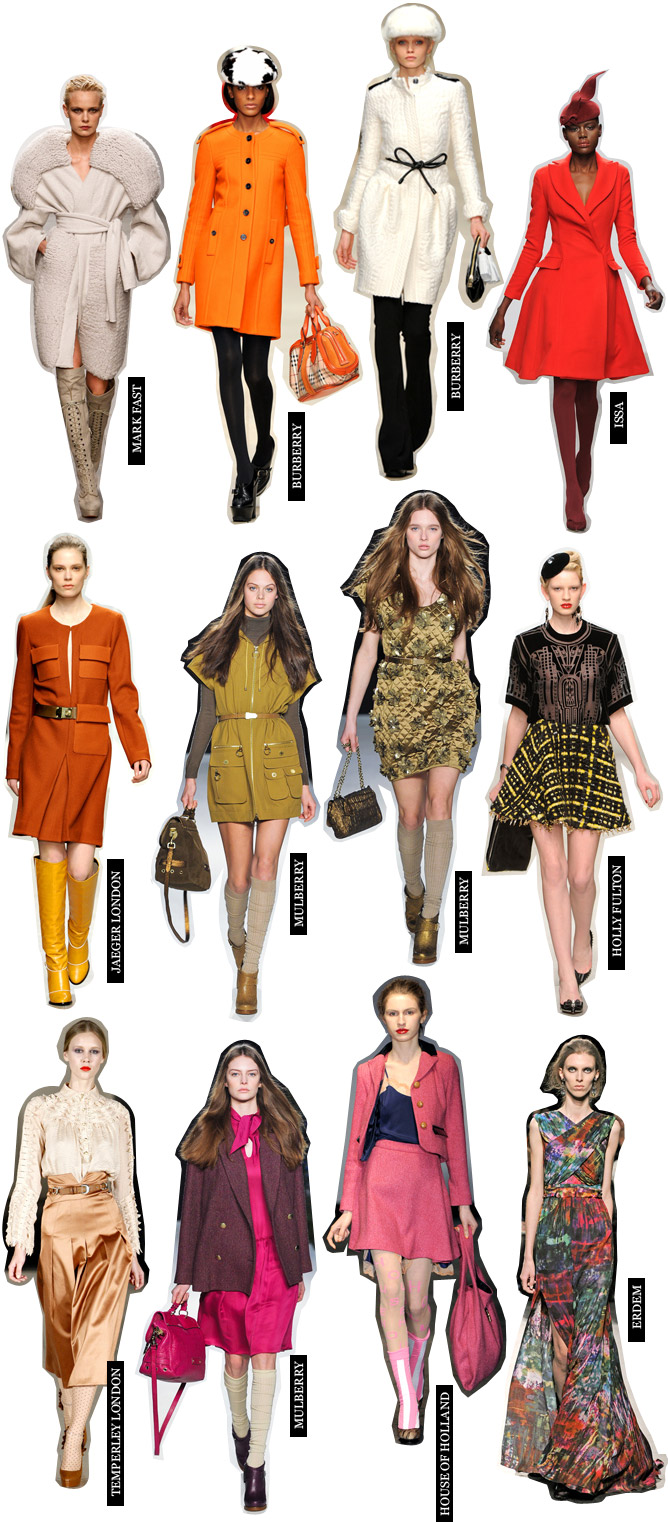 What are your dream pieces for Fall? xx
Photos from Style.com