Thursday Fashion Shot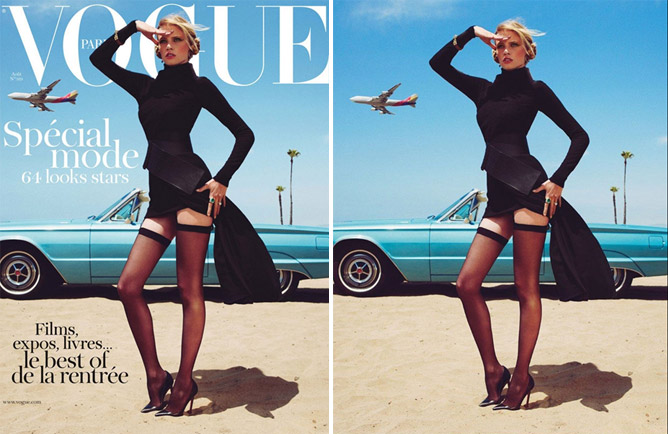 5 Espresso Shots Of News…
– – – – – – – – – – – – – – – –
An Amazing Magazine Cover – Vogue Paris, August 2011
Lara Stone graces the striking Vogue Paris, August 2011 cover. As Emmanuelle Alt's fourth edition as Editor-In-Chief, the cover is a cinematic fashion moment! Stone wears a Haider Ackermann Fall 2011 coat and can be seen peering off into the distance on a Californian beach. Love the juxtaposition of the sandy beach with Stone's unattainable glamorous beauty! Definitely one of my favourite covers of the year!
– – – – – – – – – – – – – – – –
Vintage Gucci Advertising
This year marks the 90th Anniversary of Gucci. To celebrate the extensive heritage of this renowned Italian label, Gucci has reissued its very first ad from 1922 as part of the 'Forever Now' campaign. Set to appear next to the vintage ad will be a photograph of Aldo Gucci from 1955, standing in front of the first Gucci store in Rome on Via Condotti.  Aldo Gucci was the son Gucci founder, Guccio Gucci. The 'Forever Now' campaign, now in its fourth instalment, celebrates the quality, craftsmanship and heritage of Gucci.
– – – – – – – – – – – – – – – –
'Burberry Body' – Rosie Huntington-Whiteley
The first campaign image for Burberry's new fragrance for women, Burberry Body, has been released featuring the impeccably beautiful Rosie Huntington-Whiteley. Huntington-Whiteley wears only an iconic rose gold satin trench coat in the shot which is sure to stop traffic. Burberry Body will launch in over 150 countries from September 1st.
Of Burberry Body, Christopher Bailey, Chief Creative Officer, has said:  "Burberry Body is the most exciting launch that we have ever created and captures the iconic spirit of the brand today in a striking and sensual way. Rosie's effortless style and her staggering beauty made her the natural choice as the first Burberry Body."
– – – – – – – – – – – – – – – –
New Creative Directors At Kenzo
Humberto Leon and Carol Lim, have been named as the new Creative Directors for Kenzo. The duo was previously behind dynamic label Opening Ceremony, which they started in 2002. Pierre-Yves Roussel, Chairman and CEO of the Fashion Division of LVMH, has said of the new appointment:
"Humberto and Carol will bring their fresh creative talent and innovative approach to Kenzo to rejuvenate this iconic brand. I am confident that they will leverage the unique contemporary & lifestyle spirit of the Brand to position it ideally for an ambitious development."
– – – – – – – – – – – – – – – –
Tom Ford Officially On The London Fashion Week Schedule
This will be the first season Tom Ford will present his collection during London Fashion Week as part of the British Fashion Council's official LFW schedule. Previously for his Autumn / Winter 2011 / 12 collection, Ford hosted a small gathering of key press only.
Other big names who recently returned to London Fashion Week include; Burberry Prorsum (returned from Milan for S/S 2010) as well as Temperley London, Matthew Williamson and Jonathan Saunders (who all returned from previous showings in New York).
– – – – – – – – – – – – – – – –
Happy Thursday! xx
Photos from fashiongonerogue.com / fashion.telegraph.co.uk / google images
Embodying Old Hollywood Glamour…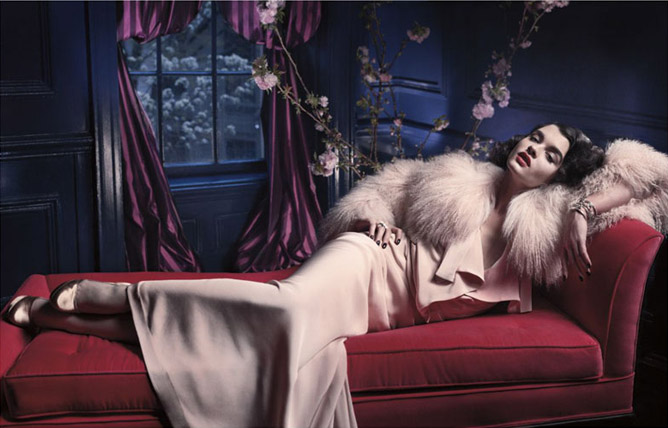 Old Hollywood glamour is something I continually aspire to achieve. It's that elegance, charisma and alluring iconic beauty that exudes unmistakable 'jena se qua' or something special you cannot quite place.
Elegance and glamour never goes out of style. Yet it is difficult to emulate. It is innate. What makes someone elegantly glamorous? Is it their clothes, style, behaviour? Maybe it is how they hold themselves and their self-belief? Icons of poise and sophistication – Audrey Hepburn, Grace Kelly, Jackie Kennedy, to name but a few – ticked all of those boxes. And their elegance is timeless – continuing to inspire and delight today.
The editorials below all celebrate that allure of Old Hollywood glamour and timeless beauty. From Crystal Renn's decedent editorial for Vogue Spain; to the light-filled 50's inspired beauty of Emma Stone's shoot for Vanity Fair; then finally Rachael Taylor's glamorous pics for Vogue Australia – all show striking beauty is truly timeless.
Crystal Renn wears opulent gowns from Gucci, L'Wren Scott, Prabal Gurung, Loewe and others.  Meanwhile, Emma Stone charms in striking red and white pieces from Chanel, Chloé and Oscar De la Renta, among others. While Rachael Taylor goes Gucci glam for Vogue Australia.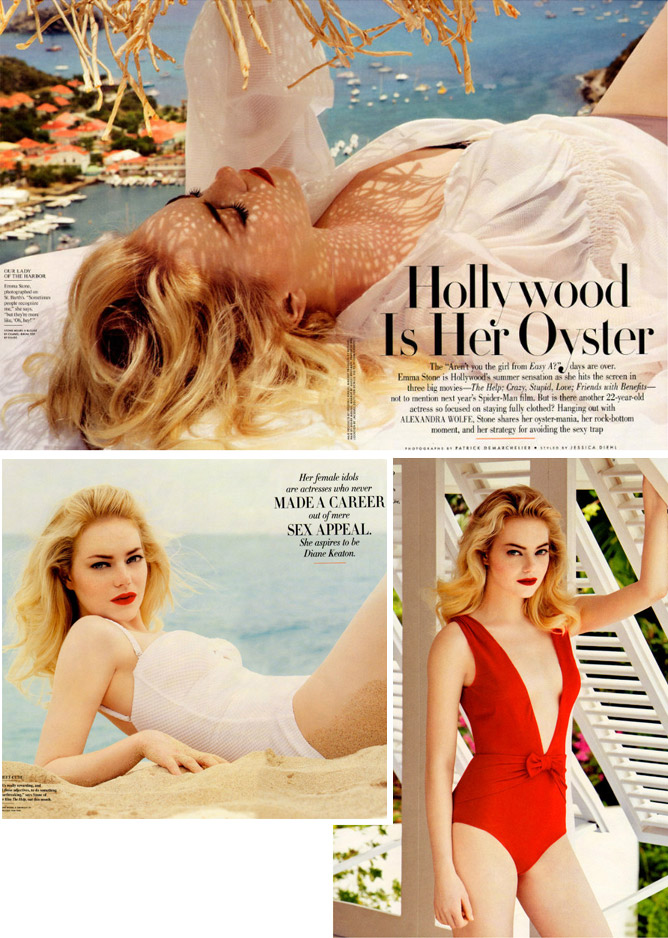 What does 'Old Hollywood Glamour' mean to you today? xx
photos from fashiongonerogue.com
Tuesday Fashion Shot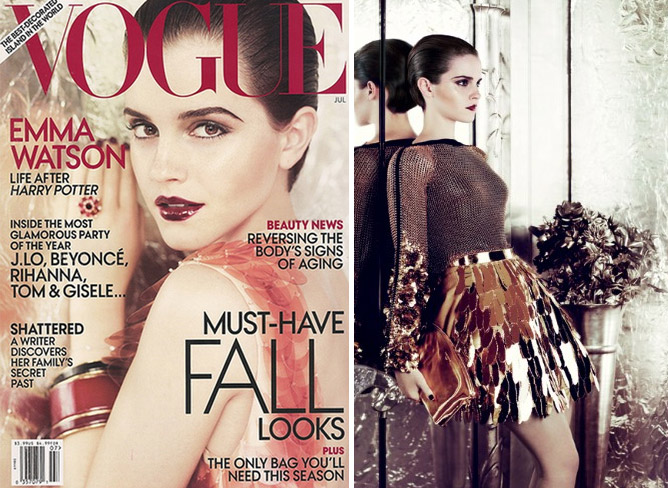 Emma Watson's First US Vogue Cover
Emma Watson has landed her first US Vogue cover at just 21 years of age!
The glamorous beauty covers the July 2011 issue of American Vogue, ahead of the release of the final Harry Potter film. Looking immaculately polished with her flawless skin and striking, delicate features; Watson wears a divine gown from the Prada Fall 2011/12 collection. Photographed by Mario Testino, within this issue Watson also wears looks by Tom Ford, Alexander McQueen, Prada, Calvin Klein and Dolce & Gabbana.
Watson is a fan of young British Designers – often choosing to wear labels such as Erdem and Hakaan, among others – and said in her interview with Vogue US: "I thought: "If people are going to write about what I'm wearing, then I would wear young British designers who need the publicity."
– – – – – – – – – – – – – – – – – – – – – – – – – – – – – – – – – – – – 
Angelina Jolie By Annie Leibovitz for Louis Vuitton

Renowned photographer Annie Leibovitz has photographed Angelina Jolie for the Louis Vuitton Core Values campaign.
The Louis Vuitton Core Values campaigns celebrate Vuitton's timeless classics pieces, in real situations on real people. Reclining on a wooden boat in Cambodia, Angelina Jolie looks serenely beautiful with her own six-year-old monogrammed 'Alto' carryall bag.
Of the campaign, Louis Vuitton's executive vice president, Pietro Beccari, has said: "People are not used to seeing Angelina in this situation. I like the fact that it's a real moment. This travel message we give through personal journeys is a fundamental one for the brand."
Previous people to feature in this campaign, include; Bono and his wife Ali Hewson in Africa; Sofia Coppola and her father Francis Ford Coppola in the Buenos Aires countryside; Keith Richards in a hotel suite; and Mikhail Gorbachev, former President of the Soviet Union and Nobel Peace Prize winner in the back of a limo passing remains of the Berlin Wall.
Jolie will donate a significant portion of her fee to a charity, which will most likely be the Maddox Jolie-Pitt Foundation in aid of community development and conservation in Cambodia.
– – – – – – – – – – – – – – – – – – – – – – – – – – – – – – – –
Tobey Maguire For Prada Menswear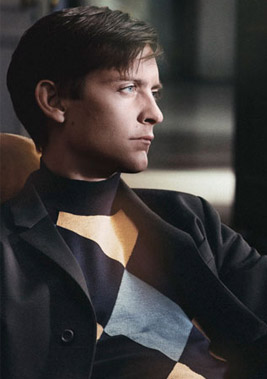 Tobey Maguire has been announced as the new face of Prada's Menswear Autumn / Winter 2011-12 campaign (pictured right).
Of his new role Maguire has said: "A great supporter of the Arts, Miuccia Prada has inspired a culture of creativity that is woven through every aspect of her company, from her collections, her campaigns, to every design detail in her stores. I have such admiration for her artistry and I'm thrilled to be a part of Prada's fall campaign."
– – – – – – – – – – – – – – – – – – – – – – – – – – – – – – – –
Top 3 Covers For July 2011
Besides Emma Watson's divine cover for Vogue US; my other top 3 covers for July 2011 are:
–  Cate Blanchett covers In Style Australia, in Gucci
–  Claudia Schiffer covers Harper's Bazaar UK, in Prada
–  Beyoncé covers Dazed & Confused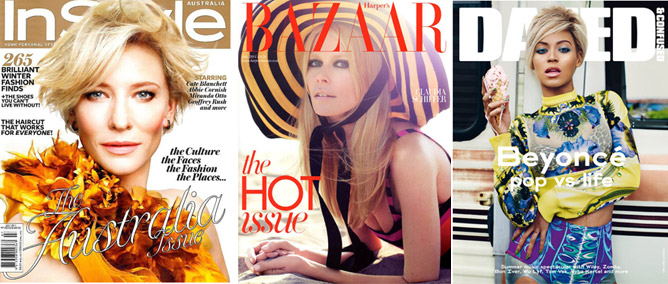 Happy Tuesday! xx
Photos from fashion.telegraph.co.uk / fashiongonerogue.com / vogue.co.uk