Weekend Fashion Shot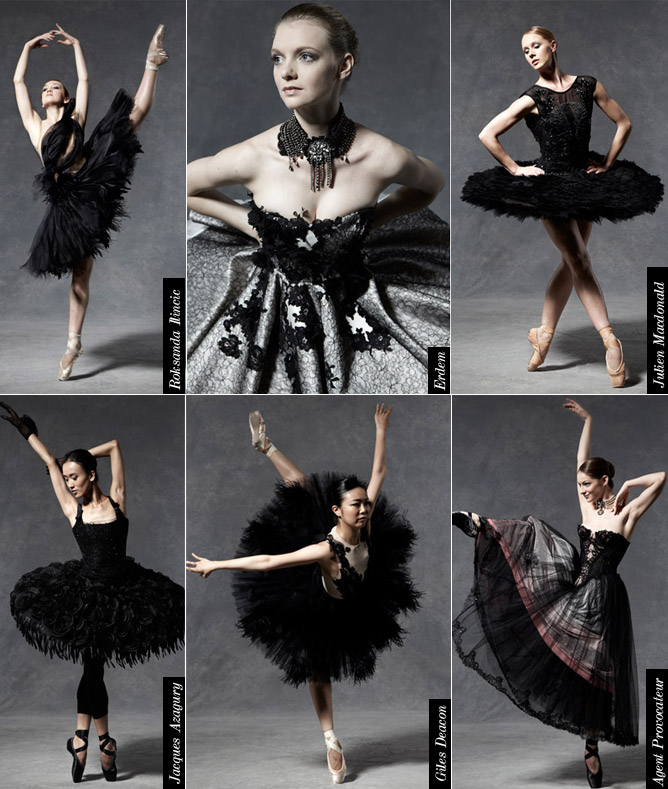 3 Shots Of Espresso News…
When Fashion Meets The Arts
– – – – – – – – – – – – – – – – – – – – – – – – – – – – – – – – – – – – – – – –
10 Highly Fashionable Tutus
10 Fashion Designers – Julien Macdonald; Erdem; Roksanda Ilincic; Agent Provocateur; Moschino; Kinder Aggugini; Jacques Azagury; Beatrix Ong; Giles Deacon and House of Worth – have collaborated with the English National Ballet to put their individual design aesthetic on the tutu (some pictured above).
Detailed, delicate, whimsically idyllic – the tutu is one of the most iconic and beautiful things that can be worn.  Of the tutu, Moschino's creative director Rossella Jardini, said: "I think that the tutu is one of the most beautiful pieces of clothing invented and I was honoured by the request from an institution as prestigious as the English National Ballet. It came naturally because the pearl-and-queen button embroidery are typically English and I have always found them beautiful."
On June 29th, each tutu will be presented in a catwalk show at the English National Ballet's Summer Party at Kensington Palace. The exquisite tutus will then be sold by silent auction.
– – – – – – – – – – – – – – – – – – – – – –
Gucci Costumes For Florence Welch
It has been announced Gucci will create the costumes for Florence Welch's North American tour.
Gucci's Creative Director, Frida Giannini, has previously mentioned her admiration for Welch's style, even citing her as an inspiration for the Gucci Fall 2011/12 collection. The collection featured bold, striking looks reminiscent of film noir in colour. Of Welch's dynamic style, Frida Giannini has said;
"When Florence first came onto the scene, I was captivated by her eccentric style and her willingness to dare. I felt there was such an authentic energy to her sound and her look. This was confirmed when I met her at the Grammy's earlier this year. I used one of Florence's songs, 'Hurricane Drunk,' to set the mood for my Autumn Winter women's show, as she was truly an inspiration for this collection as a modern day icon with her cinematic allure and powerful presence."
– – – – – – – – – – – – – – – – – – – – – –
Yves Saint Laurent On The Stage
Yves Saint Laurent's Creative Director, Stefano Pilati, has designed the costumes for a new play in London.
Starring Kristen Scott-Thomas, Dougray Scott and Ben Miles, the new theatre version of Harold Pinter's Betrayal is set between 1968 and 1977. The costumes reflect the time period and will see Scott-Thomas wearing a fuschia silk dress, camel coat, YSL tote bags and more signature YSL looks. Yves Saint Laurent, himself, was an avid theatre lover and designed costumes for countless plays across his career. (A look from the YSL Fall 2011 / 2012 collection is pictured right)
Happy Saturday! xx
Photos from vogue.co.uk
Your Fabulous Fashion Scoop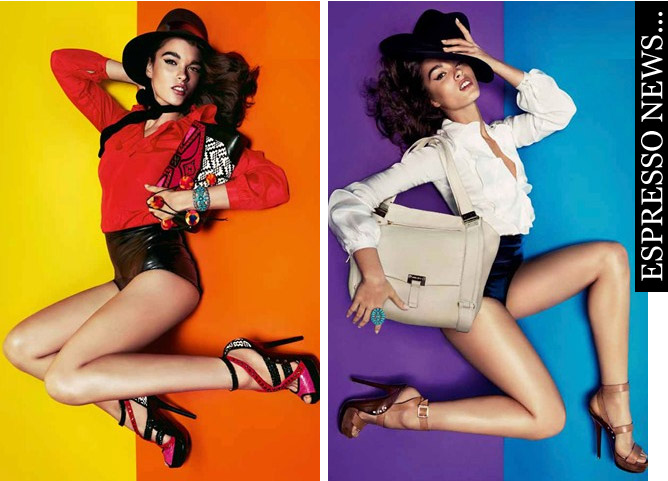 4 Espresso Shots Of Fashion News & My Top 5 'Chic Last Week'…
– – – – – – – – – – – – – – – – – – – – – – – –
Jimmy Choo Sold for £525.5 million
Labelux, a luxury goods group which also owns Bally, has brought Jimmy Choo for what is thought to be £525.5 million. While figures are yet to be confirmed, the future now looks even brighter for the luxury shoe label. Labelux has announced it has plans to expand Jimmy Choo into Asia.
Of the Business deal, Tamara Mellon, Jimmy Choo President and Co-Founder , has said; "I am immensely proud of all we have achieved over the last 15 years and delighted we are to be part of Labelux, a partner [that] I know shares our values and passion and [that] seeks ambitious growth in the luxury industry. This is wonderful news for the women who are, or who aspire to become, part of the Jimmy Choo lifestyle."
– – – – – – – – – – – – – – – – – – – – – – – –
Balmain To Launch
New Line
Balmain will be launching a new line targeting a younger customer. Entitled 'Pierre Balmain', after the label's founder, it will be created by a new design team but overseen by the new Creative Director, Olivier Rousteing. Pierre Balmain will feature both men's and women's ready-to-wear and will be unveiled in September for spring/summer 2012 season.
– – – – – – – – – – – – – – – – – – – – – – – –
Gucci Launches New Documentary Film Award
Gucci announced it will be launching a new documentary film award entitled – 'Spotlighting Women's Documentary Award'. The award, with a prize of $50,000 for the winner, is for film-makers highlighting women's issues. Francois Henri Pinault, PPR chairman, has said of the award, "This award dedicated to stories about women is a wonderful opportunity to raise awareness of women's issues such as violence, rights and empowerment to a larger audience."
– – – – – – – – – – – – – – – – – – – – – – – –
The Six New Faces Of Louis Vuitton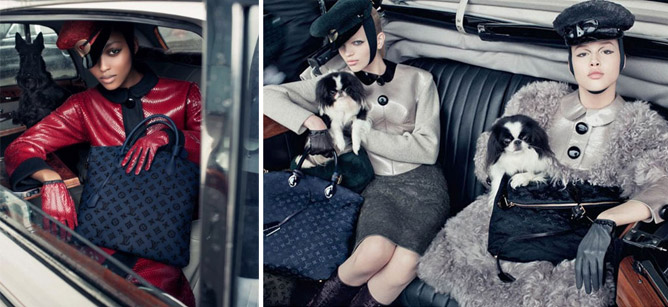 Out with the 'old' and in with the 'new'… and in this case, the very new.  Zuzanna Bijoch, Daphne Groeneveld, Gertrud Hegelund, Nyasha Matonhodze, Anaïs Pouliot and Fei Fei Sun, were announced as the new faces of Louis Vuitton. For the past two seasons, Louis Vuitton has championed more 'experienced' models… the Spring / Summer campaign featured – Kristen McMenamy, 46, Raquel Zimmermann, 28, and Freja Beha Erichsen, 23. Then Kate Moss and Naomi Campbell took to the catwalk Fall. And if you recall… this was the collection that attracted criticism when Moss smoked a cigarette back in February.
Changing it up, in this campaign the average age of the ladies is 18. The fresh faced models were shot by renowned fashion photographer, Steven Meisel, for the luxury French fashion label's Autumn/Winter 2011 campaign. Of the campaign, Marc Jacobs said, "Steven Meisel and I met and decided we would do this wonderful story of beautiful vintage cars, little dogs and fresh-faced young women. It's a very classic scenario, and of course it suggests travel, but I think we gave it a fresh, modern and sometimes a little bit naughty, tongue-in-cheek spin."
– – – – – – – – – – – – – – – – – – – – – – – –
Top 5 – Chic Last Week
Stepping Out Looking Ultra Chic Last Week: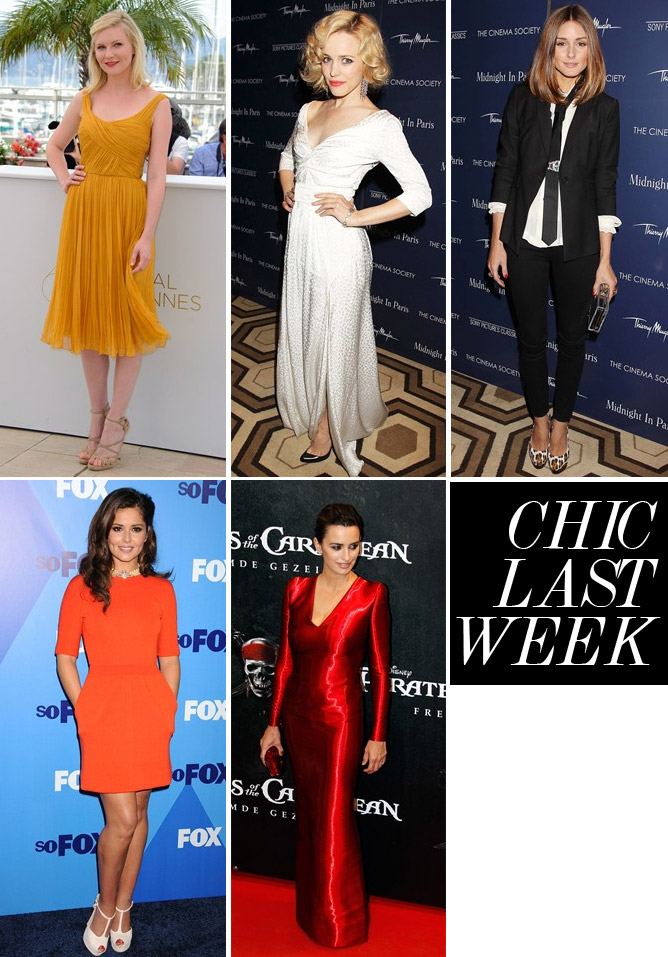 1>>  Kirsten Dunst wearing Chloe at a Photo Call in Cannes.
2>>  Rachel McAdams in Louis Vuitton at the New York premiere of Midnight in Paris.
3>>  Olivia Palermo also attended the Midnight in Paris premiere in a chic tuxedo look.
4>>  Cheryl Cole in a Giambattista Valli.
5>>  Penelope Cruz wore Armani in Munich at the premiere of Pirates of the Caribbean: On Stranger Tides.
Who was your best dressed lovely? xx
Photos from vogue.co.uk / fashion.telegraph.co.uk / style.com / jimmychoo.com
Favourite Pieces…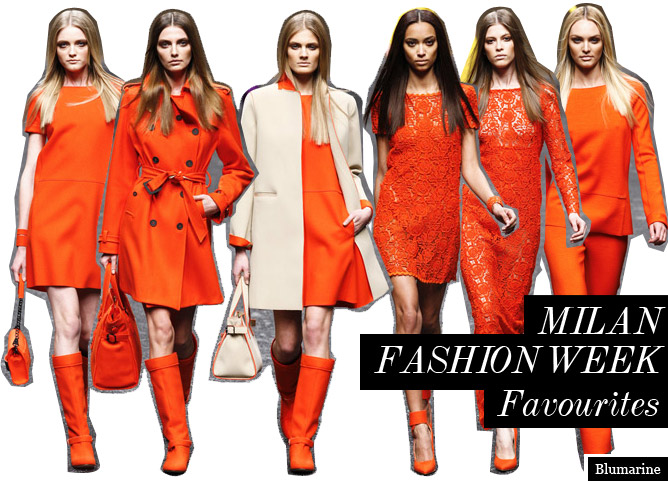 Milan Fashion Week – Fall 2011
With Milan Fashion Week now over and Paris about to get underway, I have chosen my favourite pieces from a week full of 'La Dolce Vita'. The incredible colour, texture and styling of Milan is always extraordinary and the exquisite offerings for the Fall season are no different.
Let's just say, if the four major fashion weeks (New York, London, Milan and Paris) were my children, Milan would definitely hold a special place in my heart. I love how no matter what the rest of the world's designers are feeling, those in Milan are always offering exuberant colour and intoxicating prints. Home to Prada, Marni, Pucci and Cavalli (to name but a few) – Milan Fashion Week is no shrinking violet. It is for the lovers of fashion who simply won't dress quietly when there are so many delicious flavours to be tried!
Some Of My Favourite Pieces…
Across the Milan catwalks colour took to the catwalk in a kaleidoscope of shades and tones. Blumarine startled everyone when the first two dozen looks down the runway were in beige and black! They were calm, sophisticated pieces and beautiful in their own right… but this was Blumarine we were watching! But the exuberant colour didn't stay away too long and soon enough head-to-toe colour took centre stage. Models wore solid orange, yellow, purple and blue from collar to boot. LOVE the trench coats lined in colour and those shift dresses with matching boots! ADORE the fun 60's feel of the collection.
Karl Lagerfeld and Silvia Venturini Fendi, described their collection's muse as a buttoned-up-to-the-neck art teacher who was still wild enough to wipe her paintbrushes in her hair and unleash the animal within. What isn't to love! Especially LOVE the coloured tights and contrasting colours!
Other favourites for me: Prada (I die for those Mary-Jane boots and sweet jackets), Bottega Veneta (I need to try out that hair style) and Gucci (so much glamour).
Oh & can this please be my Fall Wardrobe…

Which were your favourite Milan Fashion Week Shows? xx