Kate Moss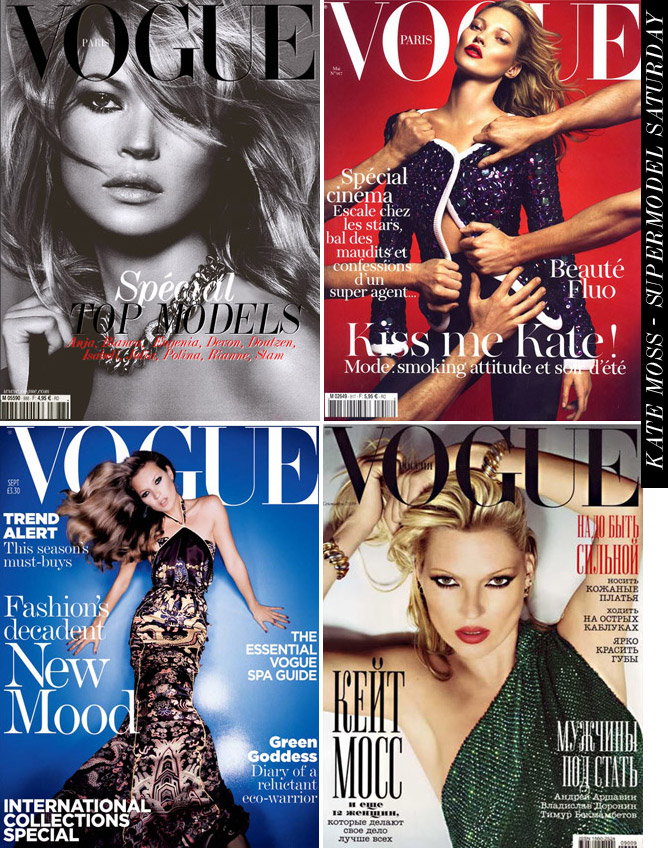 Kate Moss is one of the world's most recognisable models.
She has appeared on 30 British Vogue covers; 16 Vogue Paris covers; 5 American Vogue covers; as well as Vogue Japan, Spain and more.
About Kate Moss
Born in Croydon, England, Moss was discovered in 1988 at the age of 14 at JFK Airport in New York City. Shooting to fame in 1993 with a evocative ad campaign for Calvin Klein; Moss changed the look of modelling in the 90's. She brought into focus the 'heroin chic' look and 'size zero' fashion. Of this Moss said; "It was just the time. It was a swing from more buxom girls like Cindy Crawford and people were shocked to see what they called a 'waif'.
Moss has starred in countless campaigns for high-end labels, from; Gucci, Dior, Dolce & Gabbana, Yves Saint Laurent, Calvin Klein, Chanel, Burberry and Bulgari. As well as having worked with the most renowned fashion photographers in industry, from Mario Testino, to Mario Sorrenti, Steven Klein and Juergen Teller.
Still commanding the runway spotlight, recently closing the Louis Vuitton Fall 2011 collection, Moss has also launched a line of clothing with Topshop.
Kate Moss –
The Vogue Covers…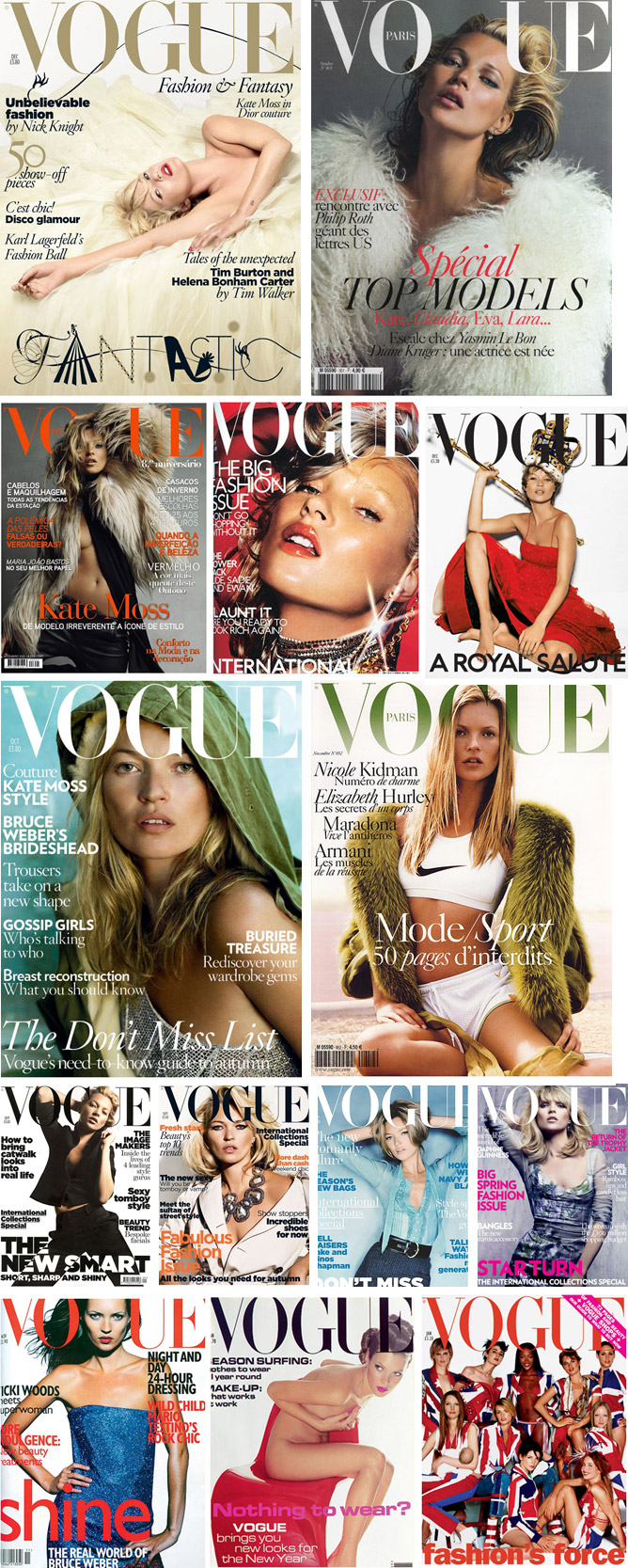 Which is your favourite Kate Moss Vogue Cover? xx
Photos from vogue.co.uk
Your Fabulous Fashion Scoop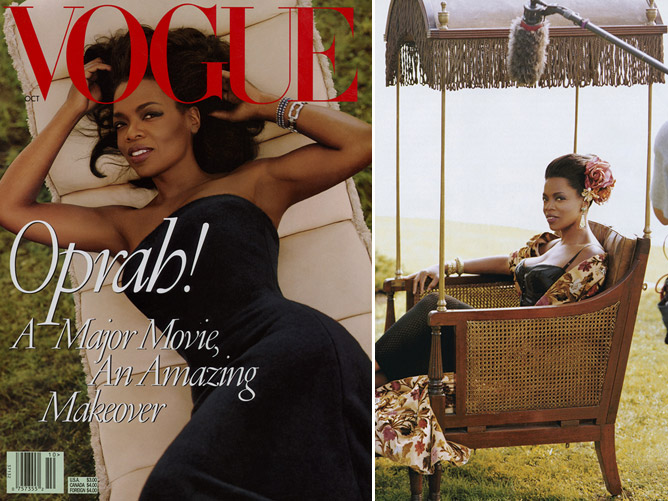 Oprah, Michelle Obama & Diane von Furstenberg… Power-Women Espresso News
Fashion Flashback – Oprah Covers Vogue
After 25 years of life-changing television, the finale of The Oprah Winfrey Show will air today. Oprah has touched so many hearts with her kindness, inspiration and extraordinary enthusiasm and passion for life.
In 1998, Oprah covered American Vogue. Oprah looked exquisitely radiant wearing looks by Valentino, Dolce & Gabbana and Giorgio Armani, among others. Thandie Newton is also pictured with Oprah below right. Vogue.com has republished their interview with Oprah from this feature and you can read it here…
In the article, Oprah is quoted as saying: "What I have decided, is that with fame, notoriety, credibility—if you can't have the courage to stand up and speak out for what you truly believe in, then it means nothing."… I miss Oprah already!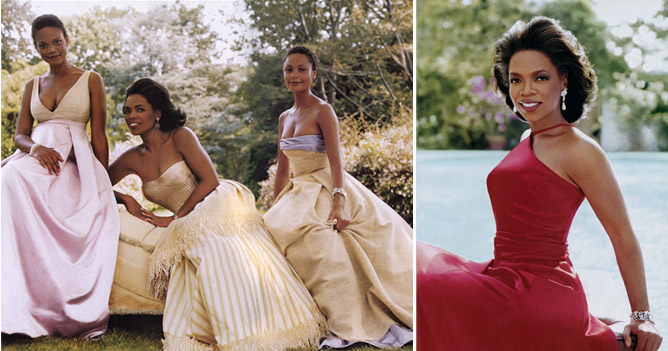 Diane von Furstenberg's
New Fragrance
Diane von Furstenberg is launching a new fragrance, 'Diane'. The fashion dynamo will be releasing the fragrance this October. It features two primary scents – frangipani and violet – which combine to create a woody floral fragrance. Of the scent, von Furstenberg has said, "I wanted to put the power of women in a bottle. I wanted a perfume that reflected womanhood — what I know, what I feel about being a woman — and the power that we all have that we can be the woman we want to be."
Michelle Obama – A Fashion Icon
Since Michelle Obama arrived in England, wearing a two-piece purple Preen skirt suit from the fall 2011 collection, her fashion statements have been getting more and more exquisitely iconic. From a Roksanda Ilincic purple drape neck dress; to a Ralph Lauren fall 2011 elegant black evening gown; not to mention a divine ivory Tom Ford number with elbow length gloves – Mrs. Obama a radiant, fashion savvy, extraordinarily beautiful First Lady!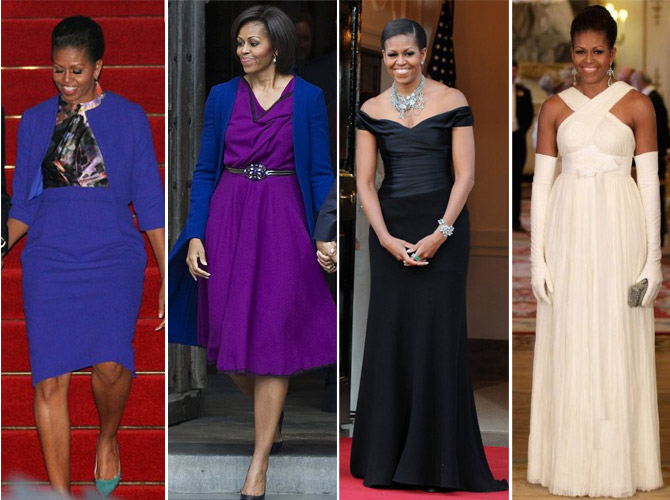 Will you be suffering from Oprah withdrawals like me? xx
Photos from vogue.com / vogue.co.uk / wwd.com
Your Fabulous Fashion Scoop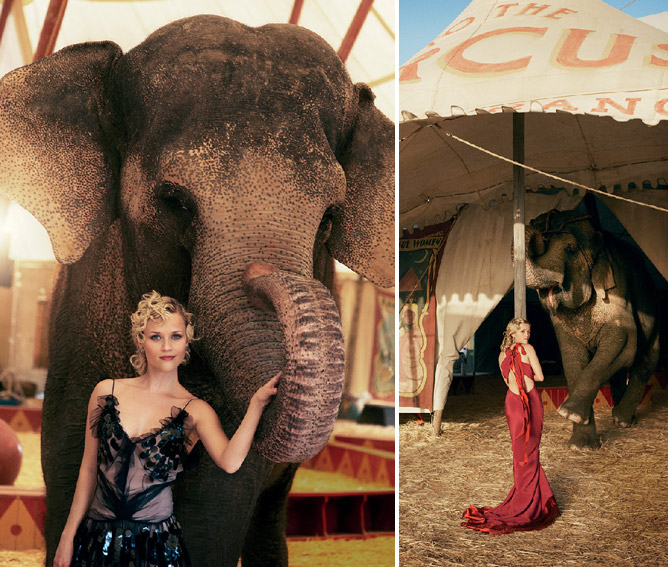 3 Espresso Shots Of Fashion News
Lawsuits, Controversy & the beautiful Reese Witherspoon all feature…
– – – – – – – – – – – – – – – – – – – – – – – – – – – – – – – – – – – – – – –
Reese Witherspoon's US Vogue Controversy
Reese Witherspoon graces the May 2011 Vogue US cover and her feature interview has caused a little controversy online. When interviewer Jonathan Van Meter began asking Witherspoon questions about fashion, it is reported she quickly finished his sentence and her tiny comment hasn't made some of the fashion pack very happy. Van Meter began "People who love fashion often …", before Witherspoon finished "Lack perspective?" – with apparently a "comically judgmental look on her face".
Her photo editorial for this issue is spectacular though. Wearing divine gowns by Dior, Narciso Rodriguez, Dolce & Gabbana and more; I LOVE LOVE LOVE the Old-Hollywood glamour and whimsical magic of the shoot! Simply Darling!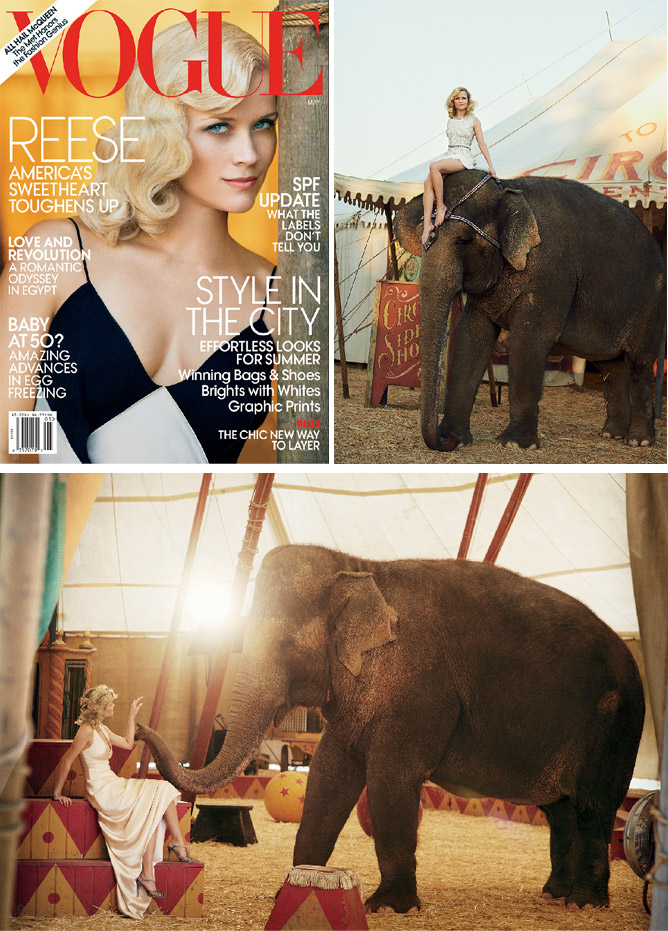 – – – – – – – – – – – – – – – – – – – – – – – – – – – – – – – – – – – – – – –
Christian Louboutin Sues For Use Of Red Soles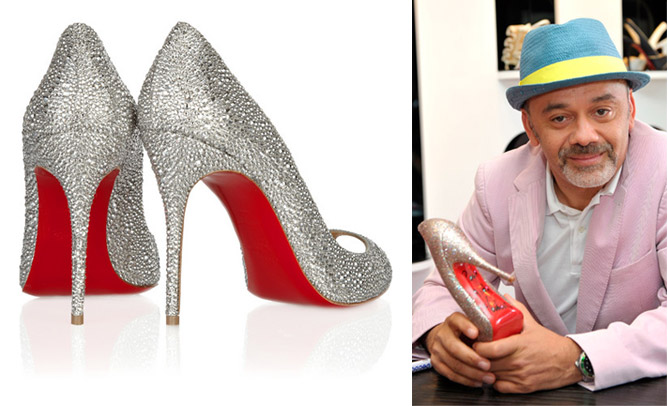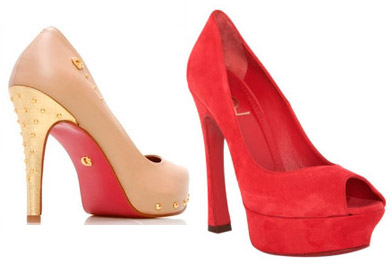 Last week Christian Louboutin filed a lawsuit against Yves Saint Laurent for a pair of YSL red pumps with red soles (pictured far right).  The red suede shoes with matching red soles are apart of the Spring / Summer 2011 collection which also features other coloured soles. Purple shoes with purple soles,  navy shoes with navy soles and so on.
Louboutin began using red soles in 1993 and filed for trademark protection in the US in 2007. In January this year, a lawsuit was also filed against Carmen Steffens of Brazil for the same alleged trademark infringement (heels pictured right).
In an official statement for Carmen Steffens this week it was said, "We are ready to provide unassailable evidence that we have been using coloured soles, especially red, before Mr Christian Louboutin popularised his.". Watch this space…
– – – – – – – – – – – – – – – – – – – – – – – – – – – – – – – – – – – – – – –
Miu Miu's Spring / Summer 2011 Ad Cleared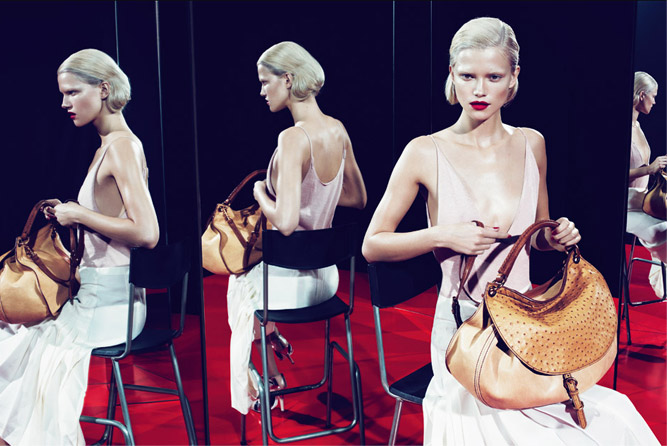 The UK Advertising Standard Authority (ASA) has investigated whether the latest Miu Miu campaign is 'responsible' to be shown. The campaign starring Kasia Struss, was placed in question for Struss' slim frame. Two people had complained about the ad citing that the model was "significantly underweight".
In its official verdict the ASA reported "We considered that the ad was typical of those used for fashion products and that the model did not look significantly underweight. We therefore concluded that the ad was not irresponsible."
– – – – – – – – – – – – – – – – – – – – – – – – – – – – – – – – – – – – – – –
What is your fashion news this week? xx
photos from grazia.com.au / vogue.com / net-a-porter.com / google images