Stylish Alternatives For Modern Brides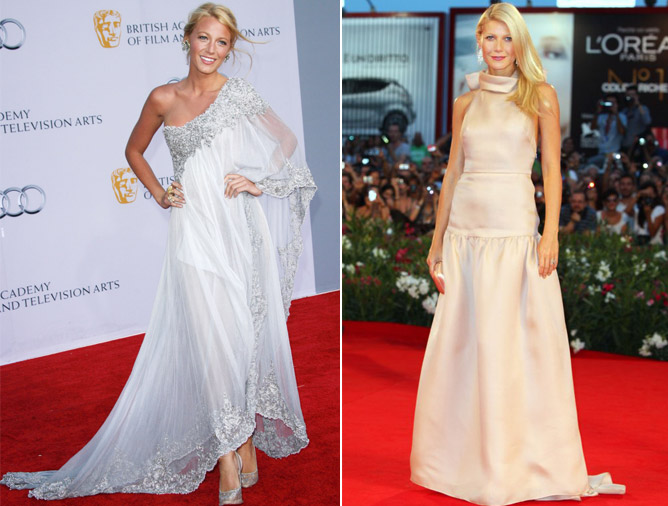 Recently I was asked by Lane to write a fashion piece for modern, stylish brides who are seeking chic alternatives to the traditional wedding gown. LANE is an online wedding directory with beautiful, inspiring content and imagery to assist you in planning your big day. For more information, please visit: www.thelane.com
– – – – – – – – – – – – – – – – – – – – – – – – – – – – – – – – – – – – – – – – – – – – – – – – – – – – – – –
From the Runway To The Aisle
Make A Show Stopping Statement On Your Big Day
The latest round of runway collections presented some new and exciting ways to dress for your wedding day. From the high drama bygone allure of 1940's silhouettes; to Mod mania with a 60's twist; or the stylish seduction of 70's glamour – your wedding gown can make a show stopping statement on your big day.
When it comes to colour, more is definitely more this season. And not just conservative colour choices, although there are plenty of sophisticated variables in soft pinks, creamy latte and luscious lavender. No, we are talking serious colour to really capture attention. Colour can inject a youthful, vitality into your wedding gown; with certain colours also heightening the overall aesthetic or theme of your wedding day. But how to interpret these iconic shapes and colours?
Timeless, Iconic 40's Finesse
One of the season's strongest trends involves broad shoulders that gracefully taper into a tailored waist. Across the catwalks refined 40's feminine allure was back with a vengeance. At Gucci, Frida Giannini created looks reminiscent of film noir in colour. The designer conjured decadent long dresses with flowing chiffon in bold jewelled tones worthy of a cinematic moment. Other houses filled their collections with demure dresses and an air of restrained allure. At Ralph Lauren, an emerald green slip exuded pure iconic Old-Hollywood glamour. Whilst at Miu Miu, Donna Karan and Louis Vuitton, we were transported into a World War II-era, where skirts and dresses were worn to the knee or ankle and waists were highlighted with a clinched belt. For more 40's inspiration…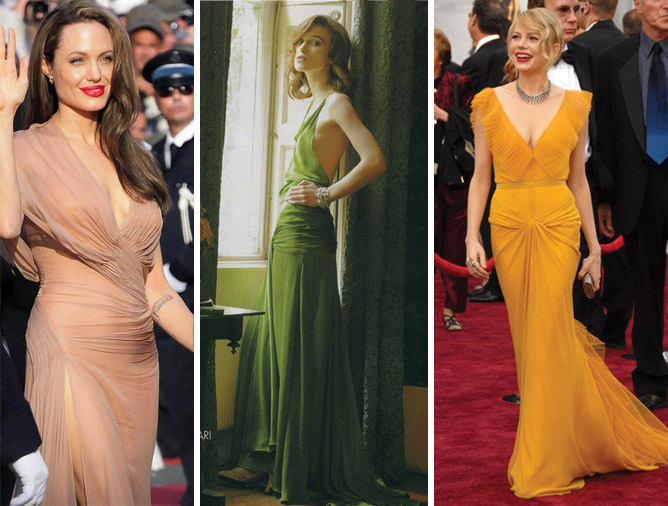 Bold, Daring 60's Revolution
When you take in all of the extraordinary colour, bold lines and simple silhouettes for the coming season, you would be forgiven for thinking fashion has gone mod squad cool. The return of the swinging 60's, saw the era's signature style makers take centre stage at Prada, Alberta Ferretti, Stella McCartney and more. Think luxe fabrics in pop art brights with great attention paid to the smallest details. Combining just the right amount of girly sweetness crossed with a sexy edge; chic 60's fashion icon Jean Shrimpton is your muse. For more 60's inspiration…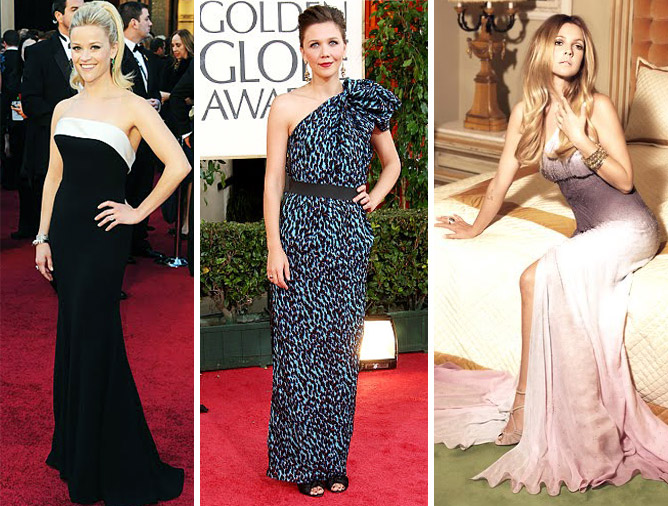 Effortless, Sophisticated 70's Seduction
Oh so heavenly, there was something particularly compelling about the delicate romance and quiet seduction of 70's streamlined chic. In the business of style, the 70's aesthetic marks an irresistible return to effortless glamour. The silhouettes feature floor-sweeping hemlines in a volume of cascading fabric to elongate the body and create a vibe of unmistakable cool. At Yves Saint Laurent, pussy bow blouses were worn with palazzo trousers, while at Rachel Zoe her signature boho glam aesthetic shone through in long dresses that skim the body. For more 70's inspiration…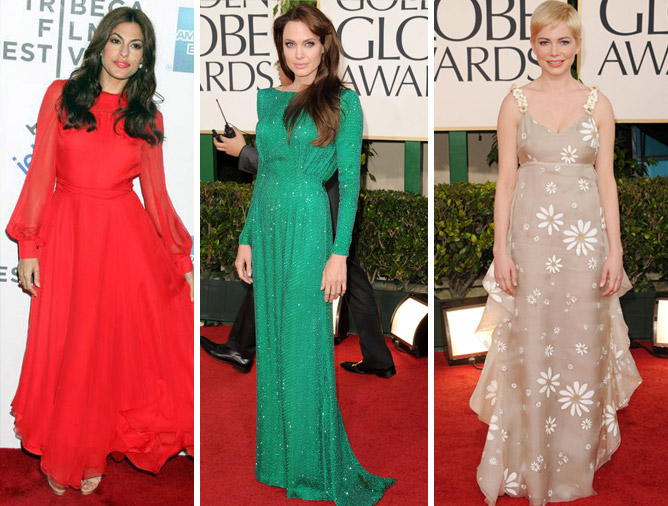 Making The Big Decision
Stepping into the spotlight on your big day with a gown worthy of an iconic leading lady, brings a refined sophistication to your wedding. When choosing a coloured wedding gown, be sure to reflect on the style, tone and shape. Consider the type of look you want to achieve as well as the essential wedding details – giving thought to the venue and season.
The gown is at the heart of your day and a coloured version is a sensational way to perfectly express your personality and style xx
Your Fabulous Fashion Scoop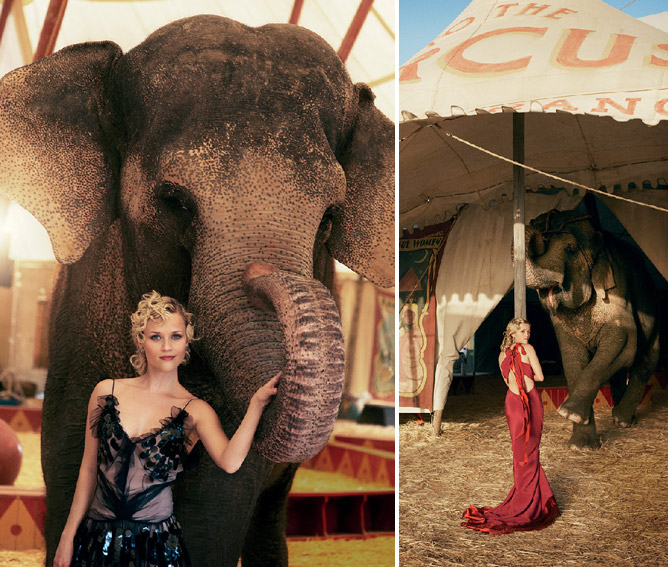 3 Espresso Shots Of Fashion News
Lawsuits, Controversy & the beautiful Reese Witherspoon all feature…
– – – – – – – – – – – – – – – – – – – – – – – – – – – – – – – – – – – – – – –
Reese Witherspoon's US Vogue Controversy
Reese Witherspoon graces the May 2011 Vogue US cover and her feature interview has caused a little controversy online. When interviewer Jonathan Van Meter began asking Witherspoon questions about fashion, it is reported she quickly finished his sentence and her tiny comment hasn't made some of the fashion pack very happy. Van Meter began "People who love fashion often …", before Witherspoon finished "Lack perspective?" – with apparently a "comically judgmental look on her face".
Her photo editorial for this issue is spectacular though. Wearing divine gowns by Dior, Narciso Rodriguez, Dolce & Gabbana and more; I LOVE LOVE LOVE the Old-Hollywood glamour and whimsical magic of the shoot! Simply Darling!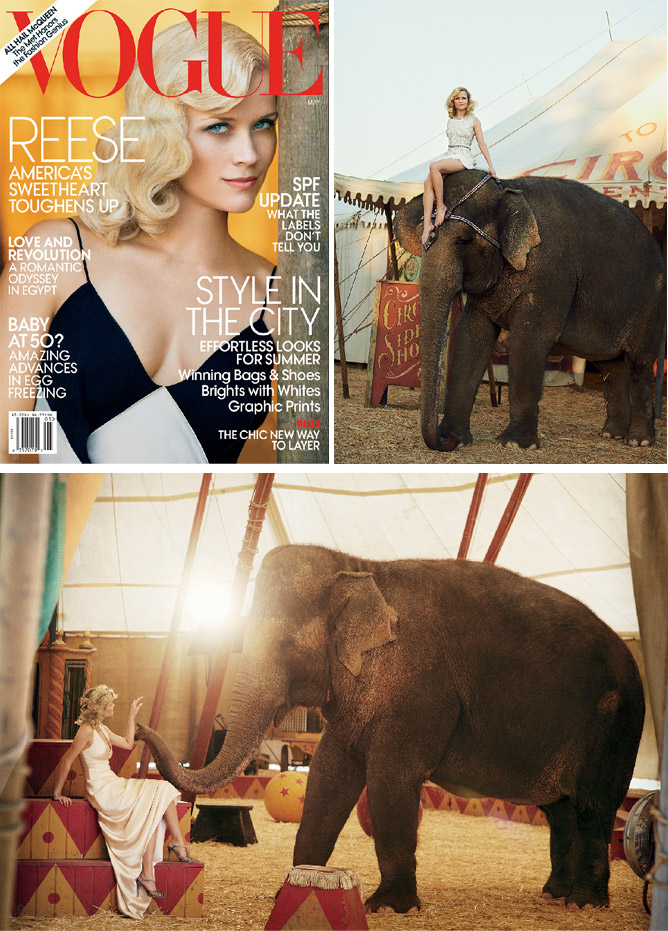 – – – – – – – – – – – – – – – – – – – – – – – – – – – – – – – – – – – – – – –
Christian Louboutin Sues For Use Of Red Soles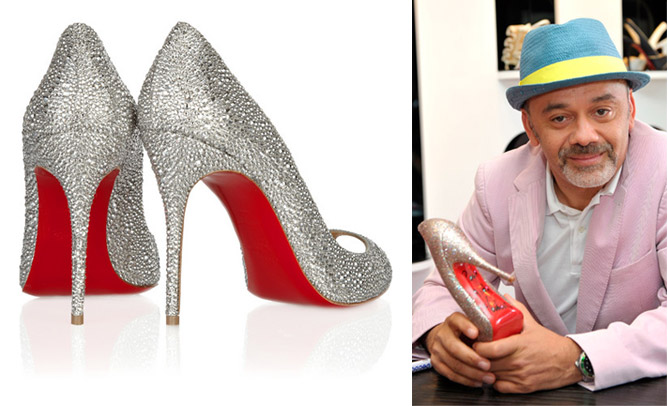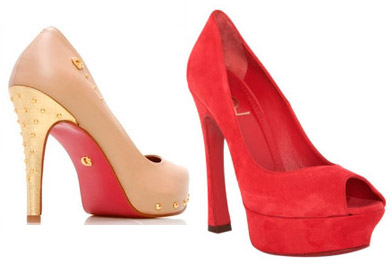 Last week Christian Louboutin filed a lawsuit against Yves Saint Laurent for a pair of YSL red pumps with red soles (pictured far right).  The red suede shoes with matching red soles are apart of the Spring / Summer 2011 collection which also features other coloured soles. Purple shoes with purple soles,  navy shoes with navy soles and so on.
Louboutin began using red soles in 1993 and filed for trademark protection in the US in 2007. In January this year, a lawsuit was also filed against Carmen Steffens of Brazil for the same alleged trademark infringement (heels pictured right).
In an official statement for Carmen Steffens this week it was said, "We are ready to provide unassailable evidence that we have been using coloured soles, especially red, before Mr Christian Louboutin popularised his.". Watch this space…
– – – – – – – – – – – – – – – – – – – – – – – – – – – – – – – – – – – – – – –
Miu Miu's Spring / Summer 2011 Ad Cleared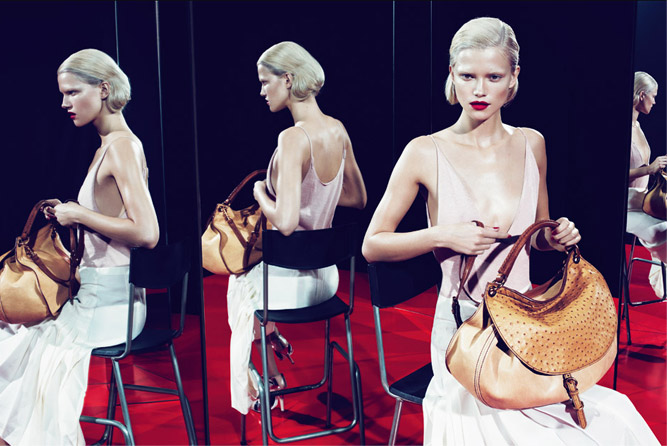 The UK Advertising Standard Authority (ASA) has investigated whether the latest Miu Miu campaign is 'responsible' to be shown. The campaign starring Kasia Struss, was placed in question for Struss' slim frame. Two people had complained about the ad citing that the model was "significantly underweight".
In its official verdict the ASA reported "We considered that the ad was typical of those used for fashion products and that the model did not look significantly underweight. We therefore concluded that the ad was not irresponsible."
– – – – – – – – – – – – – – – – – – – – – – – – – – – – – – – – – – – – – – –
What is your fashion news this week? xx
photos from grazia.com.au / vogue.com / net-a-porter.com / google images
The Elegant, Enchanting Oscars…

Glamour, Sparkle & So Many Gorgeous Gowns… it's the Oscars!
On The Red Carpet…
Love the tea-length sparkling Marchesa gown worn by Hailee Steinfeld and the lavender lace Elie Saab Haute Couture gown looks spectacular on Mila Kunis. While many were divided on Cate Blanchett's Givenchy Haute Couture gown, I think she looks gorgeous, fresh and beautifully unique. Natalie Portman was glowing elegance personified in her plum Rodarte gown…

My Oscars Best Dressed List…
1>> Natalie Portman in Rodarte
2>> Mila Kunis wore Elie Saab Haute Couture
3>> Cate Blanchet in Givenchy Haute Couture
4>> Hailee Steinfeld in Marchesa
5>> Michelle Williams chose Chanel
6>> Halle Berry in Marchesa
7>> Reese Witherspoon wore Armani Privé
8>> Amy Adams in L'Wren Scott
9>> Sandra Bullock wore Vera Wang
10> Jennifer Lawrence wore Calvin Klein Collection
Who Was Your Best Dressed Oscars Lovely? xx
Photos from popsugar.com.au & news.com.au