Your Fabulous Fashion Scoop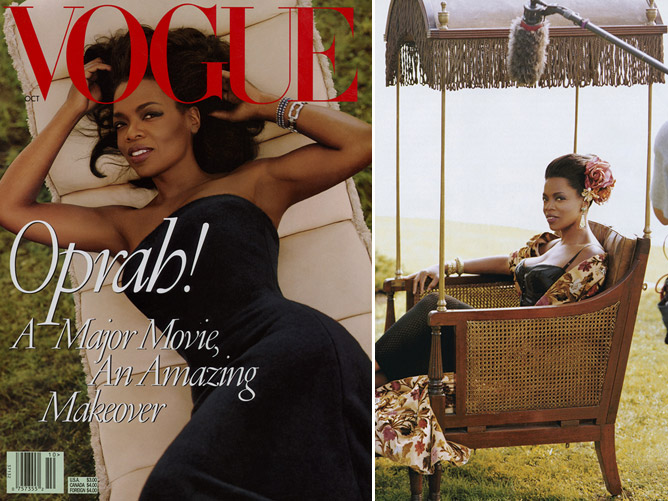 Oprah, Michelle Obama & Diane von Furstenberg… Power-Women Espresso News
Fashion Flashback – Oprah Covers Vogue
After 25 years of life-changing television, the finale of The Oprah Winfrey Show will air today. Oprah has touched so many hearts with her kindness, inspiration and extraordinary enthusiasm and passion for life.
In 1998, Oprah covered American Vogue. Oprah looked exquisitely radiant wearing looks by Valentino, Dolce & Gabbana and Giorgio Armani, among others. Thandie Newton is also pictured with Oprah below right. Vogue.com has republished their interview with Oprah from this feature and you can read it here…
In the article, Oprah is quoted as saying: "What I have decided, is that with fame, notoriety, credibility—if you can't have the courage to stand up and speak out for what you truly believe in, then it means nothing."… I miss Oprah already!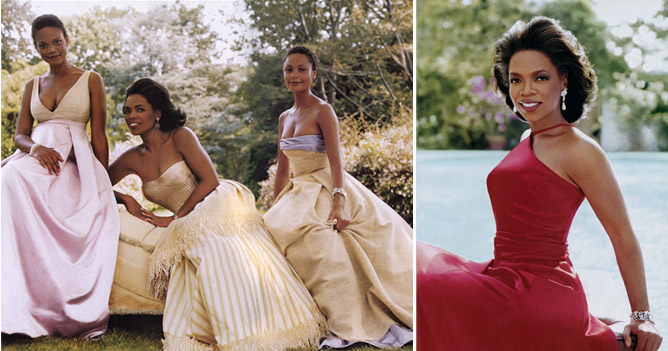 Diane von Furstenberg's
New Fragrance
Diane von Furstenberg is launching a new fragrance, 'Diane'. The fashion dynamo will be releasing the fragrance this October. It features two primary scents – frangipani and violet – which combine to create a woody floral fragrance. Of the scent, von Furstenberg has said, "I wanted to put the power of women in a bottle. I wanted a perfume that reflected womanhood — what I know, what I feel about being a woman — and the power that we all have that we can be the woman we want to be."
Michelle Obama – A Fashion Icon
Since Michelle Obama arrived in England, wearing a two-piece purple Preen skirt suit from the fall 2011 collection, her fashion statements have been getting more and more exquisitely iconic. From a Roksanda Ilincic purple drape neck dress; to a Ralph Lauren fall 2011 elegant black evening gown; not to mention a divine ivory Tom Ford number with elbow length gloves – Mrs. Obama a radiant, fashion savvy, extraordinarily beautiful First Lady!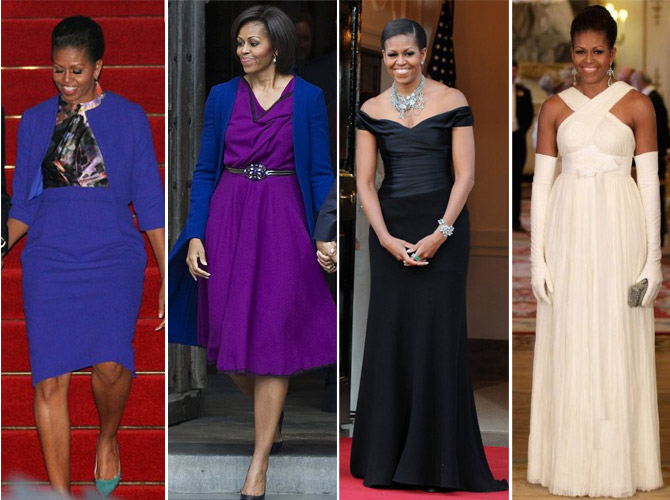 Will you be suffering from Oprah withdrawals like me? xx
Photos from vogue.com / vogue.co.uk / wwd.com
Your Daily Fashion Scoop
The perfect Sunday afternoon read… some juicy scoops of fashion news…enjoy
Georgia May Jagger Model & Fashion Designer
Georgia May Jagger is set to launch her first fashion collection. Teaming up with denim label Hudson, Jagger's collection will be available for Spring 2011. The collaboration will be called: Hudson by Georgia May. Having already graced the cover of Vogue, the Chanel and Versace muse is currently living in New York and studying art and photography. 
Natalia Vodianova –
Leading Lady
Natalia Vodianova will star as the leading lady alongside Jonathan Rhys Myers in Belle du Seigneur, a film of Albert Cohen's 1968 novel. Vodianova also played Medusa in Clash of the Titans last year. 
Natasha Poly
Turns To The Dark Side
Keeping with the model theme of today's news, the usually luscious blonde Natasha Poly has gone brunette. Poly's striking dark brunette shade made its debut appearance on the cover of Vogue Paris Nov issue (pictured right). 
Debenhams to launch
Designer Series
Following in the hotly anticipated shoes of Lanvin for H&M, Debenhams will too launch a designer series. Set to hit stores from Spring 2011, Debenhams have called the collaborations 'Edition'. Four Designer labels will each create a collection for the store. These designers include: Preen, Jonathan Saunders, Roksanda Ilincic and Jonathan Kelsey. The clothing will be priced between £18 to £190, while Jonathan Kelsey's footwear will range from £45 – £65. Debenhams previous designer collaboration was with Henry Holland's H!. 
Stefano Gabbana not a Stella McCartney fan
In a recent twitter conversation, Stefano Gabbana expressed his feelings toward Stella McCartney. Replying to tweets about McCartney with a Twitter friend, Gabbana finished their conversation with 'Yeah, she's upcoming after 15 years doing nothing!! Hahahaha', 'Aaaaaaa …… I see you appreciate nonentities!! Bravo!'.  The awkward exchange was translated from Italian and has been circulating online.
Aaah the drama of fashion…xx 
Side images from: Photo1 fashionising.com | Photo 2 thelovemagazineblog.wordpress.com | Photo3 411chatter.com