4 Fabulous Fashion Shots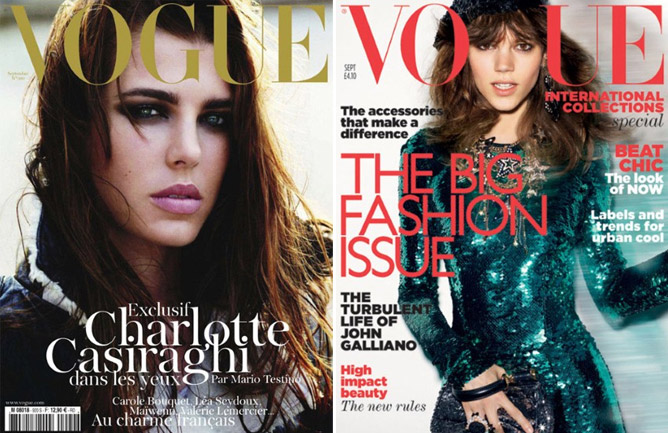 The September Issues:
Mario Testino's Cover Trio
The September Issue is the most anticipated magazine issue of the year. Renowned fashion photographer, Mario Testino has landed three International Vogue covers– US, UK and Paris. Testino shot Kate Moss for the cover of US Vogue; Freja Beha Erichsen for British Vogue; and finally, Charlotte Casiraghi for Vogue Paris (pictured above & right).
– – – – – – – – – – – – – –
Meet Missoni's 90 Year Old Campaign Star
Missoni's Fall 2011 campaign, 'A Wonderful Life', features the brand's founder Ottavio "Tai" Missoni. Having recently turned 90, Mr. Missoni posed with models Kaitlin Aas, Valerija Kelava, Kinga and Kristina Salinovic, for Juergen Teller who shot the campaign.
– – – – – – – – – – – – – –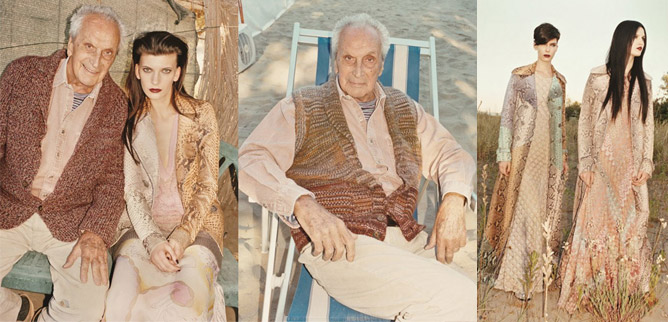 High Fashion Planking
Fashion Photographer David Toro has captured models planking in a series of photos entitled 'Plank Girl'. The models are planking in looks by Alexander Wang, Missoni, Marios Schwab, Dolce & Gabbana and Givenchy, amongst others (a selection of photos are placed right).
– – – – – – – – – – – – – –
Amy Winehouse's Collection For Fred Perry Released
Amy Winehouse's previously unreleased fashion collection for British high-street chain Fred Perry is now available to purchase. Attention turned to the 21-piece collection, following Winehouse's death last month as to whether or not it would be released (pictured below).
"After much consideration and with the blessing of Amy's family, we have decided to release the A/W 11-12 Amy Winehouse for Fred Perry collection. Amy was passionate and dedicated to the collaboration and her signature style is clearly stamped across each piece. In such circumstances, the usual royalties and fees from the collection will be donated to the soon-to-be-established Amy Winehouse Foundation."
– – – – – – – – – – – – – –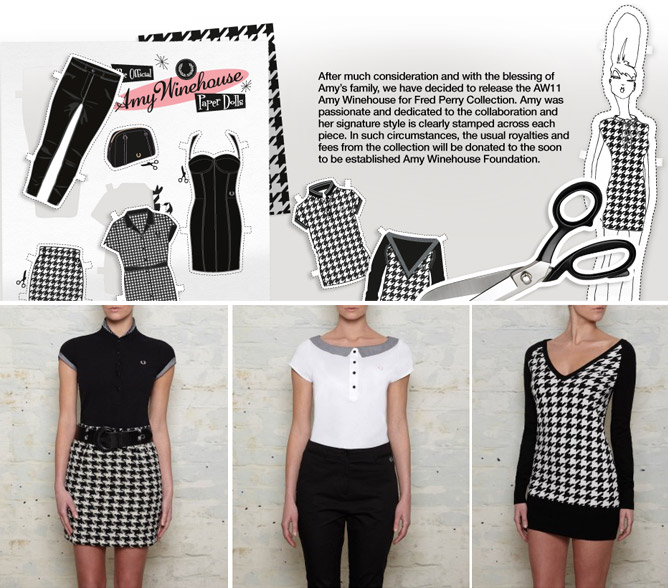 Happy Monday! xx
Photos from fashion.telegraph.co.uk / grazia.com.au
Iconic, Timeless 40's Glamour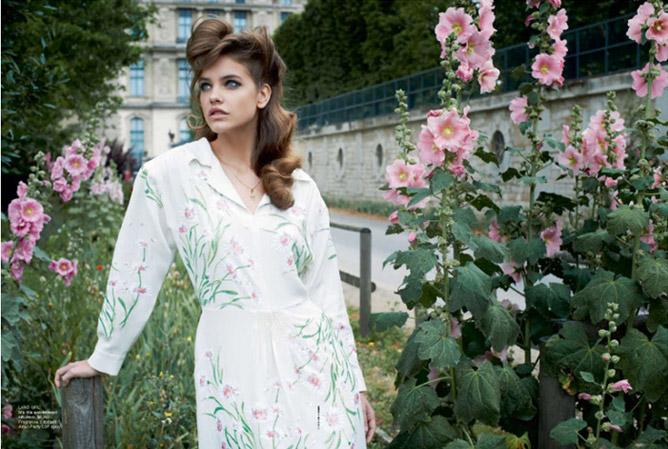 Entitled 'In The Mode', this Vogue Australia editorial channels the romantic nostalgia of 1940's dressing perfectly.
Continuing on from my previous article on the 40's trend for Fall, this editorial, featuring Barbara Palvin, captures the classic glamour and timeless beauty of this bygone era.
With ultra feminine pieces that exude lady-like elegance, Palvin wears looks by Miu Miu, Louis Vuitton, Chanel, Balenciaga and Bottega Veneta, amongst others. Her loose 40's pin curls bring a softness and romanticism to the photos; while her dark eye make-up and red lip conjures a sexy, strong, sophistication.
Vogue Australia perfectly introduces the editorial with: 'The romance of the past is rendered modern by a divine melange of print, texture and shape.'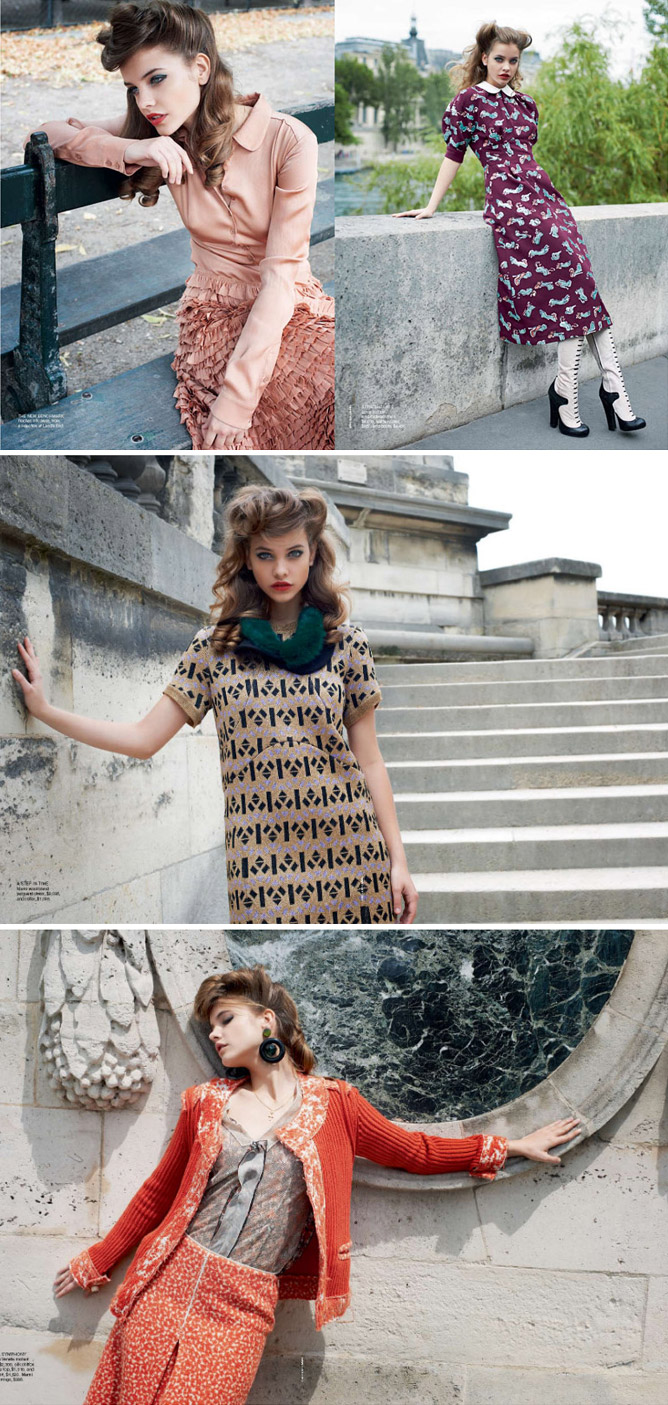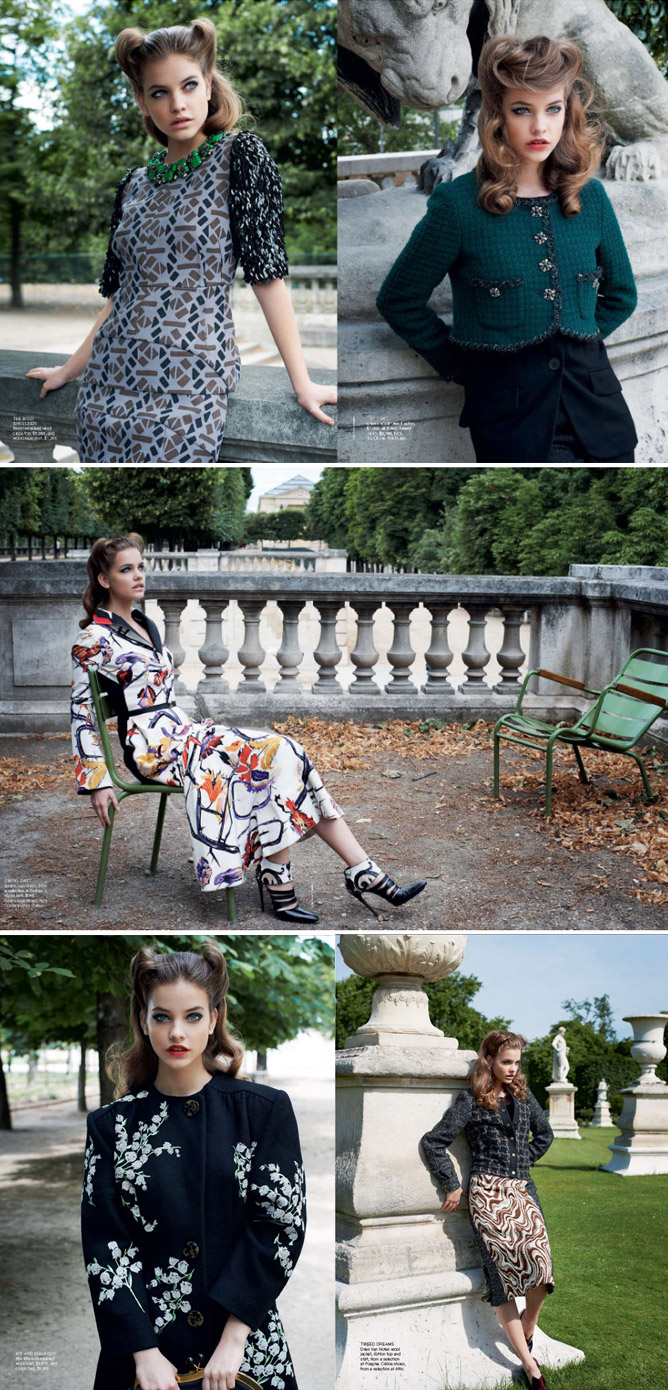 Enjoy your Sunday xx
Photos from fashiongonerogue.com
1940's Glamour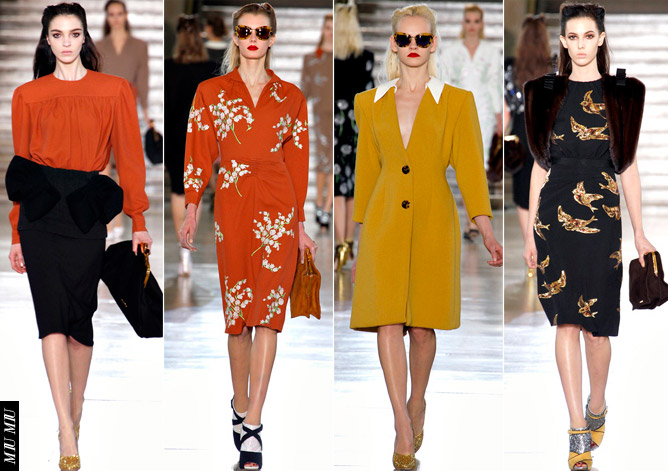 For the coming Fall season, designers were feeling 1940's glamour in the air. From Gucci to Miu Miu and Donna Karan – 40's refined feminine allure was back with a vengeance.
Be transported into the World War II-era, where skirts and dresses were worn to the knee and striking scarlet red lips made for a sensational pout.
Across many collections the 40's influence could be seen in the sharp pencil skirts; matte red lipstick; and the sophisticatedly sexy accent of accessories – think of those decedent fur shrugs, statement hats, slim belts and elegant gloves.
1940's silhouettes featured broad shoulders that gracefully tapered into a tailored waist. Almost every outfit contained shoulder pads and looks were finished off with a hat. The strong shoulder gave women a sense of purpose and strength – traits that were considered essential to survive the war. The fashion had to be practical, allow movement and comply within strict rationing. The long decedent beaded gowns of the 1930's were now considered gaudy and unpatriotic. The 40's lead the way for minimal, boxy dresses; shorter skirts and neatly belted waists.
1940's fashion was elegant, refined and authoritative – reflecting the strong sense of purpose as women rolled up their sleeves and did their part on the home front…
– – – – – – – – – – – – – –
Gucci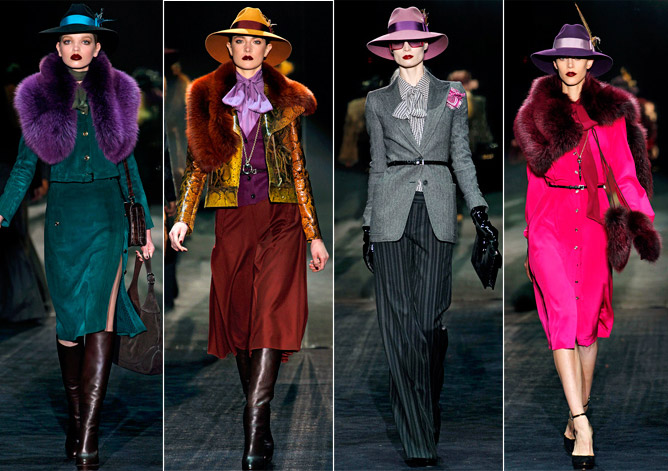 – – – – – – – – – – – – – –
Marc Jacobs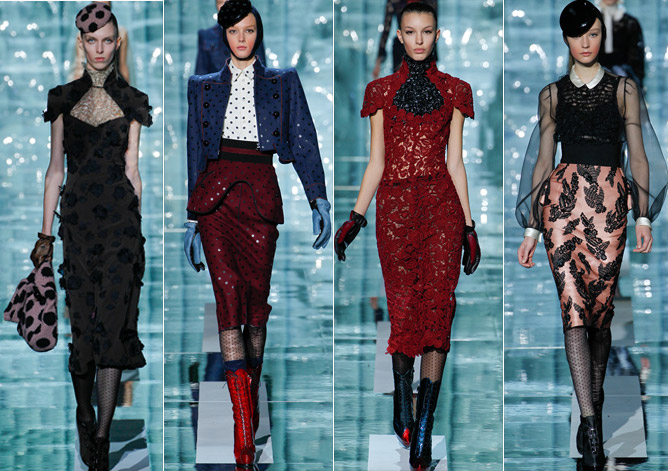 – – – – – – – – – – – – – –
Louis Vuitton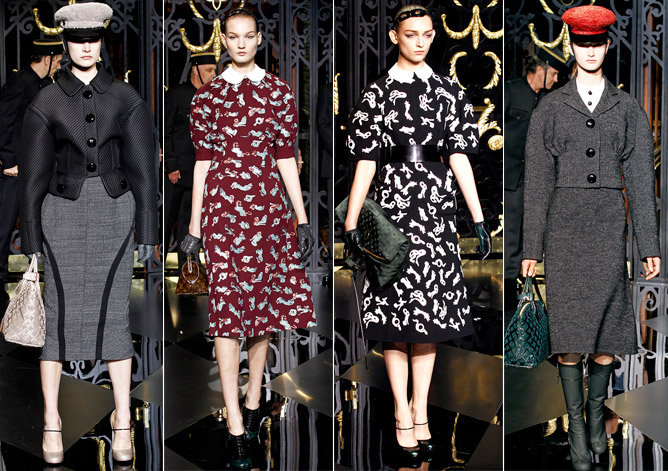 – – – – – – – – – – – – – –
Donna Karan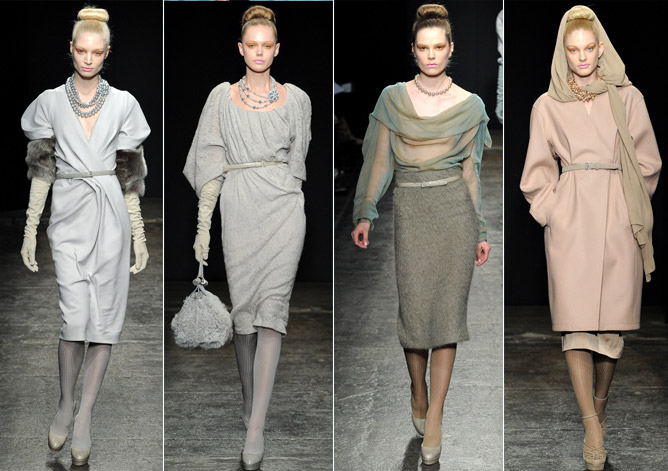 Kate Moss channels 40's glam for the cover & feature editorial of Vogue UK, August 2011 issue…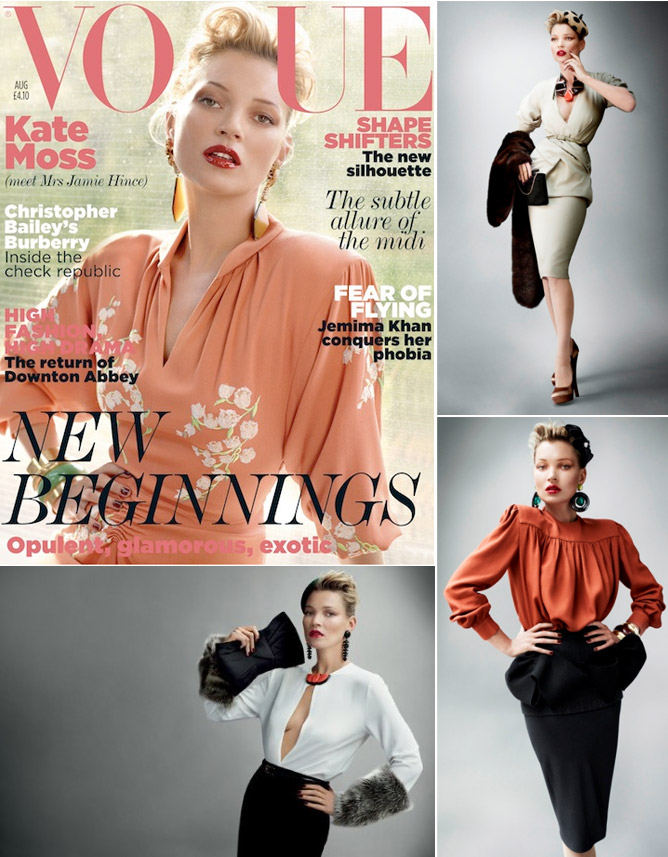 LOVE, LOVE, LOVE the whimsically romantic nostalgia of the 1940's trend. I am ready to do my hair in pin curls and wear red lipstick day & night!
Will you embrace the timeless chic of the 1940's for Fall? xx
Photos from style.com / vogue.co.uk / google images