Your Fabulous Fashion Scoop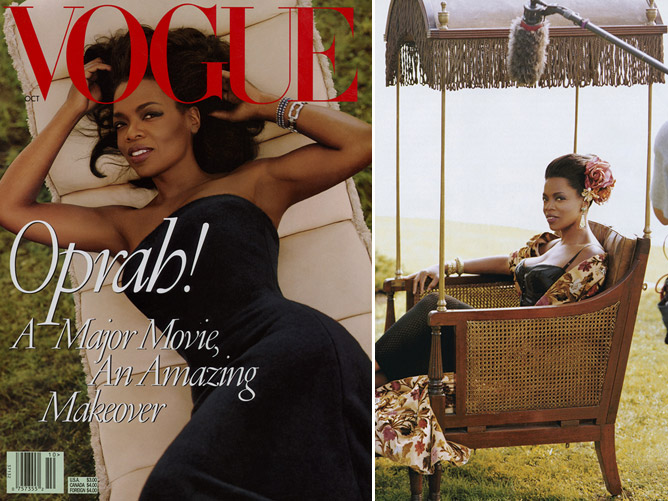 Oprah, Michelle Obama & Diane von Furstenberg… Power-Women Espresso News
Fashion Flashback – Oprah Covers Vogue
After 25 years of life-changing television, the finale of The Oprah Winfrey Show will air today. Oprah has touched so many hearts with her kindness, inspiration and extraordinary enthusiasm and passion for life.
In 1998, Oprah covered American Vogue. Oprah looked exquisitely radiant wearing looks by Valentino, Dolce & Gabbana and Giorgio Armani, among others. Thandie Newton is also pictured with Oprah below right. Vogue.com has republished their interview with Oprah from this feature and you can read it here…
In the article, Oprah is quoted as saying: "What I have decided, is that with fame, notoriety, credibility—if you can't have the courage to stand up and speak out for what you truly believe in, then it means nothing."… I miss Oprah already!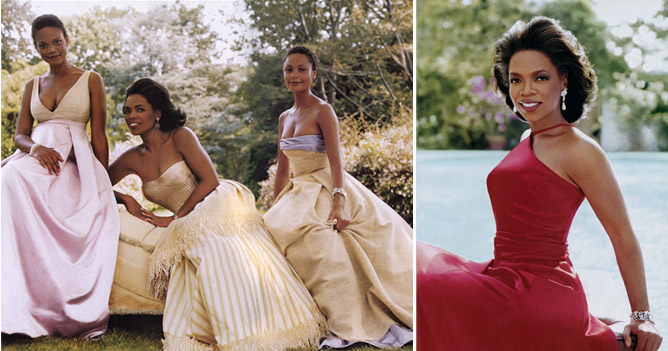 Diane von Furstenberg's
New Fragrance
Diane von Furstenberg is launching a new fragrance, 'Diane'. The fashion dynamo will be releasing the fragrance this October. It features two primary scents – frangipani and violet – which combine to create a woody floral fragrance. Of the scent, von Furstenberg has said, "I wanted to put the power of women in a bottle. I wanted a perfume that reflected womanhood — what I know, what I feel about being a woman — and the power that we all have that we can be the woman we want to be."
Michelle Obama – A Fashion Icon
Since Michelle Obama arrived in England, wearing a two-piece purple Preen skirt suit from the fall 2011 collection, her fashion statements have been getting more and more exquisitely iconic. From a Roksanda Ilincic purple drape neck dress; to a Ralph Lauren fall 2011 elegant black evening gown; not to mention a divine ivory Tom Ford number with elbow length gloves – Mrs. Obama a radiant, fashion savvy, extraordinarily beautiful First Lady!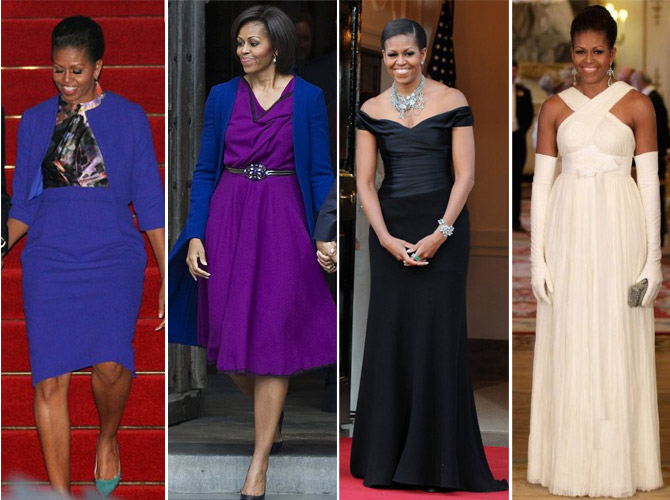 Will you be suffering from Oprah withdrawals like me? xx
Photos from vogue.com / vogue.co.uk / wwd.com
Your Fabulous Fashion Scoop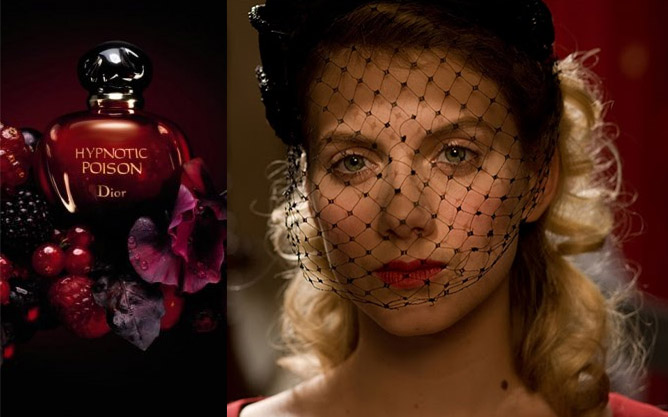 5 Espresso Shots Of Fashion News
Mélanie Laurent For Dior's Hypnotic Poison
Mélanie Laurent has been announced as the new face of Christian Dior's Hypnotic Poison scent. The beautiful French actress (known for her role in 'Inglourious Basterds'), singer, director and writer, will also wear Dior Couture on the red carpet. Love Mélanie Laurent and adore the intoxicating allure of Hypnotic Poison!
Leighton Meester For Vera Wang's 'Lovestruck'
The first image from Vera Wang's 'Lovestruck' campaign has been released starring Leighton Meester.  The 25year old Gossip Girl favourite looks absolutely divine in a floor length purple gown. C'est Magnifique!
Marchesa For Playboy
Renowned for their extraordinary red carpet gowns; Marchesa designers, Keren and Georgina, have tackled the iconic Playboy bunny costume. The exclusive model has been created to celebrate the opening of the new Playboy Club in London on June 4. Looking to embellish the iconic costume with a couture touch, Marchesa have said,
"very excited for the opportunity to design one of the iconic symbols of pop and fashion culture. We were inspired by the original costume, but we added some of Marchesa's signature details: embroidery and draping while respecting the classic corseted silhouette of the Playboy costume. The result is a modern and feminine rendition of this legendary look".
Pierre Cardin To Sell Fashion House
Pierre Cardin is selling his legendary fashion house. At 88, Cardin has said, "I know I won't be here in a few years and the business needs to continue." Founding his house in 1950, Cardin was one of the pioneers of brand licensing. His name is now carried on hundreds of products, including; clothing, shoes, bottled water, furniture and perfume.
Best Dressed at Met Gala
Decadence, glamour and divine red carpet fashion statements – were of course the order of the day at the Met Gala. Many guests were dressed in McQueen, even the lady of the moment herself, McQueen Creative Director, Sarah Burton (aka the creator of the Duchess of Cambridge's gorgeous wedding gown) (pictured below). Stella McCartney also had an impressive turn out of celebrity support. McCartney (pictured below), the Gala co-chair, wore a black strapless dress and platform sandals from her label.
In Alexander McQueen:  Burton, Sarah Jessica Parker, Daphne Guinness and Naomi Campbell
In Stella McCartney: McCartney, Gwyneth Paltrow, Eva Mendes and Kate Hudson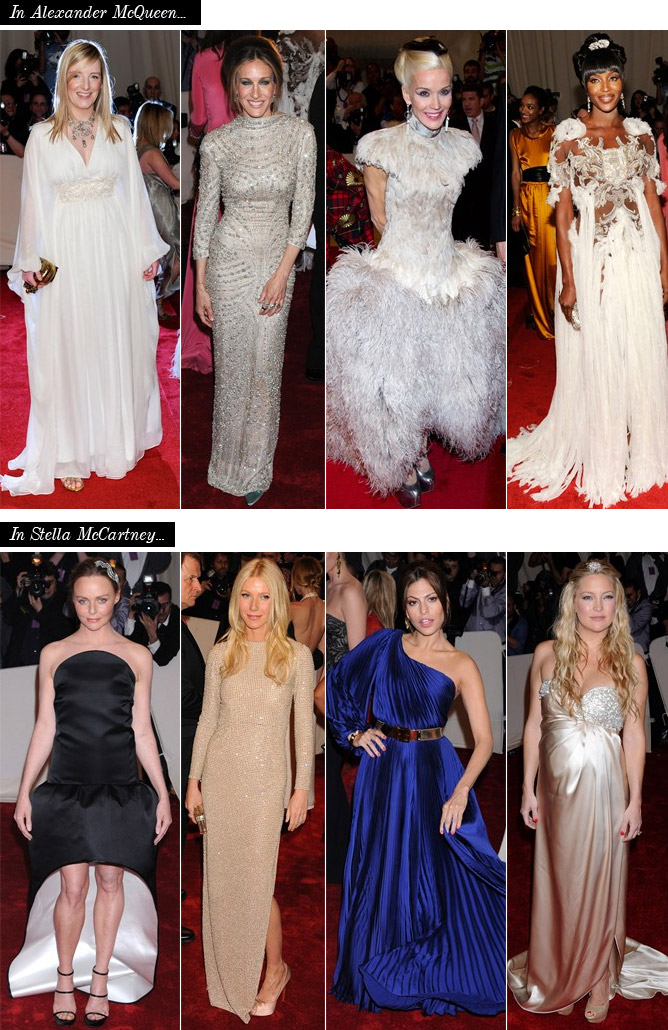 Who was your best dressed? xx
Photos from vogue.co.uk / vogue.it / google images
Your Fabulous Fashion Scoop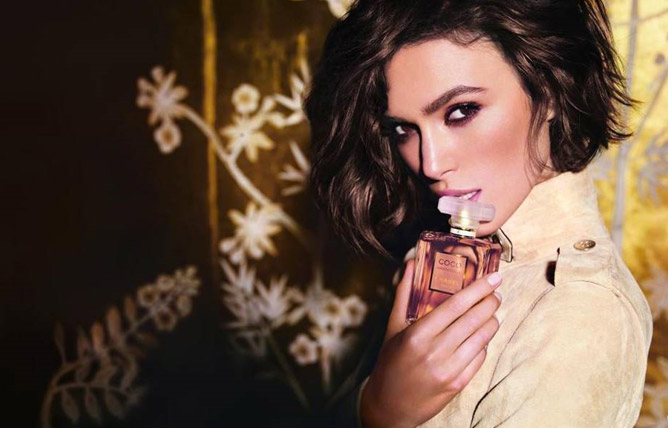 3 Espresso Shots Of News & 1 Style Tribute…
Karl Lagerfeld For Diet Coke
Karl Lagerfeld has reunited with Diet Coke to create three iconic bottle designs for Summer. Of the collaboration, Lagerfeld has said:
"I loved what we did last year but I will love 2011 even more. I'm delighted about this collaboration. It's exciting for me because I love the idea and as everybody knows, I drink Diet Coke and nothing else, night and day. It was pure pleasure to do a campaign with people I like and for a product I love".
LOVE, LOVE, LOVE THESE BOTTLES!
Coco Mademoiselle – The New Film
The new film for Coco Mademoiselle, starring Keira Knightley, has been released online. The film, directed by Joe Wright (who also worked with Knightley on Pride & Prejudice and Atonement), follows Knightley waking from her slumber; applying Coco Mademoiselle Parfum to her décolletage; riding around Paris on her motorcycle and seducing photographer, Alberto Ammann. This time round sees Knightley's leading lady more seductive, sexy and independent, yet always encapsulating the beautiful elegance of a Chanel lady.
Rachel Zoe & Rodger Berman Welcome Their First Child
Congratulations Rachel Zoe and Rodger Berman who have welcomed their first child – Skyler Morrison Berman – into the world! Zoe took to Twitter and wrote:
"Thank you all so much for your love! [Rodger] and I couldn't be happier with little Skyler Morrison in our arms … he is everything". I cannot wait to see his baby wardrobe!
Style Tribute – 
ELIZABETH TAYLOR
Mesmerising beauty, undeniable style & extraordinary glamour…
On Wednesday the world lost one of the great screen actresses of Hollywood's Golden Age. Elizabeth Taylor, the legendary actress and style icon, died at age 79.
Receiving two Academy Awards for Best Actress; her endless championing for AIDS awareness, research and cure; her eight marriages; her love of show-stopping jewels – Elizabeth Taylor was one of the most beautiful women the world has ever seen. As well as her four children, Taylor is survived by 10 grandchildren and four great-grandchildren. 

Uptown Twirl Loves Elizabeth Taylor xx
Photos from vogue.co.uk / catwalkqueen.tv /google images