Weekend Fashion Shot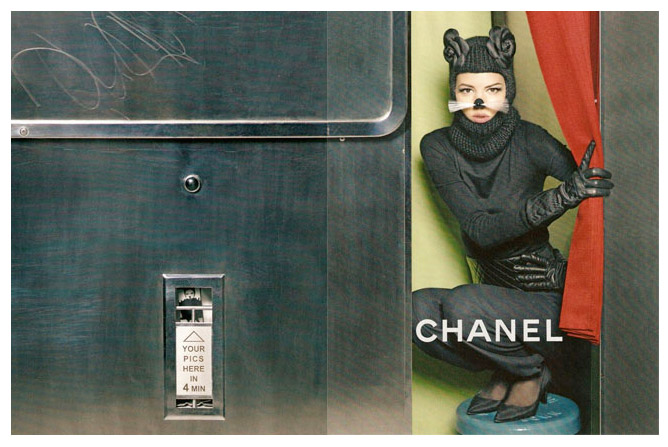 Autumn / Winter 2011 Campaigns; 2 Shots Of Espresso News; + Some Weekend Beauty Inspiration…
– – – – – – – – – – – – – – – – – – – – – – – – – – – – – – – – – –
The Fall Campaigns So Far
The Autumn / Winter 2011 Campaigns are beginning to be released and I have featured some of my favourites so far below. From Freja Beha dressed as a cat for Chanel; to the fresh faced Elle Fanning for Marc Jacobs and Hailee Steinfeld for Miu Miu – it looks set to be a memorable season.
For Chanel, Freja Beha is once again used; however, with completely different results. Beha is firstly pictured as a cat perched in a slightly scruffy photo booth; followed by another shot in the same location, but this time with French written across her forehead. The rough translation is Coco Chanel's iconic quote "A fashion that does not reach the streets is not a fashion."  Little has been revealed about the campaign so far, yet rumours are suggesting it was styled by Carine Roitfeld (previously the Editor of French Vogue) and of course shot by Karl Lagerfeld.
Elle Fanning and Hailee Steinfeld both look seriously chic for Marc Jacobs and Miu Miu respectively.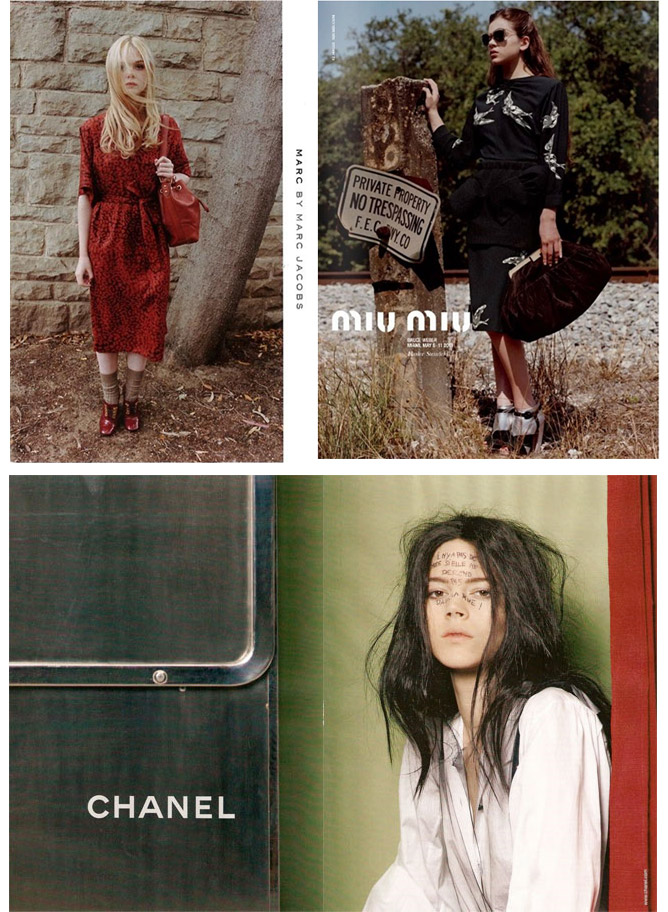 Bottega Veneta's Fragrance For Women
The Italian luxury fashion House, Bottega Veneta, best known for its signature leather goods, is launching its first fragrance for women.
Described as a "leather, floral chypre" scent; the fragrance consists of: oak moss, Italian bergamot, Indian jasmine sambac, Brazilian pink peppercorns and Indian patchouli. The scent represents the "invisible, private luxury" associated with the House. The elegantly simple bottle is made of Murano glass, (for limited edition) and is decorated with a sweet leather bow. Nine d'Urso, the daughter of French fashion icon Inès de la Fressange, is the face of the campaign.
New 'IT' Bag Alert
Mulberry is already home to IT bags the 'Alexa' and 'Bayswater' and it now looks set for the 'Polly Push Lock' to join this beautiful group. Catherine the Duchess of Cambridge was pictured carrying a Mulberry Polly Push Lock handbag while departing for America.
The compact carryall shoulder bag, in textured leather, exudes a luxe vintage aesthetic. Available to purchase through Net-A-Porter for £616.67, I predict this bag is going to be huge (especially now it has a Princess' seal of approval)!  
– – – – – – – – – – – – – – – – – – – – – – – – – – – – – – – – – –
Beauty Editorial Inspiration
Entitled 'Forbidden Kisses', Lily Donaldson features in a gorgeous beauty editorial for Vogue Japan's August 2011 edition.
The prettiest tones of pink (used from the eyes to the lips and cheeks) create an ultra feminine, playfulness. The softness of the looks play upon Donaldson's delicate beauty for innocently, seductive results… LOVE THESE LOOKS!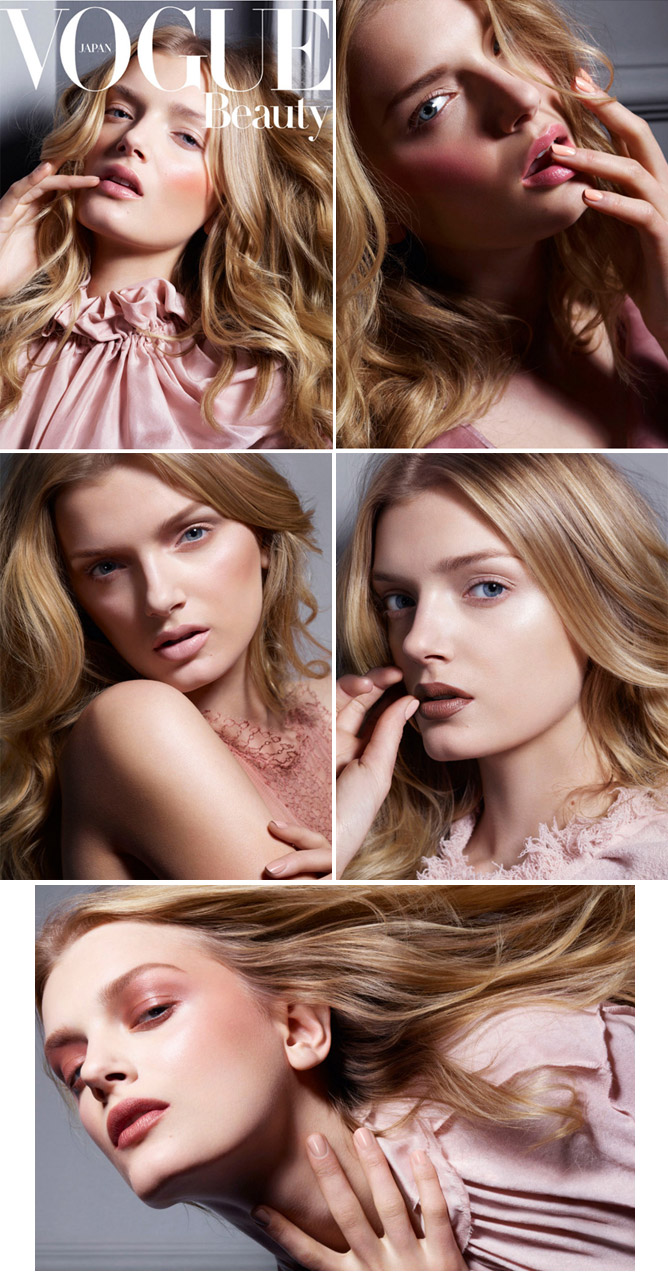 Have a fabulously fashionable weekend! xx
Photos from google images / fashiongonerogue.com
Wednesday Beauty Shot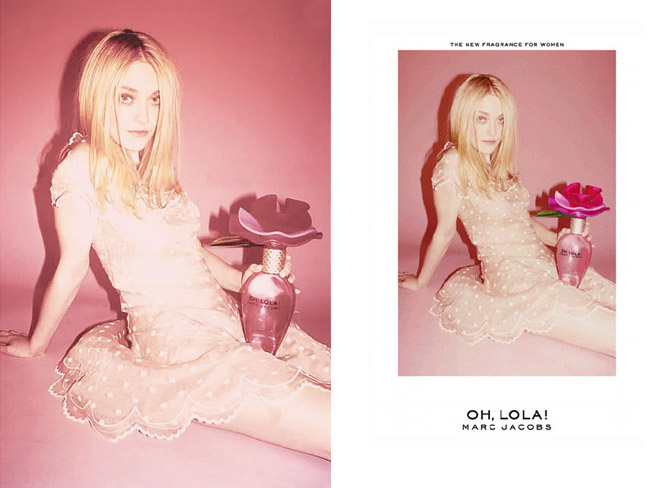 2 Espresso Shots of Beauty News + Some Beautiful Inspiration…
– – – – – – – – – – – – – – – – – – – – – – – – – – – – – – – – – – – – 
Dakota Fanning for Marc Jacobs
Dakota Fanning's campaign for Marc Jacob's fragrance 'Oh, Lola!' has been released and the results are divine! The enchanting 17-year-old was shot by Juergen Teller for the campaign, which sees her channel the 1962 film 'Lolita'.
Of making Fanning the face of 'Oh, Lola!', Marc Jacobs said: "When we were speaking about who to use in the ads, I had recently seen 'The Runaways'…I knew she could be this contemporary Lolita, seductive yet sweet."
– – – – – – – – – – – – – – – – – – – – – – 
Tom Ford & Lara Stone For Tom Ford
Tom Ford's new make-up collection campaign has been released and features the designer himself alongside the sexy Lara Stone. Photographed by Mert Alas & Marcus Piggot, the campaign highlights striking high-impact looks and intense make-up colour.
Of putting himself in frame, Ford has said: "I'm not in the ads because I'm vain. A lot of people still don't know who I am and the product sells better with me in the ads. The old designers — Yves [Saint Laurent], Giorgio [Armani] and Ralph [Lauren] — occasionally used to do it."
– – – – – – – – – – – – – – – – – – – – – – 
Beauty Inspiration
Yesterday Uptown Twirl posted  Emma Watson's first Vogue US cover and today  featured below are more striking imagery from her shoot.
With her flawless skin, impeccable make-up, iconic hair style and polished elegance – her beauty and alluring charisma is breathtaking. These photos are my beauty inspiration this week… LOVE, LOVE, LOVE Emma Watson!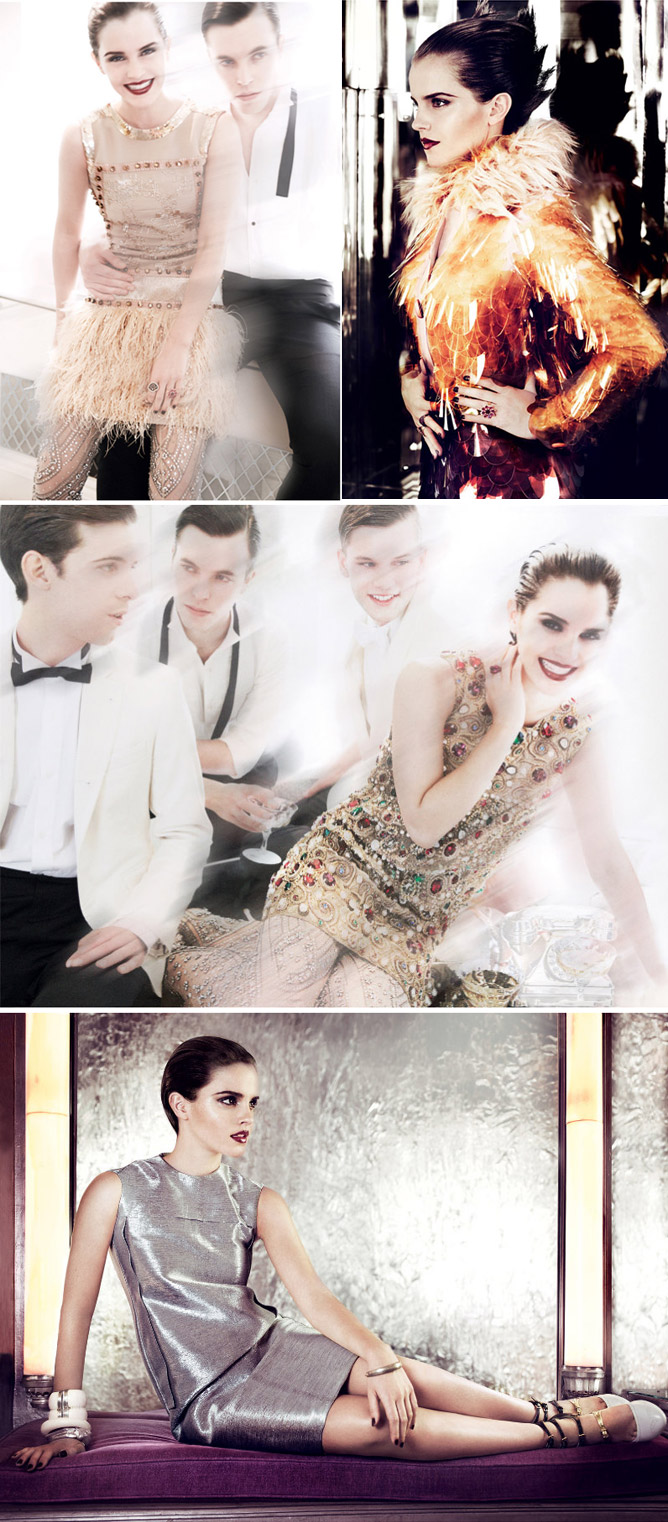 Who has a natural beauty that you admire? xx
Photos from grazia.com.au / fashiongonerogue.com
Editor's Letter, Fashion Illustration
The Beauty Of Perfume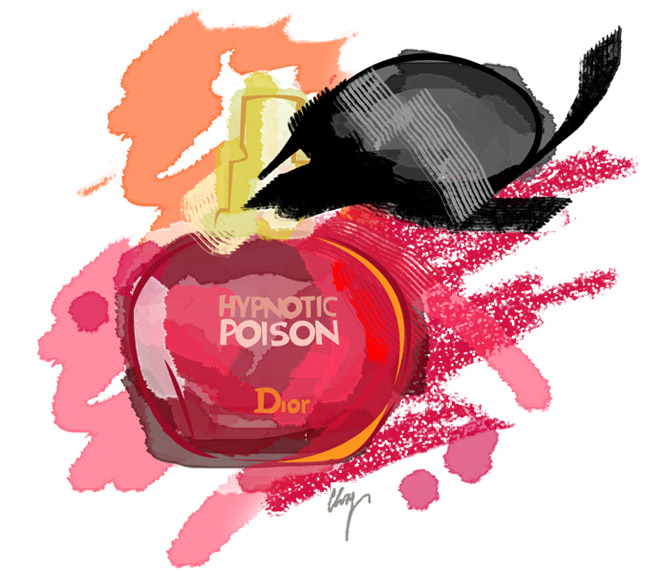 Dear Readers,
Yesterday I had a wonderful shopping day! I brought some new perfume (guess which one…) and an evening gown! More on the evening gown next week (I am so excited)! In the meantime, I have included below some interesting facts about my new scent…
But I would love to know which scents are most bewitching to you? Do you love:
– Pretty, romantic Florals                – Intoxicating, sensual Orientals                – Mossy Green, Woody 'Chypre' notes
– Alluring, crisp Citrus                – Fresh, herbaceous 'Fougère' scents                – Sweet, food-inspired 'Gourmand'
Lots of Love,
Cara
– – – – – – – – – – – – – – – – – – – – – – – – – – – – – – – – – – – – – – – – – –
About Hypnotic Poison

Dior created 'Poison' in 1985 , a scent of irresistible seduction and magic – i.e. poison. Since then, every 'Poison' fragrance has extended upon this sensuality and irresistible enchantment.
Hypnotic Poison is the most exhilarating of all Dior oriental fragrances. Oriental fragrances are characterized by their warm base notes with spices and wood. Encompassing an intoxicating allure of scents, the main components of Hypnotic Poison are; Bitter Almond and Carvi, Sambac Jasmine, Jacarandra, Vanilla and Musk. It's opulent and mysterious. And adding to Hypnotic Poison's allure, Melanie Laurent, is now the new face of it (pictured above)!
– – – – – – – – – – – – – – – – – – – – – – – – – – – – – – – – – – – – – – – – – –
Interesting Perfume Facts
Did you know…  it is the alcohol content of a fragrance that will determine how long a fragrance will linger on the skin? This also demands how a fragrance should be applied to the skin.
Eau De Toilette
Eau De Toilette is significantly lighter than Eau De Parfum. Traditionally, Eau De Toilette is spritzed in the morning and can be used quite generously.
Eau De Parfum
With a higher perfume content, Eau De Parfum is usually dabbed onto the skin. If the Eau De Parfum is a spray, spritz the fragrance into the air and walk into it.
Perfume / Perfume Extract
With the longest lasting hold, Perfume Extract is the most powerful and purest type of perfume. When applying Perfume Extract, the most delicate trace on the skin is enough. Apply to the wrists, décolleté and even behind the knees. Each of these areas of the body has pulse points which will allow the fragrance to travel.
– – – – – – – – – – – – – – – – – – – – – – – – – – – – – – – – – – – – – – – – – –
Looking forward to hearing some of your favourite scents xx
Illustration by Uptown Twirl  / Photos from google images