Diane Kruger

Diane Kruger Exudes Old-Hollywood Glamour
Evoking timeless elegance; Kruger's classic style is perfectly refined – from exquisite red carpet beauty to weekend chic.
Sighting Karl Lagerfeld as a 'stepfather' figure – Diane Kruger is the epitome of chic. The German born beauty has previously modelled as the face of Chanel; been a global spokesmodel for L'Oréal; and appeared across countless best dressed lists.
While she does have a soft spot for Chanel couture; Kruger isn't afraid to take risks on the red carpet. Whether embracing a vibrant colour or choosing classic black and white, Kruger's beauty radiates from within. Often acting as her own stylist, hair and make-up artist for red carpet events, Kruger is fluent in the language of effortless style.
"I truly, genuinely like clothes. Making them is an art form, and wearing them is a form of self-expression. I find it very emotional because I can remember moments in my life—my mood, how I felt—through these clothes." – Diane Kruger
Do you covet Diane Kruger's style? xx

Photos from google images
Weekend Fashion Shot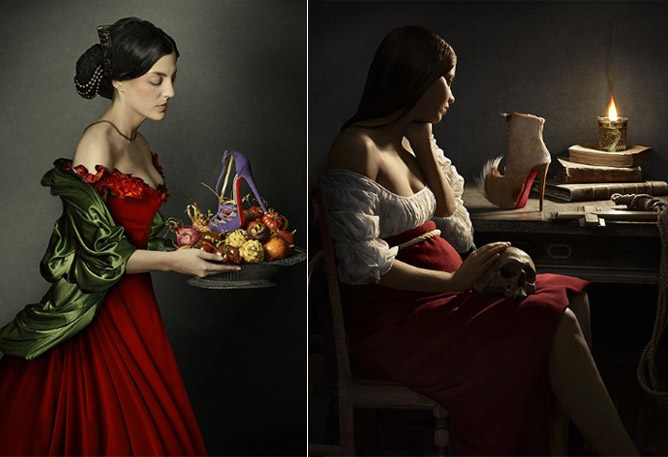 The Art Of Beautiful Accessories
Exquisitely handmade, unbelievably gorgeous heels are themselves works of art. However, Christian Louboutin has taken this concept to the next level. A selection of heels and accessories  from Christian Louboutin's Autumn / Winter 2011 collection, have been transported into some of the world's most iconic paintings.
Collaborating with photographer Peter Lipmann, well known portraits have been given a Louboutin makeover. A leopard-print shoulder bag has appeared under the arm of Jean-Marc Nattier's 'Marquise de Pompadour' (pictured below left); while Francisco de Zurbaran's 'Santa Dorotea' holds her fruit platter with a carefully balanced '8 Mignon' strappy sandal (pictured above left).
What a brilliant Autumn / Winter campaign… love, love, love this!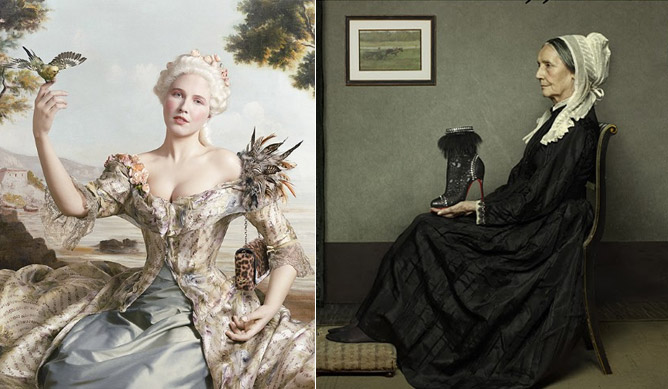 – – – – – – – – – – – – – – – – – – – – – – – – – – – – – – – – – – – – – – – – – – – –
Ralph Lauren For Wimbledon
This year marks the 125th Wimbledon Championship. It also sees Ralph Lauren involved to re-design the official ball boy and girl outfits (pictured below). In chic Ralph Lauren style, the polo shirt in Wimbledon colours features both the signature big pony on the chest along with the Wimbledon logo on the opposite sleeve. Seriously sophisticated…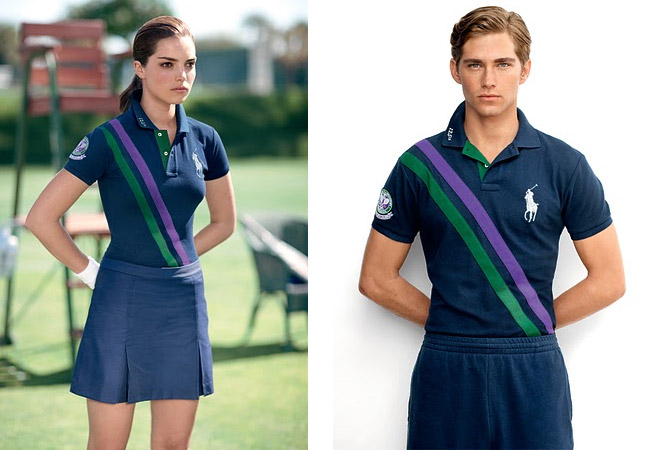 – – – – – – – – – – – – – – – – – – – – – – – – – – – – – – – – – – – – – – – – – – – –
Lily Allen's Wedding Gowns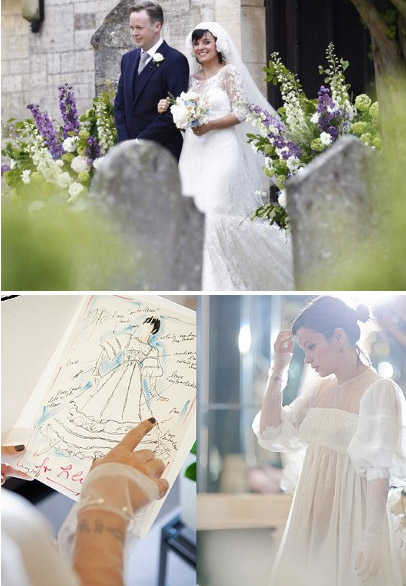 When Lily Allen (now Lily Cooper) married last week, she wore two gowns. First up for the church service she chose French designer, Delphine Manivet (pictured top right). This was the image that was beamed around the world – with many Allen fans disappointed she hadn't gone with Chanel. However, it was then later reported, Allen had changed her gown for the reception. And that second dress has just been revealed…
Designed by Karl Lagerfeld, Allen's second Wedding gown (pictured below right), was uploaded to the Chanel website. The photo shows Allen during the fitting as well as Lagerfeld's original design sketch.
The Chanel gown featured voluminous bell sleeves and an empire-line cut in sheer white chiffon, staying true to Allen's love of vintage fashion…
– – – – – – – – – – – – – – – – – –
Happy Weekend! xx
Your Thursday Fashion Shot…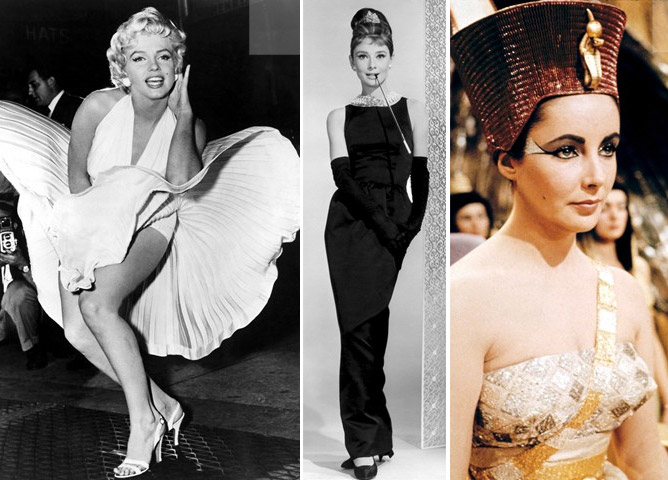 3 Espresso Shots Of News + Some Thursday Fashion Inspiration…
– – – – – – – – – – – – – – – – – – – – –
Iconic Dresses Up For Auction
A selection of the most iconic dresses in history will go up for auction on June 18th in Beverly Hills. Just a few of the exquisite gowns available to the highest bidders include;
> Marilyn Monroe's white halterneck dress from The Seven Year Itch (pictured above)
> Audrey Hepburn's iconic Givenchy LBD from Breakfast At Tiffany's (pictured above)
> Elizabeth Taylor's golden headdress from Cleopatra (pictured above)
> Judy Garland's blue gingham dress  from The Wizard of Oz (pictured right)
Also on the list is: Marilyn Monroe's rhinestone gown in which she sung Happy Birthday Mr President to JFK in 1962; Barbara Streisand's gold dress from Hello Dolly; Julie Andrews' brown dress from The Sound of Music; and The Princess of Wales gown from when she danced with John Travolta at the White House. There are also some modern editions, including; Elizabeth Hurley's Versace 'safety-pinn' gown and Jennifer Lopez's plunging Versace gown.
It is anticipated the collection will exceed $7 million (US). Legendary actress Debbie Reynolds is selling her private collection after she was unable to establish her ambition of a museum for Hollywood memorabilia. Marilyn Monroe's white halterneck has the highest price point of $2 million (US).  
– – – – – – – – – – – – – – – – – – – – –
Karl Lagerfeld –
Crystal Glassware Designer
The extraordinarily talented Karl Lagerfeld has created a crystal glassware collection for Swedish company Orrefors. Of his new collection, Lagerfeld said: "What I enjoy most is doing something I've never done before".
The pieces, in clear, black and milky glass, are an extension of Lagerfeld's design aesthetic, with minimal, clean lines and his KL monogram. Pieces for the range include; champagne flutes and coupes; wine, water and liqueur glasses; vases; bowls; and monogrammed crystal coasters.
– – – – – – – – – – – – – – – – – – – – –
DVF For Gap Kids
Legendary designer, Diane von Furstenberg, is creating a childrenswear collection for Gap Kids.
The collection will be presented in March and will be the first time she has designed for children. Art Peck, president of the brand for North America, has said of the collaboration; "I'm looking forward to offering our customers an exciting collection that applies her signature approach to print, optimistic colour and femininity."
Other designers who have also collaborated with Gap, include; Valentino, Stella McCartney and Roland Mouret.
– – – – – – – – – – – – – – – – – – – – –
Thursday Fashion Inspiration…
'Twin Peaks' is a cinematic editorial, featured in the July issue of Vogue Australia.
Models Emilia Scuza and Melissa Johannsen wear darling looks by Prada, Stella McCartney, Bally and more. The gorgeous wardrobe, retro styling, flawless hair and picturesque surrounding environment all combine to create some divine shots! LOVE!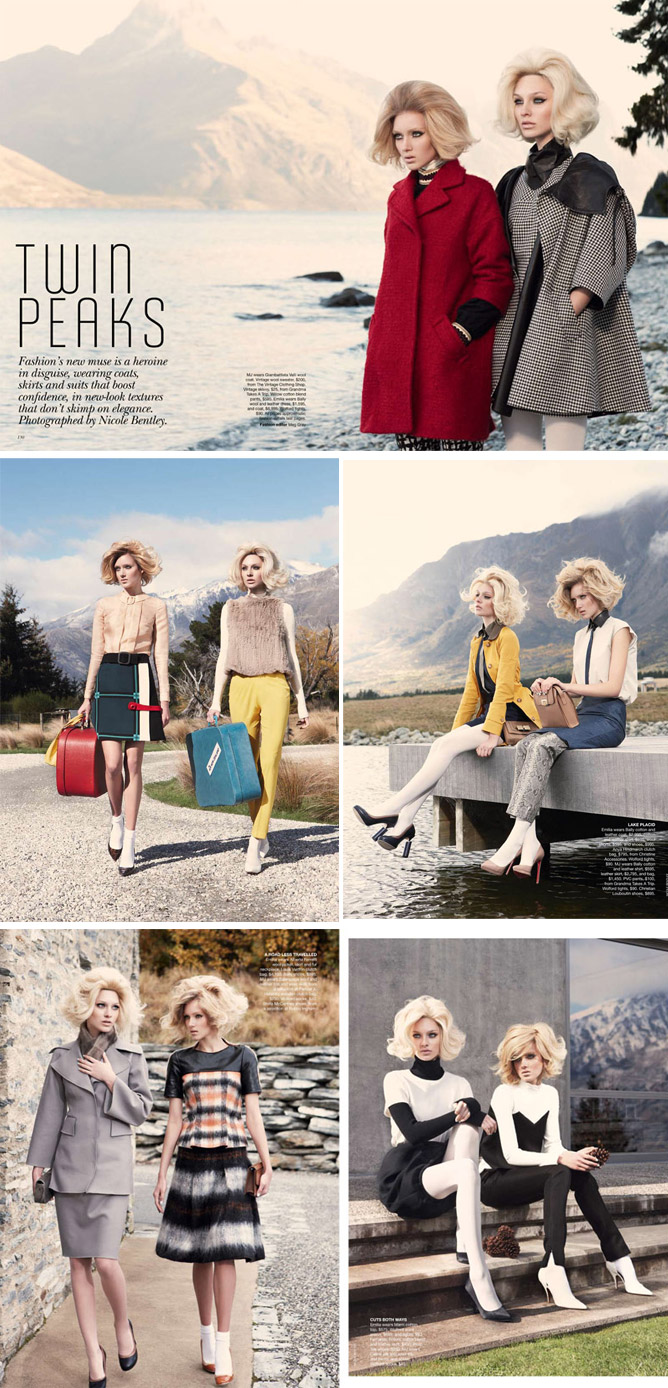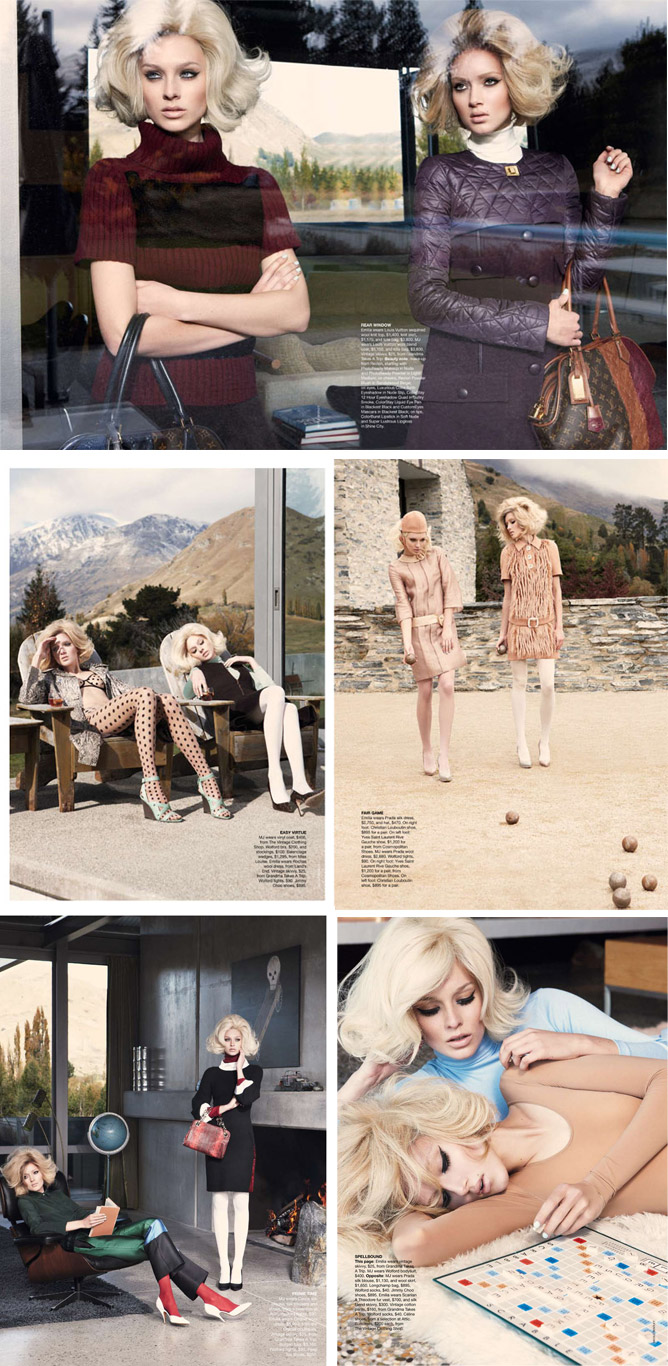 What is your Thursday inspiration? xx
Photos from vogue.co.uk / fashiongonerogue.com