Your Fabulous Fashion Scoop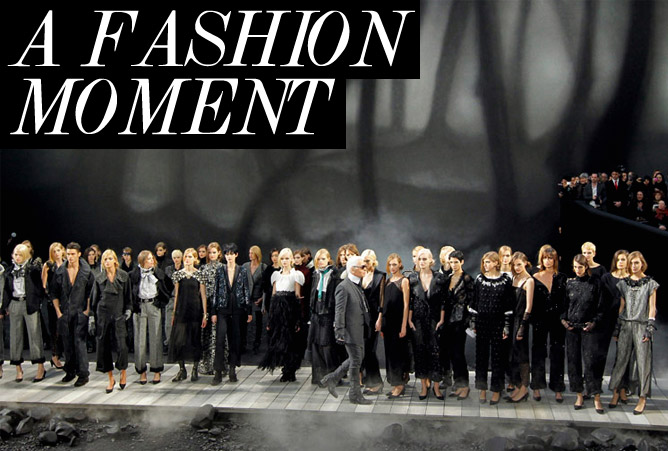 1 Beautiful Fashion Moment…
A Volcanic Catwalk At Chanel
As many of you may know, Chanel is my fashion true love. It is perfection in the form of a delicate evening gown; immaculately tailored suit or one of the astonishingly beautiful 2.55 quilted handbags. Chanel always surpasses my wildest fashion dreams.
From a giant lion to striking iceberg in previous shows, the Chanel set can be just as intoxicating as the collection itself. However, the Fall 2011/12 show took this to a new high. A volcanic catwalk! Models emerged from the smoke, and walked amongst volcanic rocks. The charcoal toned tweed and darker mood to the collection, were perfectly accentuated by the brooding surrounds. Chanel perfection at its finest! A selection of looks from the Chanel Fall collection are featured below…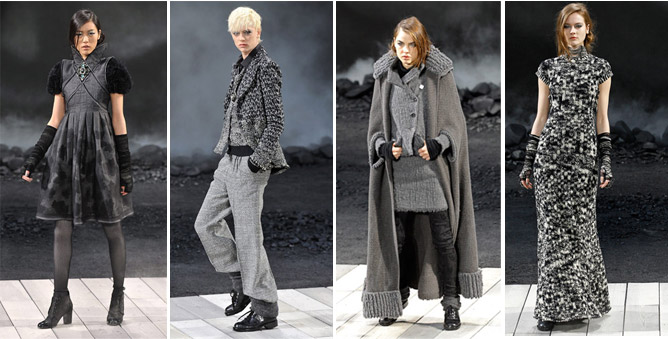 5 Espresso Shots Of News…
NOT YET CONFIRMED: Galliano's Dior Replacement
There is still much speculation over who will replace John Galliano at Dior. While Harper's Bazaar Editor-At-Large Derek Blasberg "confirmed" Riccardo Tisci's appointment as Creative Director for Christian Dior; it's still an official "no comment" from the LVMH Group. But Tisci does have Anna Dello Russo's vote, who said: "I think Riccardo deserves the [Dior] position. He's becoming a very mature artist. For me, Givenchy was the best show of the season so far."
Meanwhile, other speculation includes, Alber Elbaz of Lanvin taking the Dior position, while Jason Wu would replace him at Lanvin. Marc Jacobs has taken himself out of the running at the Louis Vuitton show, by saying "No! I haven't been asked". Only time will tell who will become the Creative Director for Christian Dior, but I cannot wait to hear!
Kate Moss Smokin' Hot (Literally!) at Louis Vuitton
When Kate Moss took to the catwalk at Louis Vuitton in Paris under the helm of Marc Jacobs, something dramatic was bound to occur. Moss walked the catwalk with a cigarette in hand, dramatically blowing smoke as she closed the runway. The collection which had themes of fetishism, crimes and scandals, certainly lived up to its concept! There were lots of leather, bustiers and handcuffs swinging off handbags for this collection. Also returning to the Louis Vuitton runway: Naomi Campbell, Amber Valetta and Carolyn Murphy.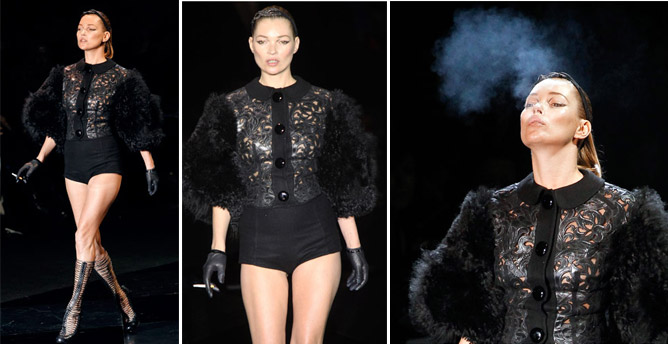 McQueen For The Royal-Wedding?
Kate Middleton's wedding dress designer has had the world's media in a flurry. Who will the designer be? If current rumours are true, Sarah Burton of Alexander McQueen may have the top honour. US Elle magazine's Creative Director Joe Zee, tweeted: "Kate Middleton, I love you but if you don't have Sarah Burton design your wedding dress, you're making a big mistake. HUGE." The new Fall McQueen collection does look perfect for a Princess! Devine shapes, texture and embroidery make this collection soar like a fairytale coming to life.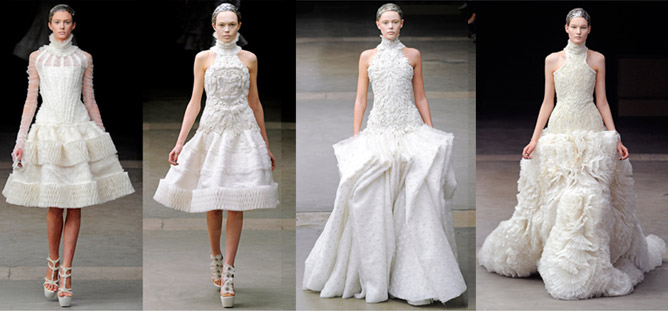 Blake Lively For Chanel
Blake Lively's beautiful Chanel ads are slowly being released to the media. As the face of Chanel's Mademoiselle Handbag line, Lively looks devine with some of the essential pieces for Spring.

Pregnant Rachel Zoe covers The Hollywood Reporter
Rachel Zoe has graced the cover of the new issue of The Hollywood Reporter. The glowing mum-to-be showed off her baby bump in 'exquisite fashion'!
Happy Thursday! xx
Photos from grazia.com.au / style.com
Your Daily Fashion Scoop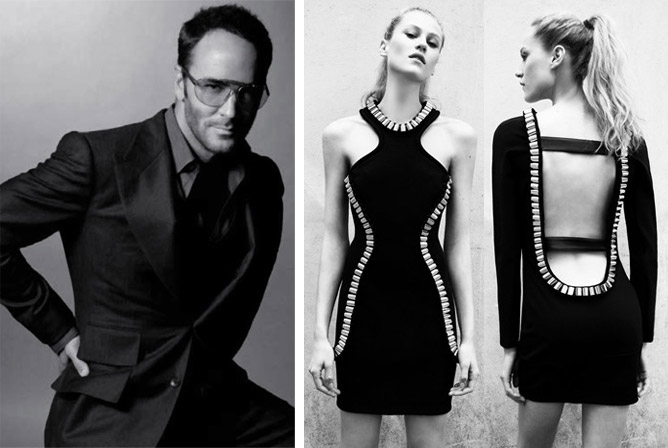 5 Espresso Shots Of News
Sit back, Relax & Indulge In Some Delicious Scoops Of Fashion News…
Tom Ford To Show At London Fashion Week
It has been announced Tom Ford (pictured above left) will be presenting his second womenswear collection at London Fashion Week! The date and location is yet to be released; however, a spokesman for Tom Ford has revealed that it "will only be a small presentation for international monthly magazines". Ford's decision to show in London has further cemented its importance in the fashion week calendar. London Fashion Week gets underway on February 18th…
David Koma For Topshop
David Koma has become the latest designer to collaborate with Topshop (pictured above right). The collection is comprised of five pieces and there are only thirty of each available! The pieces reflect Koma's signature aesthetic and are inspired by metal sculptures. The dresses which have bodycon silhouettes and silver detailing, will be in store on February 18th…
Karl Lagerfeld & Diane Kruger Cover Glamour
Two of my favourite people in fashion – Karl Lagerfeld and Diane Kruger – grace the cover of Glamour Paris for March 2011 (pictured right).  And Kruger is wearing my favourite dress from the Chanel Spring / Summer 2011 collection! Kruger has previously modelled as the face of Chanel and has been dressed by Lagerfeld on many occasions. Kruger once said of Lagerfeld: "He is like a stepfather to me. We're very close- we just get on so well"...
'Christian Lacroix and the Tale of Sleeping Beauty'… A Fashion Fairytale  
Christian Lacroix's biography written by Camilla Morton and illustrated by Lacroix, is woven into a fairytale. Of the biography, Morton has said: "The book is a tale of two icons, both well loved, both inspiring, and both living in magical kingdoms." Lacroix is the first in a series of designer biographies interwoven with fairytales (page illustrations pictured right). Manolo Blahnik and Diane von Furstenberg  will also collaborate with Morton on their biographies / fairytales…
Chic This Week…
1>> Radiant Sparkles – Leighton Meester in Ungaro   |     2>> Striking & Sexy – Claire Danes chose Roland Mouret
3>> Cute yet Edgy – Rachel Bilson wore Burberry        |     4>> Sweet & Eccentric – Anne Hathaway in Marni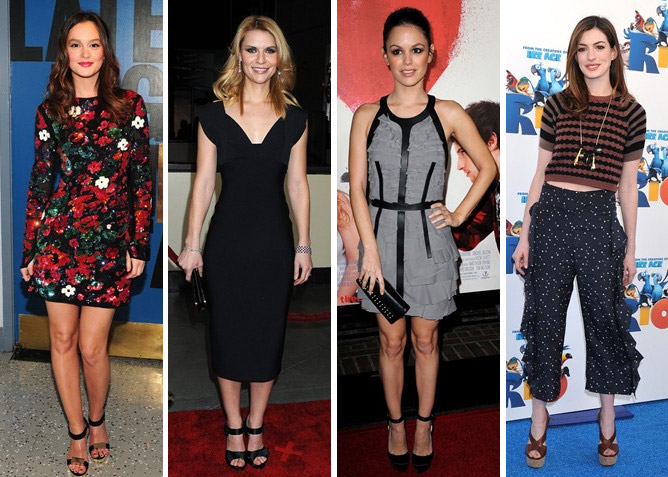 p.s. New York Fashion Week gets underway on February 10th! I cannot wait! xx
Photos from tomford.com / vogue.co.uk / google images