The Fall Fashion Campaigns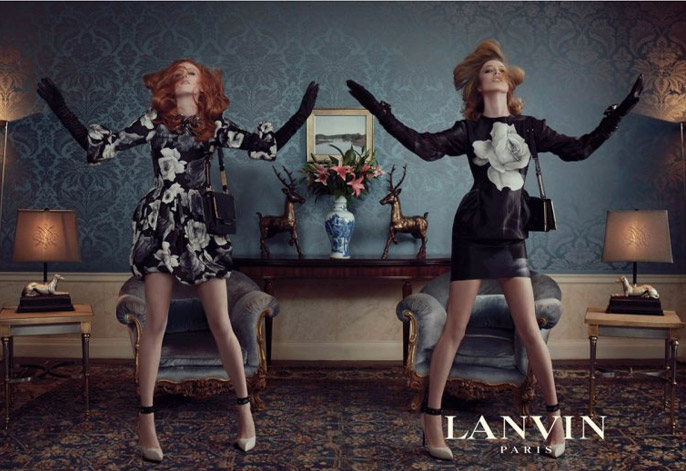 A selection of the latest Fashion Campaigns for Fall…
– – – – – – – – – – – – – – – – – – – –
Lanvin
Raquel Zimmermann and Karen Elson dance like no one is watching in the Fall 2011 campaign for Lanvin.  Photographed by Steven Meisel, the top models wear Alber Elbaz's exquisite lady-like creations in a divine colour palette.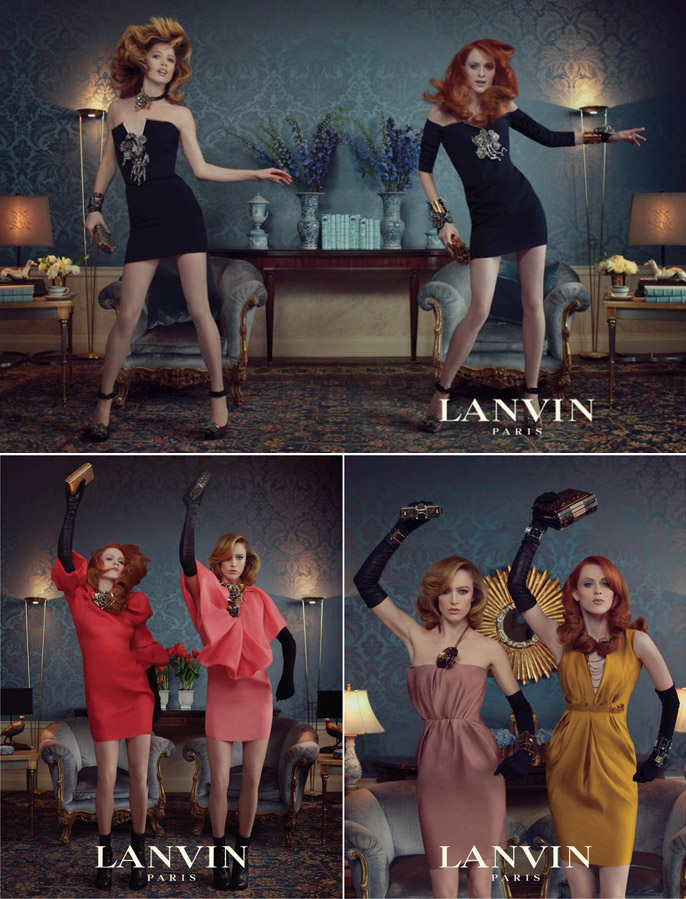 – – – – – – – – – – – – – – – – – – – –
Roberto Cavalli
Bewitching autumn enchantresses, Natasha Poly, Mariacarla Boscono and Karen Elson wear Roberto Cavalli's eclectic prints, striking silhouettes and metallic embellishments for the Fall 2011campaign. Captured by Mert & Marcus, the campaign is beautifully, enchantingly fierce.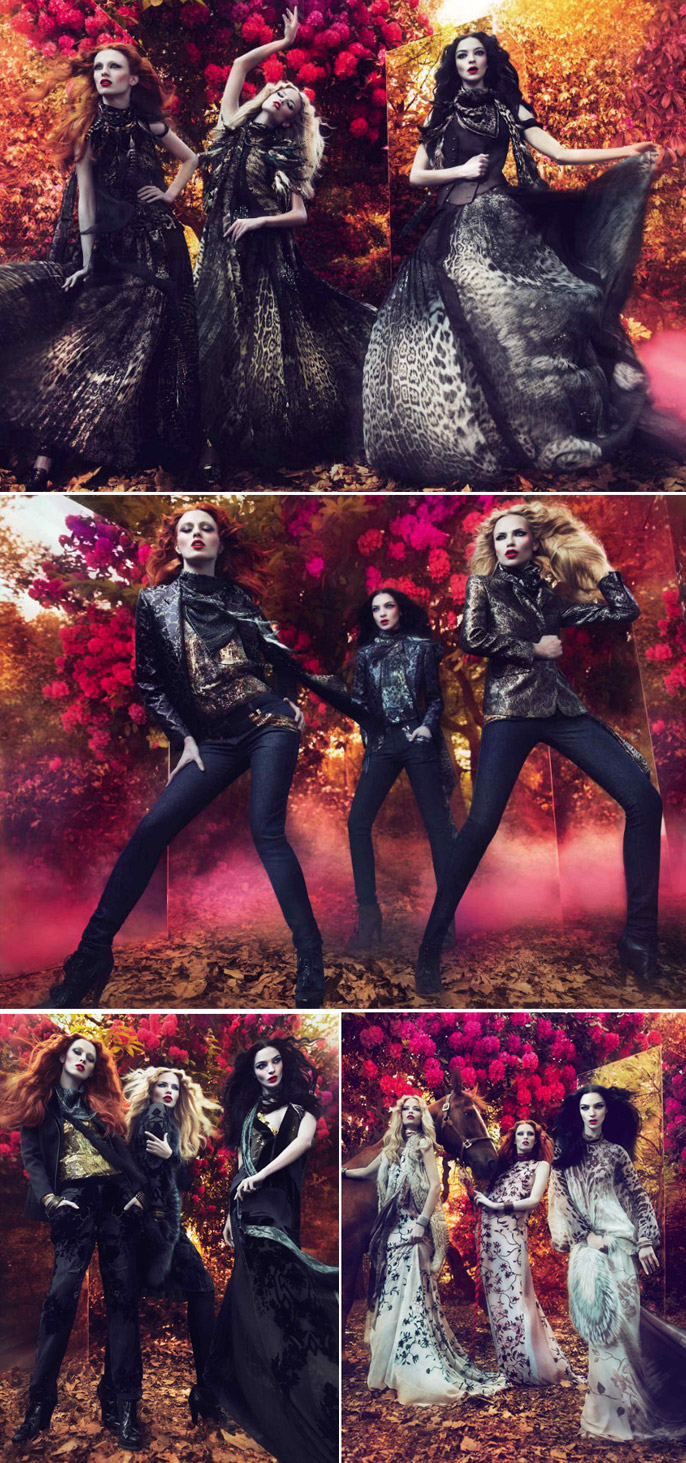 – – – – – – – – – – – – – – – – – – – –
Bally
Captured by Steven Meisel, Bally's Fall 2011 campaign features Karlie Kloss and Caroline Trentini in a cosy house setting. With sexy messy tresses and smokey eye makeup, the campaign evokes an effortless 60's cool.

– – – – – – – – – – – – – – – – – – – –
Burberry Black Label
Burberry Black Label goes mod squad chic with Jacquelyn Jabonski and Johnny George. Iconic Burberry coats and tailored trousers take centre stage.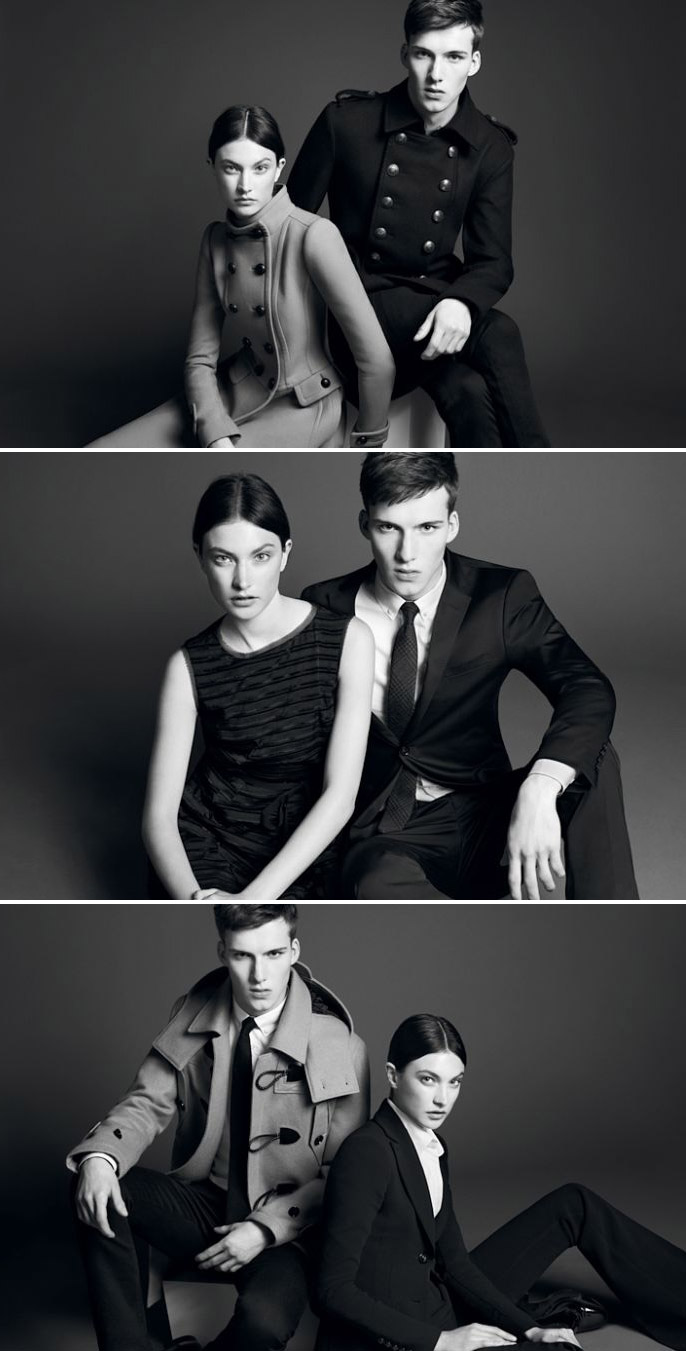 – – – – – – – – – – – – – – – – – – – –
Are you looking forward to Fall dressing? xx
Photos from fashiongonerogue.com
Summer & Swimwear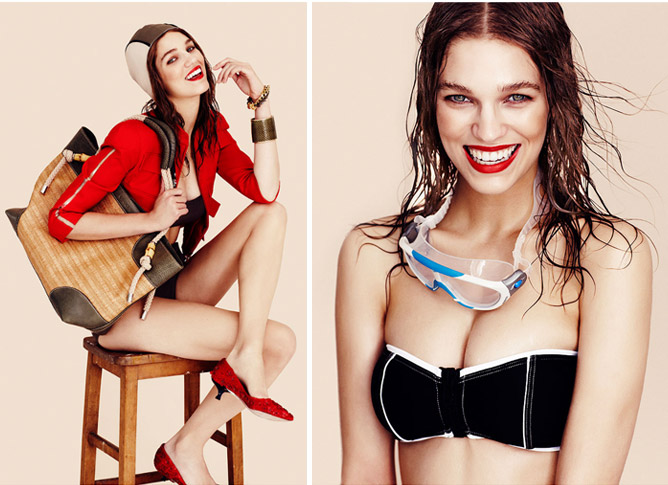 Seeing this radiant sun-kissed editorial has made me genuinely excited for summer…
Samantha Gradoville's striking red lip and dark hair perfectly complements the bold, bright swimwear and accessories.
Wearing divine pieces by Chanel, Bally and Givenchy, the looks feel fresh and inspired. I adore the classic, nautical influences of the striped blazer worn with a simple red bikini. And the exquisite Chanel 2.55 bag worn with glamorous insolence alongside a striking orange bikini and timeless chic black sunglasses… the attire Summer dreams are made of!
Being from the sunny Gold Coast, I have definitely been through my share of swimwear. The quest to find the perfect bikini or one piece that – compliments your body and fits in all the right places; represents your style and personality; is of good quality; while still being on trend –  can be really rather exhausting. So here are just a couple of tips I try to follow while shopping for swimwear:
Be prepared to shop until you find that special one.
Don't go by the size on the tag, choose the swimsuit which feels best on…. even if it is a size bigger. You want to feel comfortable and confident, not worried you are showing too much is skin.
And finally for the colour and pattern…. Bright colours draw attention so highlight your best assets with these. Meanwhile, dark colours are useful for taking the focus away from the areas you are conscience of. For prints, larger patterns can actually make things look bigger than they are, while smaller patterns can be used to detract attention…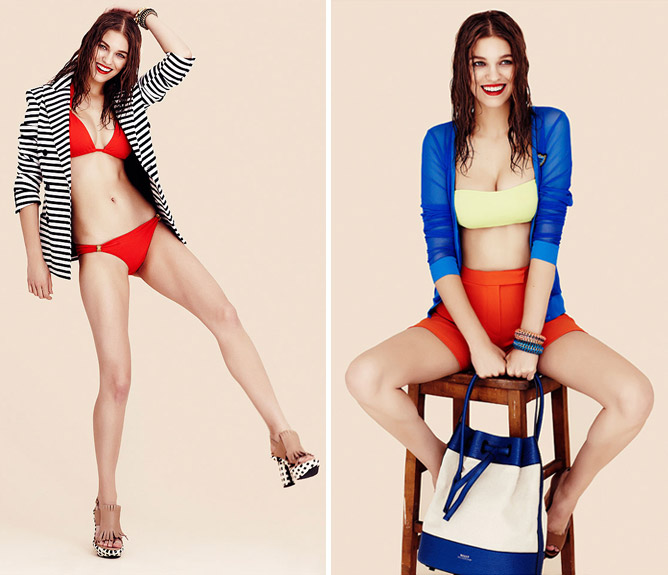 Happy Weekend! xx
Photos from fashiongonerogue.com
Your Thursday Fashion Shot…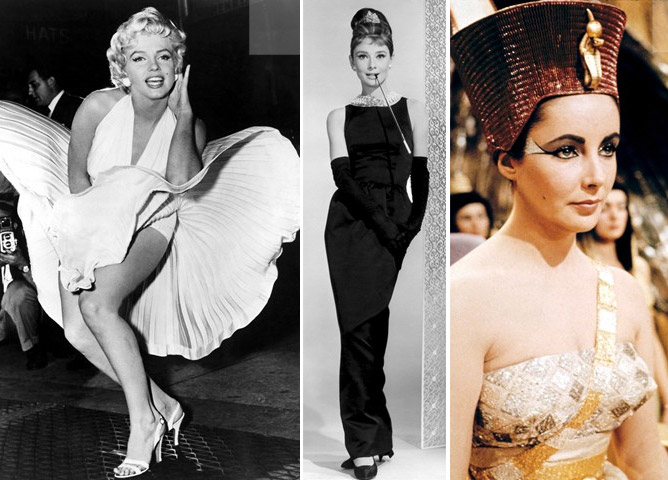 3 Espresso Shots Of News + Some Thursday Fashion Inspiration…
– – – – – – – – – – – – – – – – – – – – –
Iconic Dresses Up For Auction
A selection of the most iconic dresses in history will go up for auction on June 18th in Beverly Hills. Just a few of the exquisite gowns available to the highest bidders include;
> Marilyn Monroe's white halterneck dress from The Seven Year Itch (pictured above)
> Audrey Hepburn's iconic Givenchy LBD from Breakfast At Tiffany's (pictured above)
> Elizabeth Taylor's golden headdress from Cleopatra (pictured above)
> Judy Garland's blue gingham dress  from The Wizard of Oz (pictured right)
Also on the list is: Marilyn Monroe's rhinestone gown in which she sung Happy Birthday Mr President to JFK in 1962; Barbara Streisand's gold dress from Hello Dolly; Julie Andrews' brown dress from The Sound of Music; and The Princess of Wales gown from when she danced with John Travolta at the White House. There are also some modern editions, including; Elizabeth Hurley's Versace 'safety-pinn' gown and Jennifer Lopez's plunging Versace gown.
It is anticipated the collection will exceed $7 million (US). Legendary actress Debbie Reynolds is selling her private collection after she was unable to establish her ambition of a museum for Hollywood memorabilia. Marilyn Monroe's white halterneck has the highest price point of $2 million (US).  
– – – – – – – – – – – – – – – – – – – – –
Karl Lagerfeld –
Crystal Glassware Designer
The extraordinarily talented Karl Lagerfeld has created a crystal glassware collection for Swedish company Orrefors. Of his new collection, Lagerfeld said: "What I enjoy most is doing something I've never done before".
The pieces, in clear, black and milky glass, are an extension of Lagerfeld's design aesthetic, with minimal, clean lines and his KL monogram. Pieces for the range include; champagne flutes and coupes; wine, water and liqueur glasses; vases; bowls; and monogrammed crystal coasters.
– – – – – – – – – – – – – – – – – – – – –
DVF For Gap Kids
Legendary designer, Diane von Furstenberg, is creating a childrenswear collection for Gap Kids.
The collection will be presented in March and will be the first time she has designed for children. Art Peck, president of the brand for North America, has said of the collaboration; "I'm looking forward to offering our customers an exciting collection that applies her signature approach to print, optimistic colour and femininity."
Other designers who have also collaborated with Gap, include; Valentino, Stella McCartney and Roland Mouret.
– – – – – – – – – – – – – – – – – – – – –
Thursday Fashion Inspiration…
'Twin Peaks' is a cinematic editorial, featured in the July issue of Vogue Australia.
Models Emilia Scuza and Melissa Johannsen wear darling looks by Prada, Stella McCartney, Bally and more. The gorgeous wardrobe, retro styling, flawless hair and picturesque surrounding environment all combine to create some divine shots! LOVE!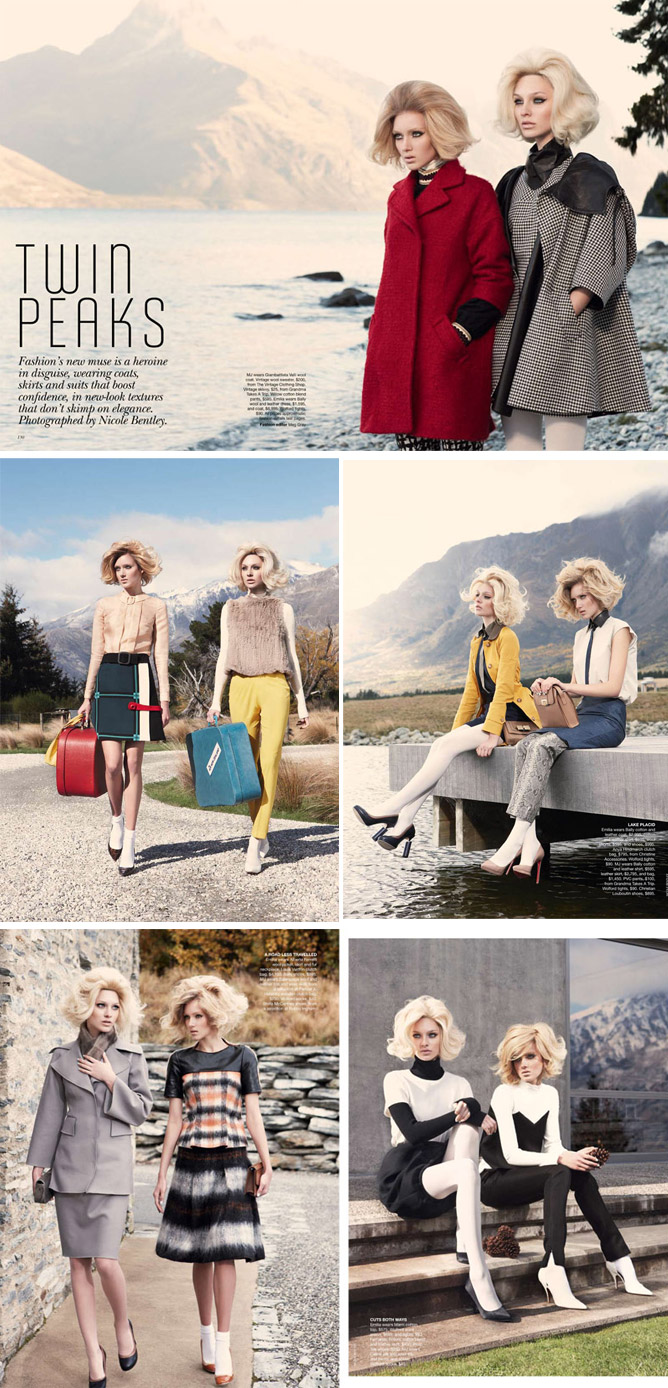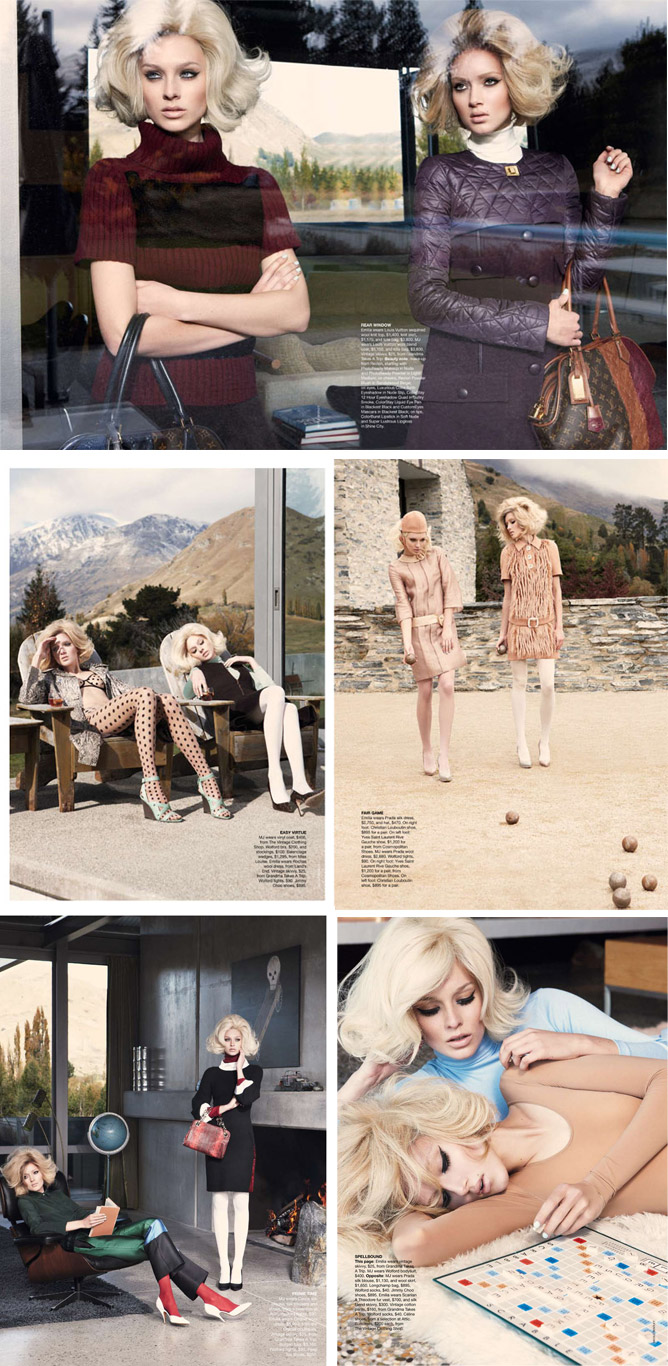 What is your Thursday inspiration? xx
Photos from vogue.co.uk / fashiongonerogue.com