Resort 2012 Collections – Part2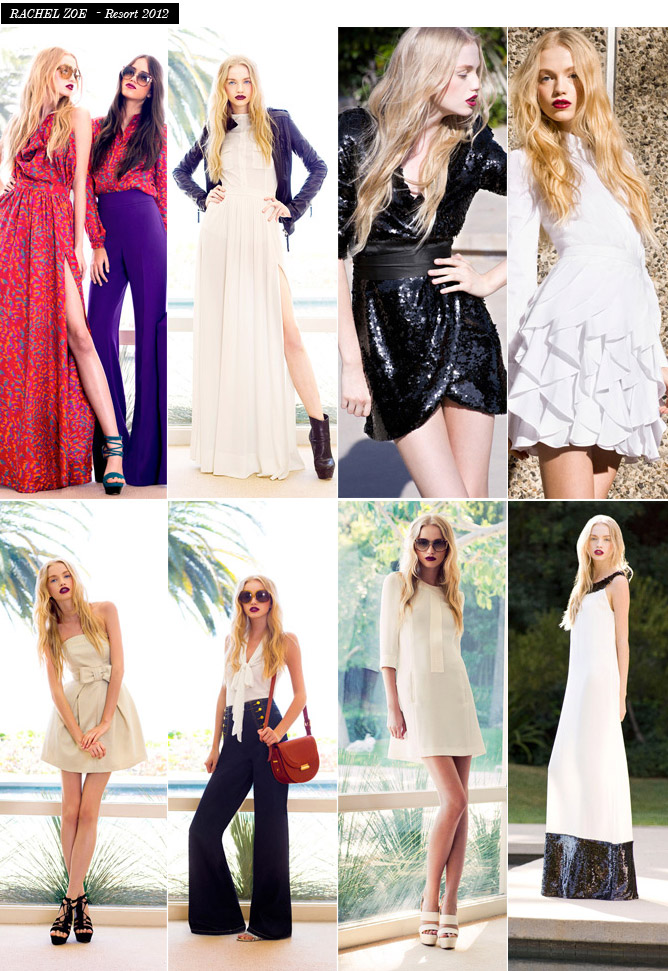 Rachel Zoe
I am loving the Rachel Zoe Resort 2012 collection! Playing with colour and print – Zoe's Resort collection features her signature seventies aesthetic in classic dress shapes and separates. Elongated trousers, cocktail and shift dresses, blazers and caftans are the basis of her collection, which will see you effortlessly travel between your city chic day-to-day to effortless holiday glamour. Of her second collection, Zoe said: "With Fall, a lot of what I was doing was staying in my comfort zone. Here, I'm playing with color, playing with prints, playing with proportion a little bit." Très Chic!
– – – – – – – – – – – – – – – – – –
Yves Saint Laurent
Stefano Pilati looked to the ocean for the Yves Saint Laurent Resort collection. The nautical inspiration was blatantly clear with chic anchor motifs, rope-print dresses and sailor jackets taking to the catwalk. Sophisticated stripes looked effortlessly elegant, while puff-sleeved blouses and high-waisted flaring pants added romantic volume to the collection. Whether you are lounging on a yacht in the South of France or hailing a cab in bustling New York, who could say no to an adorable stylish stripe?  Or a poppy print dress for that matter…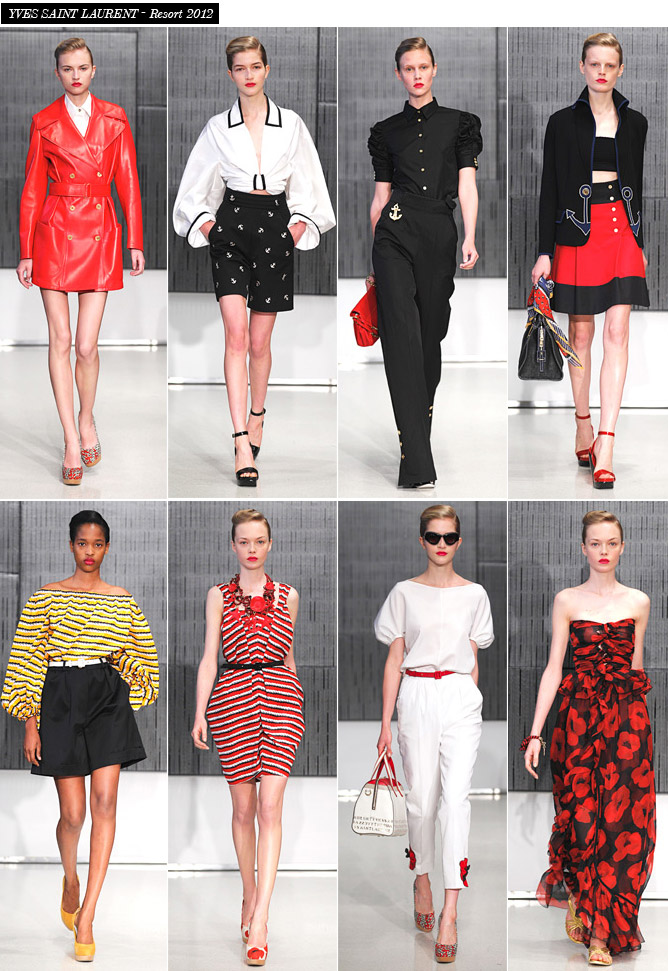 – – – – – – – – – – – – – – – – – –
Erdem
Inspired by Viennese actress Romy Schneider, the Erdem Resort collection is captivatingly beautiful. Featuring the designer's signature floral prints, exquisite use of lace and ultra feminine aesthetic – Erdem's perfectly proportioned silhouettes are sophisticatedly sexy and seductively elegant. Love the unexpected detailing on the simple dress silhouettes and the restraint yet powerful impact they have when combined with the enchanting flower prints.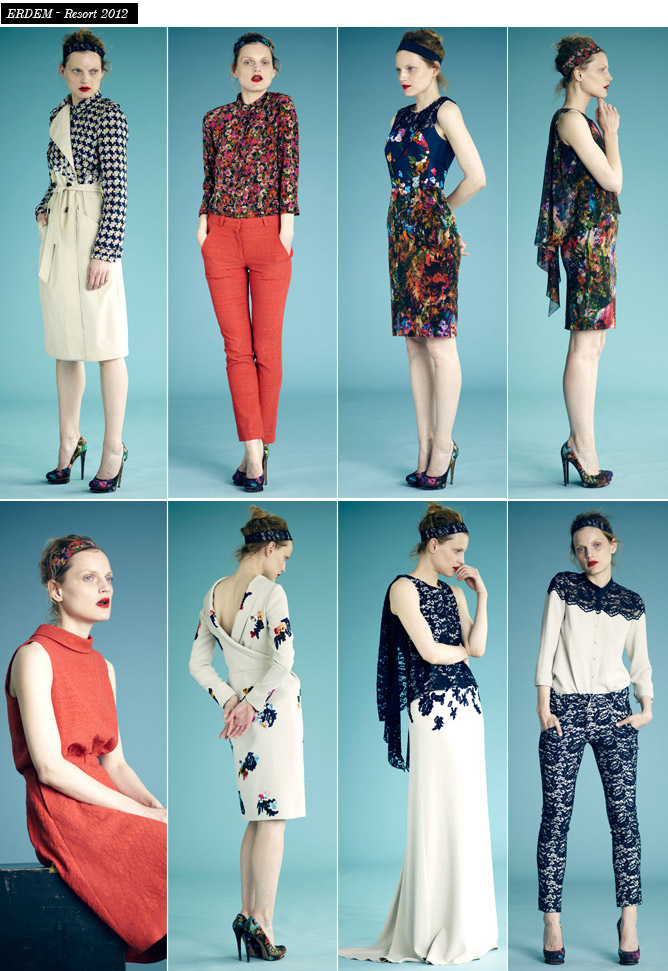 – – – – – – – – – – – – – – – – – –
Michael Kors
Inspired by a holiday he took in Sydney, Michael Kors' Resort collection combined the allure of the city and sports aesthetic of the beach. Of his inspiration, Kors' said, "Sydney is the ultimate city beach life. I was in love." Featuring an intoxicating mix of fluro colours, zebra prints and scuba inspired pieces – the Resort collection will lend itself perfectly to either beach or city dressing when looks are broken down into separates. It's summer, sporty, luxe, glamour! Love the green and black striped top…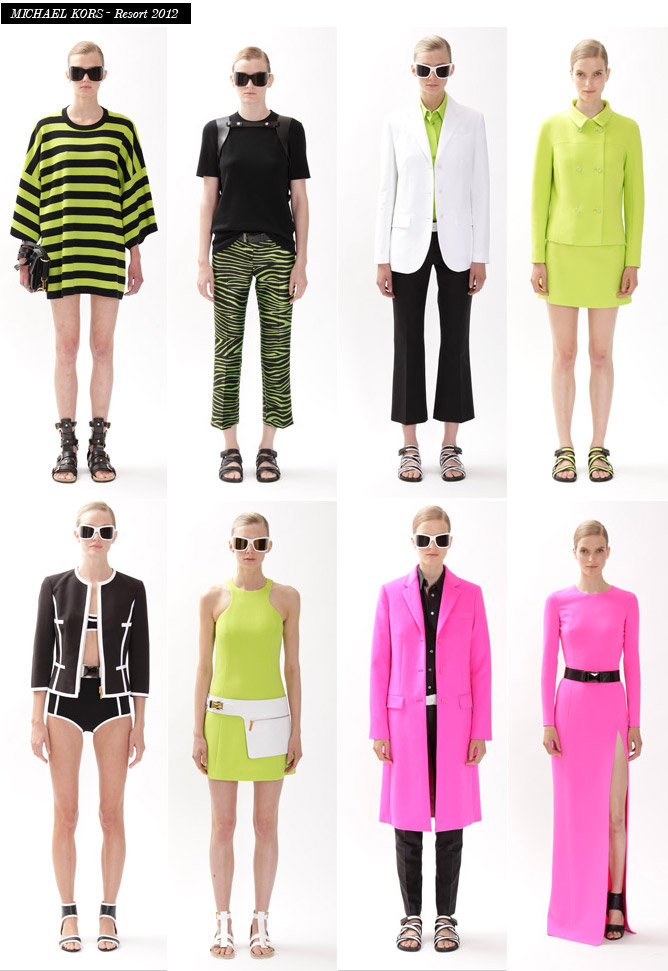 – – – – – – – – – – – – – – – – – –
Which is your favourite Resort Collection so far? xx
Click here to view Resort 2012 collections for: Elie Tahari, MaxMara, Sportmax, Oscar de la Renta and Bottega Veneta
Photos from style.com
Favourite Pieces…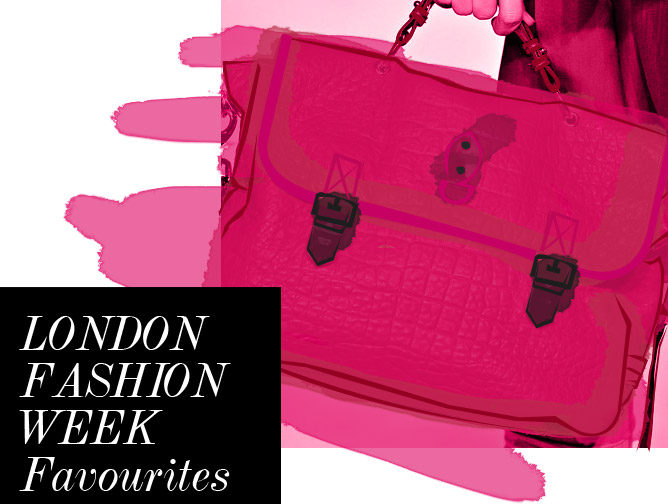 London Fashion Week – Fall 2011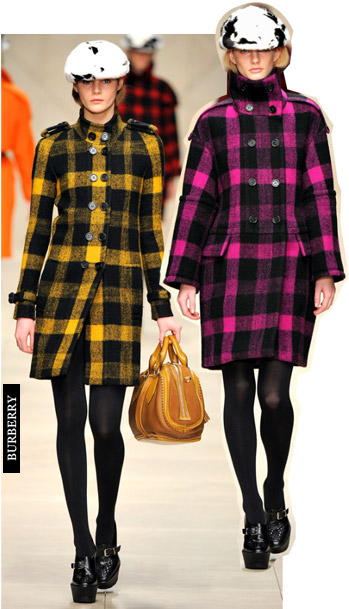 London Fashion Week is nearly coming to a close and I have been so sad that I was unable to make it! To get my Fashion Week Fix I have been watching the live streaming at all hours of the morning; checking style.com feverishly; and dreaming ahead to a Fall season full of eye-popping colour; accessorising with tights and hats; and staying warm in those divine coats.  
From established Fashion Week Must-See shows – such as Mulberry, which attracted a celebrity front row of Kirsten Dunst, Clémence Poésy, Gemma Arterton, and Nicholas Hoult – to the up-and-coming designers at Fashion East; I get so excited about seeing them all!   
Some Of My Favourite Pieces…
As you can see from the looks below I am going through an orange and yellow stage! These colours are so fresh, optimistic and vibrant for Autumn / Winter.
The orange Burberry trench leaves me speechless! It is one of the most gorgeous things I have ever seen! I love the cut, striking buttons and seam detailing. Burberry also offered countless other stunning coat options for Fall. I also adore the off-white, bow coat worn by Abby Lee Kershaw below.
The looks from Mulberry were also high on my lust-list. The use of quilting in dresses; knee-high socks; and gorgeous colour hues – were too-die-for! Inspired by Ronald Dahl's Fantastic Mr. Fox; Emma Hill, Creative Director of Mulberry, described the collection's muse as: "She's very English. She's got a dilapidated, stately home. She's got her long party dress on and she throws on a duffel coat." The brands signature IT bags – the Bayswater, Alexa and Tillie – were also updated for Fall. The pink Alexa (above) needs to get into my wardrobe immediately!  
I also had a soft spot for Holly Fulton, Temperley London & Erdem…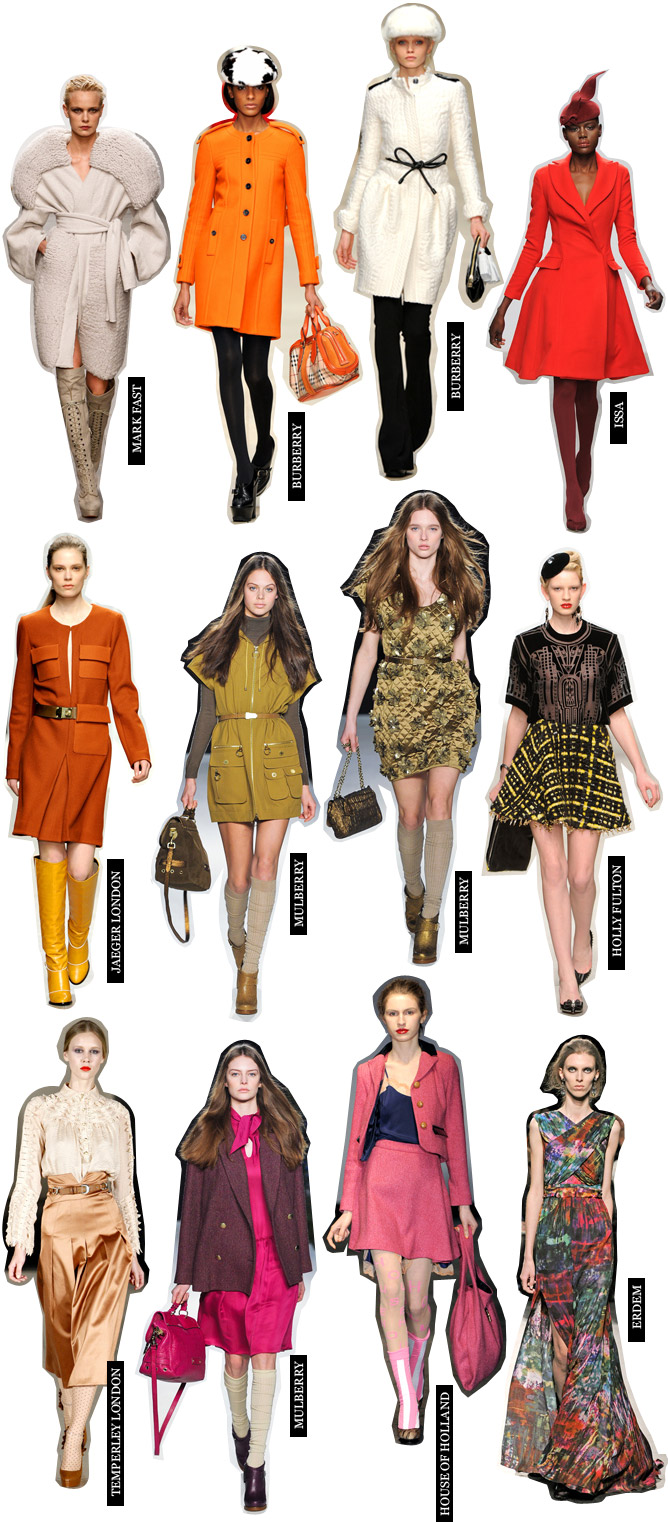 What are your dream pieces for Fall? xx
Photos from Style.com
Be Ballet Beautiful…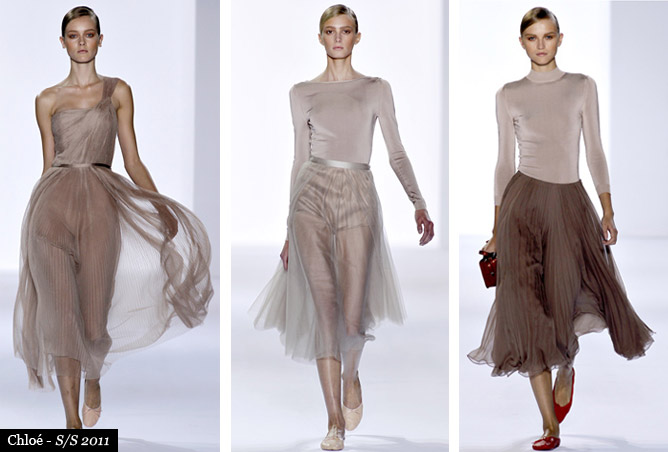 Chic, Sophisticated & Whimsical… think soft sheer fabrics, tutu skirts & ballet flats
Dance away in some divine Ballet inspired creations that are simply to-die-for!
Awaiting the release of the highly anticipated film Black Swan, starring Natalie Portman (pictured right), Ballet is once again taking the spotlight. For the Spring / Summer 2011 collections, designers took inspiration from the beautiful world of Ballet.
From Erdem to Chloé and David Koma, designers created divine pieces that would look just as at ease centre-stage as they did on the catwalk. With fitted bodices and flaring skirts, the Ballet trend is exquisitely beautiful, feminine and soft.
At Chloé, nude leotards with low sculpted backs were worn with billowing below-the-knee pleated skirts. In a colour palette of white, beige, camel and black tones; red ballet flats added an unexpected eye-catching twist. While the models at Erdem wore lace, embroidered flowers and gorgeous shoes tied up the calf like ballet slippers.
Visions of Ballet-Inspired Loveliness…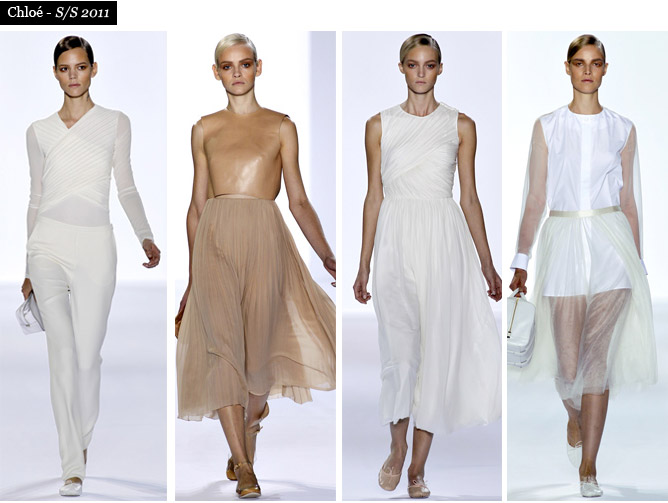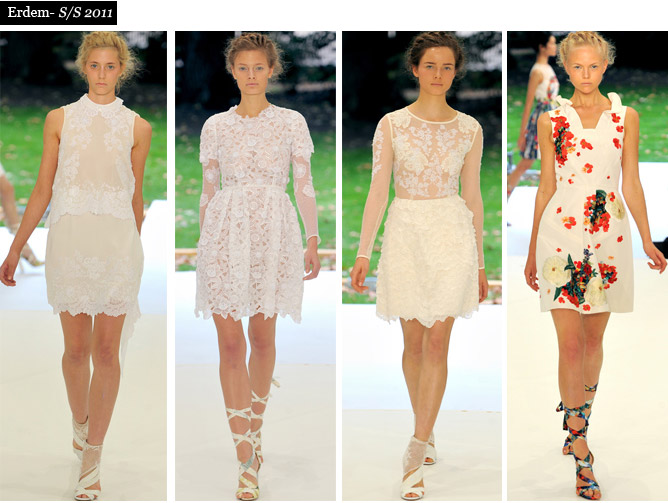 Are you loving or loathing the Ballet look? xx
All Catwalk Photos from style.com | Black Swan photo from grazia.com.au