Michelle Williams
Ahead of the Oscars and her possible win for 'My Week With Marilyn' for Best Actress, today we take a look at Michelle Williams striking style.
From the ethereal beauty of a hand-beaded Chanel couture gown to the epitome of cool-girl chic in Jason Wu, Michelle Williams is never afraid to take a risk on the red carpet.  
Often opting for elegant black and white, Williams has the perfect fashion-forward yet classic style. Elegant yet never fussy, beautiful but never expected. With a love for Jason Wu, Chanel, Erdem, Victoria Beckham and more, Williams is becoming a modern day style icon.
'Elegant yet never fussy, beautiful but never expected.'
Choosing looks to perfectly complement her platinum crop, Williams understands the 'less is more mantra'. Her refined, natural make-up and simple, elegant diamond jewellery evoke a timeless beauty.
A personal favourite: The exquisite Vera Wang saffron gown, worn by Williams to the 2006 Oscars (pictured above). Her relaxed chignon, red lips, and vintage necklace exude 'Old-Hollywood glamour' to perfection.

Do you covet Michelle Williams' style? Who is a modern day style icon to you? xx
Photos from google images
Pudsey Bear Style Makeover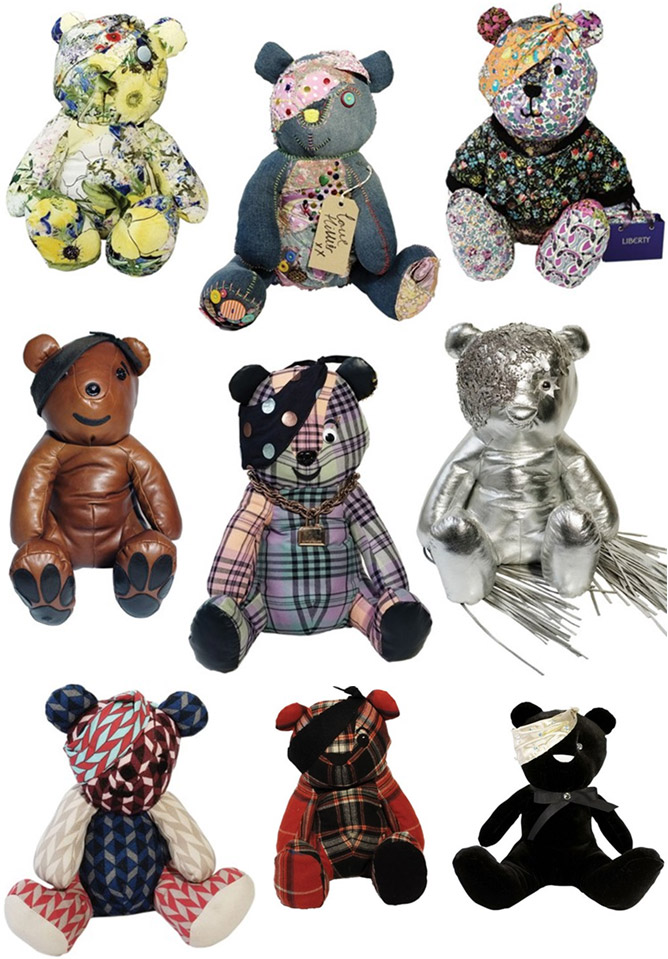 Pudsey Bear has undergone a style makeover by some of London's leading names in fashion.
The BBC Children in Need Charity has launched the Designer Pudsey Collection, which sees several of London's most coveted designers create their own iconic Pudsey.
Bringing their own unique style and aesthetic to this lovely Bear, the Designer Pudsey Collection will raise money for disadvantaged children and young people in the UK. Designers involved include: Katie Hillier, Jonathan Saunders, House of Holland, Giles, Mulberry and Erdem, amongst others.
The traditional yellow Pudsey now wears silver laser-cut leather by Giles Deacon and buttercup cheery florals by Erdem. Of working with Pudsey, Erdem said: "It is a cause I believe in and it was fun to work with Pudsey. He was very pleasant!"
The couture bears will be on display at Liberty London until November 19th. The bears will meanwhile be auctioned for the BBC Children in Need Charity online here. You can start bidding on these one-of-a-kind bears there now.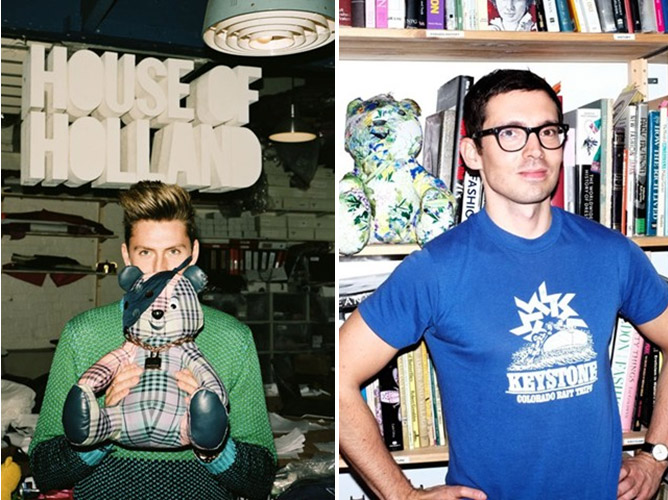 Now a leader in the style stakes, Pudsey Bear is putting his best paw forward!
Photos from vogue.co.uk
Erdem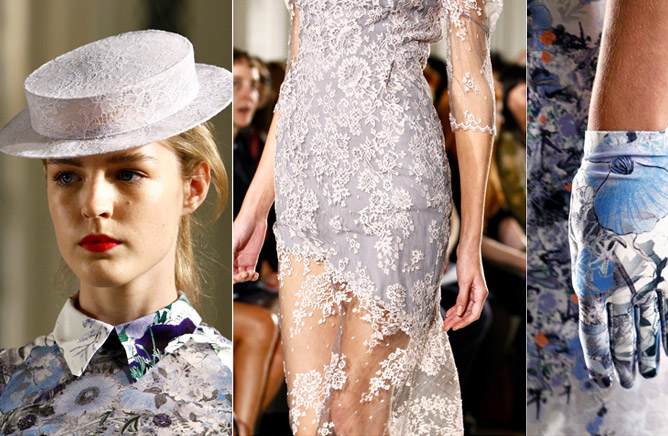 London Fashion Week is known for its youthful energy, vitality and unprecedented cool factor. Looking at some of my favourite collections from the week, I must start with Erdem.
Known for his striking floral prints, Erdem once again created a collection so elegant, beautiful and enchanting for Spring / Summer 2012 that it appeared to be heaven sent. With the perfect mix of innocence and gown-up allure, pieces were tailored close to the body, while being "more undressed, more décolleté, more skin, nape, and spine".
The collection began with a series of looks in an icy cornflower and blue hydrangea print, before progressing to yellow tones with red poppies and lace – all worthy of "Wedgwood preciousness". Darling Dresses fell delicately off each shoulder or were low backed and held up by shoe string straps. Romantic, whimsical and bewitching. Crisp white shirts were teamed with hot pants or slim fit trousers adding an unexpected contrast. The collection closed with sheer lace evening dresses lined in nude organza… a breathtaking moment.
Pointy-toed kitten heels with coordinating ankle straps, delicate little car gloves and hats gave the collection the sublime finishing touches. The ladylike polish also extended to hair and make-up, where lips were a painted a deep, succulent red and hair swept back into a neat ponytail.
This collection had an unmistakable presence… one worthy of  tears for it pure, mesmerising beauty.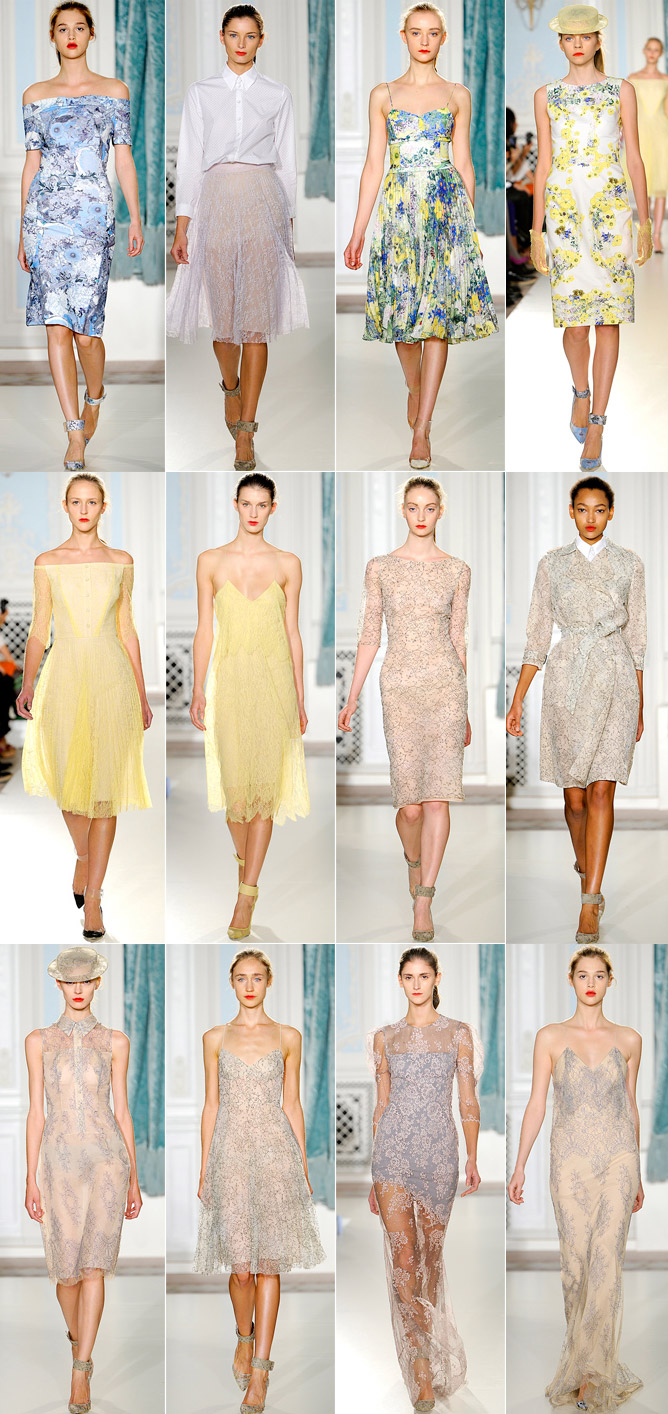 What were some of your favourite collections at London Fashion Week? xx
Photos from style.com