Your Daily Fashion Scoop
4 Friday Espresso Shots Of News…
Carine Roitfeld's Shock Departure from Vogue Paris
In news that is certainly set to shock the magazine world, Carine Roitfeld (above right) has resigned from Vogue Paris. Having been with the highly coveted fashion bible for over ten years, Roitfeld will leave at the end of January 2011. Of her departure, Jonathan Newhouse, ceo of Condé Nast International, has said:
"It is impossible to overstate Carine's powerful contribution to Vogue and to the fields of fashion and magazine publishing. Under her direction, Vogue Paris received record levels of circulation and advertising and editorial success."
It is not currently known who will replace Roitfeld.  This will be announced in the coming weeks.
Rumer Willis For
Badgley Mischka
It has been announced, Rumer Willis (daughter of Bruce Willis and Demi Moore) will be the new face of Badgley Mischka's Spring / Summer 2011 campaign. Designers, Mark Badgley & James Mischka, have said of choosing the actress: "Rumer captures the spirit of all of our spring collections, especially our newly launched Mark + James collection." Mark Badgley, James Mischka and Rumer Willis are pictured above left.
Stella McCartney iPad App
Stella McCartney has launched her iPad App. The iPad App takes you backstage behind the scenes before the Spring / Summer 2011 collection as well as keeping you updated with the latest news updates from the label. The App is available to buy world-wide.
Erdem Pre-Fall 2011/12
Erdem is a personal favourite of mine. I love everything about the label – the use of exquisite lace, the divine floral embroidery and those unbelievably beautiful prints.
Erdem has just unveiled his first Pre-Fall collection. Creating ladylike shapes and new prints, this collection is ultra chic, feminine and simply put… to die for! Designer Erdem Moralioglu, achieves the incredible prints by capturing the images digitally, then manipulating them, before photocopying them. He described the collection as "filled with pieces that can be put together or taken apart and worn every day of the year." My favourite looks from the Erdem Pre-Fall collection are pictured right…
Happy Friday! xx
Chic This Week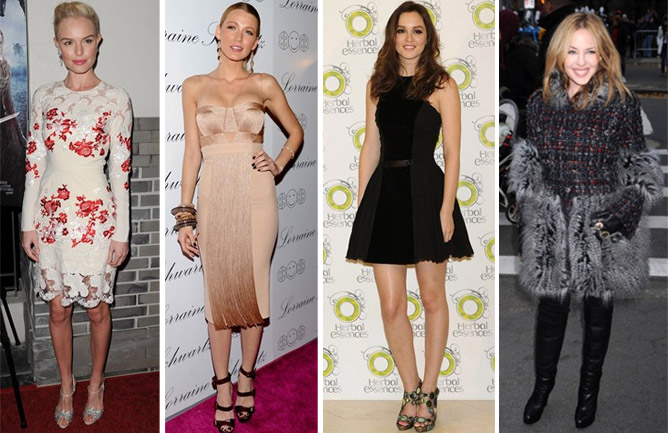 The Best Dressed Ladies Of The Week Are…
Kate Bosworth, Blake Lively, Leighton Meester & Kylie Minogue all stepped out looking stunning this week in some of my favourite designer looks from the Spring / Summer 11 & Autumn / Winter 10 collections! 
The looks on the catwalk…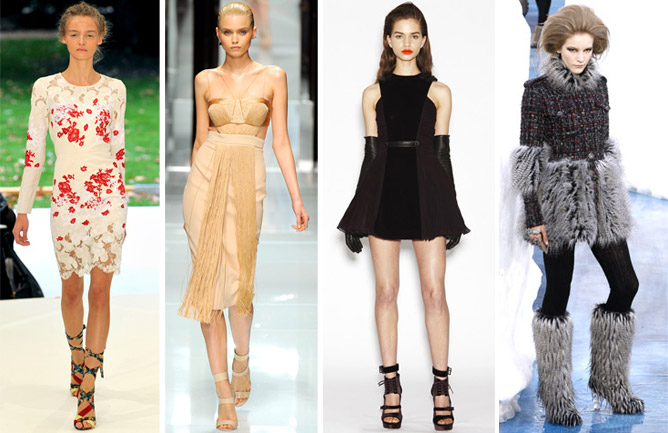 1>> Kate Bosworth looked divine in an Erdem Spring / Summer 2011 look. The white lace and red embroidered flowers are sophisticated, feminine and simply perfect!
2>> Meanwhile, Blake Lively was style personified in Versace. This Gossip Girl's fashion style is continually evolving and I am loving her red carpet looks of late.
3>> While in Madrid for 'Herbal Essences'; another Gossip Girl, Leighton Meester, wore a black dress from the Versus Autumn / Winter 2010 collection. A classic little black dress at it's best!
4>> And finally, Kylie Minogue performed at the annual Macy's Thanksgiving Day Parade wearing a look from the Chanel Fall 2010 collection. The tweed coat with faux fur trims looks delightfully warm yet oh-so chic!    
Who is your best dressed this week? xx
Photos1,2&3 from vogue.co.uk | Photo4 from redcarpet-fashionawards.com | Photos 5,6,7&8 style.com
Your Daily Fashion Scoop
Saturday Must-Have – The Erdem Pug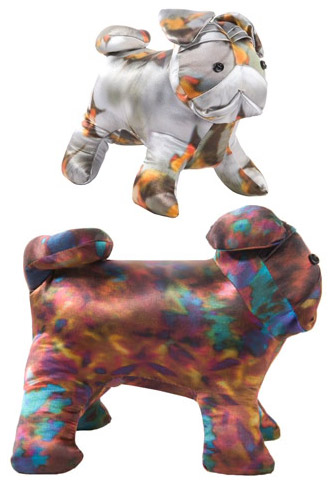 Erdem is one of my absolute favourite designers, renowned for his gorgeous feminine prints. Now there is the Erdem Pug, which has been made exclusively for East London boutique, START.
A limited run of 30 pugs have been made in Erdem's Danube Leaf, Ottakar Flutter and Prussian Swallow print silk. These darling Pugs are so adorable I want one of each! Actually I want all 30 of them! They are just too cute! 
For Autumn Winter 2010, START has combined their love of the Pug with their devotion to true fashion talent with the Erdem Pug. Brix Smith-Start's Pugs – Pixie & Gladys – are an essential part of the START family. To read more about Brix Smith-Start, please click here…  
In conclusion, I love, love, love the Erdem Pug! 
Carey Mulligan
Named Best Dressed
Carey Mulligan has been named Harper's Bazaar Best Dressed Woman. Beating many highly fashionable ladies, including the ravishing Victoria Beckham, Kate Moss and Alexa Chung to name but a few, to win the title. 
The 25-year-old Oscar-nominated actress has impeccable style and a striking look. Shooting to fame in An Education, Mulligan has dazzled on the red carpet in some seriously stunning gowns – from Prada to Chanel, Elie Saab and Nina Ricci. 
Erdem Moralioglu, Fashion Designer & creator of the adorable Erdem Pug, was a part of the judging panel. He described Mulligan's style as 'So Sixties French New Wave – like a Godard starlet – but totally modern.' 
HARPER'S BAZAAR BEST DRESSED LIST:
1. Carey Mulligan    |     2. Victoria Beckham    |    3. Yasmin Le Bon    |    4. Alexa Chung    |    5. Florence Welch
6. Kristin Scott Thomas    |    7. Tilda Swinton    |    8. Natalia Vodianova    |    9. Natalie Massenet
10. Samantha Cameron    |    11. Gwyneth Paltrow    |    12. Andrea Dellal    |    13. Kate Moss
14. Bianca Jagger    |    15. Stella McCartney    |    16. Sienna Miller    |    17. Sam Taylor-Wood
18. Charlotte Dellal    |    19. Shingai Shoniwa    |    20. Coco Sumner
Hope you all have a wonderful weekend! I am off to go shopping… & maybe buy an Erdem pug! xx