Chic Last Week
Lovely Ladies Looking Chic in today's Espresso Shot Of News…
The Best Dressed Are…
1>> Michelle Williams wore a divine sparkly cocktail dress from Azzaro's spring/summer 2010 collection. Love the black bow waist, side cut-outs and ruffle skirt! Too sweet! I just LOVE this dress!
2>> To her The Tourist world premiere in New York, Angelina Jolie looked a picture of perfection in an Atelier Versace gown. The long ivory gown is elegant and sophisticated yet irrevocably sexy with its thigh-high slit and deep V neckline.
3>> While in Sydney to promote Love & Other Drugs, Anne Hathaway chose a Christopher Kane dress from his Resort 2011 collection. Nipped in at the waist, this mini dress is flattering yet fun with such an eye-catching beautiful print.
4>> Carla Bruni wore a scallop-edged, tailored dress and jacket by Christian Dior in the must luscious shade.   Enough said.
5>> The supermodel that is Naomi Campbell, stepped out in an Alexander McQueen Couture dress. As always, Campbell looked fierce, fresh and indescribably beautiful.
6>> Already turning heads on the red carpet for her stylish choices, Elle Fanning (little sister of Dakota) looked a perfectly polished young lady in a Valentino Couture dress. Taken from the autumn/winter 2010 collection, the bow, long sleeves and cute neckline make this dress perfect for the young actress.  
7>> The ever stylish, Carey Mulligan, chose to look amazing in a striking scarlet Prabal Gurung spring/summer 2010 dress.
8>> In a custom-made Prada dress, Eva Mendes looked cute as a button! The dress was inspired by the autumn/winter 2010-11 collection.
9>> Katy Perry stepped out in a purple lace dress from Zuhair Murad's autumn/winter 2010-11 collection.
10>> And finally, Gwen Stefani's canary yellow Prada dress stole my heart! The floor-length gown with black belt is exquisite! LOVE, LOVE, LOVE!
In such a week full of beautiful ladies & labels, who is your best dressed? xx
Your Daily Fashion Scoop
4 Espresso Shots of News…
Miranda Kerr Makes Vogue Australia History
In the January 2011 edition of Vogue Australia, Miranda Kerr will become the first pregnant woman to grace the cover. Looking divine in a full-length gown, Kerr is positively glowing. Kerr said of the shoot, "It's wonderful that I have this opportunity to do this photo shoot with Australian Vogue and record this wonderful moment in time". The photo was taken in LA when Kerr was 6 ½ months pregnant. 
Emma Watson to design for Alberta Ferretti
Love Emma Watson? Adore Alberta Ferretti? Emma Watson has already designed capsule collections for People Tree and the uber stylish starlet is set to further her design talent with Alberta Ferretti. It has been announced that Watson will create an organic clothing range for Alberta Ferretti. 
Watson has said of the collaboration, "We're doing an organic clothing range. I can't reveal the name yet but there will be more information about it soon".  And of the inspiration, "Very classic, 60s Jane Birkin"… I cannot wait to see the results!  
Meanwhile, Watson has made a stylish appearance in a Burberry spiked trench coat from the Spring / Summer 2011 collection (pictured right). 
Kate Moss scoops Best Dressed of the Decade
US Vogue has named its Best Dressed List. Kate Moss scooped the top honour, winning Best Dressed of the Decade. No mean feat! The trendsetting icon has graced over 300 magazine covers since she started modelling at 14 and her effortless style seems to just get better and better. Favouring high-end vintage and designer pieces, Moss' effortless style of rock and roll chic is adored around the world. Her collaborations with Topshop and Longchamp, not to mention six perfumes to her name, make Moss one stylish, highly successful, hot commodity. 
Vogue Magazine's Best Dressed List:
And the Awards have gone to…
Best Dressed of the Decade: Kate Moss
The Bombshell: Blake Lively
Screen Siren: Marion Cotillard
The Independent: Michelle Obama
American Beauty: Jessica Biel
Street Cool: Alexa Chung
Haute Bohemian: Sarah Jessica Parker
Conscious Chic: Liya Kebede
Free Spirit: Carey Mulligan 
 
Who do you think is the Best Dressed of the Decade? xx
Side photos from vogue.com.au & fashion.telegraph.co.uk
Your Daily Fashion Scoop
Saturday Must-Have – The Erdem Pug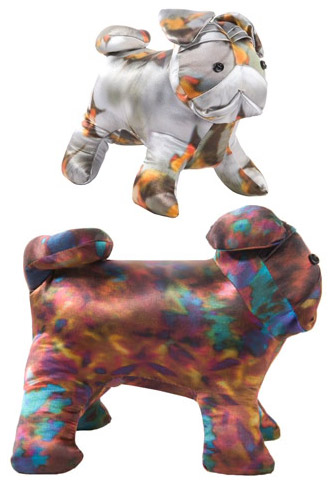 Erdem is one of my absolute favourite designers, renowned for his gorgeous feminine prints. Now there is the Erdem Pug, which has been made exclusively for East London boutique, START.
A limited run of 30 pugs have been made in Erdem's Danube Leaf, Ottakar Flutter and Prussian Swallow print silk. These darling Pugs are so adorable I want one of each! Actually I want all 30 of them! They are just too cute! 
For Autumn Winter 2010, START has combined their love of the Pug with their devotion to true fashion talent with the Erdem Pug. Brix Smith-Start's Pugs – Pixie & Gladys – are an essential part of the START family. To read more about Brix Smith-Start, please click here…  
In conclusion, I love, love, love the Erdem Pug! 
Carey Mulligan
Named Best Dressed
Carey Mulligan has been named Harper's Bazaar Best Dressed Woman. Beating many highly fashionable ladies, including the ravishing Victoria Beckham, Kate Moss and Alexa Chung to name but a few, to win the title. 
The 25-year-old Oscar-nominated actress has impeccable style and a striking look. Shooting to fame in An Education, Mulligan has dazzled on the red carpet in some seriously stunning gowns – from Prada to Chanel, Elie Saab and Nina Ricci. 
Erdem Moralioglu, Fashion Designer & creator of the adorable Erdem Pug, was a part of the judging panel. He described Mulligan's style as 'So Sixties French New Wave – like a Godard starlet – but totally modern.' 
HARPER'S BAZAAR BEST DRESSED LIST:
1. Carey Mulligan    |     2. Victoria Beckham    |    3. Yasmin Le Bon    |    4. Alexa Chung    |    5. Florence Welch
6. Kristin Scott Thomas    |    7. Tilda Swinton    |    8. Natalia Vodianova    |    9. Natalie Massenet
10. Samantha Cameron    |    11. Gwyneth Paltrow    |    12. Andrea Dellal    |    13. Kate Moss
14. Bianca Jagger    |    15. Stella McCartney    |    16. Sienna Miller    |    17. Sam Taylor-Wood
18. Charlotte Dellal    |    19. Shingai Shoniwa    |    20. Coco Sumner
Hope you all have a wonderful weekend! I am off to go shopping… & maybe buy an Erdem pug! xx