Your Daily Fashion Scoop
Saturday Must-Have – The Erdem Pug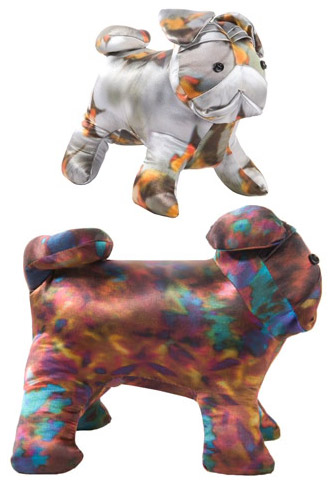 Erdem is one of my absolute favourite designers, renowned for his gorgeous feminine prints. Now there is the Erdem Pug, which has been made exclusively for East London boutique, START.
A limited run of 30 pugs have been made in Erdem's Danube Leaf, Ottakar Flutter and Prussian Swallow print silk. These darling Pugs are so adorable I want one of each! Actually I want all 30 of them! They are just too cute! 
For Autumn Winter 2010, START has combined their love of the Pug with their devotion to true fashion talent with the Erdem Pug. Brix Smith-Start's Pugs – Pixie & Gladys – are an essential part of the START family. To read more about Brix Smith-Start, please click here…  
In conclusion, I love, love, love the Erdem Pug! 
Carey Mulligan
Named Best Dressed
Carey Mulligan has been named Harper's Bazaar Best Dressed Woman. Beating many highly fashionable ladies, including the ravishing Victoria Beckham, Kate Moss and Alexa Chung to name but a few, to win the title. 
The 25-year-old Oscar-nominated actress has impeccable style and a striking look. Shooting to fame in An Education, Mulligan has dazzled on the red carpet in some seriously stunning gowns – from Prada to Chanel, Elie Saab and Nina Ricci. 
Erdem Moralioglu, Fashion Designer & creator of the adorable Erdem Pug, was a part of the judging panel. He described Mulligan's style as 'So Sixties French New Wave – like a Godard starlet – but totally modern.' 
HARPER'S BAZAAR BEST DRESSED LIST:
1. Carey Mulligan    |     2. Victoria Beckham    |    3. Yasmin Le Bon    |    4. Alexa Chung    |    5. Florence Welch
6. Kristin Scott Thomas    |    7. Tilda Swinton    |    8. Natalia Vodianova    |    9. Natalie Massenet
10. Samantha Cameron    |    11. Gwyneth Paltrow    |    12. Andrea Dellal    |    13. Kate Moss
14. Bianca Jagger    |    15. Stella McCartney    |    16. Sienna Miller    |    17. Sam Taylor-Wood
18. Charlotte Dellal    |    19. Shingai Shoniwa    |    20. Coco Sumner
Hope you all have a wonderful weekend! I am off to go shopping… & maybe buy an Erdem pug! xx