September Inspiration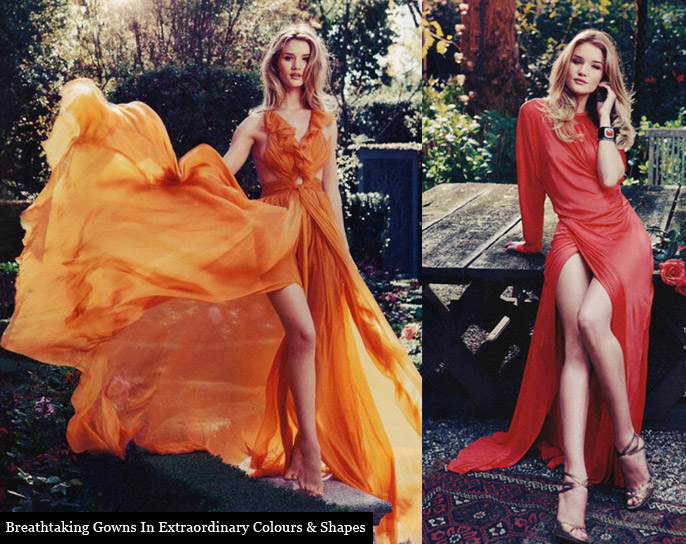 Bonjour Bunnies!
I cannot believe it is already September and time to reconsider my inspiration list for this blissful month.
This month I am delightfully looking forward to New York, London, Milan and Paris Fashion Weeks and watching closely to discover what we will all be coveting for Spring / Summer 2012. Enjoying the simple pleasure of films which just exude timeless beauty- Roman Holiday, Some Like It Hot and Breakfast At Tiffany's, amongst others. Embracing deliciously bright colours and patterns for Spring (here in the Southern Hemisphere); while simultaneously missing London and those beautiful Autumn leaves falling. And indulging in bubble baths and chocolate croissants…
Cara xx

What are your September Inspirations? xx 
Photos from thealternativebride.blogspot.com / littlebitsoflovely.blogspot.com / style.com / google images
The Little Lace Dress

Hello Lover!
'Love Miranda. Love Lace. Love Lover.'
You may recall I posted about the Lover, Spring / Summer 2011 collection here – with its red-hot lace and delicately, whimsical allure. It was one of my favourites! So you should have seen my excitement, when one of my top models – Miranda Kerr – stepped out in not one, but two of the most iconic little lace dresses from the collection! Love Miranda. Love Lace. Love Lover.
– – – – – – – – – – – – – – – – – – – – – – – – –
The LLD
(little lace dress)
The little lace dress is a style statement. Feminine, elegant and sophisticatedly sexy; it can take you from day (wear with sweet ballet flats) to evening glamour in an instant (simply add polished heels and go).
From Erdem to Lover, Stella McCartney and Marchesa, amongst others – lace has undoubtedly made a return to the catwalk in recent seasons. Fresh, refined and sweet – the new use of lace is all about polished beauty. Iconic white or black lace dresses are très chic; while those in strong statement hues, such as blood red, are irresistibly charming.
– – – – – – – – – – – – – – – – – – – – – – – – –
More of the Lover, Spring / Summer 2011 collection…
Sleek lines, crisp tailoring and lots of exquisitely feminine lace – the striking collection was brought to life solely in blood red, white and black.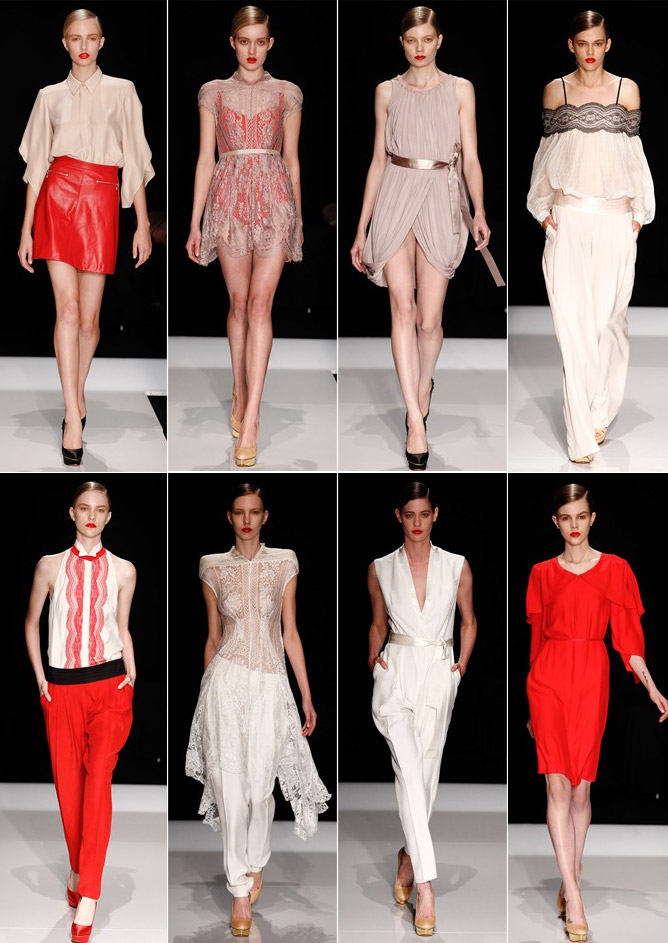 Do you love the LLD (little lace dress)? xx
Photos from vogue.co.uk / fabsugar.com.au

Weekend Fashion Shot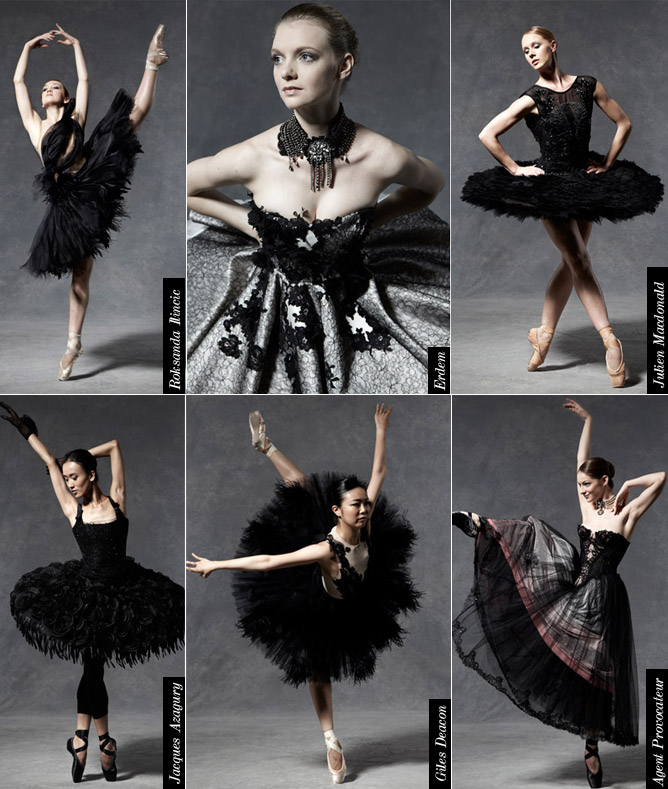 3 Shots Of Espresso News…
When Fashion Meets The Arts
– – – – – – – – – – – – – – – – – – – – – – – – – – – – – – – – – – – – – – – –
10 Highly Fashionable Tutus
10 Fashion Designers – Julien Macdonald; Erdem; Roksanda Ilincic; Agent Provocateur; Moschino; Kinder Aggugini; Jacques Azagury; Beatrix Ong; Giles Deacon and House of Worth – have collaborated with the English National Ballet to put their individual design aesthetic on the tutu (some pictured above).
Detailed, delicate, whimsically idyllic – the tutu is one of the most iconic and beautiful things that can be worn.  Of the tutu, Moschino's creative director Rossella Jardini, said: "I think that the tutu is one of the most beautiful pieces of clothing invented and I was honoured by the request from an institution as prestigious as the English National Ballet. It came naturally because the pearl-and-queen button embroidery are typically English and I have always found them beautiful."
On June 29th, each tutu will be presented in a catwalk show at the English National Ballet's Summer Party at Kensington Palace. The exquisite tutus will then be sold by silent auction.
– – – – – – – – – – – – – – – – – – – – – –
Gucci Costumes For Florence Welch
It has been announced Gucci will create the costumes for Florence Welch's North American tour.
Gucci's Creative Director, Frida Giannini, has previously mentioned her admiration for Welch's style, even citing her as an inspiration for the Gucci Fall 2011/12 collection. The collection featured bold, striking looks reminiscent of film noir in colour. Of Welch's dynamic style, Frida Giannini has said;
"When Florence first came onto the scene, I was captivated by her eccentric style and her willingness to dare. I felt there was such an authentic energy to her sound and her look. This was confirmed when I met her at the Grammy's earlier this year. I used one of Florence's songs, 'Hurricane Drunk,' to set the mood for my Autumn Winter women's show, as she was truly an inspiration for this collection as a modern day icon with her cinematic allure and powerful presence."
– – – – – – – – – – – – – – – – – – – – – –
Yves Saint Laurent On The Stage
Yves Saint Laurent's Creative Director, Stefano Pilati, has designed the costumes for a new play in London.
Starring Kristen Scott-Thomas, Dougray Scott and Ben Miles, the new theatre version of Harold Pinter's Betrayal is set between 1968 and 1977. The costumes reflect the time period and will see Scott-Thomas wearing a fuschia silk dress, camel coat, YSL tote bags and more signature YSL looks. Yves Saint Laurent, himself, was an avid theatre lover and designed costumes for countless plays across his career. (A look from the YSL Fall 2011 / 2012 collection is pictured right)
Happy Saturday! xx
Photos from vogue.co.uk