Resort 2012 Collections – Part2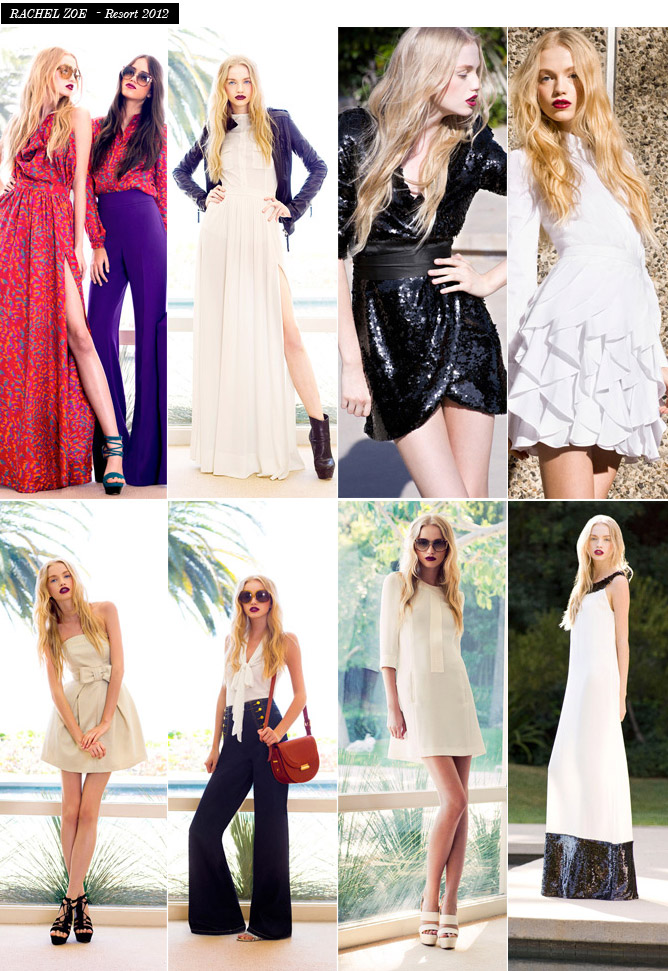 Rachel Zoe
I am loving the Rachel Zoe Resort 2012 collection! Playing with colour and print – Zoe's Resort collection features her signature seventies aesthetic in classic dress shapes and separates. Elongated trousers, cocktail and shift dresses, blazers and caftans are the basis of her collection, which will see you effortlessly travel between your city chic day-to-day to effortless holiday glamour. Of her second collection, Zoe said: "With Fall, a lot of what I was doing was staying in my comfort zone. Here, I'm playing with color, playing with prints, playing with proportion a little bit." Très Chic!
– – – – – – – – – – – – – – – – – –
Yves Saint Laurent
Stefano Pilati looked to the ocean for the Yves Saint Laurent Resort collection. The nautical inspiration was blatantly clear with chic anchor motifs, rope-print dresses and sailor jackets taking to the catwalk. Sophisticated stripes looked effortlessly elegant, while puff-sleeved blouses and high-waisted flaring pants added romantic volume to the collection. Whether you are lounging on a yacht in the South of France or hailing a cab in bustling New York, who could say no to an adorable stylish stripe?  Or a poppy print dress for that matter…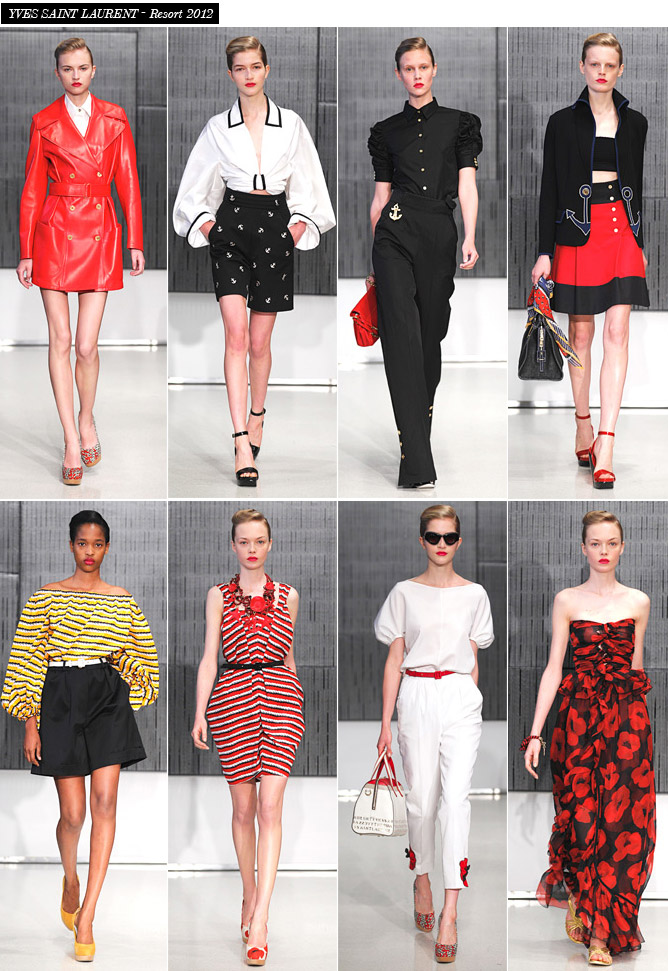 – – – – – – – – – – – – – – – – – –
Erdem
Inspired by Viennese actress Romy Schneider, the Erdem Resort collection is captivatingly beautiful. Featuring the designer's signature floral prints, exquisite use of lace and ultra feminine aesthetic – Erdem's perfectly proportioned silhouettes are sophisticatedly sexy and seductively elegant. Love the unexpected detailing on the simple dress silhouettes and the restraint yet powerful impact they have when combined with the enchanting flower prints.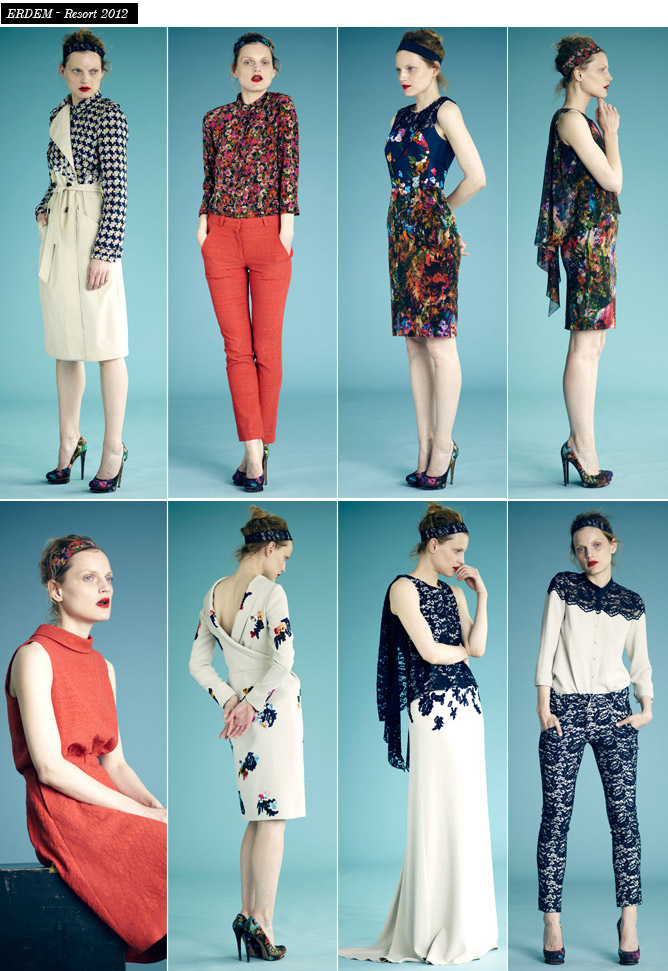 – – – – – – – – – – – – – – – – – –
Michael Kors
Inspired by a holiday he took in Sydney, Michael Kors' Resort collection combined the allure of the city and sports aesthetic of the beach. Of his inspiration, Kors' said, "Sydney is the ultimate city beach life. I was in love." Featuring an intoxicating mix of fluro colours, zebra prints and scuba inspired pieces – the Resort collection will lend itself perfectly to either beach or city dressing when looks are broken down into separates. It's summer, sporty, luxe, glamour! Love the green and black striped top…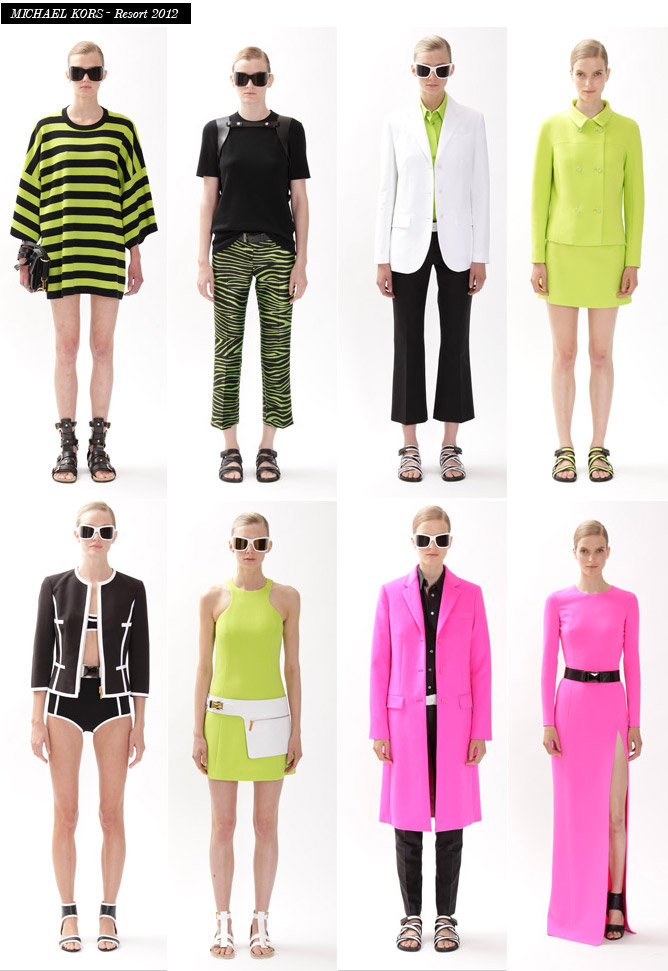 – – – – – – – – – – – – – – – – – –
Which is your favourite Resort Collection so far? xx
Click here to view Resort 2012 collections for: Elie Tahari, MaxMara, Sportmax, Oscar de la Renta and Bottega Veneta
Photos from style.com
Rachel Zoe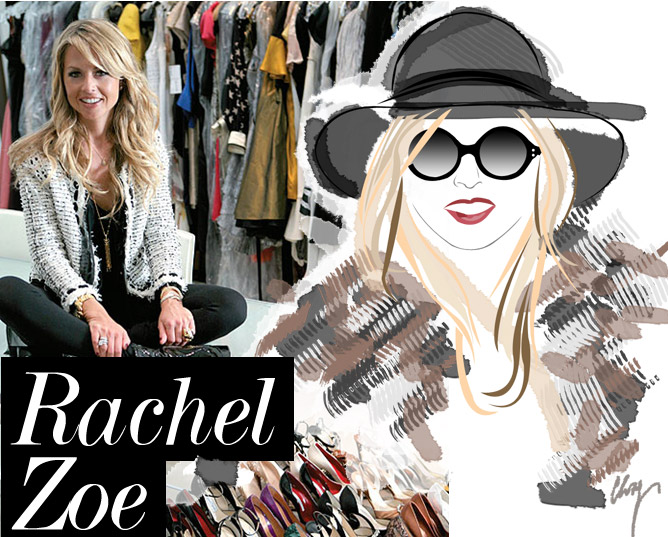 Super Stylist, Reality Star & Fashion Designer… Rachel Zoe has the Fashion Industry all sewn up.
With her expressions – 'I Die', 'That's Bananas' & 'Shutting It Down' – Rachel Zoe is one of the most influential forces in fashion today.
Rachel Zoe Rosenzweig is a celebrity fashion stylist with an immaculate ability to create a 'red carpet moment'. In September 2008, her reality series, The Rachel Zoe Project, made its debut. The series followed Zoe; her fashion associates, Taylor, Brad and Jordan; along with her husband Rodger – through three turbulent seasons of high fashion drama, delicious styling and a glimpse into the glamorous life of Rachel Zoe. Now the world cannot get enough of this pint-sized fashion dynamo!
About Rachel Zoe  
Having no formal fashion training, Zoe's hard work and innate fashion flair has seen her style countless celebrities. Her current list of clients includes the highly stylish: Cameron Diaz, Jennifer Garner, Kate Hudson, Demi Moore, Liv Tyler,  Eva Mendes and Anne Hathaway – to name but a few. 
Zoe has collaborated with Judith Leiber on a line of luxury bags; been the face of Samsung's BlackJack cell phone; and co-wrote, 'Style A to Zoe: The Art of Fashion, Beauty and Everything Glamour'. Making it to the New York Times Bestsellers List, the book gives styling tips on dressing for all occasions. Zoe is also credited with pioneering the boho chic look, while working with Nicole Richie.
Having just presented her first collection in February; Zoe's accomplishments and stylish presence in fashions fast lane, shows no signs of slowing down – even with her first child, a boy, due any day.
Her influence has now extended well beyond her high-end client base to women & men around the world – all hoping to add the extra Zoe pizzazz to their world.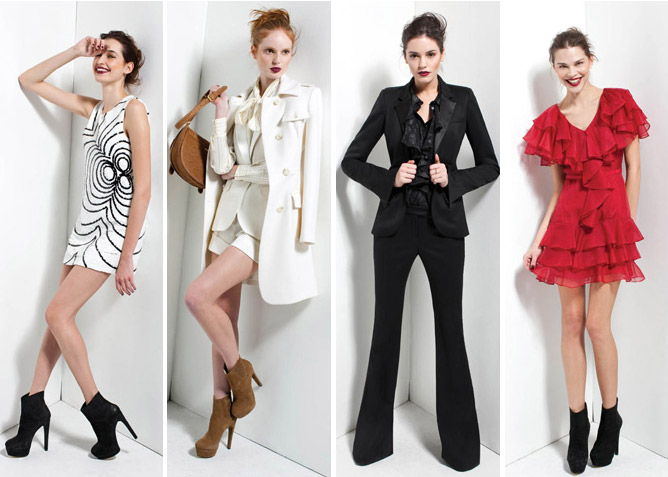 Rachel Zoe – Fall 2011
With an undeniable vintage aesthetic, Zoe's debut collection calls upon her love of 70's dressing. Sharply cut tuxedos, faux furs & bow-neck silk blouses; the collection took inspiration from many of Zoe's own delicious vintage finds!
Of the collection she has said: "I've been subconsciously building this collection in my mind for a long time. There are a million vintage pieces that have inspired me, and every other designer in the world."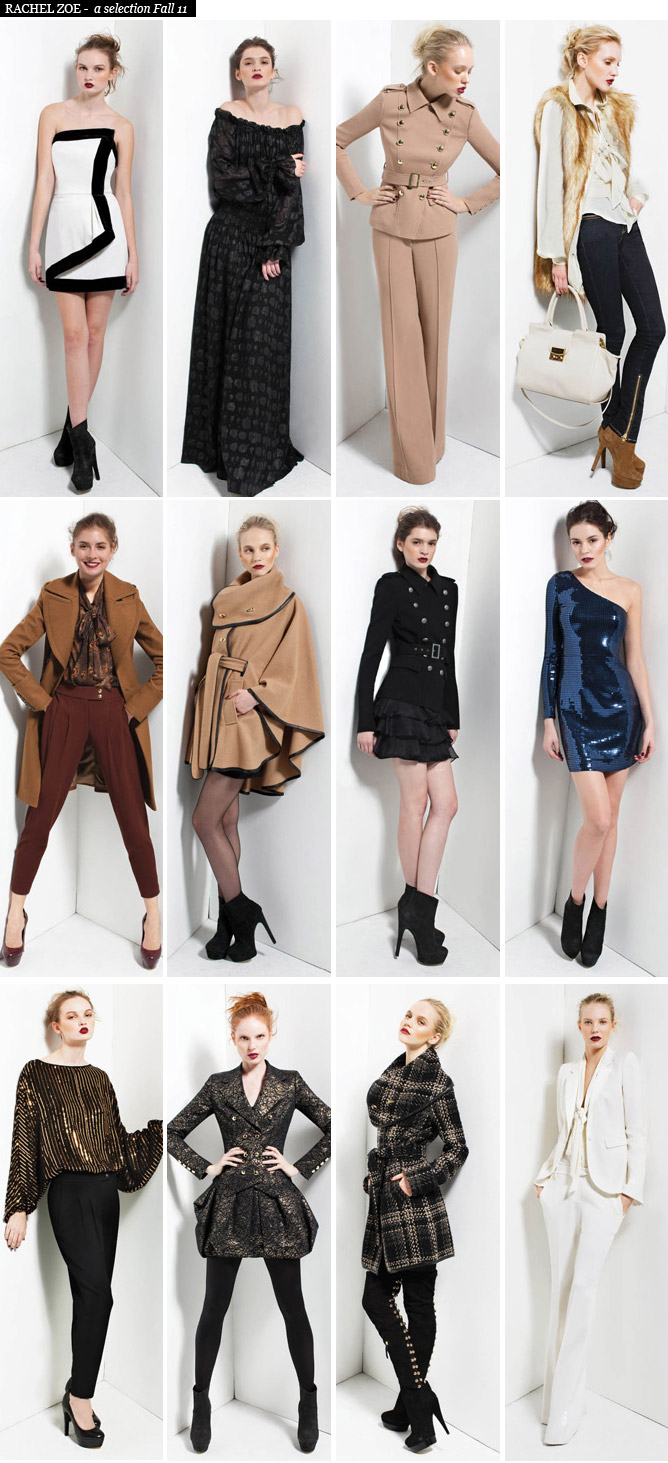 What do you think of Rachel Zoe's first collection? xx
Photos from style.com & google images
Your Daily Fashion Scoop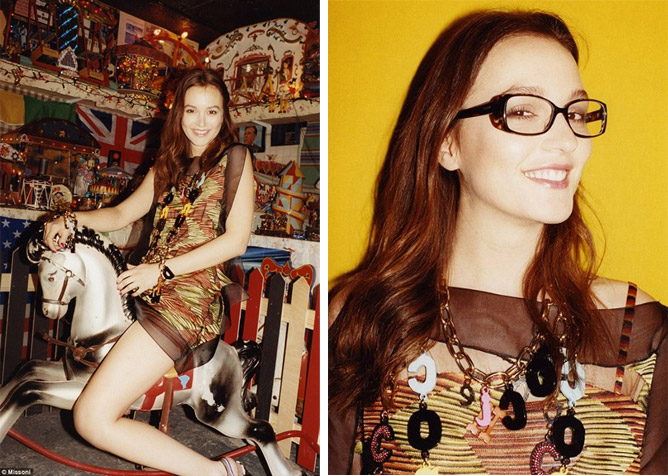 5 Espresso Shots Of News…
Indulge In Some Fabulous Friday Fashion News
1>> Leighton Meester for Missoni's Spring / Summer 2011 collection has been released (pictured above). The campaign also features creative acquaintances of the Missoni family, including; Eugenie Niarchos, Tatiana Santo Domingo and Jaquetta Wheeler amongst others. The campaign was inspired by the cover of The Beetles Sgt. Pepper's Lonely Hearts Club Band…
2>> After many rumours about showing in London, Victoria Beckham will present her Autumn/Winter 2011 collection at New York Fashion Week after all! Beckham will show on February 13th in NY. Cannot wait!…
3>> Rachel Zoe (Superstar Stylist & Star of The Rachel Zoe Project) has created her first line. Titled, The Rachel Zoe Collection, it features clothes, shoes and handbags with a '70s flare that is in tune with her signature glam style. The line and behind-the-scenes details will be filmed for the fourth season of her popular reality show…
4>> While Emmanuelle Alt may shortly be taking the reigns as Editor-In-Chief at French Vogue, she may have some competition on her hands. Miss Piggy will play a plus-size fashion editor for Vogue Paris in the new Muppet Movie set for release in 2012…
5>> Best Dressed Of The Week…   Short & Chic – Natalie Portman in Vionnet  \\  Breathtaking Red – Rachael McAdams wore Michael Kors  \\  A Stylish Mix n' Match – Michelle Williams teamed Nina Ricci with Wren  \\   Sweet As Candy – Ginnifer Goodwin wore Valentino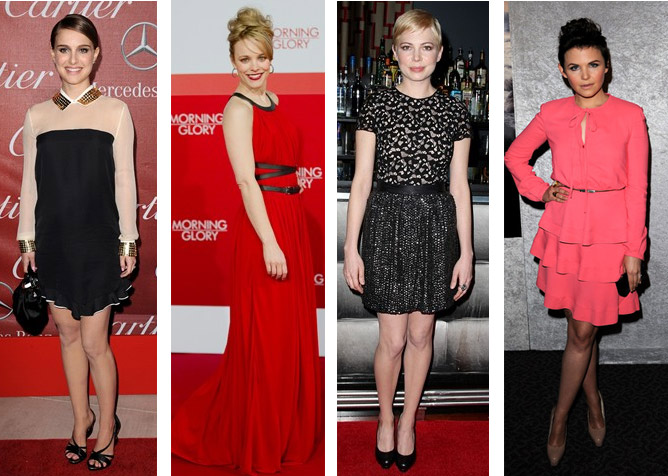 Summer Inspiration…
'Meet the Hilfigers' Spring / Summer 2011
For Spring / Summer 2011, the Hilfiger's are at the Country Club. It's ultra summery, cheeky, polished preppy perfection at its finest. Love this campaign! I want to be a Hilfiger!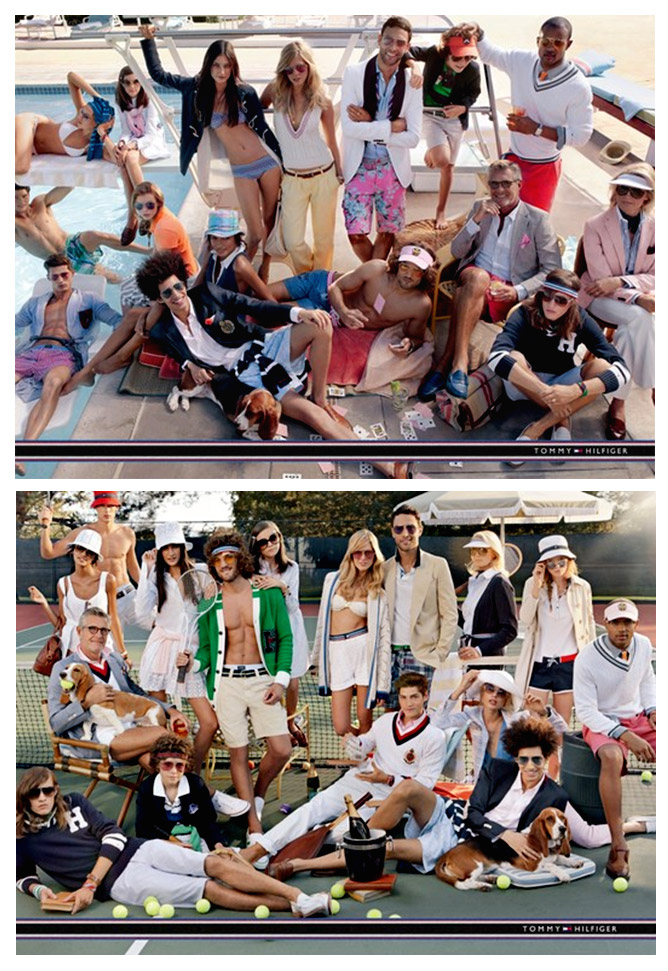 Happy Friday! xx
Photos: Top from fashion.telegraph.co.uk | Best Dressed from vogue.co.uk | Tommy Hilfiger from fashionfoiegras.com